Summertime is perfect for gathering friends, family, and loved ones for a pool party. The sun is shining, the days are long, and the water is warm—the perfect ingredients for an unforgettable event. But with any gathering, there's more to planning a pool party than just having access to a swimming pool.
From choosing a location to packing up your food and drinks, getting ready for the big day takes a lot of preparation. Our guide to planning the ultimate pool party is here today to ensure it doesn't intimidate you. We'll provide you with all the tips, tricks, and advice you need to host a worry-free and memorable event that everyone can enjoy.
So grab your swimwear, sunscreen, and inflatable flamingos (why not?). It's time to get ready for a splash!
Select a Vibrant Theme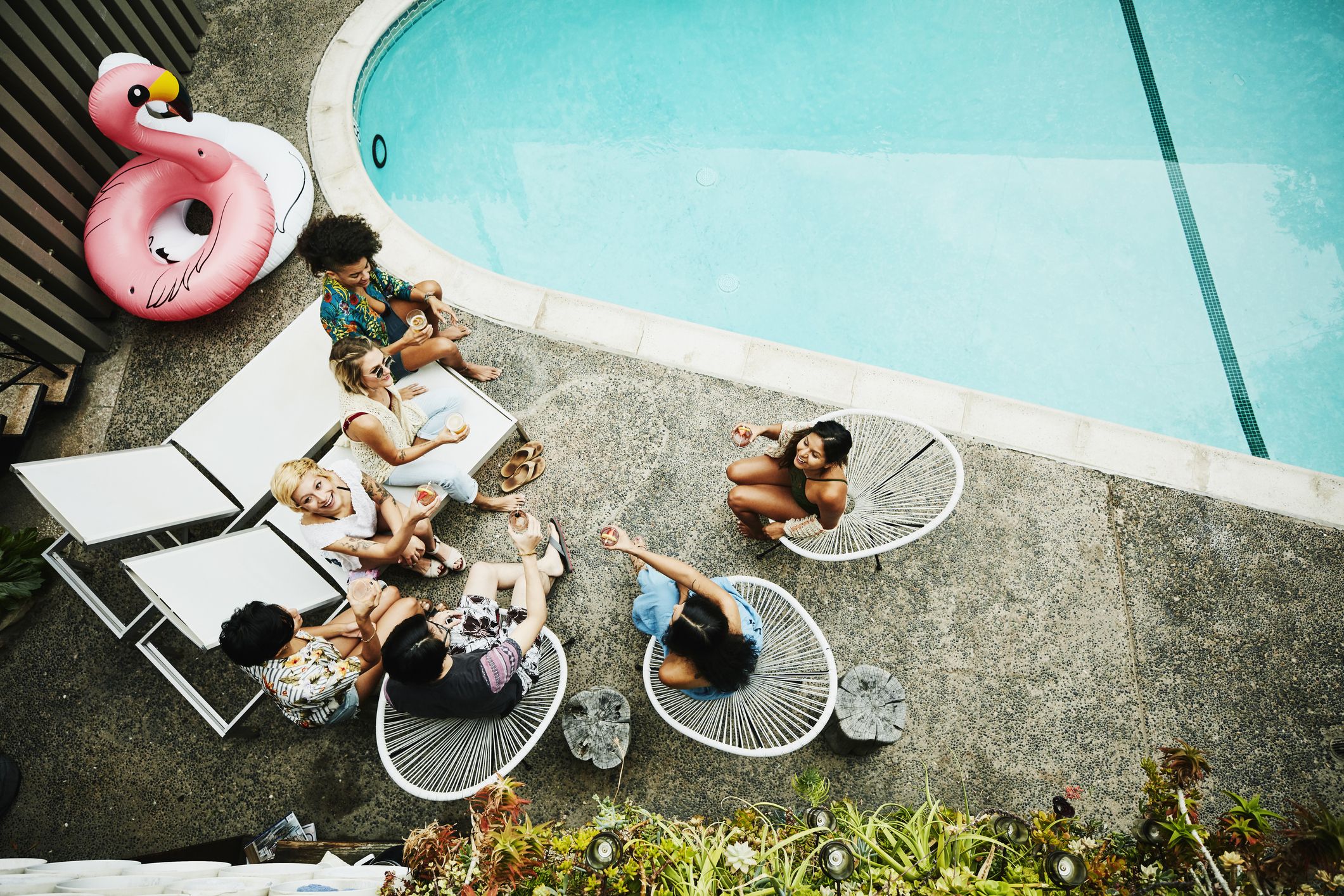 Creating a theme for the event can be a great idea when planning your pool party. That way, all your decorations, outfit choices, and food selections will be based on the hook. It helps create something special that you and your guests will remember.
One way to get started is by choosing a fun color palette for your decorations. Incorporate this into balloons, lanterns, tablecloths—whatever works best! If you're feeling creative, consider making your decorations as well; there's nothing better than a personalized touch at any event.
Pairing colors with activities is another great way to tie everything together. If the theme is blue and green, provide guests with beach balls and pool toys in those colors. Even sparklers or glow sticks in coordinated colors can help keep the pool party spirit alive!
Decorate Your Pool Party With Streamers and Balloons
Regarding decorations, streamers and balloons are essential for a proper pool party. Get creative with them by tying ribbons to chairs, arranging them in a balloon arch, or creating a balloon bouquet centerpiece.
They're not just for looks, either. Hang some of the balloons around the pool area for extra fun – when someone pops one, you can place a treat inside for your little swimmers. This ensures every guest gets a surprise and encourages them to stay in the pool longer! Plus, colorful streamers and balloons will add more vibrancy to your pool party and make it look more festive.
Just remember to tie everything down so nothing gets blown away by the wind! And don't forget to choose safe decorations near the water, like lights explicitly made for pools or those made out of paper lanterns; this will ensure no dangerous accidents at your pool party.
Beach Ball Bouquet: DIY Beach Ball Flower Arrangement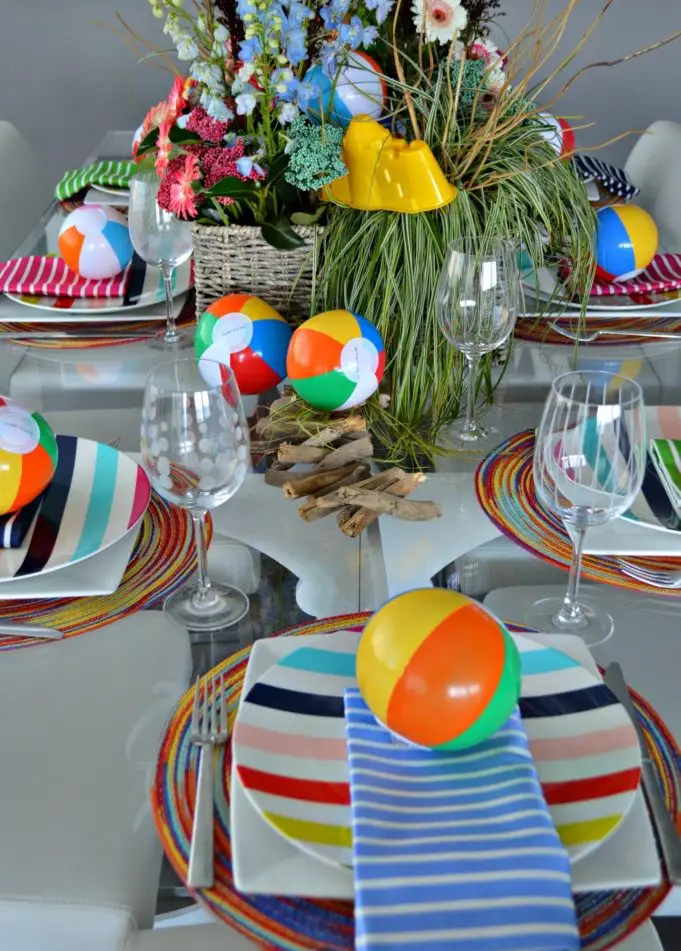 Make easy DIY beach ball flower arrangements if you're searching for a creative and entertaining way to add beachy vibes to your home decor. They are simple to make, giving any room a splash of color and fun.
Easy-to-make beach ball flower arrangements give your home decor a coastal feel. They work well for beach-themed events and gatherings as well. By selecting variously colored beach balls and flowers, you can alter them to match your decor or party theme. Make these beach ball bouquets the next time you want a quick and enjoyable DIY project!
Shark Attack!: DIY Shark Bite Drink Coasters
You're looking for a creative approach to adding coastal appeal to your home's interior design. Make some of these sharks drink coasters at home! This coaster will give your living room a little beachy joy in addition to being valuable and playful. You can easily incorporate beachy fun into your home decor by making these DIY sharks drink coasters. 
They're also fantastic for keeping guests occupied at gatherings or parties with a beach theme. You can alter your decor or party theme by utilizing different colors or shark shapes to match your decor or party theme.
Palm Paradise: DIY Palm Tree Pool Decoration
Any pool area can benefit from the tropical paradise feel provided by palm trees. You can make the following DIY palm tree pool decorations to give your pool a new look: Planting palm trees and papyrus palms made of pool noodles are the centerpieces of a pineapple palm tree.
Using these easy DIY palm tree decorations, you can create a tropical haven around your pool area on a budget. You can attach these palm trees to the wall or fence around your pool area.
Under the Sea: DIY Jellyfish Lanterns
Any party or event with an aquatic theme would benefit from the quirky and charming addition of jellyfish lamps. Any party or event with undersea music would benefit from the lovely ambiance these DIY jellyfish lanterns can produce. They are simple to construct and inexpensive. To create an underwater atmosphere, hang your jellyfish lanterns from the ceiling or a tree branch. The lanterns can also have LED lights to make them glow at night.
Oceanic Ornaments: DIY Sea Creature Pool Decorations
 Spray-paint your plastic marine creature toys in the colors you choose to use first. One or two colors can be used to provide a more realistic effect. DIY ocean-themed decorations are an excellent way to give your pool area personality. They're enjoyable to make with children or friends and are simple to alter to suit your preferences.
Choose The Perfect Pool Party Music
It's time to think about music. After all, what's a pool party without beats that inspire you to shake your tail feather? Choosing the right type of music will depend on the kind of people at your pool party. If you're having family and friends over, create a playlist of upbeat pop hits, but if it's just adults, consider a mix of throwback jams and current EDM bangers.
You might also ensure everyone participates to get your pals in the mood. Create a playlist of tunes that participants can play during the game on their laptops or smartphones. Request that everyone bring two songs that they feel fit the party's theme and then choose one person to play them back-to-back. Everyone can hear their favorite music and start dancing this way!
Lastly, remember to create a great atmosphere with some live acts too. Booking local bands, DJs, or karaoke singers can make your pool party even more special by adding an interactive element!
Refreshment Ideas for a Pool Party
Are you looking for creative ways to refresh your guests at your pool party? You've come to the right place because we've got plenty of ideas for you to try.
When it comes to pool parties, drinks should go first! Here are a few fun and fanciful refreshment ideas you can serve:
Frozen Fruit Popsicles – Who doesn't love popsicles? They are tasty and excellent, but you can make them healthy using frozen fruit!
Fruity Smoothies – You can offer a range of smoothies for your guests or make them up on the spot with fresh fruits like strawberries, blueberries, and pineapple.
Refreshing Cocktails – Serve signature cocktails in signature glasses that will make people feel relaxed by holding them in their hands. Plus, they're insta worthy!
Cucumber Water – Nothing says summer refreshment quite like cucumber water! Keep it in a big pitcher near your guests so they can help themselves to a refreshing glass when they feel hot and thirsty.
Floating Foods – Floating foods are a fun way to enjoy your snacks while keeping cool in the water. Here are a few of our favorites: melon chunks, sticky rice balls (which won't dissolve!), and cherry tomatoes served with mini forks attached!
Just be sure that whatever food or drink options are safe for those swimming—you don't want anyone getting sick from ingesting something not meant for consumption from the pool!
Set up Fun Activities for Kids
Ensure the kids are entertained and have fun when throwing a pool party. You will thus need to think of some enjoyable pastimes and diversions that may be enjoyed in or near the pool.
1. Volley Pool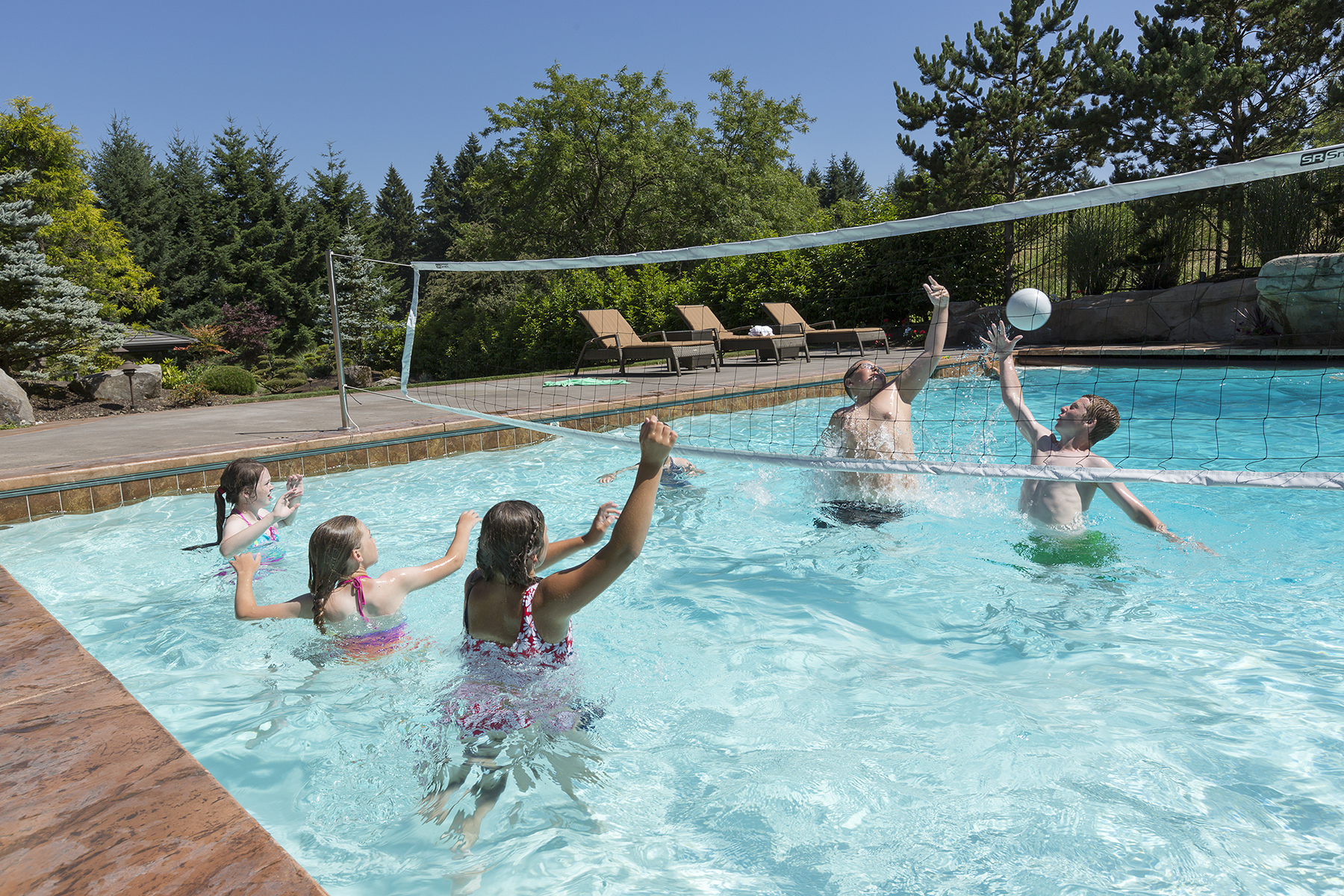 Volley pool is a fun, easy game that all ages can play. This game is like regular volleyball, but you'll play in the pool instead of on a court! All you need is a ball and an inflatable net – and voila! You have yourself a great game for everyone to enjoy.
2. Sharks and Minnows
This classic swim game is also easy to set up. One player (the shark) stands in the pool's center while all the other players (the minnows) line up on one side of the pool. The objective of this game is for the minnows to swim past the shark without getting caught. Once tagged by the shark, the minnow becomes another shark! The last person standing (or swimming) wins.
3. Water Polo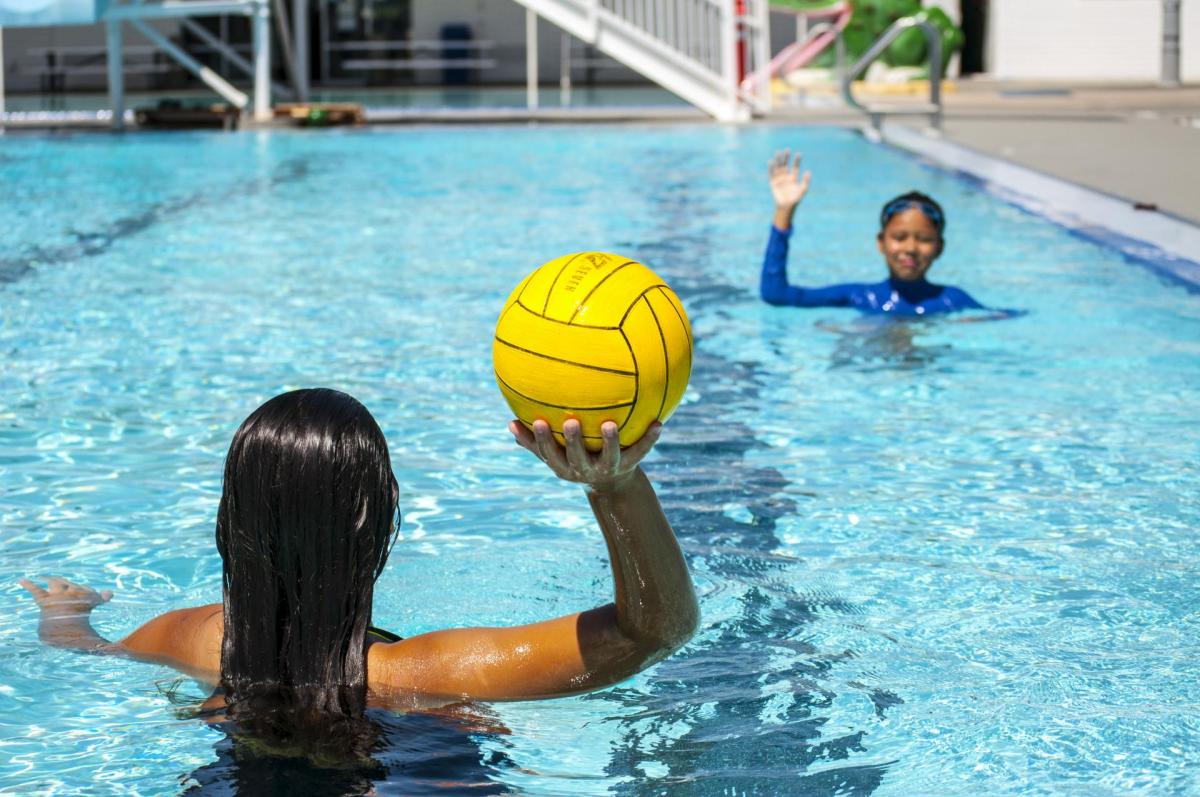 You can also set up water polo matches for older children or teenagers. All you need is a softball, small goals at each end of the pool, and some exciting participants! Just make sure everyone follows proper safety guidelines, such as not tackling each other or pushing people underwater.
Preparing these activities for your party doesn't take much work – just gather some balls and nets, have everyone change into their swimsuits, apply sunblock before going out, assign teams (or find your shark) – and let them have fun splashing around in the pool!
Prepare for Some Lively Games
It's time to make a splash—literally! Pool parties are so much fun, but you'll want to consider some pool games to entertain your guests. Here are some pool party game ideas that can help liven up the atmosphere and make your pool party unforgettable:
1. Water Balloon Toss
Water balloon toss is an easy, fun game that anyone can play. All you need is a few dozen water balloons and two teams of players. Divide the group in half, and have each team stand in a line facing each other on either side of the pool. Give the first player on each team a
water balloon and have them toss it back and forth to each other until one drops it or it pops. Let the kids take turns going up against their opponents until all balloons are popped!
2. Watermelon Races
Watermelon races are always a hit at any pool party! For this activity, all you'll need is two giant watermelons (real or blindfolded players can be substituted!). Each player stands at one end of the pool and must race to get their watermelon (or substitute) towards the other end without using their hands—just use your body to push it along! Whoever gets there first wins! The best part? Eating the sweet reward at the end of the race!
3. Ring Toss
Ring toss takes only minutes to set up and can bring hours of fun for all ages. You only need four floating targets and four sets of differently-sized rings. Assign points for each target depending on how difficult it is for someone to ring it—start with three points for smaller circles and five points for bigger ones. Once all players
Deck Out the Area
To maximize your pool party experience, consider decking out the area with decorations and accessories. Surround your pool with tiki torches or strings of lights for a fun tropical or beach-style vibe. Hang colorful paper lanterns around the yard, set up a festive table with snacks, and display seasonal greenery around the pool area. You can even use inflatable or pool toys to add flair and fun.
To ensure your guests feel at home with their pool accessories, consider creating a designated area to store items like towels, sunglasses, and hats. Decorative baskets, colorful crates, or floating shelves can organize individual items and keep things tidy. This also helps to keep the area uncluttered and safe for your guests.
People will want to hang out and play in your pool area for hours if you use these decorations and accessories to give it an extra sense of fun and coziness. You can make your pool party memorable with a few easy touches.
Conclusion
So there you have all the crucial advice you need to throw a fantastic pool party. Prepare food and beverages, create a welcoming environment, think of entertaining activities and games, and ensure everyone is secure and comfortable.
To ensure that everyone has a wonderful time and that your pool party is remembered for years to come, stick to these suggestions, no matter how big or small your gathering is. Your pool party is guaranteed to be popular because it is the most anticipated summer event. Make a splash by designing the ideal setting for your perfect pool party!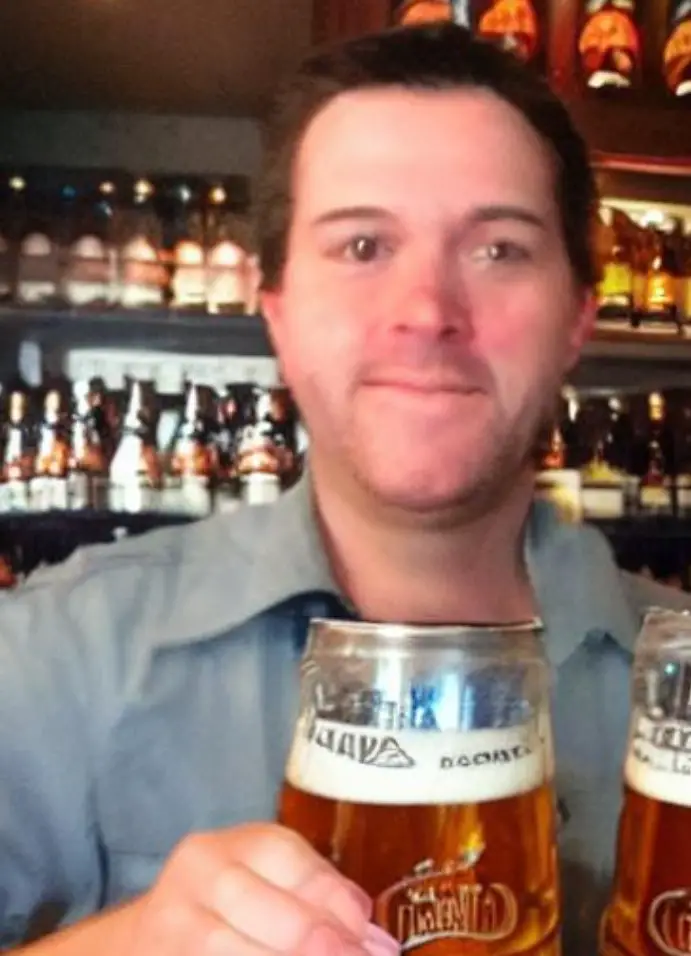 I am a passionate beer connoisseur with a deep appreciation for the art and science of brewing. With years of experience tasting and evaluating various beers, I love to share my opinions and insights with others and I am always eager to engage in lively discussions about my favorite beverage.