Fruit beer is an exciting drink that offers you refreshment in a fun and unique way. It is a kind of beer that has special fruit flavors added during the brewing process. Fruit beer is nothing like ordinary lemonade or orangeade. It is a unique blend of traditional beer with a fruity twist. The fruity addition may vary from a small hint to an explosive inclusion of fruit flavor.
Fruits used in making fruit beers are fresh and frozen. However, sometimes it may also be in the form of a concentration or juice. Needless to say, the fruity addition to a beer may change the natural aroma and color of beer. However, the change can be very refreshing and a new experience for beer lovers.
Types of Fruit Beer
There are different types of fruit beers in the market, and all have their individual flavor and taste. So, choose the one that suits your taste buds.
1. Raspberry Wheat Beer
One of the most popular fruit beers is a raspberry wheat beer. It is brewed with the help of raspberry puree and wheat malt. Since the fruit used to make this beer has a naturally sweet taste, the beer itself also has a light, refreshing, and sweet flavor. Raspberry wheat beers usually have alcoholic content ranging from around 5% ABV to 16% ABV. Some of the popular brands of raspberry wheat beers are Samuel Adams Raspberry Wheat, New Belgium Raspberry Tart, and Breckenridge Brewery Raspberry Sour.
2. Apricot Ale
Apricot ale is another fruity beer that is brewed using apricot puree or concentrate. It is a lovely combination of fresh apricot and traditional wheat beer. This beer style is characterized by its sweet and tangy flavor with a subtle hint of bitterness of the beer. Some popular brands of apricot ale include Pyramid Brewing Apricot Ale, Founders Brewing Co. Cerise, and Harpoon Brewery UFO Apricadabra.
3. Cherry Lambic
Cherry lambic is a type of beer that is brewed using cherries and aged in oak barrels. Although this beer style is characterized by its tart and sour taste, it has a strong cherry flavor and aroma. Nonetheless, the cherry lambic beer has the perfect balance of soft and sour acidity. Some popular brands of cherry lambic include Lindemans Kriek, Boon Kriek, and Oud Beersel Kriek.
4. Blueberry Lager
Blueberry lager is a type of fruit beer that is brewed using blueberries and lager yeast. This beer style is characterized by its light and refreshing taste, with a fine blueberry flavor and aroma. Some popular brands of blueberry lager include Saranac Blueberry Blonde Ale, Abita Blueberry Wheat, and Magic Hat Brewing Company #9.
5. Peach Wheat Beer
Peach wheat beer is a fruity beer that is brewed using peach puree or concentrate. This beer style is characterized by its sweet and juicy taste, with a subtle wheat flavor. Some popular brands of peach wheat beer include Shock Top Peach Wheat, Sweetwater Brewing Company Peach Love & Happiness, and New Belgium Lips of Faith Peach Porch Lounger.
6. Watermelon Beer
A watermelon beer can refresh your mind and body even on a hot summer day. This drink has the ideal blend of light and fruity taste. The alcohol content of a watermelon beer also ranges from 5% ABV to around 15% ABV. Some popular brands include 21st Amendment Watermelon Wheat, Hell or High Watermelon from San Francisco's Anchor Brewing, and Redhook Audible Ale.
7. Grapefruit Beer
A grapefruit beer has a tart and refreshing taste and feels especially lovely if you have it on a hot summer afternoon. This kind of beer is of a light and refreshing nature, and you will crave more after having one bottle of beer. Some popular brands include Ballast Point Grapefruit Sculpin, Harpoon UFO Grapefruit Shandy, and Sam Adams Porch Rocker.
8. Mango Beer
A mango beer is a fruity and tropical drink popular in most parts of the planet. If you love to have mangoes, you will also love to have chilled mango beer. It is a sweet and sour malty ale with a high fruity taste. Mango beers are manufactured after 4 to 5 days of brewing. Some of the popular brands of mango beers include Breckenridge Brewery's Mango Mosaic, Maui Brewing's Mango Hefeweizen, Mango Cart, and Dogfish Head's Festina Peche.
9. Blackberry Beer
A blackberry beer has a neat combination of sweet and tangy flavors, making it perfect for a hot summer afternoon. Manufacturers have to ferment blackberries using wild yeast and then age them in oak casts for almost a year. This creates a complex and tart beer. Some of the popular brands of blackberry beer include SweetWater Brewing Company's Blackberry Wheat, Wild Heaven's Emergency Drinking Beer with blackberry, and Uinta Brewing's Blackberry Farmhouse Ale.
Average Alcohol Content in Fruit Beer
Like an ordinary beer, the alcohol content in a fruit beer depends on its flavor. It also depends on the amount of fruit used to manufacture the beverage. However, on average, fruit beers have an alcohol content ranging from 4% to 8%. This is similar to the alcohol content in any traditional beer. However, some fruit beers may have a higher alcohol content. The alcohol content of such fruit beers may go as high as 16%.
How Much Fruit Beer To Get You Drunk?
You may often wonder how much fruit beer can make you drunk. The answer to this question depends on many factors. These include your body weight, gender, and tolerance towards alcohol. Nonetheless, on average, it takes about three to four beer bottles to make you feel intoxicated. However, it is important to enjoy your fruit beer and not get drunk. It is also advisable to drink responsibly and in moderation. Excessive consumption of alcohol may lead to serious health consequences.
Conclusion
Fruit beers are delicious, refreshing beverages and unique kind of beer that offers a different twist to your traditional beer styles. Ranging from raspberry wheat beer to cherry lambic, you will find many different types of fruit beer to choose from. Each type has its own distinct flavor and aroma. Since the alcohol content in fruit beer is similar to ordinary beer, you should consume it responsibly.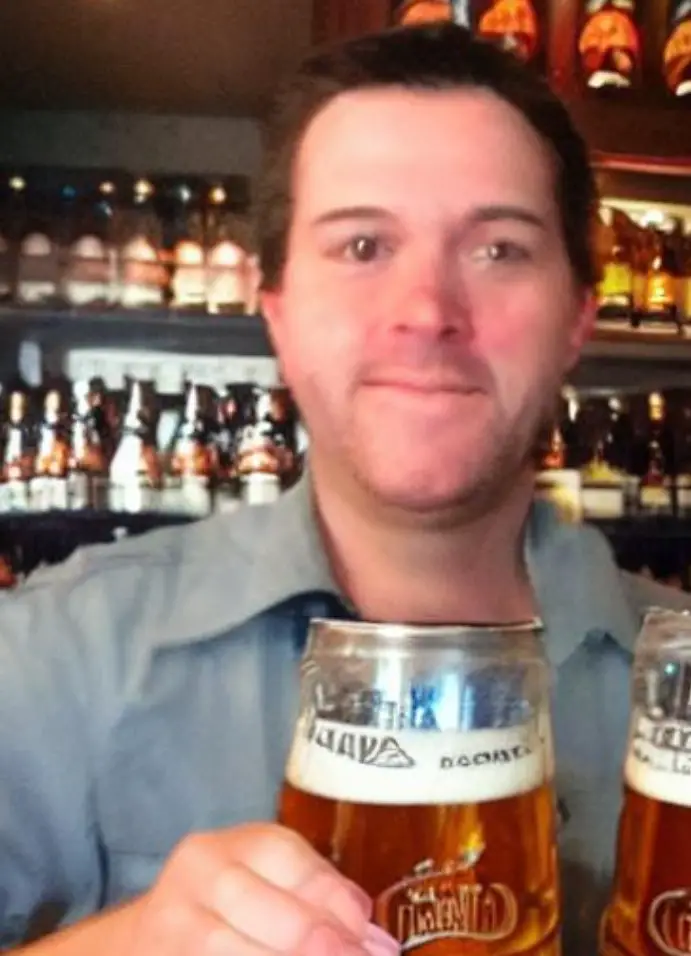 I am a passionate beer connoisseur with a deep appreciation for the art and science of brewing. With years of experience tasting and evaluating various beers, I love to share my opinions and insights with others and I am always eager to engage in lively discussions about my favorite beverage.