Nothing like adding sweetness to your life with these yummy and delicious alcoholic milkshakes!
Have you ever had a chance to enjoy something boozy yet creamy and flavorful at the same time? Or did you ever crave something that can fulfill your hunger and thirst simultaneously? Well, in that case, you should give these yummy adult milkshakes a try.
Adult milkshakes are scrumptious tweaks to your regular milkshake. The sweet flavors remind you of your childhood, while the alcohol lets you get boozy like an adult. You can use chocolate syrup, fruits, ice cream, and coffee along with your favorite hard liquor to enjoy a delicious delight.
Serve them chilled and enjoy a sweet dessert cocktail on a hot summer day or enjoy it with your friends to have a good time. Once you get the hang of these recipes, you can use your creativity to make your very own signature cocktail dessert.
So, if you enjoy sweet stuff, take a peek at these delicious recipes compiled just for you. All of these recipes are easy to prepare, and you don't have to spend hours in the kitchen. So, without further wasting your precious time, dig in and enjoy!
1. Mudslide With Ice Cream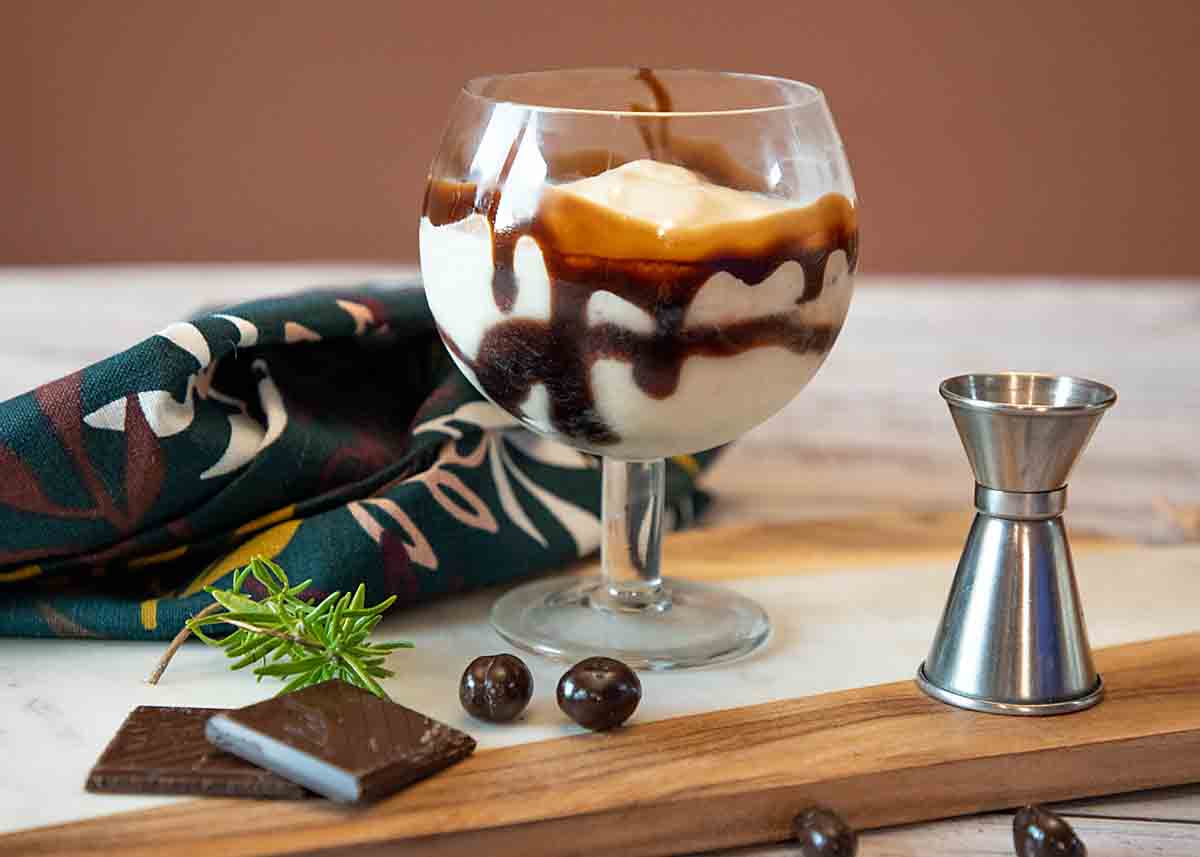 Nothing like enjoying a creamy dessert after dinner, and when mudslide is on the menu, you are sure to have a sweet boozy evening. Made in 1970 at Grand Cayman's Wreck Bar at Rum Point, this delicious, creamy, and velvety cocktail has become a top choice for many.
The coffee liqueur gives a deep coffee-like flavor with mild sweetness, while the Irish cream and ice cream adds thickness and gives a smooth, creamy touch to the cocktail. For an alcoholic punch, vodka is added to the drink. Overall it has a chocolatey coffee-like flavor. 
Simply delicious!
Ingredients
Coffee liqueur- 2 ounce 
Vodka – 2 ounce
Bailey's Irish Cream – 2 ounce 
Ice Cream 6 scoops – 3 chocolate and 3 Vanilla
Chocolate Syrup
Garnish – Chocolate Shavings
Instructions
Put 6 scoops of ice cream in a blender along with 2 ounces of each vodka, Bailey's Irish Cream, and coffee liqueur. Blend until smooth.
Add chocolate syrup on the sides of your glass to give it a perfect look.
Pour the mixture from the blender into the two glasses.
Add chocolate shaving on the top and drizzle chocolate syrup over it.
Voila! Yummy delicious mudslide dessert is ready.
2. Vanilla Bourbon Milkshake
Ever thought you could make a milkshake with bourbon? It's possible. The smoothness of vanilla and rich allure of bourbon is a yummy combo you must try. Bourbon adds sweetness to the shake, while vanilla ice cream gives you a thick texture and tasty flavor. You can add more milk if you want to have a thin consistency or add a little extra bourbon if you like things to be a little extra boozy. You can also put a sprinkle of ground cinnamon or nutmeg as an alternate garnish to experience a different flavor.
Ingredients
Vanilla Ice Cream- 4 scoops
Chocolate Ice Cream – 1 scoop
Bourbon – 3 ounces
Milk- 1 cup
Whipped cream – optional
Garnish – Chocolate syrup or caramel sauce
Instructions
Put all ingredients except the whipped cream in a blender and blend till everything is perfectly mixed.
Avoid too much blending, as it will make the consistency of your shake a lot thinner.
You can add more bourbon or sugar if you want to add more sweetness to the drink.
It's almost done. Pour it into your glass immediately.
Add a little whipping cream on top and drizzle chocolate syrup or caramel sauce.
A sweet dessert cocktail is ready!
3. Bushwacker Milkshake with Icecream
If you wanna try a milkshake with a unique blend of flavors then give this Bushwacker milkshake a try. It resembles a Pina Colada. Creme de cacao adds a chocolaty flavor to the shake, while dark rum adds an alcoholic punch. Overall when you take a sip, you will enjoy creamy, rich coconut and chocolate flavor along with the sweet-smoky flavor of dark rum. Put in a straw and enjoy.
Ingredients
Ice – 2 big scoops
Cream of coconut – 2 oz
Whole milk – 2 oz 
Creme de cacao – 1 oz
Kahlua – 1 oz
Dark rum – 1 oz
Garnish – chocolate syrup and toasted coconut flakes
Instructions
Put 2 scoops of ice in a blender.
Add cream of coconut, whole milk, creme de cacao, Kahlua, and dark rum and blend till smooth.
If you want to add thickness, you can always add 3-4 scoops of vanilla ice cream.
Drizzle chocolate syrup over the sides of your glass and pour the shake into it.
Put toasted coconut flakes and a little chocolate syrup on top for garnish.
Your scrumptious dessert is ready!
4. Boozy Grasshopper Milkshake
Grasshopper cocktails are green blissful drinks enjoyed by many all across America. So, why not tweak the classic recipe a little bit to experience the taste of a heavenly sweet dessert cocktail? Creme de menthe adds the green color along with chocolate, mint flavor to the recipe, which makes it simply refreshing on your taste buds. In contrast, heavy cream and ice cream add a tasty flavor and thick texture to your milkshake. You can also use green sprinkles to garnish your dessert.
Ingredients
Creme de menthe – 1.5 oz
Creme de cacao – 1 oz
Heavy cream – 1 oz
Mint chocolate chip ice cream – 5 scoops ( You can always add more)
Garnish -Grated chocolate, whipped cream, a sprig of mint, and chocolate cookie.
Instructions
Blend the ice cream, creme de cacao, creme de menthe, and heavy cream on a medium speed till the mixture is smooth.
Grate the chocolate and put it on a small plate.
Take your glass and place rims on the grated chocolate.
Once the grated chocolate covers the rims, pour the shake carefully into the glass.
To give it a more beautiful look, add whipped cream, grated chocolate, a sprig of mint, and a chocolate cookie on top.
5. Nutella shake
A dream comes true for all Nutella lovers. It is a simple and yummy shake that you can easily make in just a few minutes. The chocolate flavor paired with hazelnut liqueur gives a unique and delicious taste to your mouth. Combined with ice cream and milk, it has a creamy, velvety, and rich texture that can easily fulfill your sugar cravings.
Ingredients
Vanilla Ice Cream – 4 scoops
Nutella – 2 tbsp
Milk – 1/2 cup
Hazelnut liqueur (Frangelico)- 2 oz
Garnish – Whipped Cream, chocolate shavings
Instructions
Blend all the ingredients till the mixture is creamy and smooth.
Pour it into your glass and garnish with whipped cream, chocolate shavings, and Nutella.
6. Pina Colada
You can enjoy a Pina Colada as a cocktail, mocktail or even as a milkshake. Adding white rum to the recipe makes your cocktail a little extra boozy. It has a hint of coconut, while pineapple has the dominant flavor in the shake. In short, a true delight for pineapple lovers. The sweet, refreshing flavor of Pina colada will make you want to have another one.
Ingredients
White rum – 3 oz
Coconut cream – 4 oz
Pineapple juice – 5 oz
Ice – 2 cups
Instructions
Shake all the ingredients in a shaker for 30 secs or simply put it in a blender and whirl at high speed till it's smooth.
Taste your shake and add rum if you want a sweeter and boozy touch.
Serve it in a hurricane glass with a straw.
Garnish with a cherry on top and a pineapple wedge.
The easiest cocktail dessert is ready in minutes.
7. Kahlua Mocha Milkshake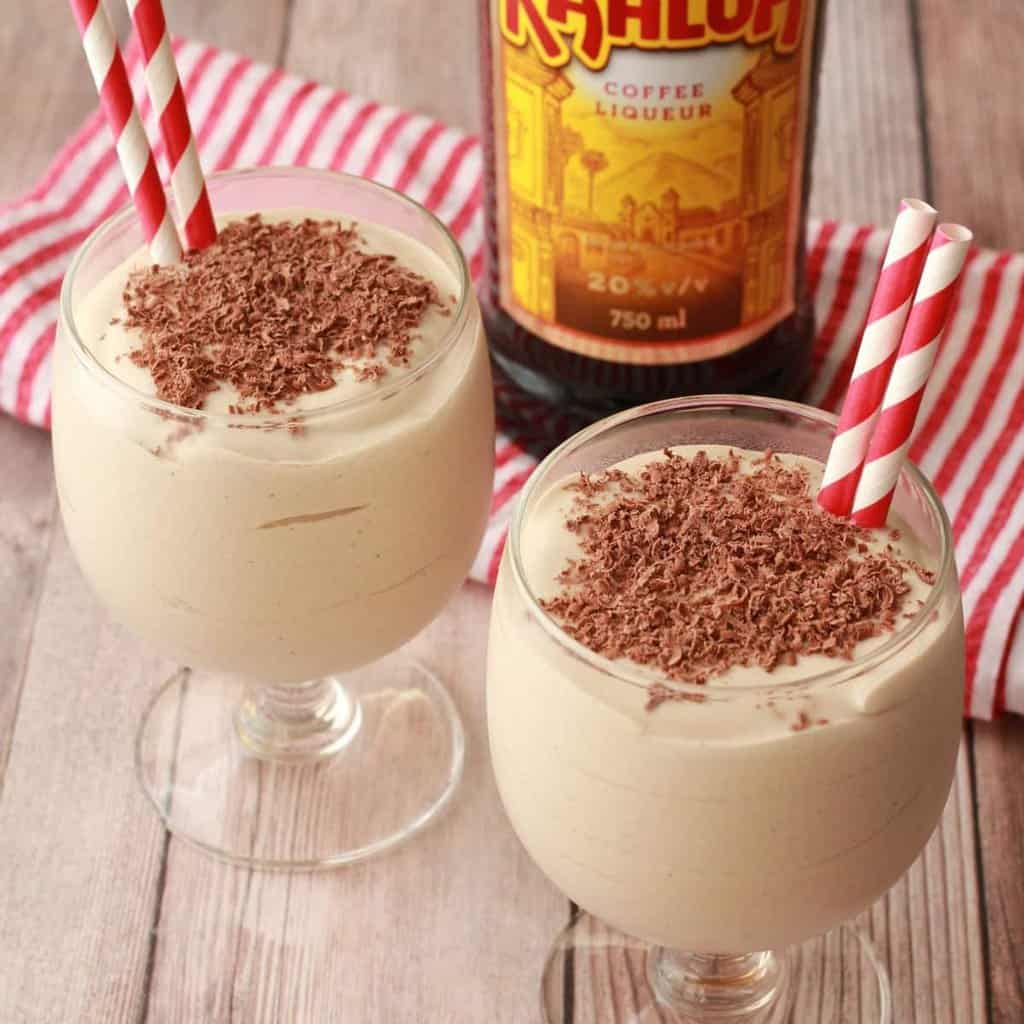 Another simple boozy milkshake on the list is Kahlua Mocha Milkshake. It is a tasty combination of coffee and chocolate flavor combined with Kahlua Mocha rum to add a boozy kick to the drink. You can enjoy it as a milkshake to fulfill your midday hunger. You can also dust cocoa powder with a drizzle of chocolate syrup for garnish. Serve it chilled.
Ingredients 
Coffee ice cream – 4 scoops
Milk – 1/2 cup
Kahlua – 2 oz
Coffee ( cool) – 1 tbsp
Cocoa powder – 2 tsp
Garnish – Whipped cream and chocolate shavings.
Instructions
Blend all the ingredients at a medium speed to make it smooth.
You can use whipped cream or one scoop of ice cream on top to make a yummy adult milkshake. 
Sprinkle chocolate shavings over it. 
Serve in a chilled glass, and enjoy!
8. Strawberry Milkshake
Who doesn't love some sweet and yummy strawberries? And when you talk about a strawberry milkshake, the taste buds are transported to bliss. Blending juicy strawberries and ice cream with a splash of vodka adds a sweet boozy touch to your milkshake, taking it to the next level. It tastes best when served chilled. You can also garnish with a strawberry slice on the rim.
Ingredients 
Strawberry ice cream- 4 scoops 
Strawberry fresh or frozen – 1 cup 
Milk – 1/2 cup
Vodka – 2 oz ( you can add more if you like extra boozy)
Garnish-whipped cream and strawberry syrup
Instructions 
Put strawberry ice cream, milk, sliced strawberries, and vodka in a blender and whirl on medium speed.
Pour in a serving glass and garnish with whipped cream and additional strawberries.
You can also drizzle strawberry syrup on top.
A great boozy milkshake for strawberry lovers!
A Sweet Finale
Now you know the 8 tempting and mouth-watering milkshake recipes. All of the recipes are made with a range of different hard liquors so everyone can enjoy a taste of their favorite type of dessert cocktail. From the creamy Vanilla Bourbon milkshake to the scrumptious Bushwacker Milkshake and from the minty Grasshopper to the velvety Nutella shake, each recipe enhances your drinking experience.
So grab your favorite ingredients and a good quality blender and try all of these healthy alcoholic milkshake recipes and find out which one turns out to be your favorite recipe. Enjoy!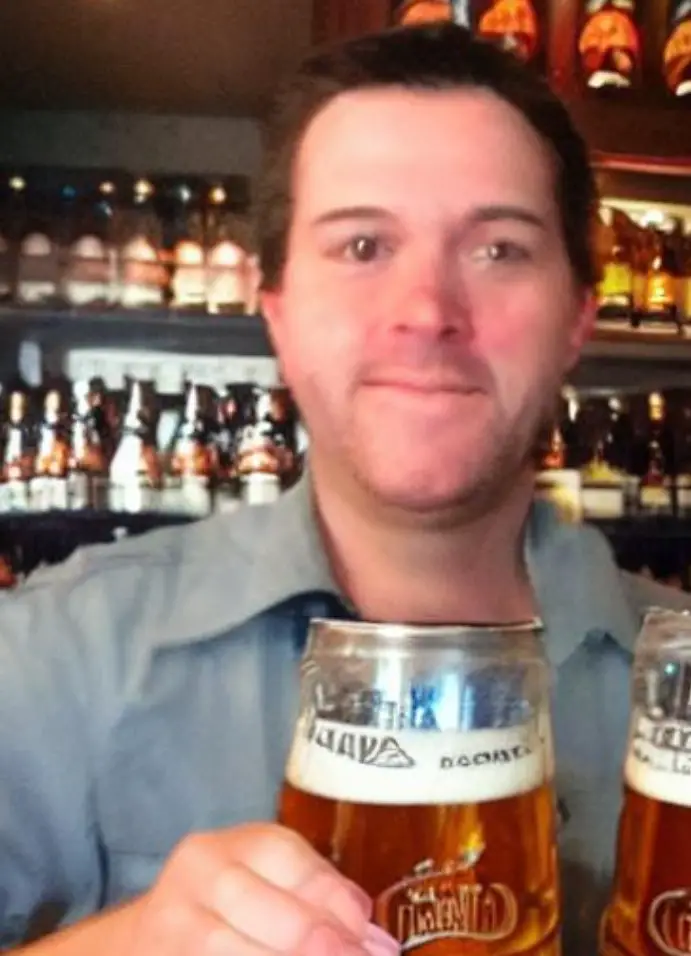 I am a passionate beer connoisseur with a deep appreciation for the art and science of brewing. With years of experience tasting and evaluating various beers, I love to share my opinions and insights with others and I am always eager to engage in lively discussions about my favorite beverage.