From drinking juices out of pint glasses to drinking Dalgona coffee from tumblers, the world has always liked uniquely shaped glasses to enjoy their drinks. After all, presentation and aesthetics greatly affect how much you can enjoy your beverages, right?
The latest trend on social media is drinking all sorts of drinks from glasses shaped like beer cans. 
So, do you want to jump on the trend and get the most aesthetic, durable, and all-in-all best beer can glass? Let's sip through this article carefully! 
How To Choose The Right Beer Can Glass 
Choosing a beer can glass is not solely based on aesthetics. After all, all products look similar but come in different qualities, sizes, and prices! 
You must carefully consider your buying intention and what kind of beer can glass can fulfill it. 
Here are things to keep in mind while choosing the beer can glass you'll get home:
Size: 16oz is the general glass size. However, depending on your beverage choice and drinking habits, you might want slightly smaller or bigger glasses. 
Shape: Yes, all beer can glasses will look similar. However, subtle changes such as the size of the neck, the lip design, etc, make a difference in the glass' appearance. 
Design: Do you want plain-jane glasses, or can you go for slightly fancier glasses? You can look for frosted, printed, or even embossed glasses. 
Quantity: See if you want to buy only one glass or are willing to buy a set. If you want a set, how many glasses would you need? 
Durability: Look into the materials the glass is made of. Make sure that the material is thick enough and dishwasher-safe. It shouldn't crack with a simple clink of glasses. 
Cost: Last but not least, you need to get the perfect glass that suits your budget. After all, relaxing and enjoying a drink is hard when you're stressed about going over budget! 
6 Best Beer Can Glasses 
Here's a list of the best beer can glasses you can get in 2023. You'll find beer can glasses of multiple sizes and styles to find the one that works the best for you. 
This is the right choice if you're looking for a minimalist, beautiful, high-quality beer can glass. Made of Cordial glass, even if this glass is thin, it will still be extremely durable. You can enjoy 16oz of wine, beer, soda, coffee, or even water in this glass.
The elegant, smooth, and simple look of these glasses is the USP of these glasses with a slight lip for easy sipping. 
Pros 
Elegant design 
Pocket-friendly 
Smooth and simple design
Cons
The glass needs hard scrubbing to avoid staining 
Another favorite among the classic beer can glass design lovers i9 the Libby Beer Can Glass. This tall glass holds 20oz and is perfect for detailed mocktails and coffees. This design perfectly imitates a beer can and doesn't have any neck. 
Buyers love it because of its simplicity and because it is lead-free and dishwasher-safe. You can get these glasses individually or in a set of 4. 
Pros 
Eye-catching design 
High-quality glass 
Easy to hold
Cons
No neck before the glass lip 
If you're looking for something slightly sturdier and easier to handle and preserve, you can look into this beer can glass tumbler. Shipped with a silicon protective sleeve and a glass straw coated with a replaceable silicone sleeve, this is a beautiful glass you can even travel with. 
This glass also features a lid to avoid a spill-free experience. It is made of good-quality glass that can hold hot beverages without cracking. 
Pros 
Unique and handy design 
Extremely pocket friendly 
Lead-free glass 
Cons
Sometimes the product is shipped cracked 
Plain and simple glasses are great, but what about adding fun elements? Here's a beer can glass tumbler with high-quality 'Explore More' printed on it with intricate designs to give this glass a refreshingly beautiful look. 
This glass is sourced from a small local business and is accompanied by a lid and straw. This glass is perfect for campers and RV owners since it is also made of sturdy materials! 
Pros 
Refreshing look 
Sturdy build 
Easy to clean 
Cons
The lid can be slightly loose 
Add some color to your kitchen with this yellow beer can glass tumbler that comes with a wooden lid and a glass straw. Made of high-quality glass, this is the perfect container for both iced tea and hot chocolate. 
This is a slightly smaller-sized glass that can hold 11oz of drinks. You can also get it in aqua and royal blue colors! 
Pros 
Easy to clean and handle 
Simple and unique look 
Comes with a straw and lid
Cons
The most unique product in this list has been reserved for the last. This beer can glasses are not only made of frosted glass but also have a sublimation tint to give them a beautiful hue. Made of BPA-free, lead-free food grade, and durable glass, this product is sure to be the pride of your kitchen. 
You can get the AGH beer can glass in any quantity you like – sets of 2, 6, 12, 15, 25, and even 50! 
Pros 
Extremely easy on the pocket 
Beautiful look 
BPA-free safe materials 
Cons
The Choice is Yours! 
There you have it! A concise list of the best beer can glasses you can get! Now, whichever glass you choose is up to your personality, drinking needs, and personal choices. Here's to hoping this buying guide and suggestion help you make the right decision for your kitchen! 
Happy sipping!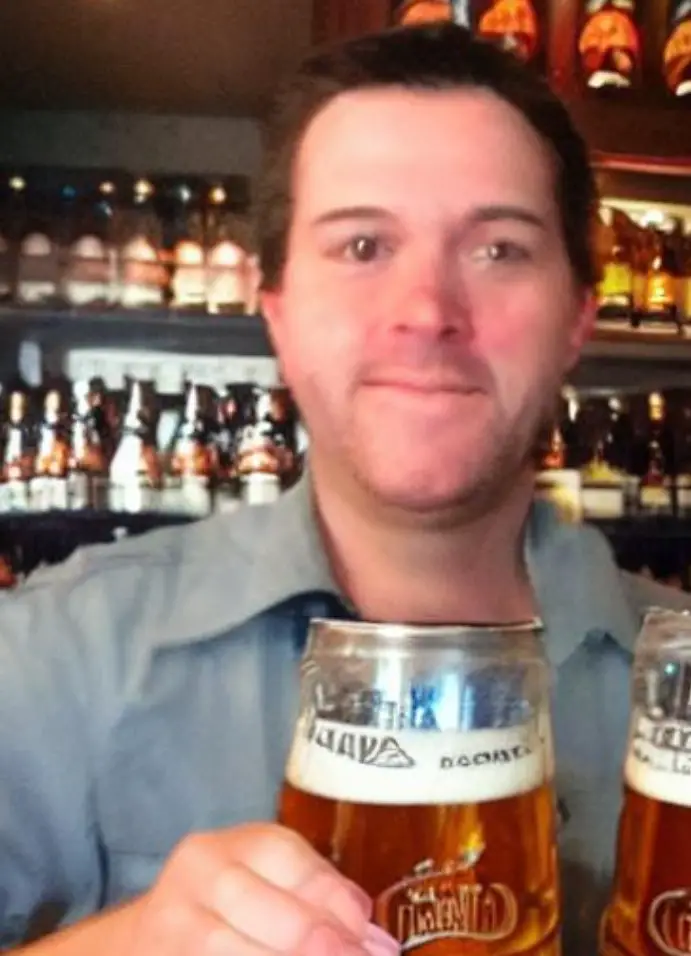 I am a passionate beer connoisseur with a deep appreciation for the art and science of brewing. With years of experience tasting and evaluating various beers, I love to share my opinions and insights with others and I am always eager to engage in lively discussions about my favorite beverage.