As an American, I'm intimately familiar with the love affair the US has with coffee and alcohol, particularly beer. In fact, it's ingrained in our history.
In fact, coffee and beer are beloved across the world individually, so it's no surprise that some creative minds came up with the idea of combining them. 
The result? Coffee beers! In this article, we'll be discussing the 13 best coffee beers in the USA. 
We've scoured the country to bring you a list of the most delicious, unique, and highest-rated coffee beers out there. So, without further ado, let's get started.
1. Avery Brewing Co. – Tweak
Bourbon barrel-aged coffee stout at a 13.1% ABV. Need we say more? 
Avery Brewing's Tweak is a powerful, immense, and intense beer brewed with coffee and aged in bourbon barrels. It's pitch black with a viscous, creamy head and a smoky bourbon finish. 
The tweak is a malty, Columbus-hops-driven bottle of fun.
2. Ballast Point – Victory at Sea
San Diego, California's Ballast Point Brewery brews a 10% ABV coffee beer that's won 10 awards.
It's called Victory at Sea, and it might just win for the most badass name! The beer is a satiny porter brewed with vanilla and San Diegan Caffe Calabria coffee beans. For anyone visiting the area, Victory at Sea makes for an unforgettable San Diego souvenir, capturing the city's vibrant craft beer culture in every sip.
Its rich, dark, and velvety body feels decadent and satisfying. It's perfect for those who want a little sweetness in their coffee beer and to feel like you just won an epic battle at sea.
3. Brooklyn Brewery – Black Chocolate Stout
Brooklyn Brewery's Black Chocolate Stout is a classic in its category. Rich and dark chocolatey with secondary espresso notes, it's a delicious beer brewed with six malts and two types of hops.
This 10% ABV Russian Imperial Stout is a heavy hitter and is only available from October – March. 
If you want a classic chocolate stout with a hint of coffee, try it when the weather turns cold, and you're cozy in front of a fireplace.
4. Dogfish Head – Beer for Breakfast
Did you know Dogfish Head was Delaware's first brewpub? They've come a long way since 1995, as evidenced by this crazy creative brew!
Dogfish Head's Beer for Breakfast is a unique and flavorful beer brewed with coffee, maple syrup, and smoked barley. At 7.2% ABV, Dogfish Head recommends you pair it with hearty breakfast foods. And looking at the ingredients, it makes sense.
This beer has pronounced coffee and smoky flavors with a subtle sweetness from maple syrup. It has a creamy mouthfeel, so it goes down smoothly and is perfect for those who love a novel flavor profile.
5. Evil Twin – America Runs On Double Milk, Double Coffee, Double Vanilla Latte Stout
Is it art or beer? It's both! 
Yes, that's really the name of this creative beer from an out-of-the-box New York brewer, Evil Twin. This beer has a dark, almost black color and a viscous head. 
It tastes like a spiked latte, with a sweet milky body and 12% ABV. This beer is perfect for those who want a dessert-like beer with a decadent coffee twist.
6. Founders Brewing Co. – Breakfast Stout
One of the most well-known and beloved coffee beers in America is Founders Breakfast Stout. This 8.3% ABV imperial stout is brewed using flaked oats, bitter and imported chocolates, and two different types of coffee. 
The coffee flavors in this beer come from Sumatra and Kona coffee beans. It has a luscious mouthfeel with notes of chocolate, coffee, and a slightly smoky flavor. Enjoy it on a chilly morning or as an after-dinner treat.
7. Funky Buddha – Maple Bacon Coffee Porter
The Funky Buddha Maple Bacon Coffee Porter is a unique and unforgettable beer. As the name suggests, it's brewed with maple syrup, bacon, and coffee. 
The result is a bold 6.4% ABV porter with a sweet maple flavor, a hint of smoky bacon, and a subtle coffee finish. This beer is perfect for those who love sweet and savory flavors together.
8. Great Divide – Coffee Porter
Great Divide's Coffee Porter is a limited-release canned beer. With a mild 6.5% ABV, it's a luxurious brew that manages to stay light. 
Great Divide is a Denver brewery that loves to partner with other local companies, and that is how this beer was born. The brewery partnered with local coffee roastery Pablo's to source Mexican green coffee beans specifically for this porter. 
The green coffee beans stay in whiskey barrels that normally hold the brewer's famous Yeti Stout until they are infused. Then Pablo roasts the beans, and Great Divide proceeds to make this special coffee porter with them. A true American partnership!
9. Lagunitas – Cappuccino Stout
Lagunitas is a beloved California brewery based out of Petaluma. And it first brewed its famous Cappuccino Stout in 1994. While it's not currently being brewed (and was always a seasonal treat), the beer is a coffee craft American classic and deserves a spot here.  
The Cappuccino Stout is a silky beer brewed with a generous amount of coffee and espresso beans. Lagunitas is known for its strong beer anyway, so when you combine that with the assertive coffee in this stout, you really feel that 9.2% ABV.
10. Left Hand – Wake Up Dead Nitro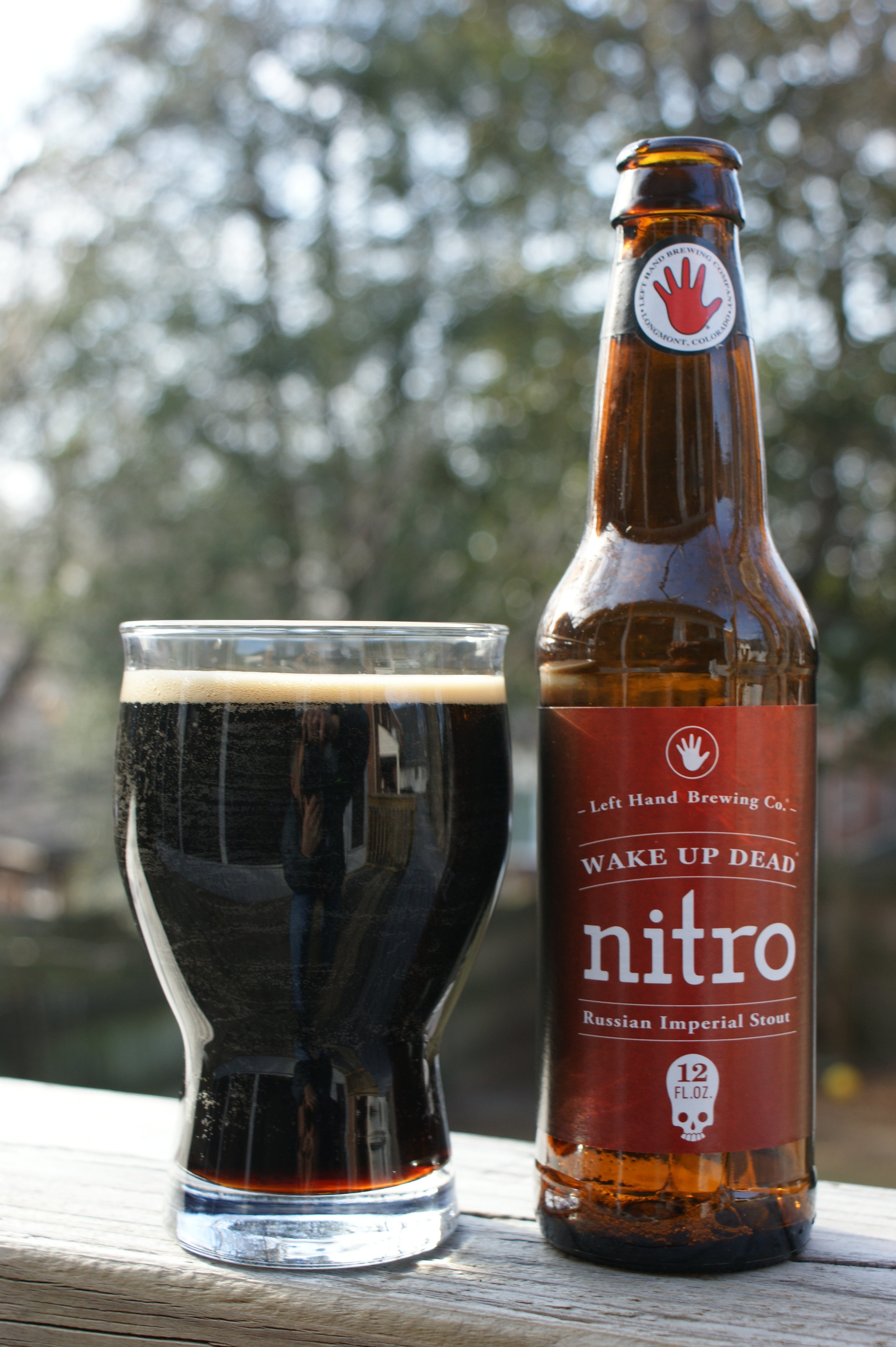 Crafted in the Russian Imperial Stout style at a 10.2% ABV, Left Hand's Wake Up Dead Nitro is a sudsy beer brewed with coffee and roasted malts, like chocolate, rolled oats, and roasted barley. 
Left Hand Brewing is a Colorado brewery that prides itself on doing things differently, and this stout is unique. It has flavors of coffee, chocolate, and a subtle bitterness from the hops. 
The nitro adds an extra creaminess to the beer, making it a smooth and enjoyable either in a can or on draft. It's an easy-to-drink coffee stout overall, with interesting notes of licorice, dried fruit, and cocoa.
11. Perennial Artisan Ales – Sump Coffee Stout
Perennial Artisan Ales BA Sump Coffee Stout is a delicious and well-balanced beer brewed with coffee beans roasted in-house. The Missouri-based brewer crafts it seasonally in winter only, so you'll have to keep an eye out for when it becomes available. 
This American Imperial Stout-style beer has 11.5% ABV. It's dense, creamy, and pours midnight black. Plus, there's hardly any alcohol burn. 
12. Prairie Artisan Ales – Bomb!
Bomb! is a bold and intense beer brewed with dark espresso, chocolate, vanilla, and chili peppers. Oklahoma-based brewery Prairie Artisan Ales crafts it to a strong 12% ABV, and it's actually available all over the world in addition to 45 states. 
Bomb! has a dark color and a thick, foamy head. It has a complex flavor profile, with notes of coffee, chocolate, vanilla, and a spicy kick from the ancho chili peppers. 
13. Stone – Americano Stout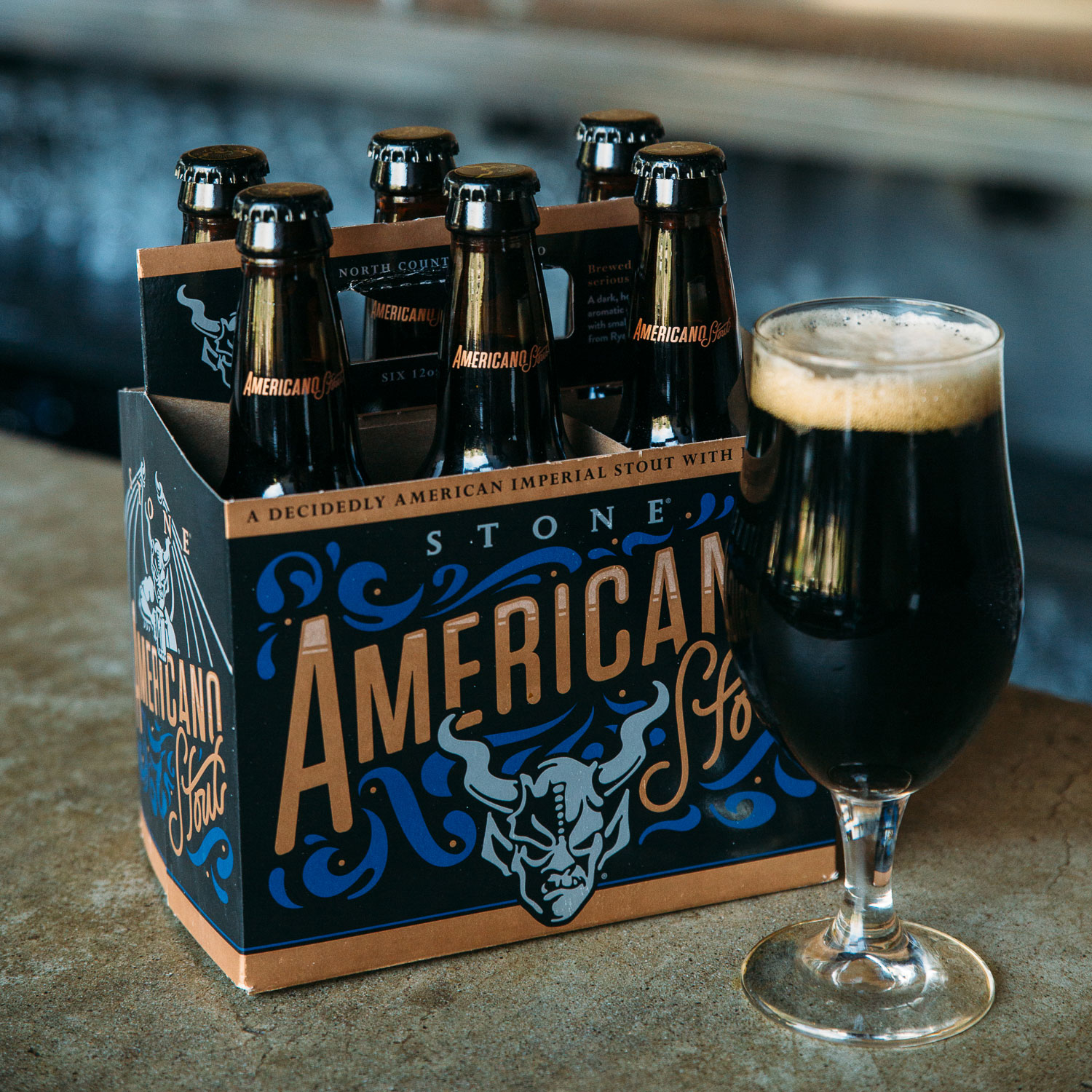 Based out of Encinitas, California Stone is known for its bitter brews—and the Stone Americano Stout doesn't disappoint. 
It's a bold and flavorful beer brewed with espresso beans and malts. Frothy and complex, the 8.7% ABV Americano Stout hums with notes of coffee, chocolate, and a hint of smokiness. It's available across the US.
Final Thoughts
There are many great coffee beers in America that offer a wide range of flavors, textures, and complexities. From bold and intense brews to smooth and creamy stouts, there is a coffee beer out there for everyone. 
Whether you prefer a classic and traditional coffee flavor or a unique and experimental blend, the craft beer scene has you covered. 
So the next time you're in the mood for a delicious and flavorful brew, be sure to try one of these top 13 coffee beers in America.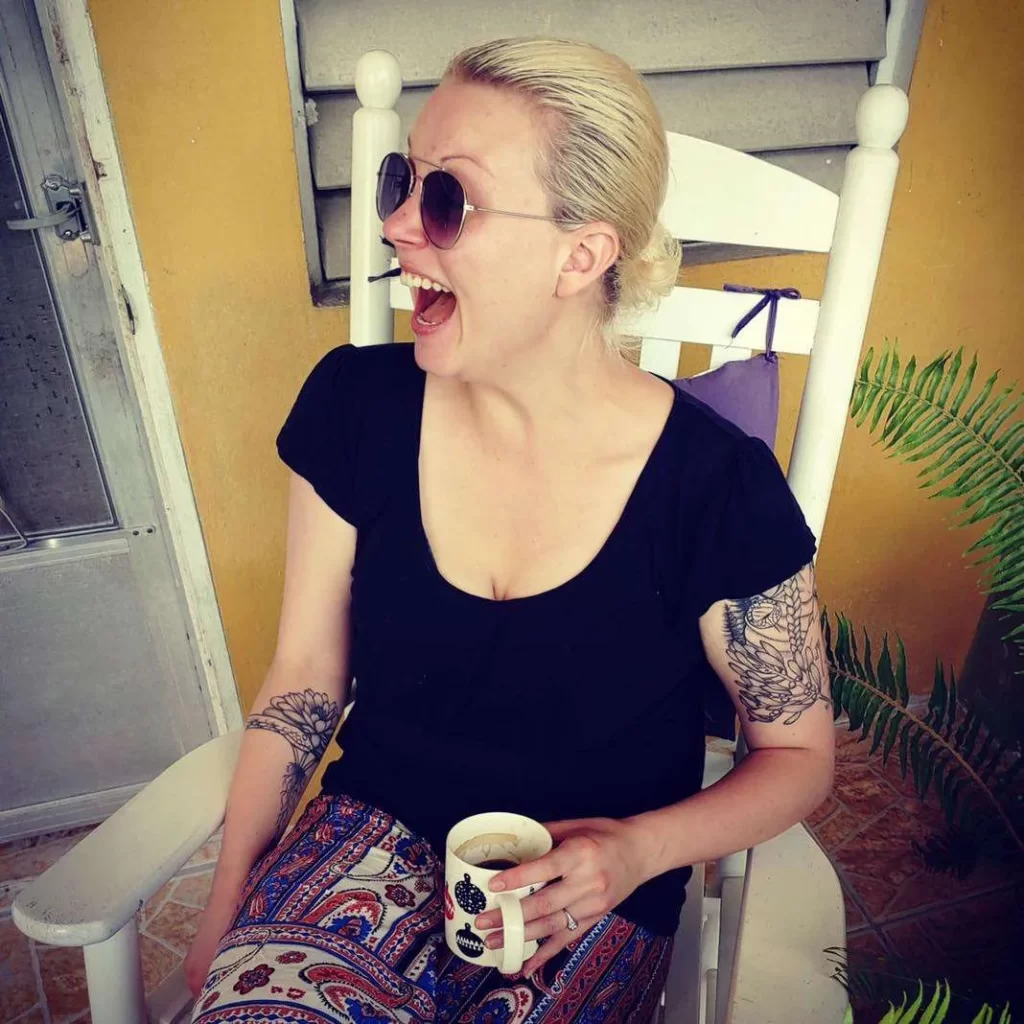 Lauren Winder Hoar is the Editor-in-Chief at Coffee Hex, an educational resource for all things coffee. As a former barista and full-time writer, she spends her days with words and java, which is pretty much heaven. Lauren loves to share her passion and trade insights with fellow aficionados and the coffee curious alike.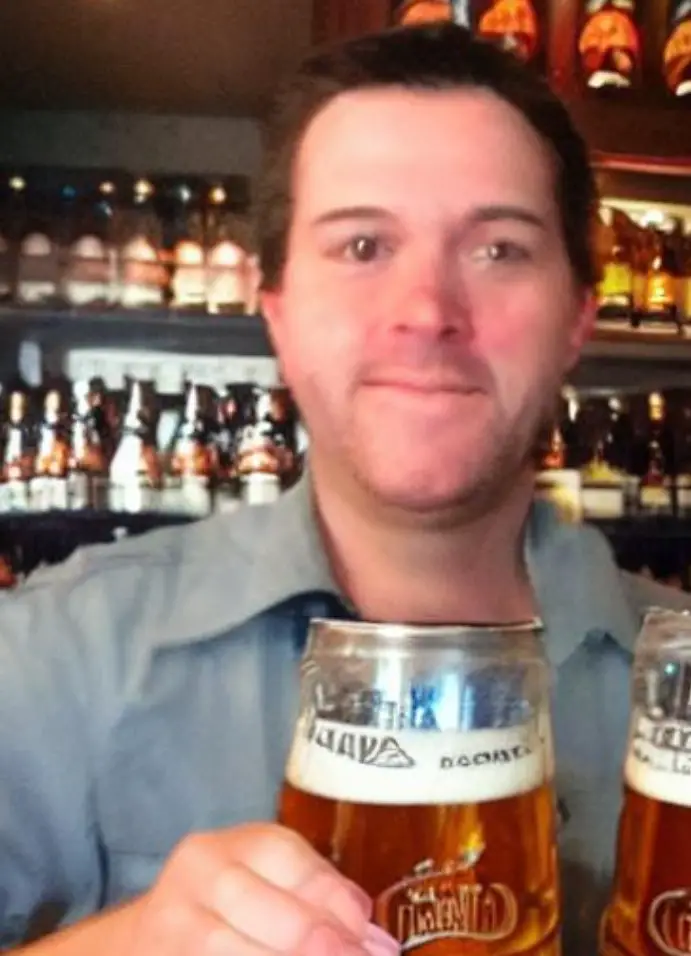 I am a passionate beer connoisseur with a deep appreciation for the art and science of brewing. With years of experience tasting and evaluating various beers, I love to share my opinions and insights with others and I am always eager to engage in lively discussions about my favorite beverage.