Wanna try out a new kind of buzz? Rock your taste buds with a variety of 12 Buzzballz flavors packed beautifully in vibrant spheres. 
Whether you like a flavor resembling a spicy margarita or a sweet pina colada, these little Buzzballz are sure to satisfy any palate.BuzzBallz are alcoholic beverages made with your fav juices and creams.
Its cocktails are made with premium spirits, whereas its chillers have orange wine as the base ingredient and come in 12 different flavors. The biggies, however, cover only 4 flavors- Chilli Mango, Chocolate Tease, Tequila 'Rita, Strawberry 'Rita.
Did You Know? Buzzballz is the work of Merrilee Kick, the fearless leader who turned a small idea into a full-blown sensation. She's breaking barriers as a woman making waves in a male-dominated industry. In her interview with Forbes, she describes her hard struggle to get to the point where she is now. But in the end, all her hard work paid off, and Buzzballz became a favorite of many.
These bad boys are wallet-friendly compared to your regular beer, yet they pack a punch with their high ABV. So, let's dig into this lineup of 12 BuzzBallz flavors that are basically a big party in a small bundle. Get ready to chug all the juicy details and take a wild trip through a world of taste that's anything but ordinary.
BuzzBallz Sizes
It comes in 4 different sizes, each having a separate nutritional value. It's your choice whether you want a Biggie for your next trip, a chiller to enjoy a refreshing day, a mixed drink to enjoy with your partner, or a cocktail to spice up the night.
Biggie – 1.75 L
Cocktails – 200ml
Chillers – 187 ml
Mixed Drinks – 6.5o z
Buzzballz Alcohol Content
The company offers cocktails, mixed drinks, chillers, and biggies. All of its products have the same ABV level of 15%, which is higher than regular 12-oz cans of beer. In other words, it's equivalent to 1.3 shots of a standard drink. These attractive tennis ball-sized cocktails don't have carbonation and are gluten-free. To be more specific, it's a blend of innovation and fun. Buzzballz cocktails are great to try out for your next party. 
How Many BuzzBallz To Get Drunk?
It's like a flavor adventure you can hold in your hand. All of its flavors have a high abv of 15%. Depending on your weight, height, and other physical factors, 3-4 cans of BuzzBallz are good enough to make you tipsy.
12 BuzzBallz Flavors Breakdown
Calling all tequila and vodka enthusiasts! If you're up for an exciting flavor escapade, BuzzBallz's creatively packaged cocktails are your go-to. From best to still awesome, we've got the lineup covered, ensuring you know exactly what you're in for. So, whether you're cracking one open for a cozy night in or bringing the party to life, BuzzBallz is here to redefine your cocktail experience. Twist, sip, and let your taste buds thank you!
1. Espresso Martini 
| | | |
| --- | --- | --- |
| Product | Carbs | Calories |
| Cocktails | 22.6 | 255 |
| Chillers | 26.7 | 260 |
| Mixed Drinks | 14.2 | 214 |
Gotta good news for all coffee and espresso addicts! The Espresso Martini is about to steal your heart. It's a velvety coffee flavor that's got that ideal mix of java and a hint of booze. And guess what? If you're feeling fancy, toss in a dollop of whip cream or a dash of Choc tease – it's a flavor combo you never knew you needed. You can buy an Espresso Martini Chiller, a Cocktail, or a Mixed Drink.
It's like the perfect blend of sweetness and that boozy kick you crave, just right to enjoy the summer vibes. Take a sip, and you're in for a treat – it's a whirlwind of smooth, bold flavors that'll keep you coming back for more. Get ready to get hooked!
2. Choc Tease
| | | |
| --- | --- | --- |
| Product | Carbs | Calories |
| Cocktails | 25.8 | 298 |
| Chillers | 24.8 | 280 |
| Mixed Drinks | 25.8 | 295 |
Indulge in the velvety delight of Choc tease, where rich, creamy, and chocolatey meet a delightful boozy twist. Whether you're chilling with a movie or kicking it at a friend's bash, these treats are your go-to. 
Not too sweet but perfectly balanced, they pack a punch with premium vodka and orange wine. It's a flavor combo that's both smooth and zesty, making Choc Tease the ultimate dessert cocktail. Gives a similar feeling to that of a Mudslide. Feel the buzz with just one ball. Pour it over ice and enjoy. It is available as a Buzzballz cocktail, biggies, and a choco chiller.
3. Cran Blaster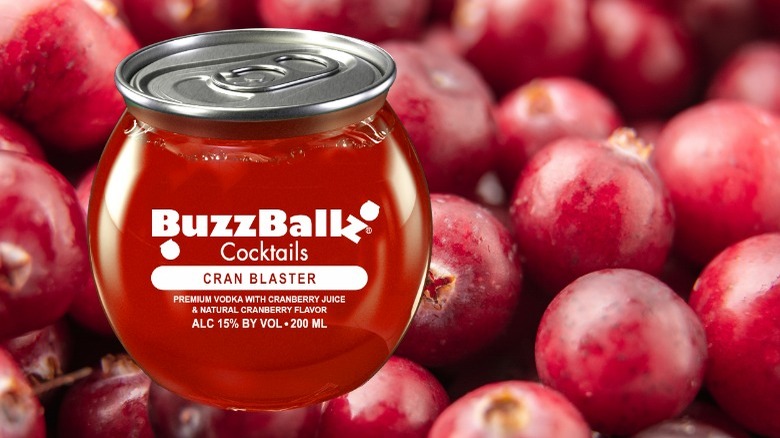 | | | |
| --- | --- | --- |
| Product | Carbs | Calories |
| Cocktails | 16.2 | 228 |
| Chillers | 13.5 | 207 |
Get ready to meet the rebel of the bunch – Cran Blaster. It's like a vibrant, flavor-packed Cosmopolitan cocktail in a sphere. Packed with a vodka punch and the authentic tang of cranberries in every sip, this drink is your ultimate night buzz.
Here's the kicker – no harshness here. Instead, you'll dive into a symphony of tart and sweet notes that'll have your taste buds dancing. And guess what? It's not just a nighttime treat – Cran Blaster's got your back after a long, tiring day too. Get ready to embrace the cranberry blast like never before. You can enjoy it as a cranberry chiller or Cran blaster cocktail.
4. Strawberry Rita
| | | |
| --- | --- | --- |
| Product | Carbs | Calories |
| Cocktails | 20.6 | 246 |
| Chillers | 18.0 | 224 |
| Mixed Drinks | 25.8 | 295 |
| Biggie | 18.5 | 231 |
Get ready to savor the essence of sun-kissed strawberries with Strawberry Rita. This citrusy-sweet concoction, boosted with an extra splash of alcohol, is like a cool breeze on a scorching summer day.
Want to kick it up a notch? Add a jalapeño without the seeds or toss in a handful of frozen strawberries – it's a flavor twist you won't see coming. Keep it frosty in the freezer, or guzzle it right from the sphere-shaped can. The alluring hue, natural flavor, and just-right sweetness balance make Strawberry Rita a sip of pure delight. Have it as a biggie, cocktail, chiller, or as mixed drink. Cheers to embracing the taste of summer in every sip!
5. Chilli Mango
| | | |
| --- | --- | --- |
| Product | Carbs | Calories |
| Cocktails | 22.3 | 252 |
| Chillers | 19.5 | 231 |
| Mixed Drinks | 20.1 | 237 |
| Biggie | 22.3 | 252 |
Ready for something totally different? Imagine the bold blend of mangoes and jalapeños – that's BuzzBallz Chilli Mango flavor for you! It's a true taste sensation where these two buddies bring sweet and crisp notes to the party.
Don't worry, though – this one won't overwhelm your taste buds. It's got the right dose of that boozy kick you're after. This bad boy is your summer wingman, perfect for sharing with your crew as you soak up the sun.
Gather your friends and family because it's time to dive into the sweet, spicy, and tangy world of Chilli Mangoes. For the perfect experience, keep it chilled, and if you're feeling adventurous, toss in extra mango juice or cubes to dial down the heat. Get ready to spice up your sipping game. You can buy it as a chiller, cocktail, mixed drink, or a biggie.
6. Tequila 'Rita
| | | |
| --- | --- | --- |
| Product | Carbs | Calories |
| Cocktails | 19.7 | 243 |
| Chillers | 18.2 | 225 |
| Mixed Drinks | 18.5 | 231 |
| Biggies | 19.7 | 243 |
Get ready to tango with a zesty lime punch and the sweet embrace of tequila – that's the magic of this drink! Tequila fans, this one's for you. It's like sipping on a burst of crisp refreshment that'll make your taste buds do a happy dance.
Whether you're sipping it straight up, going for the Lime Rita chillers, or mixing it up, this drink's got your back. Now, here's where it gets exciting – wanna turn the dial on flavor? Add a splash of Sprite or go wild and mix it with Strawberry Rita.
But that's not all – this pocket-friendly option packs a punch without breaking the bank. It's like a little bottle of motivation to get the good times rolling. That lime touch? It's like a sip of relaxation that'll leave you feeling oh-so-refreshed. Get ready to raise your glass to the perfect blend of zesty and sweetness!
7. Peachballz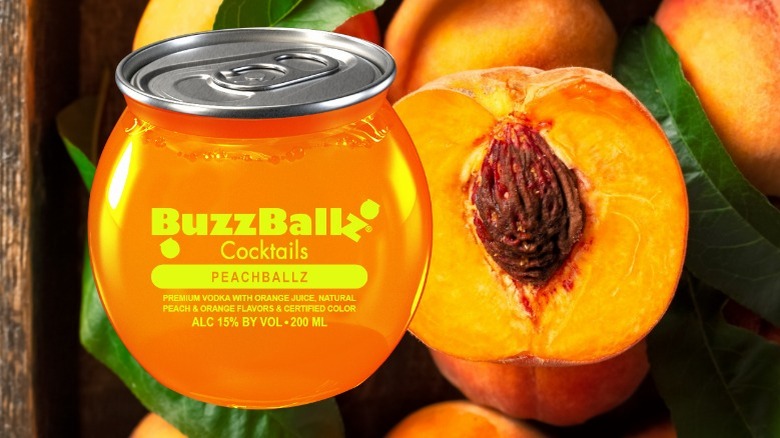 | | | |
| --- | --- | --- |
| Product | Carbs | Calories |
| Cocktails | 11.1 | 197 |
| Chillers | 18.2 | 225 |
Ready for a sip that will make you go "Wow"? Grab a Peach Chiller or PeachBallz cocktail, and let the fruity sensation blow you away. The natural peach flavor, mixed with alcohol, will transport you to a tropical paradise.
It has a bright, peachy sunset color which resembles Peach Martini. You'll get hooked on the first sip. Even a 200 ml drink has the magic to get you feeling a little boozy within minutes. Pro tip# Adding a little grenadine to the drink will enhance your drinking experience.
8. WaterMelon Smash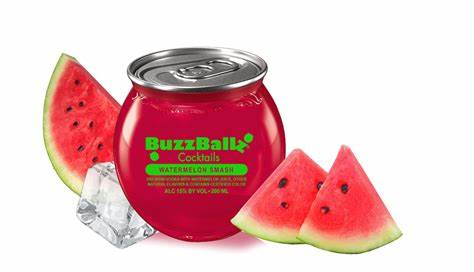 | | | |
| --- | --- | --- |
| Product | Carbs | Calories |
| Cocktails | 20.7 | 246 |
| Chillers | 21.2 | 237 |
The first thing that comes to mind when you hear the word watermelon is "Hydrating." Why not enjoy a cocktail that helps you quench your thirst with the natural flavors of watermelon blended with hard liquor?
Watermelon Chiller or Watermelon Smash cocktail is a unique drink that provides a soothing sensation inside. Its vibrant color and punchy taste have made it a go-to drink for many, even those who are not big fans of watermelon juice. These little cuties are easy to open. Just shake them and enjoy them chilled or at room temperature.
9. Forbidden Apple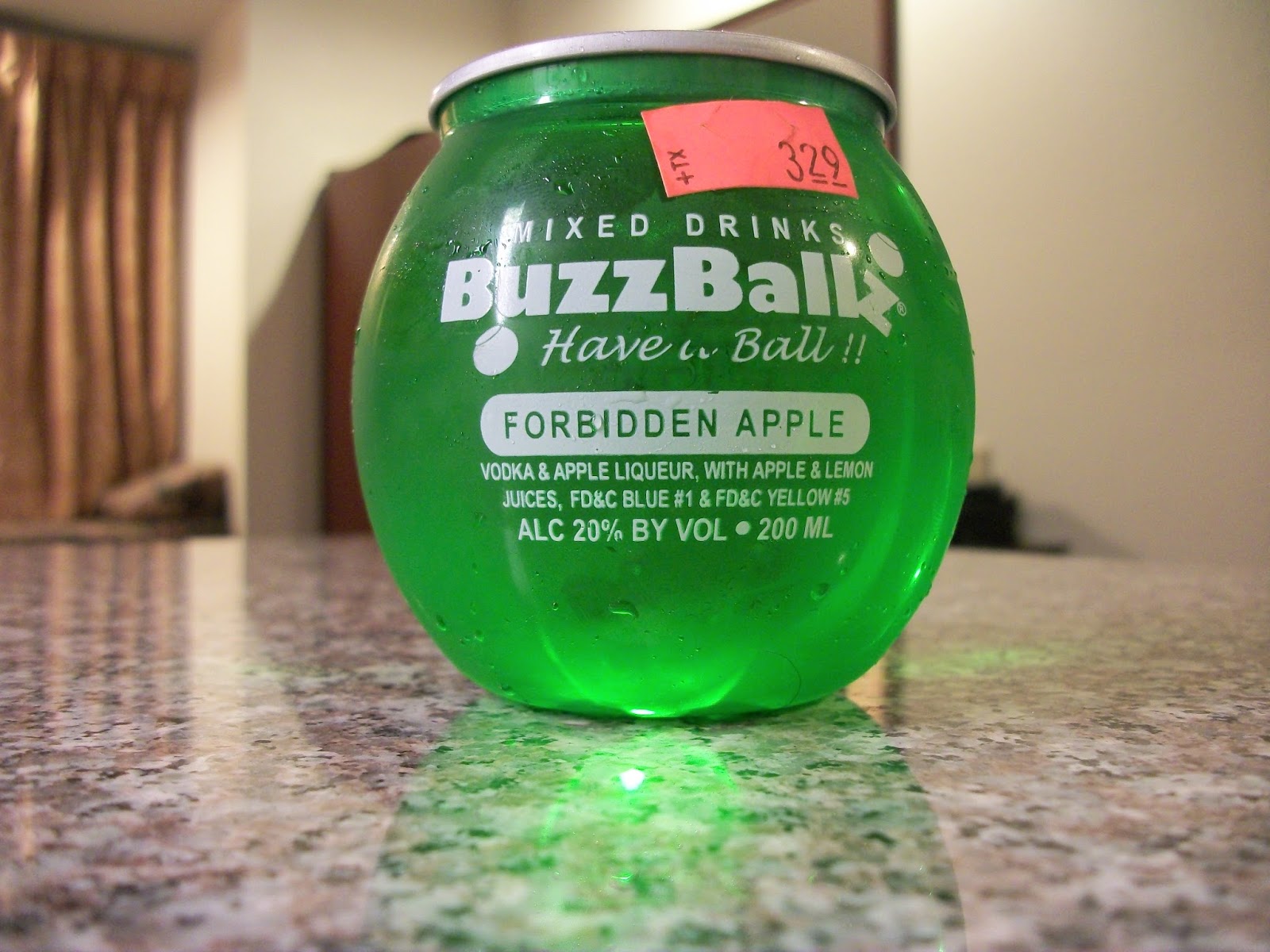 | | | |
| --- | --- | --- |
| Product | Carbs | Calories |
| Cocktails | 11.7 | 211 |
| Chillers | 14.2 | 211 |
A nice drink to enjoy a relaxing day at home. BuzzBallZ Forbidden Apple or Sour Apple Chiller creates a sweet and tart taste in the mouth. The green apple delight is a good price to pay for a boozier experience.
The yummy cocktail will give you a tickling sensation as it goes down. To make it more crispy, try adding a little Sprite to the drink and enjoy a flavor you never tasted before. You can also use it as a base drink to prepare a cocktail of your own. These Sour Apple flavors taste delicious over ice.
10. Horchata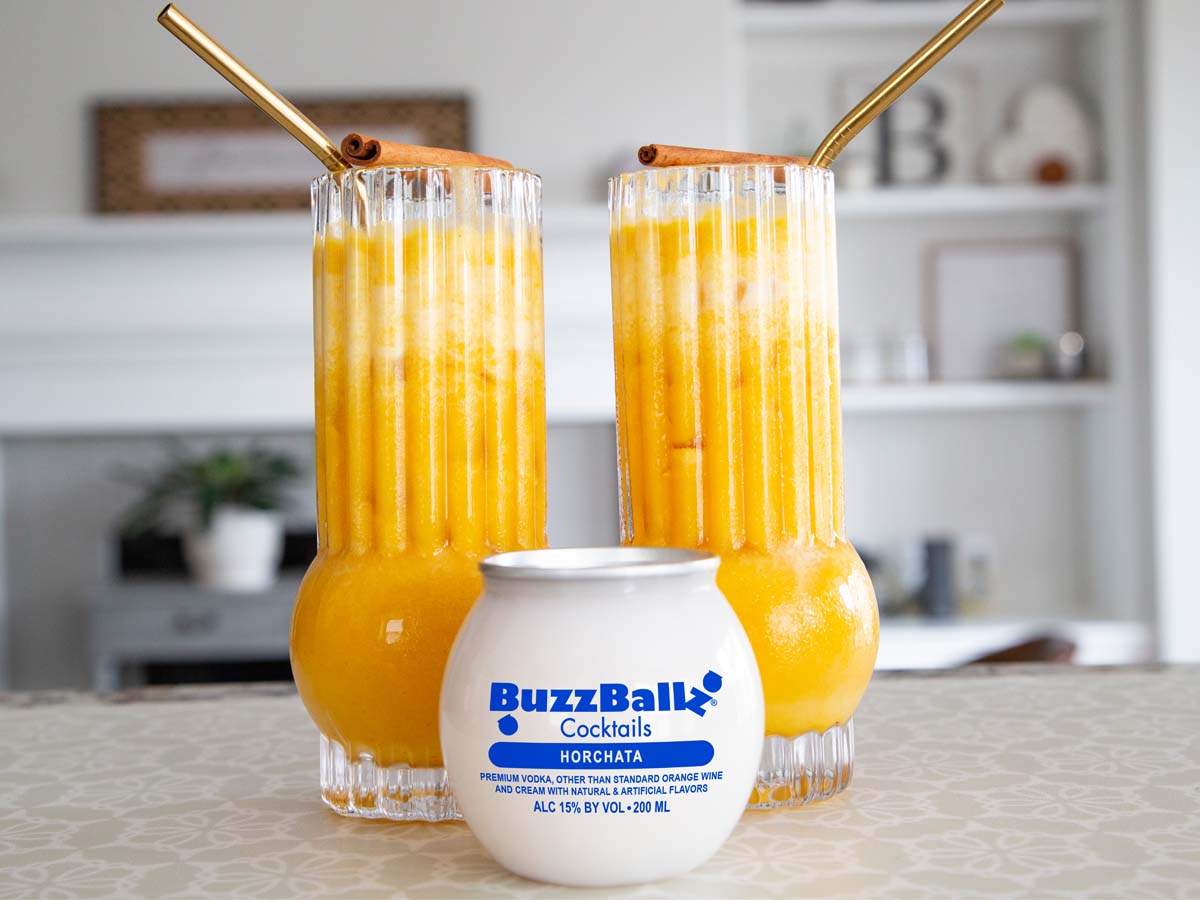 | | | |
| --- | --- | --- |
| Product | Carbs | Calories |
| Cocktails | 21.9 | 267 |
| Chillers | 19.9 | 248 |
A classic Mexican Treat. Horchata has a rich and creamy flavor – not too thick, which makes it a perfect after-dinner cocktail. You can sense the tones of vanilla and cinnamon inside. The strong alcoholic taste makes it one of the most punchiest drinks on the list.
Tantalize your taste buds with these Horchata Chillers or cocktails at an amazingly low price. As of this writing, this product has limited supply in the market as the company is testing out new flavors. But if you do find it, enjoy it chilled or over the rocks in a glass. It's surprisingly yummy. 
11. Lotta Colada
| | | |
| --- | --- | --- |
| Product | Carbs | Calories |
| Cocktails | 31.0 | 289 |
| Chillers | 31.4 | 279 |
Experience the taste of fresh pineapple juice and coconut milk in one drink. The Lotte colada cocktail or Pineapple colada chiller has a similar taste as the most popular drink Pina Colada. A tropical sensation packed with a strong taste of alcohol in small spherical cans.
You'll also find a citrusy touch of lime in the drink. Try blending it with ice or add some vanilla ice cream to the recipe that will make you feel like walking on a beach with your partner.  It's a great party drink at a cheap price.
12. HazelNut Latte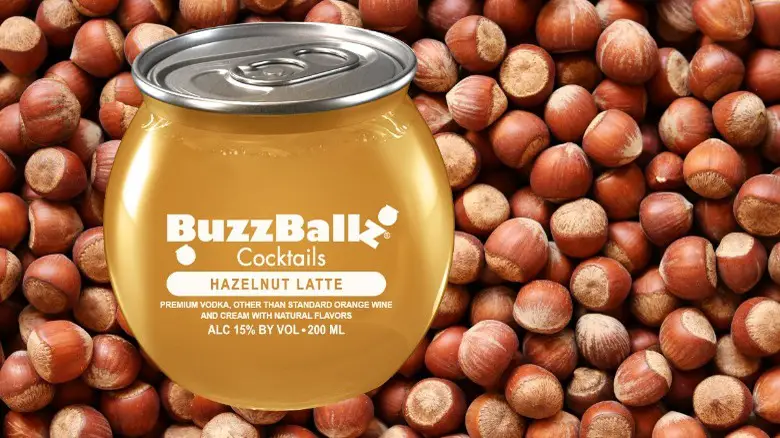 | | | |
| --- | --- | --- |
| Product | Carbs | Calories |
| Cocktails | 18 | 253 |
| Chillers | 16.9 | 236 |
One of the most popular BuzzBallz flavors is Hazelnut Latte. It has a creamy and rich coffee flavor that makes it a perfect day drink. The toasted flavor, combined with a little sweetness, gives this drink a unique taste.
The nutty java flavor of Hazelnut Latte or Hazelnut Latte Chillers and an extra kick of alcohol will get you immediately hooked on the drink. This item is not so readily available in all stores, but you may find some online. Grab a few and enjoy the taste of a subtle refreshing drink!
Are BuzzBalls Healthy?
Buzzballz are ready-to-drink pre-mixed drinks that do use alcohol as the base ingredient. If you're planning to lose weight, then these sorts of drinks are not such a good option. Alcohol and extra calories will not only contribute to weight gain, but excessive alcohol can damage your mind and body. It is therefore advised to keep your BuzzBallz consumption to a tolerable level. Don't miss a BuzzBallz party, but learn to act responsibly!
Price
Buzzballz is cheaper than other spirits and cocktails in the market. You can purchase it as an individual can or get it from your local stores or online sellers. As of today, the price of one Buzzballz can is around $4- $5, whereas you can purchase its cases at a price of $96.
The price may vary with store location, size, and flavor. It is best to confirm prices before making a purchase.
Conclusion
If you are looking for a summer drink, a creamy cocktail dessert, or a strong alcoholic chiller, then you must give these BuzzBallz flavors a shot. These yummy delights packed in uniquely designed cans are eye-catching and easy on the pocket. 
You can find them easily in local stores. Just grab the one you love and dive into a world of flavorful punchy cocktails where each flavor brings a new surprise to the table.
As the world of cocktails keeps on changing, BuzzBallz stands out as a cool mix of new ideas, easy vibes, and a whole lot of fun. They're like a reminder that drinks can be creative, hassle-free, and all about good times. Just remember to drink responsibly.
Buzzballz FAQs
Where can I find Buzzballz?
A variety of Buzzballz flavors are available in your nearby stores. You can also buy them online.
Is Buzzballz alcoholic?
Yes. Its cocktails are prepared with premium spirits, whereas chillers are made of orange wine.
What is the alcoholic content of Buzzballz?
All Buzzballz flavors have similar alcoholic content that is 15% ABV. 
Are they expensive?
Not really. They are cheaper and boozier than many drinks. Its cans are available at a price of $4- $5.
Do they come in different sizes?
They come in four different sizes. The Biggies (1.75 L), Cocktails (200 ml), Chillers (187 ml), and Mixed Drinks (6.5o z).
How many shots is equivalent to a 200 ml can of Buzzballz?
It is equal to standard 1.3 shots.
Why can't I find some of the flavors?
Buzzballz has limited the production of some of its flavors, like Horchata, as the company is more focused on experimenting and creating new flavors.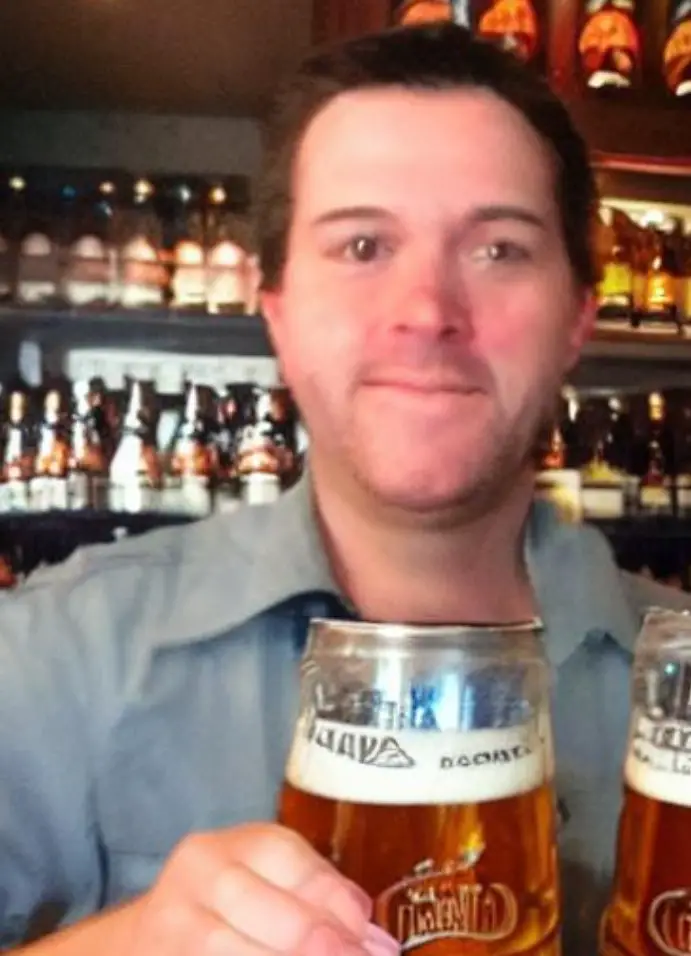 I am a passionate beer connoisseur with a deep appreciation for the art and science of brewing. With years of experience tasting and evaluating various beers, I love to share my opinions and insights with others and I am always eager to engage in lively discussions about my favorite beverage.