Deeply ingrained in Chilean traditions and social life, Chile has upgraded its beer culture with time. Today, you can buy quality beverages from hundreds of new microbreweries and craft beer brands in Chile. German-style and Belgian brewing traditions are the sources of inspiration for the Chilean beer industry. 
Chilean beers brewed from locally sourced selected ingredients are getting recognition worldwide. Discover the top ten high-quality beer brands in Chile for beer enthusiasts. Check out and spread this information with your friends.
1. Cristal
A symbol of Chilean traditions and culture, Cristal is a refreshing Lager-style beer brewed by Compania de Cervecerias Unidas (CCU). The crystal-clear golden-hued Euro Pale beer forms a short-lived white frothy head. 
With its distinctive green and golden bottle design, the most consumed beer in Chile, Cristal has been a part of Chilean culture for over 25 years. It is a light-bodied beverage with medium to high carbonation. The nose is sweet and grainy, and the taste tracks it.
2. Royal Guard Black Label
Royal Guard Black Label, a popular option among beer lovers, is a deep dark-colored alcohol with an ABV of 6.1%. It is also a profitable product of CCU brewed with the finest quality malted barley, pure water from the Chilean's renowned Andes Mountains, and hops to balance its full-bodied flavors. With good carbonation, this variant of the Royal Guard is better than other beers. 
In 2012, Royal Guard received the gold medal for the best beer award at the Australian International Beer Awards. 
3. Escudo
The uncrowned king of the Chilean beer industry is Compania de Cervecerias Unidas, which dominates the hearts of beer enthusiasts in the region. One renowned brand is Escudo, a European Pale Lager with 5.5% alcohol content.
Its clear amber body has incredible clarity with good carbonation. Even the white head formed when poured into a glass retains well, leaving excellent lacing. The hops dominate the flavor profile. Also, the scent and taste are similar because both offer a bread-like smell and flavor with a touch of grassy bitterness. With high drinkability, Escudo gives a smooth mouthfeel.
4. Kross Stout
Kross is an American-style Stout brewed by Kross Microbrew Beer with an alcohol content of 5.4%. It pours a dark beer with a head that retains for a short time. The aroma and taste of this fabulous beer have rich chocolatey flavors with a hint of roasted malts. Coffee notes and grassy hops are also a part of this beer to enhance its complex flavor profile. 
With a full-bodied character, Kross gives a smooth, delightful mouthfeel with unique flavors. Additionally, this brewery has won many national and international awards for the best beer. It has other variants to discover, such as seasonal specialties, lagers, and ales.
5. Kunstmann Torobayo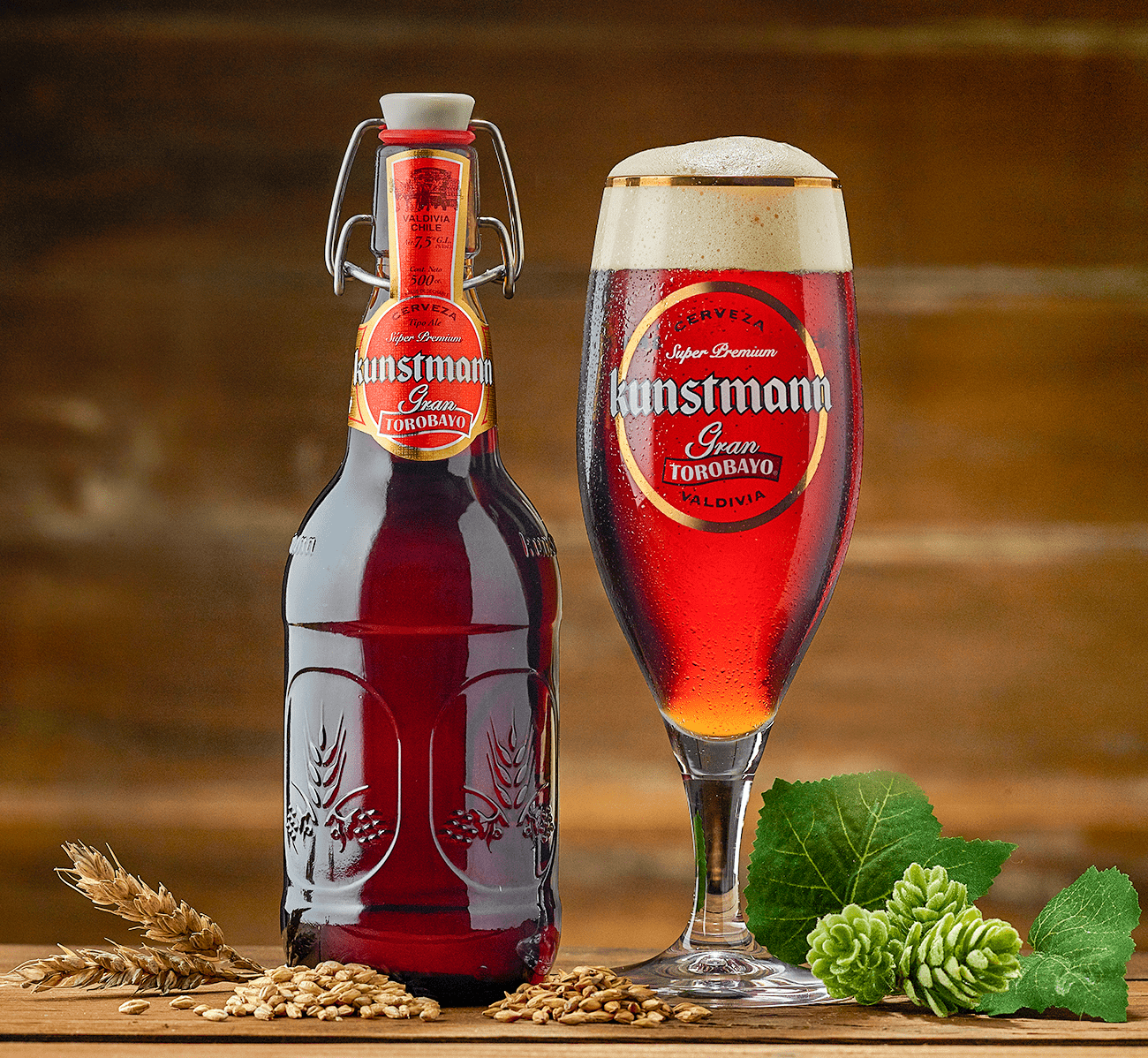 In 1997, a brewery located in Valdivia came into being to provide the best quality craft beers to the citizens of Chile and the rest of the world. The name of that brewing company is Cerveceria Kunstmann, a renowned name in the brewing industry. German immigrant, Armin Kunstmann, established the brewery. He used German brewing traditions and techniques to create exceptional beers.
Kunstmann Torobayo is a deep yellow-colored English Pale Ale with a standard ABV of 5%. It forms a dense tan head that retains well, leaving some random lacing. The scent and flavors give hints of malted barley and hoppy bitterness. It makes a tasty blend of well-balanced flavors with a silky mouthfeel. Moreover, Kunstmann Torobayo has a clean, zesty finish.
6. Becker
Becker, a product of a reputable Chilean brand named Cerveceria Chile, is an American Adjunct-style Lager containing 4.5% alcohol content. It pours a yellowish-golden beer with a well-retained foamy white head that leaves random lacing when the head recedes.
The scent gives the sense of corn, honey, and lemon with some oxidation. However, the flavor profile offers notes of minerals, sweet malt, floral hops, and some adjuncts. Overall, Becker is a light-bodied beer with a moderate level of carbonation, making it a perfect sipper on the hottest days.
7. Dorada
With 6% alcohol by volume, Dorada is a delicious beer brand of Cervecera CCU Chila Ltda in Chile. It is an American Adjunct Lager with an amber color and a thin white head that lasts only a few seconds.
The smell is typical American Adjunct Lager but with notes of corn grains and metal, while the flavors have hints of butter, sweet corn syrup, and cardboard-like. It dries aftertaste, leaving mild bitterness on the palate. Dorada is a light to medium-bodied beer with decent carbonation, making it a good option for beer lovers to beat the heat in summer.
8. Austral Calafate
The Southern side of Patagonia in Chile has a brewery that brews the fruitful beer named Calafate. Its name is after the Calafate berry, famous for its sweet and sour flavor. During fermentation, the brewery uses Calafate berries to enhance the flavors by giving the beer a sweetness with a blend of fruitiness.
Who does not like unique and distinct flavors to taste? If you are one of them, Calafate beer is for you. It has a distinguished character that can ignite your taste buds. The people of Patagonia have a special attachment to this drink because of the regional Calafate berries. Moreover, this refreshingly light beer has a standard 5% alcohol content, making it a well-balanced beer to enjoy on a warm day.
9. Austral
A European Pale Lager that contains 4.6% alcohol content is the widely consumed beer brand in Chile brewed by Cerveceria Austral S.A. Austral is a thinner-bodied drink that pours a crystal-clear yellow beer with a foamy white head. The scent is grainy and hoppy, while the taste tracks the nose. Also, Austral is highly drinkable with a pleasant aftertaste.
10. Quilmes
Although Quilmes is an Argentinian beer brand, it is equally popular in Chile because of its refreshing aroma and flavorsome taste. It contains 4.9% alcohol by volume. The style of this beer is European Pale Lager with a pale yellow body and pearly carbonation. With a sweet aroma, it has grains, maize, and citrus flavors. Quilmes is among the best options for beer enthusiasts in the Chilean region.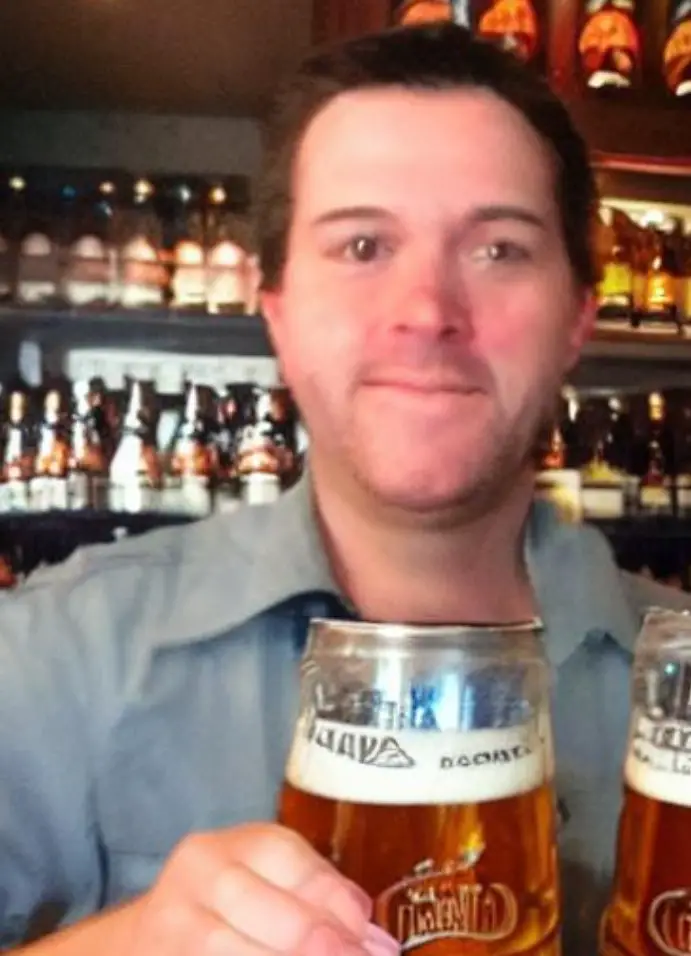 I am a passionate beer connoisseur with a deep appreciation for the art and science of brewing. With years of experience tasting and evaluating various beers, I love to share my opinions and insights with others and I am always eager to engage in lively discussions about my favorite beverage.