Beer consumption is to Danish people is as essential as oxygen is to humans. 
Denmark is an advanced country in the Scandinavian region that offers a vibrantly thriving beer scene to enjoy. Several breweries are efficiently working to deliver innovative and distinct flavors brewed with the selected ingredients. However, the most famous beer brands are Carlsberg and Tuborg. 
To all beer connoisseurs, if Denmark is your next tourist destination, don't forget to taste these ten Danish beers from notable brands.
1. Carlsberg
The pride of Denmark, Carlsberg Beer, with a standard ABV of 5%, is a European Pale Lager that is insanely popular in the country. Its green bottle design with a stylish label immediately catches the attention. The translucent golden body with a thick white head looks appealing whenever served in a glass.
A floral note with a honey-like sweet malty aroma is tempting, while the taste follows the nose with hints of Pilsner flavor. The mouthfeel is light with medium carbonation, which makes it an ideal option for a sunny day.
2. Tuborg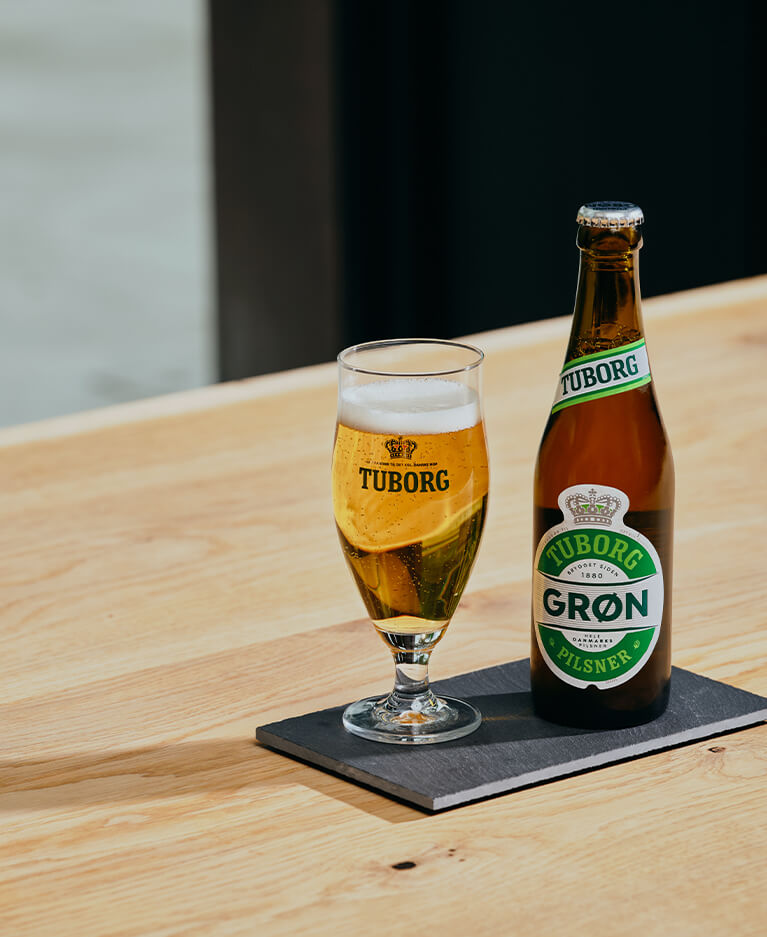 After Carlsberg, the widely consumed beer is Tuborg. It is a decent European Pale Lager that contains 4.6% alcohol content. The body is straw-like in color with a low-retention white head.
Tuborg is a classic beer that offers an aroma of biscuity malts, but it is faint. The taste of this refreshing drink is the same as the smell, with a light, crisp mouthfeel. Also, it is a well-carbonated alcoholic beverage, perfect for a hot summer night. You can pair it well with traditional Danish dishes.
3. Mikkeller Game of Thrones – Castle Black
Mikkeller is a well-known brewing company that works in Copenhagen, Denmark. Its variant, Game of Thrones – Castle Black, is an Imperial Stout with an alcohol content of 11.3%.
It pours a pitch-black body with a minimal tan head, but the aromatic notes of black syrup fudge, brownie tart, black caramel, and roasted malts steal the charm. The taste is not different than the aroma, with a smooth mouthfeel and medium carbonation. Mikkeller is an incredibly delicious Stout to uplift your mood.
4. Amager Bryghus Double Black Mash
Synonymous with elegance, class, and quality taste, Double Black Mash is one of the top-selling American Imperial Stout of Amager Bryghus with 12% ABV. The body is jet-black with no reflection, but the tan fluffy head of half-inch often dissipates quickly.
Its smell is affluent with many flavors, such as roasted malt, dark cherries, black chocolate, milk chocolate, and cocoa powder. The taste is almost as same as the nose, with a creamy, silky mouthfeel because of toffee notes, fig, caramel, and raisin hints.
Double Black Mash is a full-bodied beer with a low-carbonated texture and a bitter finish.
5. To Øl Black Ball Porter
Imperial Porter, brewed in Denmark by To Øl, Black Ball Porter, is a beer with a complex flavor profile. It possesses an alcohol content of 8%. The tan foamy head sweetens the appearance with a deep black body. However, the beige-shade head often turns into a thin lacing after a few minutes.
The scent suggests dark chocolate, licorice, and roasted malt, while the flavor profile is unique, with various types of malts, including chocolate, Cara Munich & Brown, smoked, and Pilsner. Other ingredients include water, roasted barley, brown sugar, rolled oats, and yeast. The taste is sweet initially, all thanks to the chocolate with roasted character. In the middle, hoppy bitterness enhances the flavor, but the finish offers hints of smoke.
Black Ball Porter is a perfectly-balanced beer with a medium-bodied mouthfeel and decent carbonation. Consider it among the best porters in Denmark.
6. Fanø Bryghus Black Wedding
Do you love to taste a full-bodied Imperial Stout? If yes, Fanø Black Wedding is for you. 
The high-quality beer pours a deep back shade with a well-retained beige fluffy head, making the appearance of this delicious stout worth seeing. Its roasted scent with mild touches of chocolate malt and licorice can attract beer enthusiasts from a distance. The taste has a dried fruit flavor with dark sugar, chocolate, and licorice. 
It is a well-carbonated Stout with a creamy, smooth texture and a boozy aftertaste. The finish is slightly bitter, but the beer is highly drinkable. Discover its authentic flavor for yourself on your trip to Denmark.
7. Skagen Bryghus Skawnisse
A Bock-style beverage brewed by Skagen Bryghus, a household name in Denmark, is an amber-shade beer with a beige-colored head of foam. It has 6.5% alcohol by volume.
The aroma is of typical Bock with malty goodness and a caramel touch. It also includes scents of mash, fudge, syrup, bread, dough, sweet fruit, and grassy hops, while the flavor profile has nothing different than the aroma. 
Skawnisse is a medium-bodied beer with decent carbonation, perfect for casual or formal parties.
8. Nørrebro Bryghus Rom Stout Rom Stout is an Imperial flavored beer with 8% ABV. It is a product of Norrebro Bryghus, one of the top Danish breweries.
The body of Rom Stout is a dark brownish to blackish shade with a tiny beige head of foam. Its smell suggests roasted malts, dark chocolate, dark-dried fruit, and rum, while the flavor profile offers dark chocolate, coffee, roasted malts, black cacao, and rum.
Rom Stout is a pleasant-looking and deliciously juicy stout to make your day.
9. Thisted Bryghus Limfjords Porter
Introduced in 1997 by Thisted Bryghus, Limfjords Porter is a Baltic Porter brewed with licorice. It contains a 7.9% ABV. 
The pitch-black body and well-retained tan foamy head with lovely lacing add an elegant touch to the beer. Its aroma and taste offer roasted malts, coffee, and dark chocolate flavors with notes of licorice. With a medium-bodied beer and a decent carbonation, Limfjords Porter can lure any beer lover.
10. Harboe IPA
An Indian Pale Ale brewed by Harboes Bryggeri with 5.6% alcohol content, Harboe IPA is a golden-colored Danish beer with aromatic flavors. Its soapy white head retains a few minutes, then recedes into a thin lacing.
The nose presents barley, caramel, citrus, and bread with a mild touch of grassy hops, while its taste is no different. Harboe IPA is a medium-bodied, low-carbonated smooth beer with a bitter finish.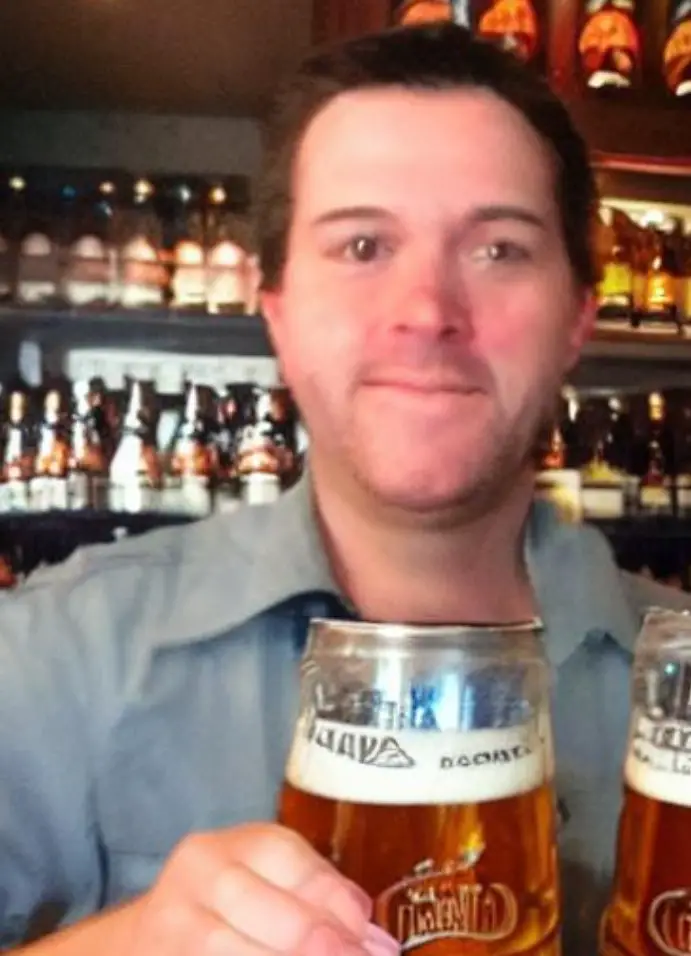 I am a passionate beer connoisseur with a deep appreciation for the art and science of brewing. With years of experience tasting and evaluating various beers, I love to share my opinions and insights with others and I am always eager to engage in lively discussions about my favorite beverage.