Wine boasts many beneficial properties, with the medical community suggesting it "off the record" in minute quantities for calming purposes. (No one should overindulge in alcoholic beverages, especially since these are habit-forming and can potentially lead to addiction. Keeping it within.) But it's unclear if anyone would have considered it as a workout accessory.
At the same time, when you think about the serenity and peace that Yoga brings with its entire experience, the latest trend, "drunk yoga," where wine assists with calming and relaxing the participants, it's curious why it took so long to come up with the concept. 
As far as I can tell, this class is currently offered in New York City, and participants, of course, must be aged 21 and over.
The instructors keep instruction focused without everyone becoming inebriated, as individuals are allowed a cup before class begins and one during the session. The idea is to immerse your full senses in your personal space, focusing on removing stresses and replacing these with tranquility.
More people will concentrate less on what other people are doing or what they might think if their cares are released by sipping wine. It allows them a thorough indulgence in themself. Let's look at the possible benefits associated with drunk Yoga and why you might want to give the practice a try.
Benefits Of Drunk Yoga
Drunk Yoga is practiced primarily in New York City, where the class is trademarked by certified yoga instructor Eli Walker, also the founder of "Divine Your Story." This individual's take on the practice is that the integration between the two showcases their communal components via the "soulful celebration of mindful movement to cultivate happiness," which culminates into healthfulness.
It takes away any inhibitions you might have about going to a class with strangers to performing poses you might not be able to perfect in quite the same way they can. 
You don't have the same sort of awkwardness. It's replaced with a certain confidence and desire to get out there and at least give it a try. What benefits does Eli Walker associate with this drunk yoga class? Let's learn.
The class allows individuals to perform healthy activities and enjoy a personal pleasure
Drunk Yoga boasts of being a timesaving mechanism for those who attend the class, achieving two objectives at one time. The fitness goal for the day is performing Yoga, one of the most rejuvenating exercise programs, while indulging in a personal pleasure you might have stepped out for after a workout.
Many might be unaware that not only does Yoga have exemplary health advantages, but wine has properties beneficial for the body when consumed in moderation. The beverage has the potential to reduce stress, help to lower blood pressure and decrease the risk of heart disease.
Yoga is a mind, body, and spirit workout assisting physical, mental, and emotional wellness. The movements are mindfully motivated, meaning they bring you into the present and help you focus on yourself and how you relate to your surroundings. The two together are best enjoyed in a communal setting where everyone comes together to encourage and uplift.
Wine is the drink of choice for friends
Wine is the alcohol of choice for the drunk yoga class primarily because it is among the healthiest options in the alcoholic beverage family. The substance elicits a sense of calm, presents an element of sophistication, and speaks similarly to the traits that Yoga strives to achieve.
The drink also has been the center for centuries of many historical, religious, and sacred traditions, festivities, and celebrations. It's a bottle you tend to pop open in a group or with someone close to you.
Whether you practice or not, you're welcome to attend
Eli Walker's class is open to "yogis and non-yogis" in an effort to promote a positive community atmosphere. It's meant to be a lot of fun whether you're really incredible at the poses or never did one before. Everyone is successful if it achieves the objective of releasing stress and creating a relaxed, calm environment.
Top Drunk Yoga Positions
These positions have been posted as the suggested top drunk yoga positions. Remember that you don't have to be a yogi to perform drunk Yoga. You don't have to perform these perfectly. The idea is to have fun and de-stress. You win if you accomplish the goal of becoming calm after a long-hard day.
I'm going to list these and give you a description, but in order to mimic the pose, you can find them on the drunk yoga website or search the poses here or on any search engine.
The Dolphin:  This is a standard yoga pose that means to bring strength to the core, shoulders, and legs.
The Salambhasana: This pose means to prepare participants for backbends by strengthening the backs of the arms, legs, and torso.
Ananda Balasana:  The participant will grow keenly aware of the hip joints when posing in this position.
Malasana: The objective is for your heels to reach the floor; if that doesn't happen, let them sit on a folded blanket. The stretch is felt in the back of the torso, groin, and ankles.
Savasana: This pose boasts of being the most difficult of the asanas because it is one where the individual is meant to relax completely.
There are a few more when you go into this site to see the poses in order to mimic these. Again, don't try to be perfect. Achieving the pose will come with time. The objective is to have fun, become stress-free, calm, and enjoy a group of friends.
Conclusion
Remember, when you practice, bring a group of your favorite people together and have fun performing the poses and sipping wine together. Maybe at some point, you can travel to New York City to indulge in one of Eli Walker's trademark classes in real-time, or perhaps there will be a virtual version at some point that everyone can enjoy.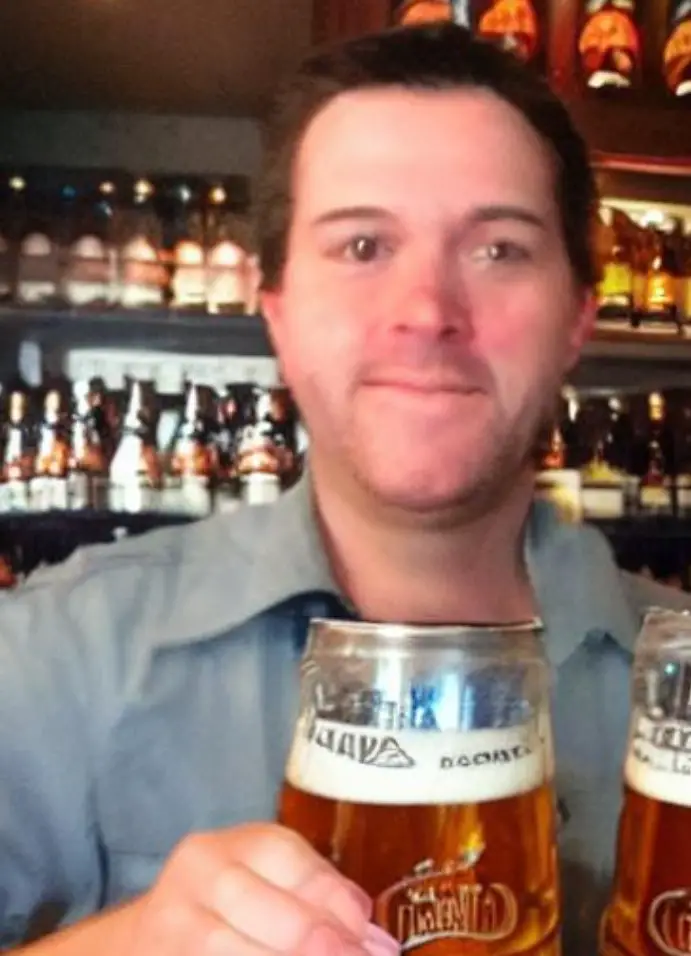 I am a passionate beer connoisseur with a deep appreciation for the art and science of brewing. With years of experience tasting and evaluating various beers, I love to share my opinions and insights with others and I am always eager to engage in lively discussions about my favorite beverage.