Dwayne Johnson is a well-known superstar known for his charming nature and towering body. The commonly asked topic, "Does Dwayne Johnson drink alcohol?" was answered after he formally launched his tequila firm. Being successful in both acting and wrestling is now a leading iconic figure in the film industry.
Fans are often curious about how he manages his physique and charms and care about Dwayne's relationship with alcohol. This blog makes it possible to gain insight into Dwayne Johnson's connection with alcohol.
Does Dwayne Johnson drink alcohol?
Dwayne Johnson, popularly called Rock, has admitted his fondness for tequila. He has his brand tequila brand labeled Teremana. Rock has claimed that he drinks tequila daily, usually about four shots. 
So, now fans have an answer about whether Dwayne Johnson consumes alcohol. Yes, he relishes tequila daily and is unafraid to drink much of it. Regardless of how much Rock drinks, he is careful in his workouts and diet plan to preserve his physique.
His love for tequila made him create his tequila brand Teremana in March 2020. When the pandemic hit, Johnson could not do his full-scale marketing campaign. So he started up a new marketing approach. Let us see in detail how the brand Teremana Tequila. 
Dwayne Johnson and his Teremana Tequila
Dwayne Johnson has entered the tequila industry, joining hands with celebrities like Matthew McConaughey, Ryan Reynolds, and Bob Dylan. He has produced his booze brand, revealing on Instagram that his Teremana Tequila would be available in early 2020.
When the pandemic started, he approached a different way of marketing his tequila brand. He began holding "Teremana Tuesdays" on Instagram Live to combat the isolation everyone felt in the early days of the outbreak. Once after its official launch, the brand sold a remarkable sale which was about 300 cases all around 2020. It was said to be a record-breaking sale compared with the other spirits that too in the first year of business. 
Johnson was delighted, took to his social media, and thanked his consumers, "I'm grateful that consumers did not only trust the new brand; however, they all made it a point of sending in these videos of everyone enjoying Teremana."
He tells the consumer that he likes to taste Teremana with a peanut butter and jelly sandwich. And his favorite pairing is with warm chocolate chip cookies. He also suggests to his consumers that you can add a splash to oatmeal with maple syrup or prepare coconut chip cookies. 
Almost all successful athletes aim to avoid alcohol. Despite not doing it on every cheat day, the Rock has never shied away from a glass of alcohol. In an exclusive conversation held by the Daily Mail, Rock stated that tequila is his turning point, especially regarding drinking.
Johnson spends his days indulging in tequila, his favorite drink, and eating sugary delicacies. On cheat days, he's not frightened to admit to drinking a shot or two. But he makes sure everything is under moderation. 
The Hollywood star confessed that he drinks but does not get drunk. It was the latter time he was in college, and since getting drunk would possibly make him lose control, he did not like to do that. 
The Rock is notorious for working out as an addict and seeming much younger than his age. Given that being hydrated is one of the secrets to unlocking the elixir of youth, how much water could Dwayne Johnson consume in a day?
Is it true that Dwayne Johnson drinks 15 liters of water daily?
There are numerous things that the Hollywood celebrity does in terms of his habits. His diet comprises seven meals a day that helps him in muscle-building proteins. To complement this, he drinks 4 gallons of water, approximately 15 liters daily. Dwayne Johnson majorly concentrated on perfecting his physique.
When he revealed that he drinks this much water, everybody was shocked and wondered whether this diet had any health benefits. He is a beast man who works hard and occupies a maximum of two hours every five or six weeks. Looking at his towering physique, he does a rigorous workout.
He drinks a lot of water to compensate for the water he sweats out and the calories he puts down during workouts. The larger and more energetic a person is, the less probable they are to overhydrate because they have more significant opportunities to hydrate.
It is additionally one of the explanations as to why he's less likely to get water poisoning from drinking so much water. Dwayne Johnson's size is another reason he is less prone to water poisoning.
Dwayne Johnson's tequila Tik Tok challenges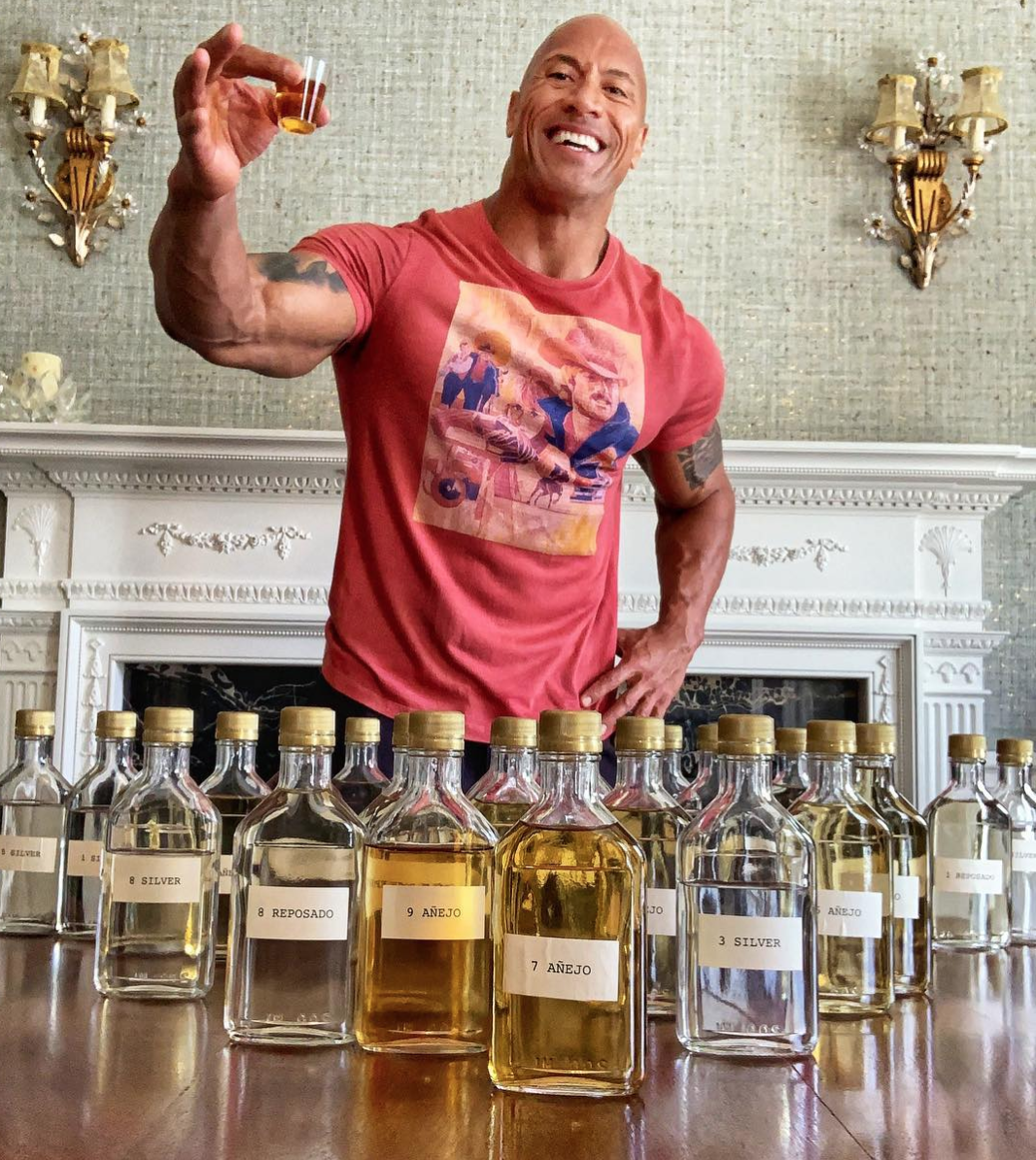 The guy with numerous talents, from a wrestler to a Hollywood celebrity, has demonstrated that his abilities can confront various hardships. That involves consuming enormous amounts of liquor to participate in viral Tik Tok contests.
Shooting down numerous tequila is not a pleasant experience. So when someone asks you to do the most, you will do everything possible to prevent those challenges. But that is where the Rock rolls. Yes, Dwayne Johnson can consume tequila without even flinching. 
A girl challenged Rock to take shots of tequila without making a face. The tik tok challenge video went viral when Rock drank the whole bottle and did not make a face. After that, he accurately stated that he is "still the people's champion."
Many would not feel too healthy after downing half a bottle of tequila. But Dwayne "The Rock" Johnson would make it happen. 
Conclusion
Dwayne Johnson drinks alcohol since he confessed to the same, which is very evident. But whatever he does, he keeps alcohol in moderation and does not tend to get drunk. Rock always keeps his body hydrated and likes to enjoy some coffee. His go-to beverage is blueberry coffee, but he only makes it occasionally. And there is news that his fridge will be packed with ZOA energy drink, which he prefers to coffee in the morning. Rock does not stop himself with his rigorous workout for about one hour and forty-five minutes every day. And this is why he is still a people champion to date.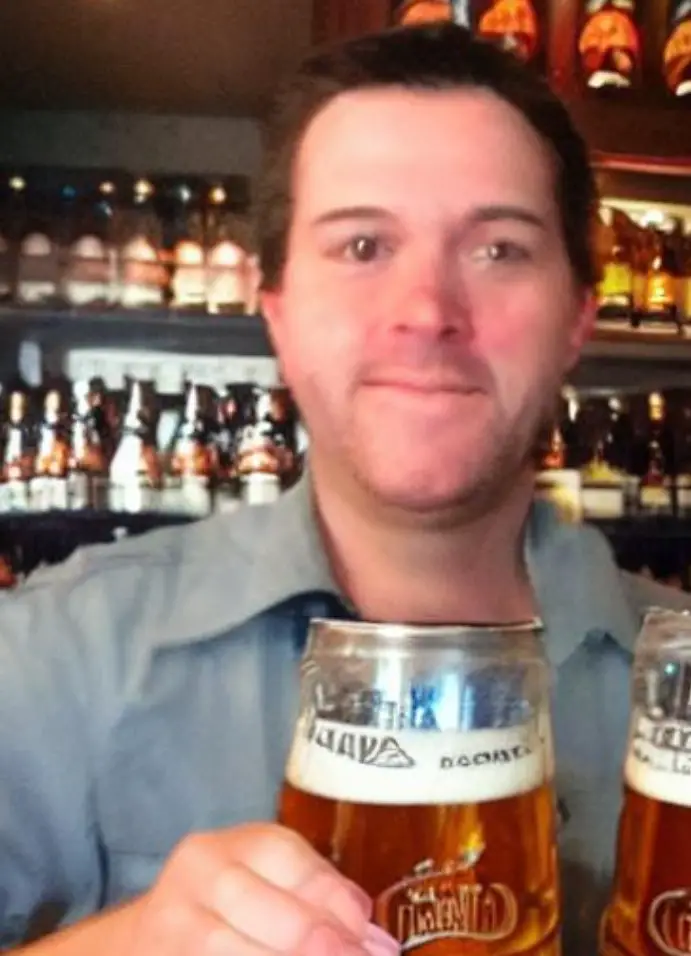 I am a passionate beer connoisseur with a deep appreciation for the art and science of brewing. With years of experience tasting and evaluating various beers, I love to share my opinions and insights with others and I am always eager to engage in lively discussions about my favorite beverage.