Whether you're a craft beer enthusiast or a beer lover who enjoys home brewing, or a business searching for ways to ship beer safely, getting to know the process of packaging and shipping beers is crucial for everyone. You don't wanna damage or spoil your beer before it reaches its destination.
Now that your beer is ready- What's next?
If you haven't packed your beer properly, you might end up losing your precious brew. After successfully following the packaging methods listed in this article, you won't have to worry about your beer vessel's safety.
Next comes the difficult part- the shipment. Shipping beers is not the same as sending any other household item like fragile glassware or collectibles. It requires checking laws defined by your States Government. If you are not following the laws, you might get in trouble. But don't worry; the article contains all the tips and tricks that will help you ship beers safely.
The beer market is flourishing every day. According to stats, "U.S. brewers shipped more than 11.1 million barrels of product in January 2023″.There is no reason for you not to be able to enjoy your favorite brew and let others have a taste of its unique flavor and style.
Let's dive into the article and find out secure ways of packaging a beer and explore how to ship them hassle-free to your ideal recipient.
How To Pack Your Beer Safely
Now that you have prepared your brew or selected your favorite beer, you should understand how the item is packaged. The process of packaging is not complex but requires that you carefully follow all the steps stated here.
Choose Appropriate Packaging Material
Once the beer is transferred to the bottles, it's time to pack it. Use the checklist to gather a few items that are essential for the process.
Sturdy Boxes – Use strong boxes that are not prone to getting damaged easily. A box-in-box approach also works when it comes to packing beer bottles. Select high-quality corrugated cardboard boxes that are used primarily for shipping purposes. Also, check the quantity of beer and the size of the box as they determine the shipment cost. The shipper can also opt for a USPS flat rate box.
Bubble Wrap – Use a bubble wrap with smaller bubbles as it helps in protecting the beer against any sort of damage. You can also use a thermal bubble wrap in case you are sending it to places with extreme weather conditions.
Filler Materials – You can use bubble wrap, old magazine papers, wrapping papers, shoppers, and flat cardboard pieces.
Rubber Bands – Buy a pack of strong elastic rubber bands to wrap your package.
Tissue Roll/Electric tape – To wrap the top of the bottle
Zipper Lock bags – A must-have to secure your bottles inside the box.
Packaging Tape – Use duct tape to pack the box 
Scissors – Required to cut tapes, extra filler materials, and bubble wraps.
Markers/Label – To write instructions on the box
Thermometer (optional) – To check the temperature inside of the box to make sure it's perfect for sending.
Packing Your Beer
With all the essential materials in hand, it's time to wrap your beers. Whether you are sending it as a birthday present, a Christmas gift, or even self-mailing a beer you found in a foreign country, follow these simple steps to safely pack your beers.
Step 1: Taping Bottles
Capped bottles need extra protection. Use paper towels and a rubber band to seal the mouth of the bottle or you can also use tape. Corked bottles can go straight into the zipper bag.
Step 2: Put bottles inside a Ziplock bag
As you place the bottle inside, remove excess air from the zip lock bag while closing it. Fold it nicely and place a rubber band to secure it. The extra air in the zip lock bag may cause damage during shipment.
Step 3: Bubble Wrap the Bottles 
After placing it inside a zip lock bag, use bubble wrap to cover it to make sure it is padded from both ends. Pack all the bottles in the same way. The bottle must be fully covered with bubble wrap in such a way that none of the parts are exposed. 
For bigger bottles, tape its top and just wrap it with bubble wrap (lots of it).
Optional # You can tie two-four packed bottles with a rubber band or scotch tape so that they don't end up knocking against each other. Group these packed bottles and wrap them in another large bubble wrap to make them more secure. Or you can place individually packed bottles in the box. 
Step 4: Securing the Bottom and Sides of the Box
Check for the number of bottles that you are shipping. Select the size of the box accordingly. Tape the bottom of the box (in the center) from the outside so that there are fewer chances of the box getting accidentally opened. Use a larger styrofoam sheet and bubble wrap to cover the inner sides of the box.
Step 5: A Second layer of protection 
Put packing material or extra cardboard to cover the base of the box. Accidents do happen. You don't wanna see your bottle break or get all soaked up during transit. To avoid this situation, use a second line of defense. Insert a trash bag or plastic bag in the box. This extra covering will protect against leakages.
Step 6: Fill in the idle gaps
Put all the bottles inside and fill the empty spaces with lots of filler material. Close the trash bag with a rubber band. Then cover the top with larger bubble wraps or plastic shoppers or long pieces of flat cardboard.
Step 7: Seal the box
Close the box securely after sealing it with duct tape. You can also use scotch tape as they are easily available at home. Use the H-shape taping method to seal your box.
Step 8: Label it
Use a marker to label the box that says "⬆This side Up⬆," and you are done. Now you can be sure that your package will reach its destination intact and undamaged. Place the shipping address on top of the box so that it's handled accordingly. See FedEx requirements for packing.
Voila, your package is ready to ship!
Tip: Make sure all bottles (after packing) fit tightly in the box and are padded completely. So when you pick it up, nothing moves inside the box, nor can you hear the sound of bottles touching each other or liquid moving inside the bottle.
Alternate Method of Packaging
Using Boxes For Beer Shipping
You can also opt for beer shipping carriers as an alternative to cardboard boxes. They are specifically designed to hold the glasses individually and firmly. You can find a single bottle or a box that has divisions or compartments that can hold 6 to 12 beer bottles.
Other beer shipping boxes have bigger compartments of two rows which can hold 6 beers on each side or 4 compartments sectioned in 3 rows. Look for the product description and buy as per your preference.
Once completely wrapped, you can easily place your bottles in separate compartments respectively, followed by inserting filler material like packing peanuts and sealing the box.
One drawback is these boxes are not sturdy enough from the sides. In order to save your beer from getting damaged, you have to place this box inside another box to make it strong enough to withstand any damage during shipment.
Using Wine Shippers
You can also use wine shipper boxes. Place the bottle individually inside one box or place two bottles in one box, side by side. Then close the top with another empty wine shipping box. This will secure your beer bottles. After packing it inside a wine shipper, put the packing inside the cardboard box and fill the gaps with packing material and follow the same method to seal the box.
Using Plastic Bottles
One easy way to pack beer is to transfer your beer into a high-quality plastic bottle and seal it tightly with a tap to avoid leakage. You can also use bottles made of insulating material to keep your beverage fresh. That way it can be shipped safely without incurring any damage. Ensure that you fill the beer to the brim of the bottle to prevent any sloshing noise.
One drawback is it will completely ruin the look of the beer. The recipient might not feel super excited about receiving craft beers in a plastic bottle.
How to pack cans and growlers?
The process for packing cans and growlers is almost the same as for bottles. Cans are stronger and therefore require less protection than bottles and growlers. 
For a 12-oz can, you can use a sandwich-size Ziploc bag. After placing it inside the plastic bag, cover it completely with bubble wrap and tie it with a rubber band or scotch tape. You can use a corrugated cardboard box or a beer shipping box with separate compartments to place the can individually in each block. Always remember to pad it from all sides with filler material, plastic bags, bubble wrap, etc.
For capped growlers, use tape to seal them first then put them inside a big ziplock bag. Start from the bottom and cover the growler with bubble wrap and seal it with tape.
When shipping growlers, put your package inside another box for safety. Provide cushioning material in between, like packing peanuts or filler materials. Seal and label the box, and you're all set to ship your package.
Temperature Control
Beer is a sensitive age-restricted beverage. Chances are it may get spoiled before it reaches its destination. If you are planning to send it to places with extreme weather conditions, consider using a thermal bubble wrap.
These wraps are highly used to pack beers and provide insulation. It helps maintain an ideal temperature inside the box. Additionally, you have the option to utilize a thermometer to assess the box's temperature. That way, you can select your packaging method accordingly. 
Things to Avoid
Don't use old boxes as they may have a lesser lifespan.
Don't Use Newspapers.
Don't write Fragile or Glass Inside the box.
Sloshy sounds might get you in trouble, therefore, get rid of it.
Avoid extra tapping, as it can get frustrating for the recipient while opening the package.
How to Ship Your Beer
Who doesn't love to chug a few refreshing beers and enjoy a boozy weekend? If you wish to send your homebrew to your family and friends or send it out for a competition, you must understand how to mail beer the right way. Shipping a beer is not always a straightforward process. In fact, shipping alcohol is considered illegal in many states.
If you're a business entity, then you must follow all the legal procedures, but if you are an individual who wants to trade beer to his beer connoisseur friend, then these hacks might come in handy for you. Let's dive in to find out which method works for you.
Choose a Reliable Shipping Service
After packing your beer, choose a shipping service that has fewer restrictions. Confirm all policies and procedures before shipment, such as necessary permits and things to avoid. In addition, check all the legal policies defined by your state regarding the shipment of alcohol.
You can also opt for a service that provides tracking facilities that let you monitor your shipment at every step. It helps you track your package at all stages. In case of any mishap like leakages and broken bottles, the shipment might get delayed or returned back to the sender.
You can also consider insuring your shipment. Confirm insurance options with your shipping service and declare the value of the package to ensure coverage.
Can Beer Be Shipped Legally?
There are three shipment services that are highly popular and considered reliable. But the US Postal Service (USPS) restricts the shipment of alcohol and takes it as an illegal act if an individual is found doing so. On the other hand, the other two courier options allow the shipment of beer, wine, and other alcoholic beverages, provided you follow all the rules and regulations.
Shipping Beers Legally With FedEx
Fedex is a well-known courier service that allows the shipment of alcohol. But before you jump to the conclusion, explore the legal formalities required to ship beers.
FedEx does not allow the shipment of alcohol by individuals. Fedex only transports alcohol from a licensed shipper to a consumer. In order to mail beer through FedEx, the shipper must be an authorized/licensed business entity.
If the shipment is to be done on an international level, both parties need to be licensed entities. You can use FedEx Express services. FedEx International Ground® service to send your shipment out of the US.
Within the US, you have to be a Fedex-approved alcohol shipper. But don't get overwhelmed with all the legal procedures. It's not that complicated. Just follow this guideline as defined by Fedex to successfully ship beers.
Guidelines to Become an Authorized Shipper
There are certain guidelines you must follow to successfully register as a legal shipper.
Opening a Valid Account With FedEx
This will help you make your shipping process a smooth one. If you don't have an existing account, go through its website and follow a few simple steps to set up your account. Opening a shipper's account is absolutely free and may require just a few minor details. It also gives you the option to enroll in the FedEx rewards program, which comes with many perks and benefits.
Ask a FedEx Guy To Help You Before Starting an Agreement
The shipper must sign a legal document with FedEx. Contact your FedEx Accounts Executive, and he will walk you through the entire process. You can easily schedule a time to talk, as these alcohol shipping experts are always ready to assist you.
Follow the Packaging Requirement
In order to successfully ship your beer, your package must comply with the guidelines as defined by FedEx. Check alcohol packing requirements with FedEx.
Label The Package
Your package must have proper labeling showing that it contains alcoholic beverages. These electronic labels can be obtained from FedEx. Your FedEx accounts executive can order the labels for you.
Age Restriction
Both the shipper and the recipient must be of legal age to send a shipment. When the package reaches the destination, it must be received by an individual of legal age (21 years and above). FedEx charges a fee of $5.75 for this additional service.
Shipping Beers Legally With UPS
Unlike FedEx, UPS provides beer shipping service to selected states only. In order to ship beer through UPS, you must comply with its rules and regulations for mailing beer. UPS is a contractual service provider.
A shipper must enter a UPS agreement to ship beers without any trouble. UPS provides a pickup service that directs the UPS to hold the shipment till the recipient arrives to pick up his package.
Check out a few things required to ship beer through UPS.
Create an Account With UPS
The shipper must have an account with UPS to avoid any restrictions.
Signing Agreement
The person sending the beer must go through the UPS alcohol shipping agreement in order to be called an approved beer shipper.
Methods Shippers Can Use
The shipper can send his package through UPS using services like Worldship or by a third-party vendor system.
Packaging and Labeling
The package must be prepared in a way that fulfills the requirements set by UPS. 
According to UPS:
The package must be prepared using EPS foam, a tray that is corrugated and folded or contains dividers with a molded fiber tray
Use a sturdy corrugated box
Use filler material in such a way that the bottles or cans are placed in the center and don't touch the side walls of the container. 
The package must be labeled correctly. The label should be clear enough to signify the package that it has alcohol inside.
Receiving
The shipment must be received by an adult of age 21 and above. The UPS offers an additional adult signature service. The shipper must adhere to this mandatory requirement in order to proceed.
Using USPS for Shipment
Shipping beer through USPS is not such a good idea. If you are caught shipping alcoholic beverages through USPS, then you are charged with a felony. In other cases, you might receive a warning, or your package might be found in a garbage can or land in a postal worker's belly.
In short, shipping beers on a domestic or international level is considered an illegal activity by USPS. Even if your package contains any minor signs that alcohol was previously shipped using the same box, then your shipment will be rejected. According to USPS," If you wish to reuse a box that contains old labels related to alcoholic beverages, then you must first remove all logos and labels to make sure your package passes smoothly through the mail system without any complications." It's better to be safe than sorry.
Intoxicating liquor can be shipped through USPS but only under rare circumstances, like if you're sending cooking wine, cold remedy, or workers of federal or state agencies mailing alcohol to each other for testing purposes.
According to CBP,  the United States Postal Service strictly forbids the shipment of alcohol by mail.
USPS offers the lowest shipping rates. Several attempts have been made by brewing associations to lift this prohibition of alcohol and allow USPS to mail alcohol, but unfortunately, the government never passed the bill. Maybe in the future, the US government will realize the loss of 3-5 billion dollars of revenue incurred for not shipping alcoholic items and may go easy on the Postal service.
Tips To Ship Your Beer Safely
If you're a homebrewer or a person who wants to share his love for beers with his friend and family living in other states and countries, you can still ship beer without getting into too many legal formalities.
Pack your beer safely by the methods suggested in the article. Goto either Fedex or UPS. Avoid USPS even though they have the lowest shipping rates.  Avoid writing anything like "fragile" or "alcohol inside" on the box. If you want to write something, you can label it with "liquid yeast samples," which is technically correct. MAKE SURE NOTHING MOVES INSIDE WHEN THE BOX IS PICKED UP. Pack your beers tightly. 
If someone asks, you can say it's a birthday gift or Christmas gift to a friend or family. A few simple answers will work. Your beer will arrive safely to its recipient, and you and your loved one will be able to enjoy your favorite beers.
FAQs
Can I ship beers internationally?
Yes, you can ship beers both within your states as well as outside your country. Look for specific rules and regulations of your state and choose a reliable courier service to ship your package. Avoid using USPS.
Is it legal to ship beers?
Every state and country has different laws regarding the shipment of alcohol. Beers can be shipped legally if you have authorized licenses and permits.
Can I ship beer in regular cardboard boxes?
Yes, they can be used, but they might not be strong enough for shipping. Use a sturdy corrugated cardboard box as they provide greater protection and cushioning during transit.
How do I pack my beer bottles to avoid a glass break?
To provide breakage, wrap the glass bottle inside a ziplock bag, then cover it completely from all sides with bubble wrap and tape it. Place them in a box with lots of filler material to get rid of empty spaces. Seal the box from top and bottom, and your beer bottle will remain safe from getting damaged.
Can I ship beer using USPS?
No. USPS has a strict no-beer policy. It doesn't permit the shipment of alcohol at any cost.
Should I inform the shipping service that I am sending beer?
Legally speaking, Yes. The courier service should know what you are shipping as they'll handle the package accordingly and get a signature from an adult recipient upon delivery instead of just throwing it over their house door.
How do I ensure the beer doesn't get spoiled during transit?
You can use thermal bubble wrap or Styrofoam coolers to maintain the temperature of the beer and protect it against heat and cold.
Can I use old boxes at my home to pack beers?
It is recommended that you don't, as they have higher risks of breaking during shipment. Buy a high-quality, sturdy box, or place one box in another one with cushioning in between to keep your beer safe.
Can I use regular packing peanuts for packing beers?
They can be used, but it is recommended to use eco-friendly or biodegradable for better protection. It's best to use filler material or bubble wrap.
 Can I track my shipment?
The shipping service provides you with a tracking number that helps you keep an eye on your package..
Can I pack a sixer?
Yes. After individually packing each beer, you can wrap your pack of six beers in one big bubble wrap and seal it with scotch tape. Put them in a box and make sure it's padded from all sides to avoid any damage.
Can I use regular tape, or do I need special tape for packing?
Duct tapes are stronger than regular tapes. But you can also use scotch as it's a cheaper option and easily available at home. If scotch tapes are used, the recipient can easily reuse the materials.
Can I ship different styles of beers of different sizes?
Yes, but make sure to wrap each of them properly with a ziplock bag, followed by covering them with bubble wrap.
Which bubble wrap works best for packaging?
You can use small bubble wrap for packing beer bottles and cans, and bubble wrap with big bubbles can be used on the sides and bottom of the box to provide protection against leakages and damage.
How do I pack cans to prevent them from denting during transit?
Place each can individually inside a ziplock bag and bubble wrap. Then you can make a group of 4 or six and wrap them together with a bigger bubble wrap.
Summary
Now you know how to pack your beer safely without worrying about leakage or glass break. These packaging methods are used by brewers all around the world. So, you can be 99% sure that your package will reach its ideal destination in one piece.
As far as courier options are concerned, try not to use USPS as it strictly prohibits the shipping of alcohol, and you may get in trouble. FedEx and UPS permit the shipment of alcohol legally, but you have to open an account with them and register yourself as a small business entity.
It's safe to work out everything as per your state laws and regulations, but if you don't want to get into legal technicalities, just use the packaging method discussed in the article and don't let anyone know what's inside.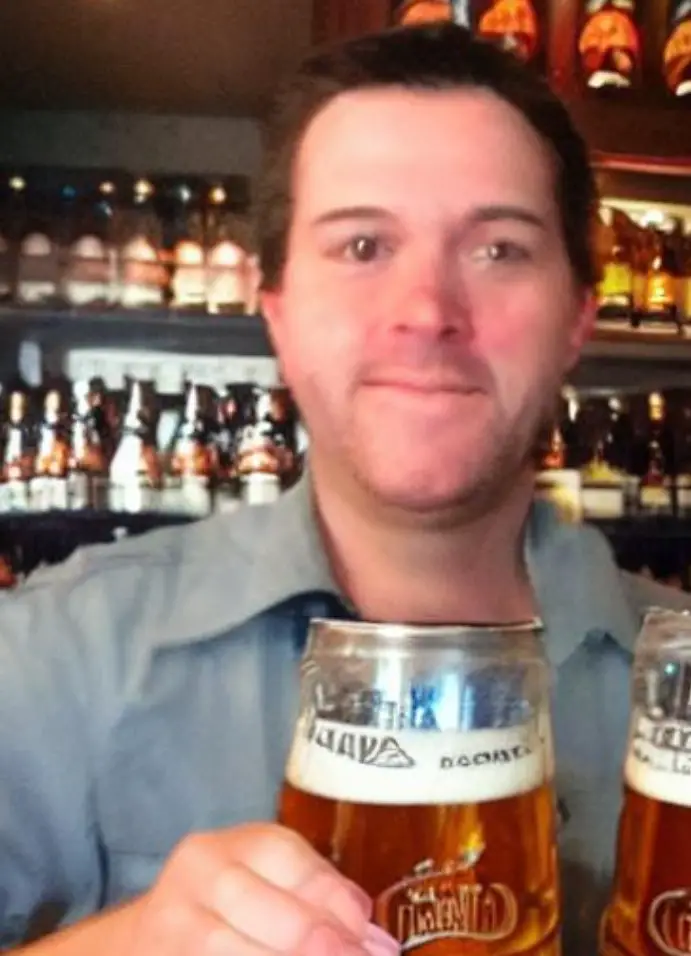 I am a passionate beer connoisseur with a deep appreciation for the art and science of brewing. With years of experience tasting and evaluating various beers, I love to share my opinions and insights with others and I am always eager to engage in lively discussions about my favorite beverage.