Do you want to taste something different than usual lagers and ales? Visit Germany and try its locally produced Kolsch beer originated in Cologne City.
Kolsch is a light-bodied, refreshing beer with a yeasty aromatic flavor. It offers fruity and floral flavors with a perfect blend of sweetness and bitterness. 
So, are you ready to explore the ten best Kolsch beer brands to taste in Germany? If so, don't miss out on this list. 
1. Reissdorf Kölsch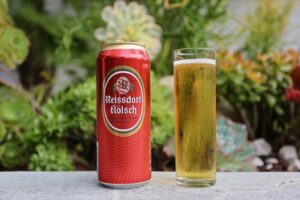 Reissdorf Kolsch is a product of Brauerei Heinrich Reissdorf with a strength of 4.8% ABV. The body is deep golden, while the white head is three-finger dense. 
Like other Kolsch beers, the aroma of Reissdorf suggests raw malt with a touch of grassy hops. It is mild but lovely. The taste reflects the nose with sweet and toasted malt. A lingering dry finish with hoppy bitterness and toasted malt sweetness. It is a light-bodied beer with zesty carbonation.
Believe it or not, Reissdorf is a classic example of quality German Kolsch beer. 
2. Dom Kölsch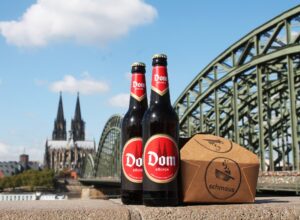 A smooth drink by Dom-Brauerei GmbH, Dom Kolsch is a unique blend of delightful flavors of malts and hops. With a strength of 4.8% alcohol content, the transparent golden body looks fascinating beneath the thick foamy white head. It is persistent and leaves a generous amount of lacing behind. Just perfect!
The grainy and bready malt nose adds beauty to this fantastical beer. Also, the mild fruitiness with a touch of herbal hops further enhances the smell. The light sweetish grainy malt taste with a trace of soft floral/herbal hops dominates the flavor profile. It finishes bitter and dry with a medium-bodied texture and natural carbonation. Overall, Dom Kolsch is one of a kind and available only in Germany.
3. Mühlen Kölsch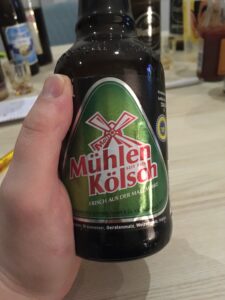 Get ready to update the list of your favorite Kolsch beers because Muhlen will become your new favorite. It has a nice appearance, pleasant aroma, and unforgettable taste you don't want to miss out on. 
Muhlen pours a transparent golden color with a lively fluffy white head that retains a few minutes and leaves good lacing behind. Its aromatic flavors will ignite your taste buds with grainy malt and fruity aroma. The taste reflects the nose mingled with herbal hops. Its feel is medium-bodied with natural carbonation and a dry bitter finish, making it an all-rounder beverage to enjoy year-round.
4. Sünner Kölsch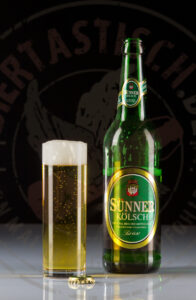 Sünner Kolsch is a pale golden-colored Kolsch beer brewed by Gebr. Sünner GmbH & Co. KG. The sense-awakening deep straw beer with a fluffy pure white head is a treat to watch. It even retains quite well, adding more attraction to its appearance.
The scent is milder than other kolsch beers, with notes of buttered toast and earthy hoppy touch. Also, it is a little herbaceous. The taste is more intense than the aroma, with a subtle hint of biscuity toast and earthy, grassy, and herbal hops. Sünner Kolsch gives a thick mouthfeel with a bitter dry finish. It is among the best Kolsh beers in Germany, with a strength of 4.8% alcohol by volume.
5. Gaffel Kölsch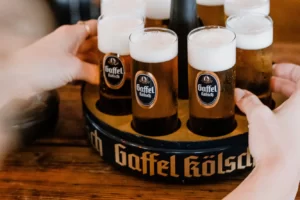 If you ever plan to visit Germany, don't forget to taste Gaffel Kolsch by Privatbrauerei Gaffel Becker & Co. It pours a translucent caramel color with more than an inch-tall foamy, bubbly white head that stays persistent for a long time. 
The bread and honey-like aroma with herbal/floral hops will ignite your taste buds. Its taste is sweet malt with grassy/herbal hops and subtle fruitiness. Gaffel is a crisp, clean, and smooth medium-bodied beer, perfect for any occasion.
6. Zunft Kölsch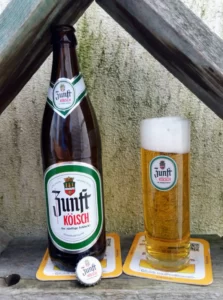 Zunft Kolsch is an exciting beer brewed in Germany by Erzquell Brauerei Bielstein Haas & Co. KG with an alcohol content of 4.8%. Its golden body and tall, stable white head with moderate lacing look lovely.
The nose suggests doughy maltiness with noble herbal hops, while the taste offers grainy malts, freshly baked bread, and herbal hoppy bitterness with a subtly sweet finish. Zunft is a fantastic, flavorsome kolsch to enjoy with friends. 
7. Küppers Kölsch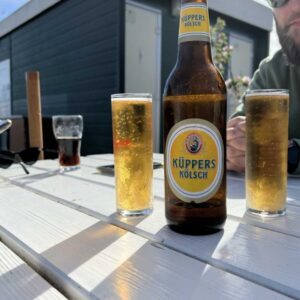 One of the top-selling Kolsch beers in Germany is Kuppers. It has a bright yellow-colored body with a medium-sized frothy white head. The sweetened grainy aroma feels refreshing with a herbal hop character, while the taste is strawy and malty with a toffee flavor and leafy hops touch. It offers a light-bodied liquor with lively carbonation. Moreover, Kuppers finishes sweeter, but a subtle trace of hoppiness is always present in this beverage.

8. Gilden Kölsch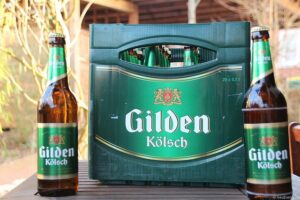 Gilden Kolsch, also known as Golden Kolsch, is a refreshingly smooth local beer in Germany with a rich, malty flavor. Its transparent golden body with a thick white foamy head makes it a nice-looking liquor with 4.8% ABV.
It is an easy-to-drink beer with a grainy malt smell and a hoppy bitterness in the aroma and flavor. The taste is all about malts with a hint of grassy and herbal hops. Overall, Gilden is among the best decent Kolsch beers in the country.
9. Peters Kölsch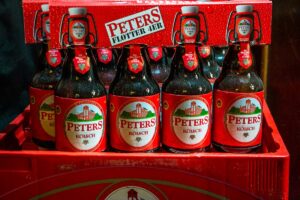 How many of you closely examine the packaging and label of beers before drinking? 
Peters Kolsch is different from others with a distinctive taste, crystal-clear deep golden body, and eye-catchy bright label. The body looks fabulous with a half-inch white head that leaves good lacing after it becomes stable. Its aromatic flavors offer bready malt with fruitness and grassy hops bitterness. The finish is dry and lingering, with a light body and heavy carbonation.
Peters Kolsch has all the right flavors to stay enjoyable on the palate. It makes the beer worth trying. 
10. Früh Kölsch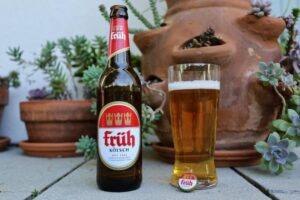 Fruh Kolsch is a top-fermented specialty beer brewed in Germany. It has an ABV of 4.8%. The translucent pale, straw-golden body, topped with a rocky white head, looks fantastic. Its retention and thickness of the foamy head are outlandish. It leaves a generous amount of lacing behind.
The sweet bready malt aroma leads the beer profile with hints of citrusy lemon and floral/herbal notes. On the other hand, the taste follows the nose with malty sweetness up front and then hoppy bitterness with a lingering bitter finish, but it is mild. The mouthfeel is light with a reasonably lively carbonation.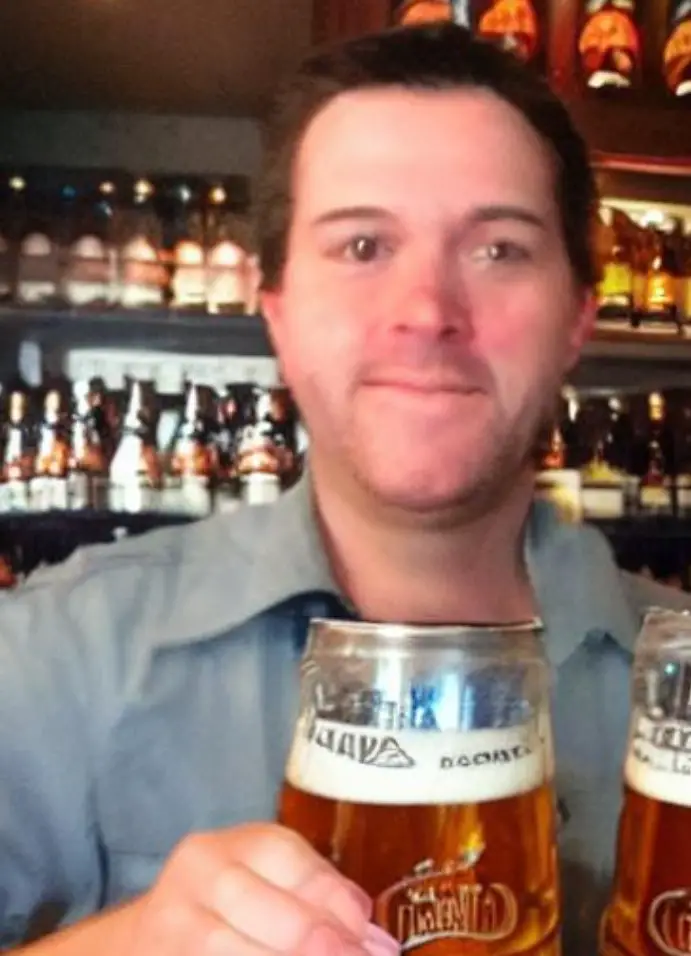 I am a passionate beer connoisseur with a deep appreciation for the art and science of brewing. With years of experience tasting and evaluating various beers, I love to share my opinions and insights with others and I am always eager to engage in lively discussions about my favorite beverage.