There has been a prevalent debate about the correct spelling for the insulting sleeves you use to keep your drink cool and refreshed. So, which is it, a Koozie or a Coozie?
What is a Koozie or Coozie?
Before getting into that debate, let's define what it is. A koozie or a coozie is a sleeve for your beverages made of materials that are good insulators, such as foam, neoprene, or polyurethane, to keep them cold. It is primarily used to insulate the beverage can or bottle by protecting the beverage against condensation and maintaining temperature. It not only slows down the condensation process keeping your drink cold, but also makes it easier to hold the can and keep your hands dry as you drink your beverage.
What is the right spelling? Koozie or Coozie?
Now that you know what it is, let's get back into the debate of what the correct spelling for it is. Both Coozie and Koozie are pronounced in the same way, and the only difference between them is the "C" and "K." So, which is the correct spelling, and why is it a widespread argument?
Basically, Koozie is a brand and a registered trademark name in the United States for a Coozie. Koozie became so popular (especially in the United States) that all kinds of a bottle and can insulators started to be referred to as Koozie. But the word Koozie is only used by the company that trademarked the name. In contrast, the word Coozie is used by any generic company that sells an insulated sleeve for your drinkware. So, they are both correct in their own way, and which one you use depends on whether you are referring to the Brand Koozie or some other cooler for your drinks.
This argument has been so widespread because of the confusion caused by the similarity between the two words that Koozie has also lost its trademark multiple times and then regained it again.
Nowadays, most people in the United States use the "Koozie" spelling, just like the word "Kleenex" which is more commonly used for tissue papers in the United States. While "Coozie" is more commonly used by the rest of the world.
In Australia, it is more commonly known as a stubby holder. According to history, Australians gave it the name "stubby" after the short and fat beer bottles that were called "stubbies" because it was most commonly wrapped around those beer bottles.
A Coozie has multiple other names as well, such as drink insulators or coolers, beer can cozies, Huggies, Coasties, or even Qoozies.
What else is it used for?
For marketing strategies
Nowadays, business owners use it as a marketing strategy to sell their beverages. They offer customized sleeves with their beverages or give one away in promotional giveaways and to influencers to make their beverage look and sound more appealing to the customers. It is also easy and inexpensive to manufacture, making it a great strategy for promotion.
To personalize your drink
You can use a Koozie to personalize your bottle or cans by using one with your name on it or even a unique logo or simply use your signature color koozie to make it easy to identify your drink.
Protect tables and other furniture
Don't you hate those round wet rings left behind on furniture by water trickling down your drinks, ruining the finish of the furniture? Since Koozie is a sleeve that covers the entire sides and bottom of your can or bottle, it automatically acts as a coaster for your drink, keeping your tables safe from stains.
Protect your bottles from breaking
If your Koozie is thick enough, it can also protect your bottle from breaking if it accidentally falls.
Top 5 best koozies
If you are having trouble deciding which Koozie to buy following is a narrowed-down list of the 5 best Koozies that you can use to choose one according to your requirements:
1. YETI Rambler 12 oz. Colster Can Insulator for Standard Size Cans
It is a strong, durable, standard-sized stainless-steel cooler for your cans with a Duracoat color that prevents chipping.
Pros: It is one of the best Koozies for canned beer and other canned beverages. It has a double wall vacuum which keeps the drinks cold for a longer time, and is dishwasher safe.
Cons: It is a bit pricy for a Koozie.
2. THERMOS Stainless Steel Beverage Can Insulator for 12 Ounce Can
It is a sweat-proof, durable, and standard-sized stainless steel can insulator that works for both hot and cold drinks.  
Pros: It is affordable and keeps beverages hot or cold for longer periods.
Cons: It only works for 12-ounce cans and is made of stainless steel, so it is comparatively heavy.
3. Sok It Java Sok Reusable Neoprene Insulator Sleeve for Iced Coffee Cups
It is a durable, flexible, and eco-friendly neoprene sleeve that can fit your Dunkin Donuts, Starbucks, or any other iced coffee cup to keep your drink cold.
Pros: It is the best affordable option to keep your iced coffee cold for longer periods, comes in multiple sizes, and is washable.  
Cons: It does not work for slim cans and bottles.
4. BrüMate Hopsulator Trio 3-in-1 Insulated Can Cooler for 12oz/16oz Cans: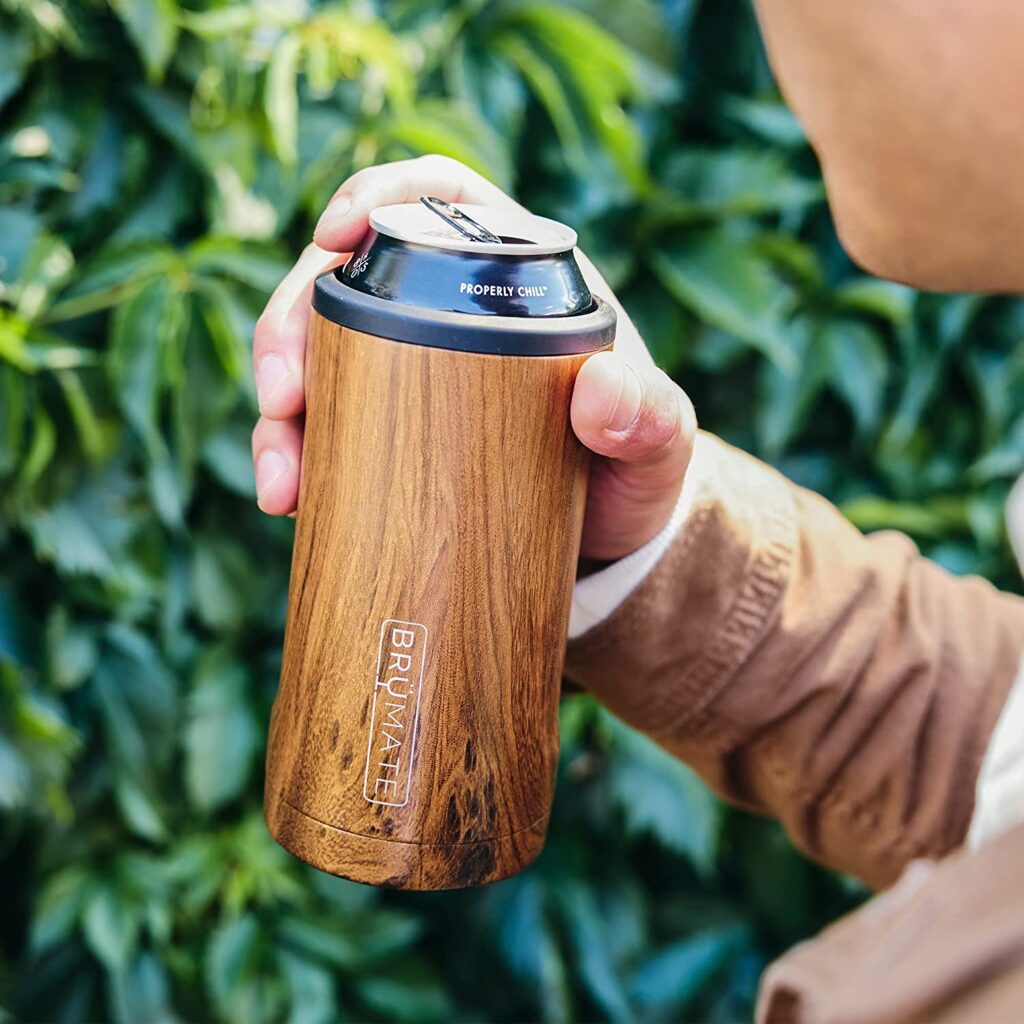 It is a sweat-proof, versatile, and double-walled stainless steel can cooler that fits multiple sizes. It works for both hot and cold drinks.
Pros: Most Koozies only hold one size, but with this Koozie, you have the best of both worlds because it can fit a standard 12oz can as well as a tall 16oz can.
Cons: It is bulky and heavy.
5. TahoeBay Blank Beer Can Coolers:
It is a simple and versatile polyurethane can cooler that comes in a pack of 12.
Pros: It is the best affordable option and comes in a variety of colors. It can be used for 12-ounce standard-sized cans, 16-oz cans as well as similar-sized bottles.
Cons: It does not keep the beverages cold for too long.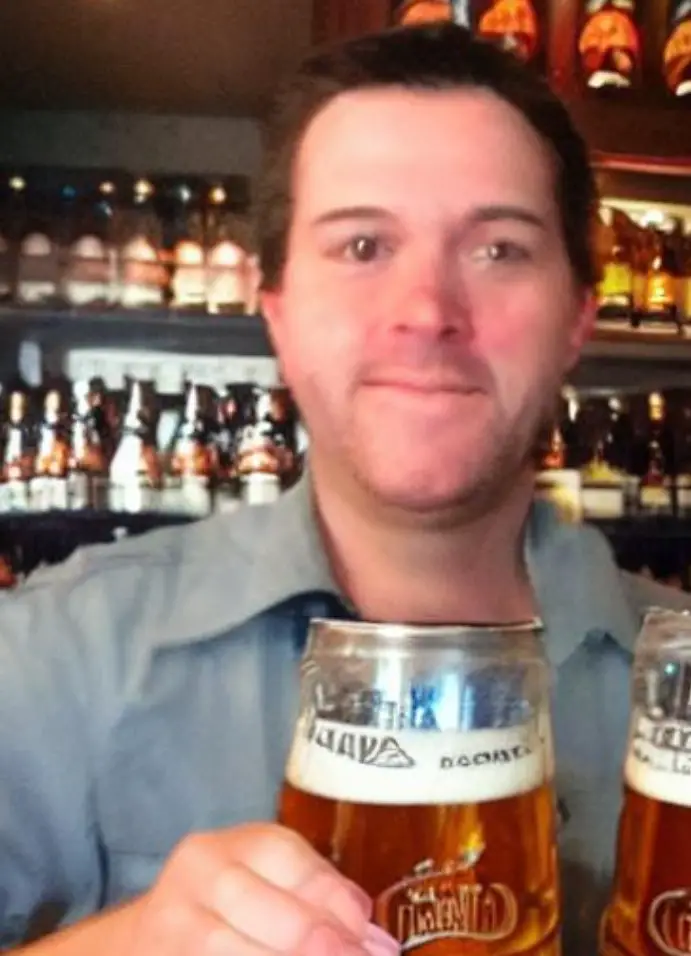 I am a passionate beer connoisseur with a deep appreciation for the art and science of brewing. With years of experience tasting and evaluating various beers, I love to share my opinions and insights with others and I am always eager to engage in lively discussions about my favorite beverage.