Raise your hand if you love watching movies while drinking or when you are drunk. Although choosing a genre for a film is subjective, many individuals still prefer to watch something thriller or a mind-boggling storyline when sober. However, watching a movie when drunk is a different story.
The best picks for anyone could be something that does not require rational thinking, so comedy, action, and romantic films can appeal to many enthusiasts. If you are one of them, check out the list of top movies to watch when drunk.
1. The Hangover (2009)
Everyone's favorite, The Hangover, directed by Todd Phillips, is still among the top options to laugh and enjoy when drunk.
The movie revolves around Doug (Justin Bartha) and his three best buddies, Phil (Bradley Cooper), Alan (Zach Galifianakis), and Stu (Ed Helms), who visit Los Vegas for Doug's Bachelor's party only two days before his wedding. The next morning, they wake up oblivious of the previous night, only to know that Doug is missing. The series of adventures begins when all three groomsmen start looking for the bachelor to take him back to walk down the aisle.
To watch The Hangover, you don't need to think hard to solve riddles. It is a fun movie, so just watch, laugh to death, and enjoy it while drinking.
2. Superbad (2007)
Superbad is a supergood teen comedy movie with incredible on-screen chemistry between protagonists, hilarious one-liners, and excellent dialogue delivery.
The story is about two childhood buddies, Evan (Michael Cera) and Seth (Jonah Hill), who will graduate and part ways soon for higher studies. Before graduation, they want to spend one last night together to party, have fun, forget separation anxiety, and experience new adventures. However, a pair of bored police officers interrupt their plans. Officer Slater (Bill Hader) and Officer Michaels (Seth Rogen) find a mutual friend of Evan and Seth, whose name is Fogell/McLovin. The comedic roller coaster ride begins with the funniest twists and turns.
It perfectly depicts the insecurities, awkwardness, and satire of teenage life. It is a must-watch movie to relax and divert one's mind from negativity and everyday problems.
3. Kung Fu Hustle (2004)
Absolute Entertainment!
Kung Fu Hustle, a film by Stephen Chow, is an action-comedy movie you can watch thousands of times without getting bored.
Set in the 1940s era of Shangai, Sing (Stephen Chow) and his friend, Bone, are willing to join a gangster group, Axe Gang. From childhood, Sing believes villains are more influential than heroes, so he always aspires to become one. He tries to extort a nearby slum (PigSty Alley), but three real Kung Fu masters live there. Even the landlady and landlord have sharp Martial Arts skills, which they exhibit from time to time. Unconsciously, Sing always helps good people even though he does not want to. Later, he recognizes his hidden powers and defeats the wrongdoers.
It beautifully portrays the self-recognition journey of an aspiring gangster in a humorous way that he is the real 'Kung Fu Genius,' not an evil person by nature. So, grab your drink and watch this stress reliever to forget the world for a while.
4. I Love You, Man (2009)
A light comedy flick, 'I Love You, Man,' is a story of a successful person, Peter Klaven (Paul Rudd). He has an ideal job, a luxurious house, and a gorgeous wife-to-be, Zooey. Perfection overloaded!
However, the real story begins when Peter realizes he has no male friend who can be his Best Man at his wedding. He tries to find someone and finally meets Sydney Fife (Jason Segel). They get emotionally attached to the point where Zooey starts stressing over her relationship with Peter.
This movie is a treat to watch when drunk because of its light rom-com theme. However, it also highlights that platonic friendships are as essential as romantic relationships.
5. Another Round (2020)
A work of brilliance, Another Round, a Danish movie, is an Academy Award Winner international flick based on a theory that human blood should have 0.5% alcohol to loosen up. 
Four high school teachers and best friends, including Martin (Mads Mikkelsen), are dealing with middle-aged crises, such as dull social and private lives. They read a theory and agree to give it a chance. Martin and his friends start consuming alcohol daily with a target of 0.5%. Initially, they feel improvements in their way of living, so they increase the alcohol dose. From here, things get worse and lead to tragic consequences.
Another Round is a dark humor film with so many lessons. So, what is the better option than this one while drinking?
6. The Fast and Furious Series (2001-Present)
Do you love action movies? If so, the star-studded series, The Fast and Furious, would be another best choice to make you feel relaxed and happy because of its not-so-complex storyline. Dominic Toretto (Vin Diesel) is a street car racer who treats his friends like family.
Based on illegal street racing, spies, and heists, the series portrays an unbreakable family bond between protagonists because Dom says, 'I don't have friends; I have a family.' The Fast and Furious franchise has released nine movies so far, so you can pick anyone and watch while drinking to make your moments more enjoyable.
7. Tucker & Dale vs. Evil (2010)
Pure Satisfaction for horror movie lovers!
Tucker & Dale vs. Evil is a comedy horror flick with hilarious twists and turns. Allison and her friends, including Chad, Chloe, Chuck, Mike, Todd, Noami, Mitch, and Jason, visit West Virginia for camping. At the gas station, they meet two hillbillies, Tucker (Alan Tudyk) and Dale (Tyler Labine), who plan to renovate their cabin in the woods. The college students think they are murderers and try to save their friend, Allison, from them. However, things take a mind-boggling turn when they catch the real evil. 
The movie offers satirical dialogues and hilarious scenes to enjoy, making Tucker & Dale vs. Evil a masterpiece. Watch it with your friends to increase the dose of entertainment.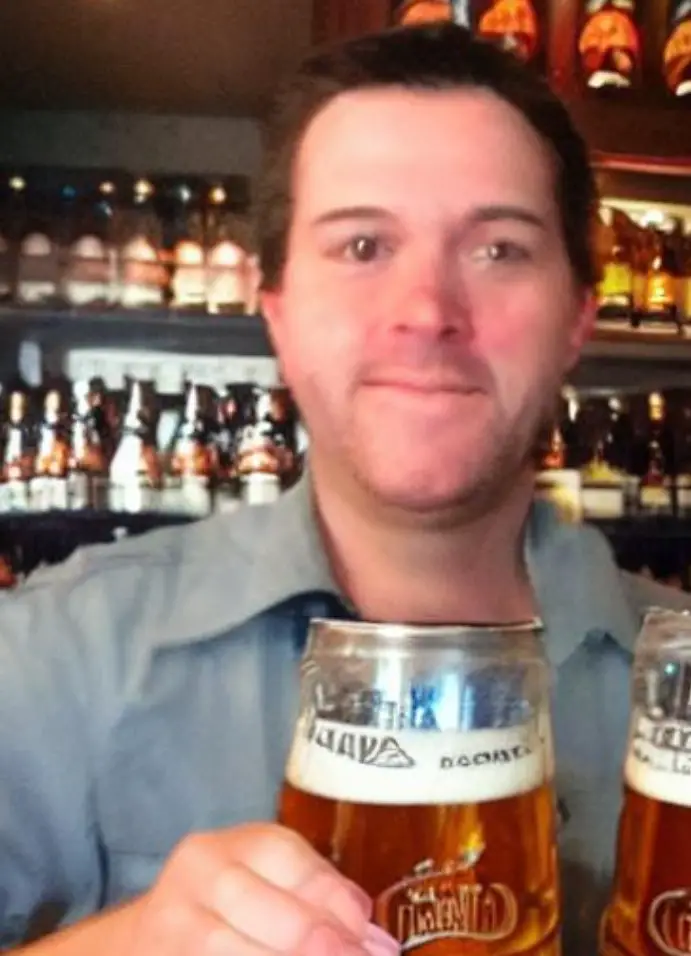 I am a passionate beer connoisseur with a deep appreciation for the art and science of brewing. With years of experience tasting and evaluating various beers, I love to share my opinions and insights with others and I am always eager to engage in lively discussions about my favorite beverage.