If you want to chug down a nice, refreshing, and citrusy beverage with a little buzz, then our collection of the 10 highest-rated orange alcoholic drinks this year is just right for you. Our roundup is what our peers consider to be the ten best alcoholic orange drinks, all recommended by beverage connoisseurs, bartenders, veteran drinkers, and beginners.
After all, we understand how difficult it can be to decide which beverage suits our palates the most. That's why we developed our selection and shared it right here so as to help you make a more informed decision.
These citrus drinks are all made from the freshest ingredients. They contain pure orange juice and no artificial powder mixes. While browsing through our collection of the top 10 best orange alcoholic drinks today, you'll learn that these options are all diverse. Simply put, that means no two alcoholic orange beverages are the same.
Now the fun thing about citrus fruits and drinks made from them is they're versatile, and adding various ingredients ensures that you'll get something different each time. With that said, here's our list of the best and most refreshing orange alcoholic beverages, along with the pros and cons of enjoying each option:
10 Best-Tasting Orange Alcoholic Drinks This 2023
1. Mimosa
Mimosa is perhaps the most popular orange-based alcoholic drink. It's comprised of champagne and orange juice and is very simple to make, and because of its main ingredient, champagne, it is always served in a champagne flute. If you have money to spend, grab a bottle of your favorite sparkly drink, or create your own mix. 
Pros
Sweet and fizzy flavor
Easy to make – Just two ingredients
Cons
Champagne is a bit pricey 
Champagne flutes are expensive to buy as well, not to mention fragile
2. Screwdriver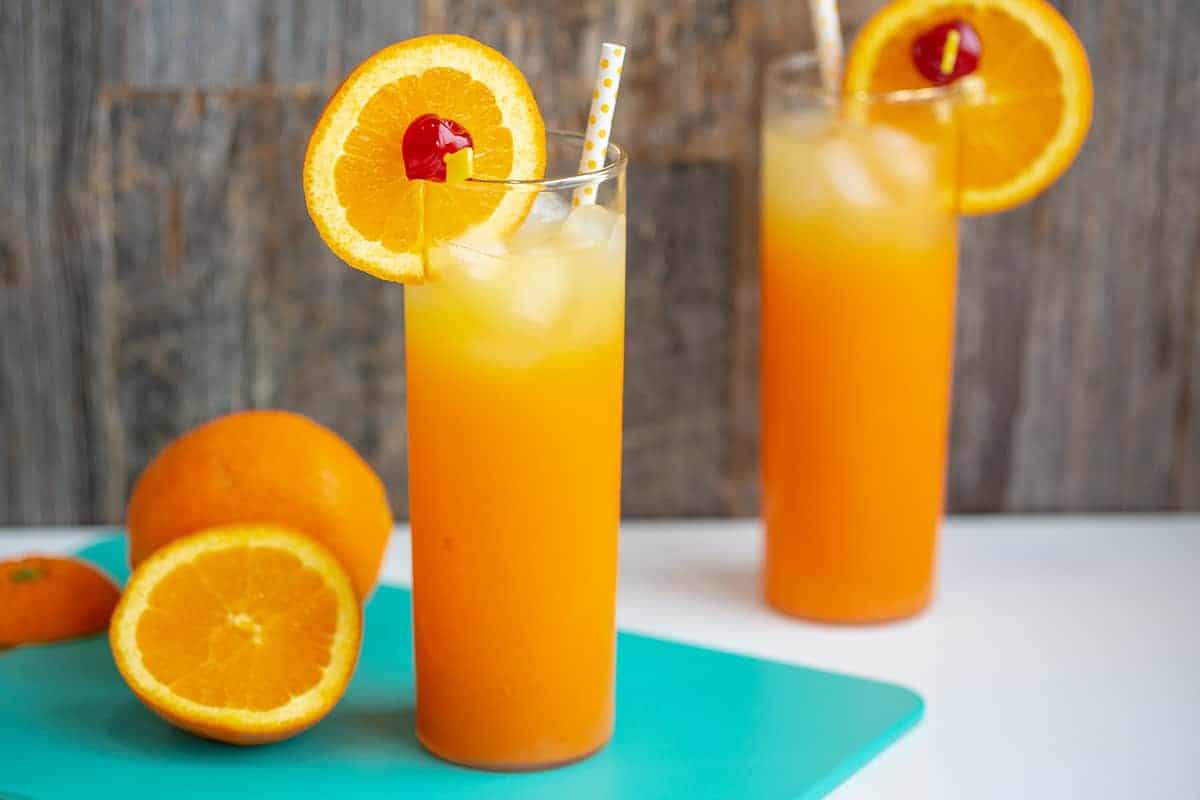 This is another orange-based alcoholic drink that's easy to make! This beverage is comprised of two ingredients as well – Plain orange juice, and vodka, with an optional dash of salt. The humble Screwdriver can be enjoyed during brunch or an afternoon meeting with friends. This drink got its name when oil rig workers used a screwdriver instead of a spoon to combine together its two main ingredients.
Pros
Only contains two ingredients 
Also has a flavorful and sweet taste
It can be versatile and combined with other cocktails
Cons
Vodka can be quite expensive as well, depending on the brand
3. Tequila Sunrise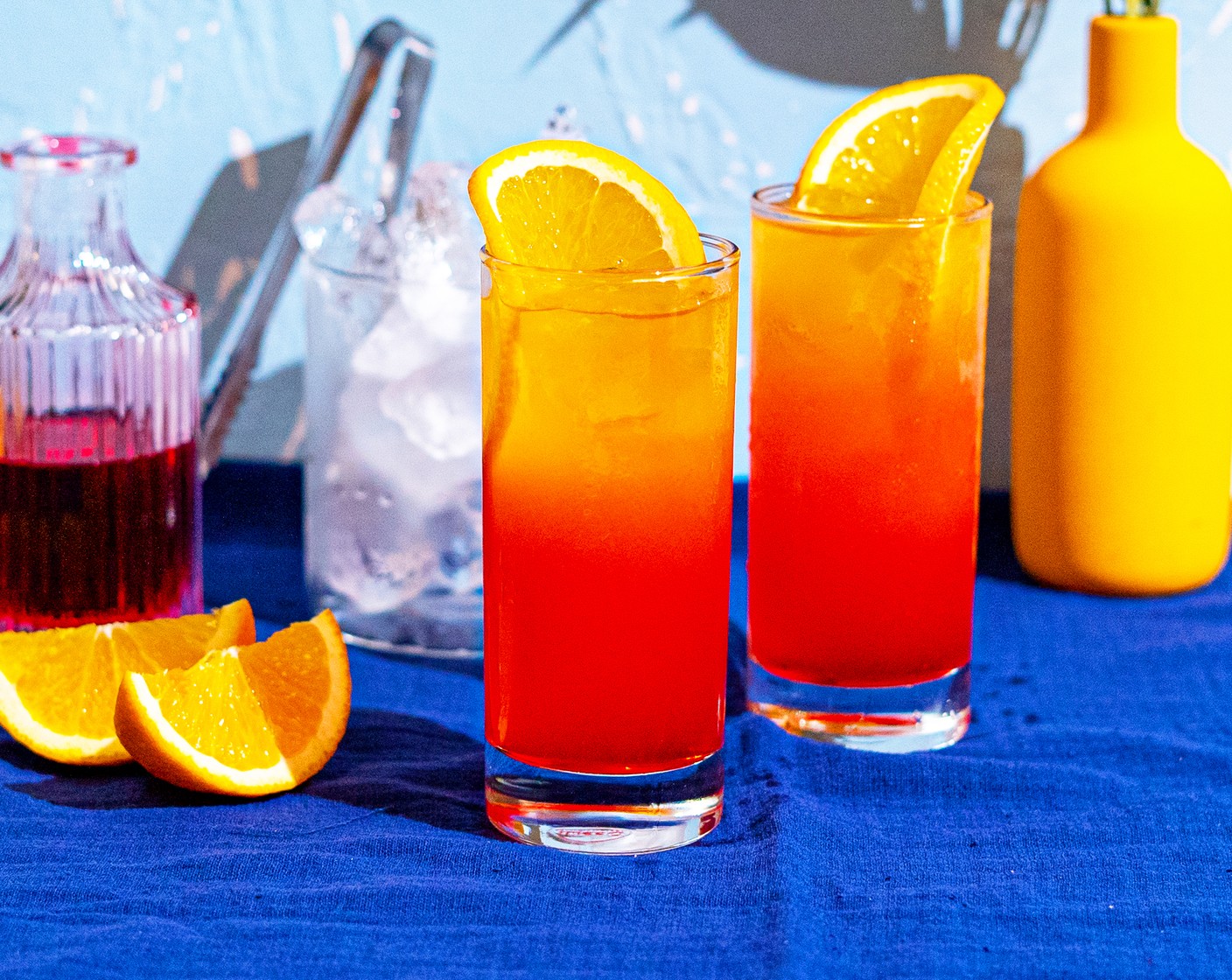 This is a drink that includes three ingredients this time: Orange juice, tequila, and grenadine syrup. When blended together, the finished drink is very beautiful to look at and mimics the look of sunrise scenery with its layered hues. It's just as delicious as it is very pretty. When making this drink, be sure not to stir the ingredients as it ruins the sunrise look. 
Pros
Another drink that you can make at home
Contains no special equipment or ingredients
Cons
4. Garibaldi 
Originating from Italy, the Garibaldi is a drink composed of orange juice and Campari, a type of Italian bitters. The orange juice gives the drink a bit of zing and tanginess, while the alcohol provides it with lots of flavor and depth. Bartenders who are experts in making the Garibaldi give their drinks a bit of flair by adding a foamy topping, similar to beer.
Pros
The perfect balance of sweetness and bitterness from the ingredients 
Blood orange can be used as a substitute 
Simple and easy to make 
Cons
5. Ward 8
Created in honor of the political leader Martin M. Lomasney, the Ward 8 is a drink with a very long history, going back to 1898. It's still the go-to order of plenty of whiskey fans, despite it not being as popular as it once was. It has three ingredients: Grenadine syrup, orange juice, and rye whiskey. 
Pros
The whiskey isn't overpowering at all 
Has a nice, tart finish 
Very balanced and intriguing drink
Cons
If not made correctly, the whiskey can leave a bitter and somewhat spicy finish
6. Blood and Sand
Despite its rather unappetizing name, the Blood and Sand cocktail is still very tasty and a definite must-try. It's got a rather sweet and smokey flavor thanks to the combination of cherry liqueur and blood orange juice. The look and taste of the drink are very similar to the Martinez and Manhattan cocktail, but the liqueur replaces the bitters and sweet vermouth ingredients of the latter two. 
Pros
If you want to try out Scotch whiskey for the first time, then this drink is for you
Has a balanced cherry flavor
Cons 
A bit polarizing, thanks to the name
Regular oranges and tangerines cannot replace blood oranges for this drink 
7. Orange Margarita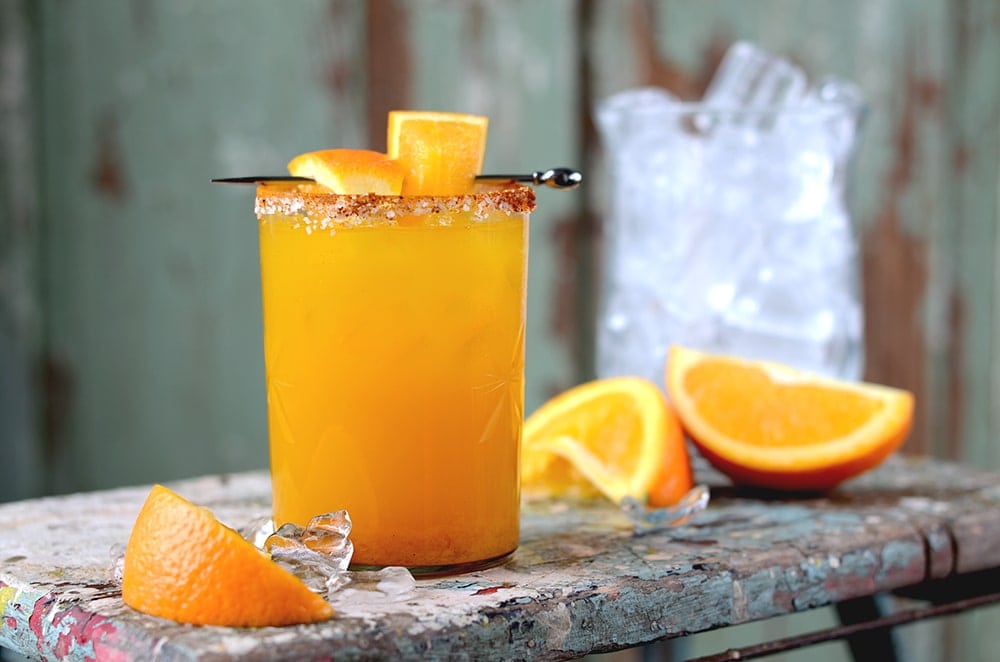 Expert bartenders have often considered this drink to be a step above the usual margarita, and with good reason. The original margarita is indeed delicious, but adding a splash of orange juice to it gives it a sweeter taste, as well as a more delectable flavor. The mixture of lime and orange adds twice the citrusy kick to the beverage as well. 
Pros
A refreshing flavor that tingles your tastebuds
You can further improve the drink by adding amaretto aside from orange liqueur or juice
Cons
8. Harvey Wallbanger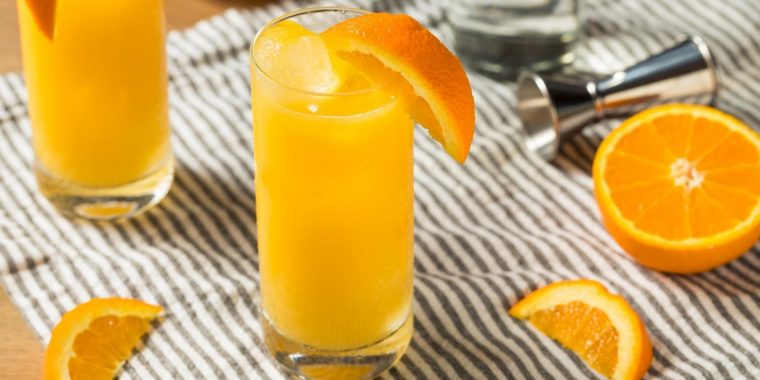 Known as the more sophisticated cousin of the Screwdriver, the Harvey Wallbanger combines together vodka, orange juice, and a dash of Galliano L'Autentico float – An Italian herbal liqueur that originates from the 1890s. This gives the rather simple drink a strong punch with an herbal aftertaste. Despite its main ingredient coming from the 1890s, the Harvey Wallbanger was only created during the 70s.
Pros
The Galliano gives the drink vanilla and anise-y flavor 
Cons
Not recommended for beginners because of the strong combination of liqueurs 
9. Alabama Slammer
A hit with college students, the Alabama Slammer is a low-brow drink that is easy to make because it uses trendy low-quality liquor. In fact, if you want to jazz up this drink, the only thing you need to do is to improve the liquor quality. Popular ingredients for this drink include sloe gin, bourbon, amaretto, and of course, orange juice. 
Pros
Quick and easy to prepare
Has a well-balanced, fruity, and bold taste
Perfect afternoon drink 
Cons
It could taste either really delicious or bitter, depending on who makes it 
10. Golden Dream Cocktail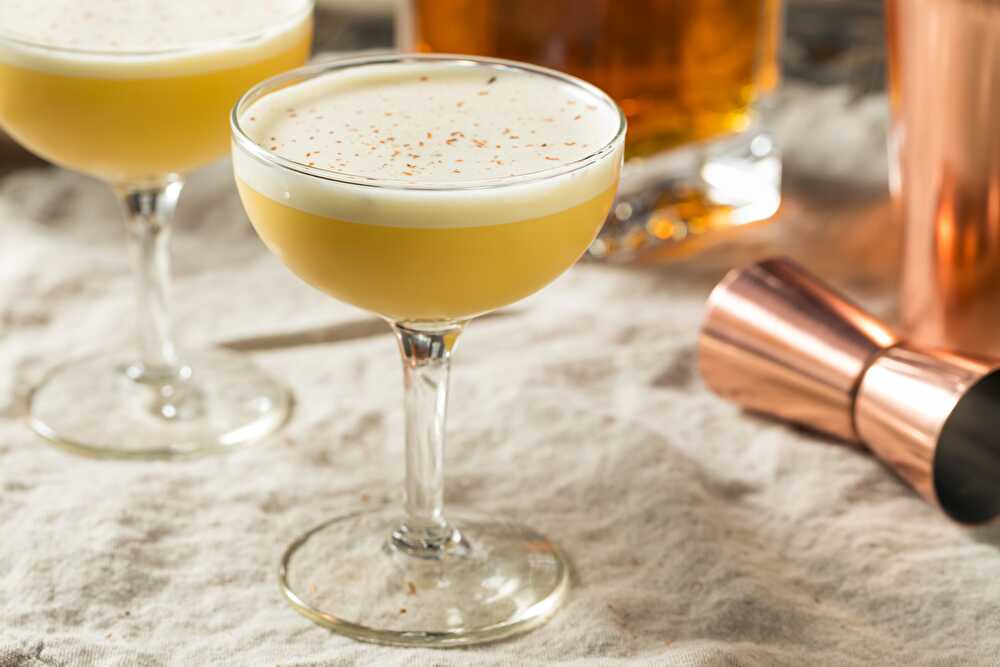 The name of this cocktail is already attractive in itself, and the flavor ensures that it will become one of your favorites. This drink is excellent for those who see orange-flavored cocktails as desserts as well. Aside from the orange flavor, it also comes with notes of vanilla, licorice, and herbs. The drink was also popular back in the 1970s and 1960s.
Pros
Tastes similar to an alcoholic creamsicle 
Only has a 1:1 ratio of ingredients, so making this drink is simple and easy 
Cons
It can be too sweet or mild for some cocktail enjoyers
Frequently Asked Questions About the Top Orange Alcoholic Drinks Today
Do Orange Alcoholic Drinks Offer Health Benefits?
This 2017 scientific research study claims that drinking fermented orange beverages in moderation can increase the levels of antioxidants and may also reduce inflammations in the body of a healthy person. Generally, good levels of antioxidants in the body help us avoid certain diseases and are also known to promote cell rejuvenation and regeneration.
What is the Difference Between a High-Ball Drink and a Low-Ball Drink?
This only refers to the glass that the drink is served in. A "high-ball" glass is tall and thin glassware, while "low-ball" glasses are square-ish, smaller, and squat glasses. Low-ball glasses are also referred to as old-fashioned glasses or as "rock" glasses. Meanwhile, "high-ball" also refers to a non-orange-based cocktail that is comprised of a soda and a type of hard liquor, such as rum & Coke.
What Are the Basic Components of Cocktail Drinks?
A basic cocktail has four fundamental elements – The spirit, the balancing agents, the modifiers, and lastly, water. These four elements remain the same no matter what kind of drink you end up making. When you gain enough experience and try to combine these elements together in proper portions, they can result in a well-balanced and flavorful drink.
Rounding Up Our Deep Dive Into the Top 10 Best Orange Alcoholic Drinks This Year
Crafting the best kind of cocktail – Whether it's an orange-based one or not – Is both an art and a science, with years for people to master. And when you know the basics, you'll soon be able to figure out the science of making a good drink. Honing these skills ensures that you will become the life of the party or begin a side business as a bartender. Our favorite cherry picks from our selection are the top 3 ones on our list.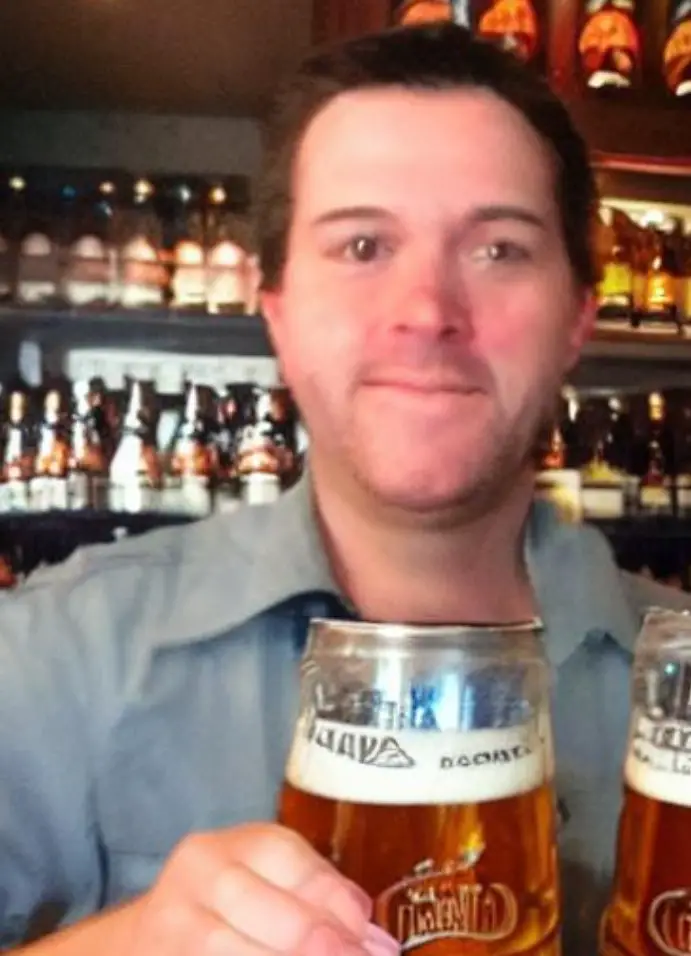 I am a passionate beer connoisseur with a deep appreciation for the art and science of brewing. With years of experience tasting and evaluating various beers, I love to share my opinions and insights with others and I am always eager to engage in lively discussions about my favorite beverage.