Did you just randomly go out to buy beer at 3 a.m. in Texas and find all the stores to be closed? 
Well, that was expected. In Texas, no one can sell or buy beer at times other than the one allowed by the law and government. There are defined times between which you can sell and buy beer. And if you sell earlier or after the defined time, the law has the right to fine you as well as imprison you.
Additionally, there are some days, like Thanksgiving, when the shops remain closed.
Longing to learn about the exact closing time? Then, without any further ado, move to the next section.
What Time Do They Stop Selling Beer In Texas?
There are different times at which the people of Texas are supposed to stop selling beer, whether bar or pub owners or a cashier at a local grocery store. 
So, after gathering all the information, it was summarized as given below.
1. Monday To Friday
From Monday To Friday, the people in beer are allowed to sell beer from 7 o'clock in the morning to 12 o'clock at midnight. 
These shops are allowed to open and sell so early in the morning so that all the morning alcohol lovers can get enchanted by it.
Similarly, the selling process continues till late at night (midnight) so that all the people who love drinking beer after a tiring, robotic life can easily buy one.
2. Saturday
On Saturday, people in Texas can buy and sell beer between 7 o'clock in the morning and 1 o'clock in the night.
Yes, one hour more than the regular weekdays. The reason is that Saturday is the last working day, and thus, people often arrange meet-ups and parties that continue till late at night. That is why the law gives them leverage by allowing them to continue selling beer till 1 o'clock in the night (providing leverage of one hour). 
3. Sunday
Moving on to the last day of the Sunday, the beer selling and closing timings are quite different. 
Before the amendment in law, beer and all alcoholic liquors could be sold between 10 o'clock in the morning and noon.
However, later, amendments were made to this portion.
Now, the time to sell beer in Texas on Sunday is between 10 a.m. in the morning to midnight.
| | |
| --- | --- |
| Day | Timings To Sell Beer In Texas |
| Monday | 7 o'clock to Midnight |
| Tuesday | 7 o'clock to Midnight  |
| Wednesday  | 7 o'clock to Midnight |
| Thursday  | 7 o'clock to Midnight |
| Friday  | 7 o'clock to Midnight |
| Saturday  | 7 o'clock to 1 a.m. |
| Sunday | 10 o'clock to Midnight  |
Why Do They Start Selling Beer Late On Sunday In Texas?
You must be thinking, why do they start selling so late on Sunday? 
The reason is that on Sunday, people visit churches for offerings and religious practices.
So, by delaying the opening time, one can peacefully perform their religious activities since everyone loves to enjoy Sunday night before starting a new week; amendments were made in the Texas law so that you can access it in bars and local stores until midnight.
Do All Beer Shops Stop Selling Beer At The Time Frame Given By Law?
No, for those who are retailer certificate holders they can sell for an extended hour or two, depending on the situation. 
So, where all other people stop selling beer at 12 a.m., these retailer certificate holders can sell up to 2 a.m. at night.
However, if you don't have a retailer certificate, you have to abide by the timings given by Texas law.
Is There Any Punishment If You Buy Or Sell Beer Other Than The Allowed Time Frame In Texas?
Yes, there are proper legal punishments for the people who sell or buy beer other than the allowed time frame in Texas. 
Those who sell beer or mix the drinks before or after the allowed time frame by the Texas law are fined a huge amount or imprisoned for one year or so.
Similarly, if you buy beer outside the allowed time frame in Texas, you will be subjected to a certain fine.
Are There Any Dry Cities In Texas?
Yes. Texas has both dry and wet counties, with some being semi-dry too.
So, of all the counties, there are five dry cities in Texas. These include:
Levelland 
Munday 
Sundown 
Brownfield 
Crosbyton
Can Anyone Buy Beer Within The Time Frame In Texas?
Yes, anyone can buy beer within the time frame in Texas as long as he or she satisfies the conditions given by the law. These include 
The person should show any legal document, like an ID card, driving license, etc., that verifies his age as more than 21 years, the legal age for buying beer.
The person should be less than 40 years old.
So, these are the two conditions, and if you satisfy them, you can buy beer.
When Are Liquor Stores Not Allowed to Sell Beer in Texas?
Although beer and other alcoholic liquors are freely available within the defined time frame, there are certain days on which buying and selling such liquors is completely forbidden. These include special holidays like:
Thanksgiving 
Christmas 
New Year's Day
Conclusion
All in all, you can buy and sell beer between 7am and midnight in Texas on weekdays. (From Monday To Friday). On Saturday, the shops remain open till 1 a.m. 
However, when talking about Sunday, the opening timings are pretty different. Beer sellers can sell beer after 10 a.m. on Sunday. The reason is that before that, people should go to church to do their prayers.
And those who sell or buy at any time other than the time frame given by law will be punished.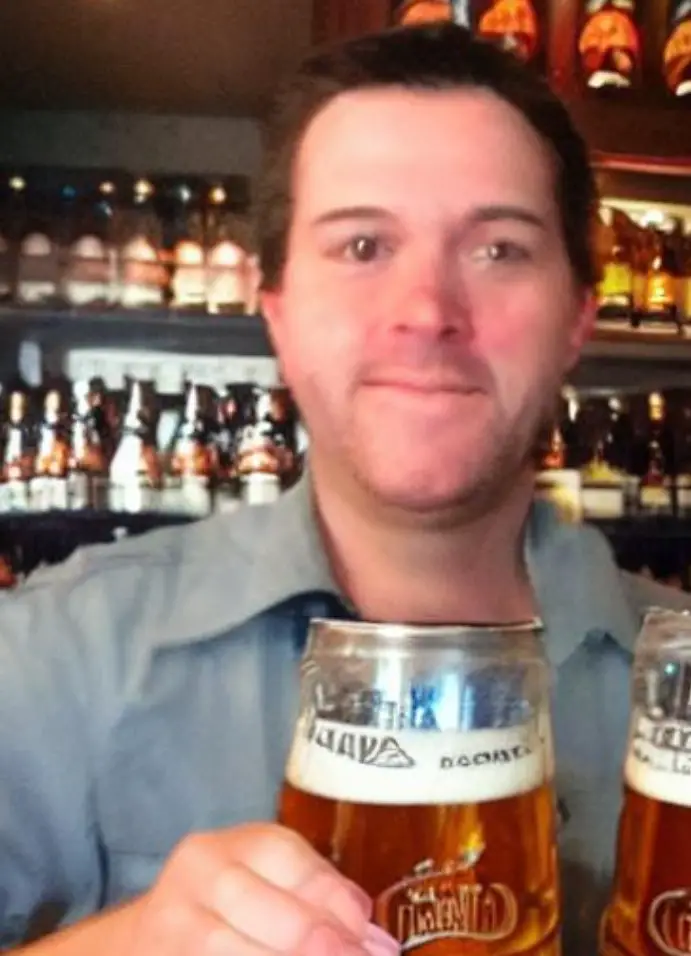 I am a passionate beer connoisseur with a deep appreciation for the art and science of brewing. With years of experience tasting and evaluating various beers, I love to share my opinions and insights with others and I am always eager to engage in lively discussions about my favorite beverage.