In this article, we will show you the 24 exciting 80s theme party ideas that can be used to plan an amazing event. These ideas include decorations that radiate with neon lights, iconic fashion trends, infectious beats, and much more.
Guests can dance to the rhythm of an electrifying 80s playlist, indulge in classic movie screenings, and capture special moments in a radical photo booth. Whether planning an intimate gathering or a grand extravaganza, these 80s Theme Party Ideas will ensure an event that rocks your world and leaves guests in awe.
It's time to infuse your celebration with the spirit of the 80s and create memories that will last a lifetime.
1. Neon Nights: Setting the Stage with Electric Decorations
Transform the area where your party will be into an 80s-inspired neon wonderland. Use neon lights, fluorescent colors, and recognizable symbols for a striking visual effect. 
To create a fun atmosphere for your party, hang neon streamers, set up blacklights, and disperse glow sticks throughout the space.
2. Blast from the Past: Invitations that Channel Retro Vibes
With invitations that capture the zeitgeist of the 1980s, you can immediately set the mood for your 80s-themed party. To truly capture the essence of the '80s, we suggest incorporating handwritten tracklists on the invitations, just like the mixtapes we used to make.
Create invitations with handwritten tracklists and eye-catching cassette graphics that resemble vintage mixtapes. As an alternative, design your invitations using famous 80s movie posters. To fully embrace the theme, encourage guests to arrive dressed to the nines.
3. Dress to Impress: Iconic 80s Fashion Trends for Guests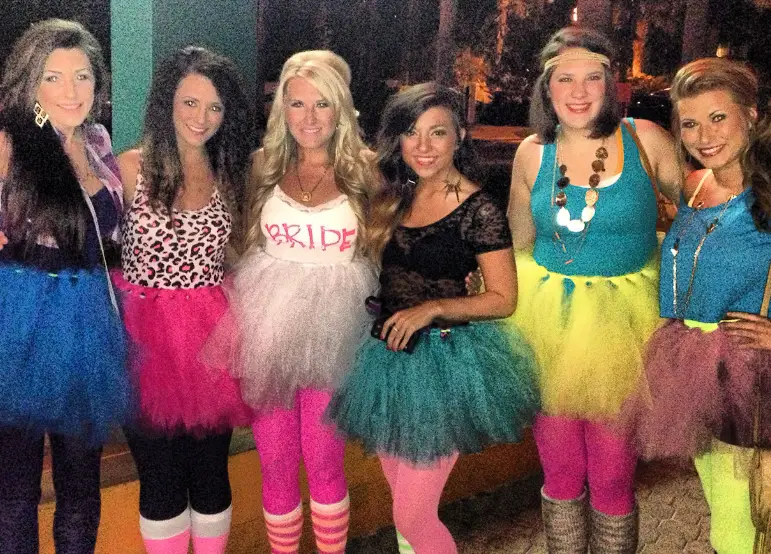 Bold fashion choices and distinctive styles dominated the 1980s. Encourage visitors to welcome their inner Madonna, Michael Jackson, or David Bowie by dressing in recognizable 80s attire. 
Think oversized jewelry, leg warmers, acid-washed jeans, and shoulder pads. Provide a dressing area with extra flair items like jelly bracelets, colorful scrunchies, and fingerless gloves for those needing them.
4. Hair-Raising Styles: Outrageous Hairdos
Without striking hairstyles, no party with an 80s theme would be complete. Create masterpieces that defy gravity by torquing, crimping, and spraying your hair. Men can create the ideal seagull's hairstyle or rock the mullet. 
Set up a hair styling station where guests can get temporary hair color sprays, neon hair extensions, and sparkly hair accessories to finish their look for more entertainment.
5. Rewind the Beats: Creating a Stellar 80s Playlist
Every party needs music, and the 1980s had a soundtrack. Make a playlist with all the decade's top songs on it. Famous musicians like Michael Jackson, Madonna, Prince, Queen, and Bon Jovi should be mentioned.
Remember to incorporate popular 80s genres like new wave, synth-pop, hair metal, and hip-hop. Power ballads and dancefloor anthems should be mixed to keep the party's energy levels high.
6. Cinematic Flashback: Movie Night with Classic 80s Films
Organize a movie night with a selection of your guests' favorite 1980s films to transport them back in time. Create a comfortable viewing area with bean bags, vintage popcorn containers, big screens, and a projector. 
Pick a few of the era's most well-known motion pictures, such as "The Breakfast Club," "Back to the Future," "E.T. the Extra-Terrestrial," "Ghostbusters," and "Ferris Bueller's Day Off." Make the moviegoing experience thoughtful so everyone remembers their favorite 80s flicks.
7. Groovy Games: Fun Activities to Keep the Party Going
Keep the party energy flowing with a variety of entertaining games and activities. Here are a few ideas to get started:
80s Trivia: Test your guests' knowledge of the 1980s with an 80s trivia game that includes inquiries about the decade's popular culture, entertainment, and fashion.
Dance-Off: Host a contest using popular dance moves from the 1980s. The best moonwalk, robot dance, or breakdance routine should win prizes.
Costume Contest: Host a costume contest to let attendees show off their best 80s-inspired attire—award prizes for the most original, imaginative, and humorous costumes.
Lip Sync Battle: Set up a stage and encourage guests to channel their inner rock stars by having a lip sync competition with an 80s theme. Give participants a choice of popular 80s songs to listen to.
8. Delightful Drinks: Signature Cocktails with an 80s Twist
Offer a variety of signature cocktails with an 80s feel to quench your guests' thirst. Create some original names for them, like "Purple Rain," "Electric Dreams," or "Totally Rad-tini."
To add a visual element, serve drinks in neon-colored glasses or with creative garnishes. Remember to provide non-alcoholic options for those who prefer them, such as mocktails or themed sodas.
9. Timeless Treats: Nostalgic Snacks and Desserts
Give your guests a taste of the 1980s with a spread of desserts and snacks that bring back memories. Here are some traditional sweets to think about:
Pop Rocks: The fizzed-up candy craze from the 1980s was Pop Rocks.
Jell-O Pudding Pops: Bill Cosby promoted ice cream treats called Jell-O Pudding Pops were commonplace in freezers during the 1980s.
Twinkies: These long-lasting cream-filled sponge cakes were a lunchbox favorite in the 1980s.
Party Mix: Use pretzels, cheese puffs, and chips to make a nostalgic snack mix.
Flashback Fashion Show: Runway Glamour with an 80s Twist
By planning a fashion show, you can elevate your 80s theme party. Invite visitors to walk the runway and display their outfits. Play up the decade's dramatic fashion with runway music, spotlights, and enthusiastic applause—award prizes for men's and women's most authentic, creative, and best-dressed ensembles.
11. Radical Photo Booth: Capturing Memorable Moments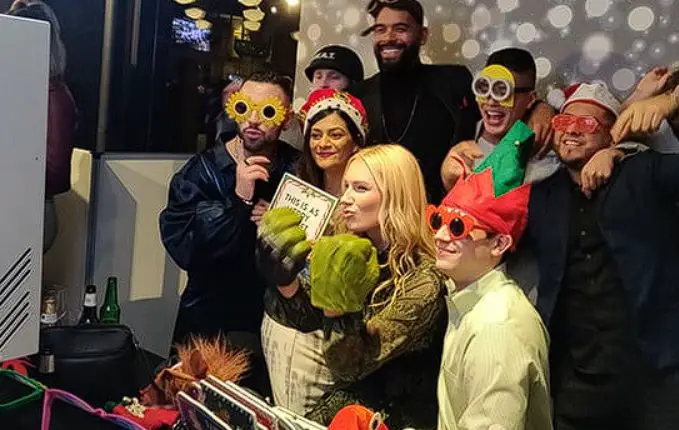 Create a photo booth area for capturing attire and memories inspired by the 1980s. Create physical reminders of your experience while submerging yourself in '80s culture and memories. 
Allow guests to take physical souvenirs home by offering props, an eye-catching backdrop, Polaroid cameras, or instant photo printing services.
12. DIY Fashion Station: Customize Your 80s Attire
A DIY fashion station should be set up so visitors can customize their 80s attire. Offer guests plain t-shirts, denim jackets, or accessories so they can personalize them with fabric paints, iron-on patches, glitter, and stencils. 
Encourage guests' creativity and let them use DIY clothing to showcase their individual styles.
13. Roller Disco Party: Bring Back the Roller Rink Vibes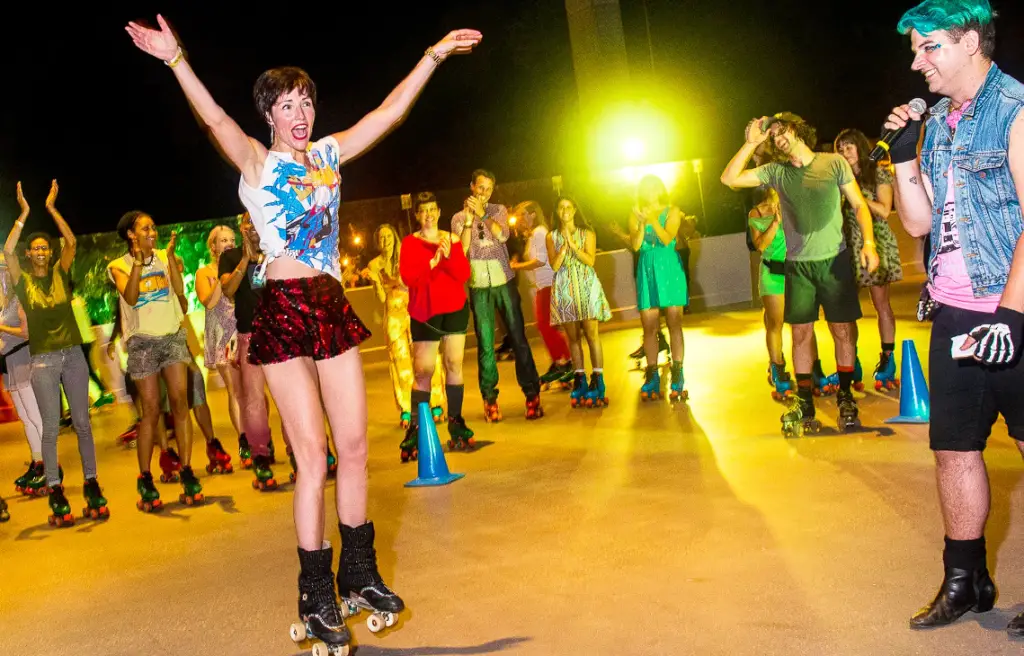 By having a roller disco party, you can relive the nostalgia of this 1980s pastime. Rent a roller rink, or use rental skates to turn a large space into a temporary rink. 
Neon lights, disco balls, and colorful streamers can all be used to decorate the area. As visitors glide across the floor, remembering the heyday of roller skating, playing disco and 80s dance hits.
14. Arcade Gaming Zone: Level Up with Classic 80s Games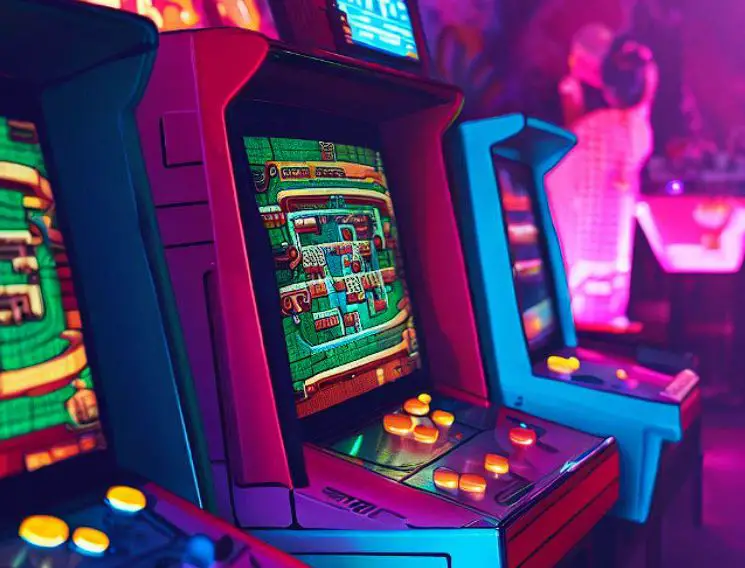 Organize an arcade gaming area with vintage 80s arcade machines to add a retro touch to your party. Rent or borrow video game gaming systems with Pac-Man, Galaga, Donkey Kong, and other popular titles. 
Allow visitors to compete for high scores and give out small prizes for the best players. This gaming area will bring back nostalgic feelings of spending a lot of time in the arcade in the 1980s.
15. Mixtape Memories: Craft Personalized Playlists for Guests
You can pay homage by making customized playlists fur guests to the 80s' beloved mixtape culture. 
Ask attendees to submit their top 80s songs in advance and then create customized mixtapes or online playlists using the submissions. Present them to guests as party favors so they can cherish their 80s-inspired soundtrack and relive the memories.
16. Dance Dance Revolution: 80s Edition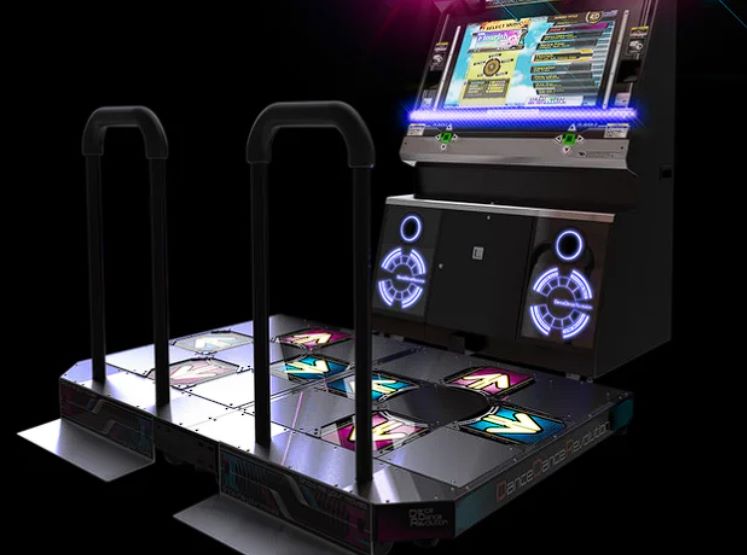 Using 80s music, bring the well-known dance video game Dance Dance Revolution (DDR) to life. Set up a projector and DDR mat to project the dance moves onto a big screen. 
Guests can compete with one another, showcasing their dance prowess and engaging in fierce competition to the upbeat beats of 80s music. An 80s-themed trophy is used to declare the DDR champion.
17. Graffiti Wall: Express Your 80s Vibe with Spray Paint
Create an interactive graffiti wall where guests can unleash their creativity and leave their mark. Set up a sizable canvas or a butcher-papered section of a wall. Give visitors a variety of vibrant spray paints, markers, and stencils to create artwork inspired by the 1980s. 
Encourage them to make graffiti art, write messages, or doodle decade-specific symbols. This group art project will entertain guests and act as a special memento of the celebration.
18. Mall Madness: Recreate an 80s Shopping Experience
Convert your party location into a wistful mall from the 1980s, complete with themed stores and activities. Create many stations where visitors can taste an 80s shopping extravaganza. 
A few examples are a retro clothing store where customers can try on vintage clothing, a vinyl record store where customers can browse and buy classic 80s albums, or a jewelry store with neon accents. Create the feel of a mall with storefronts, shopping bags, and store names reminiscent of the 1980s.
19. Live Band Tribute: Rock Out to 80s Hits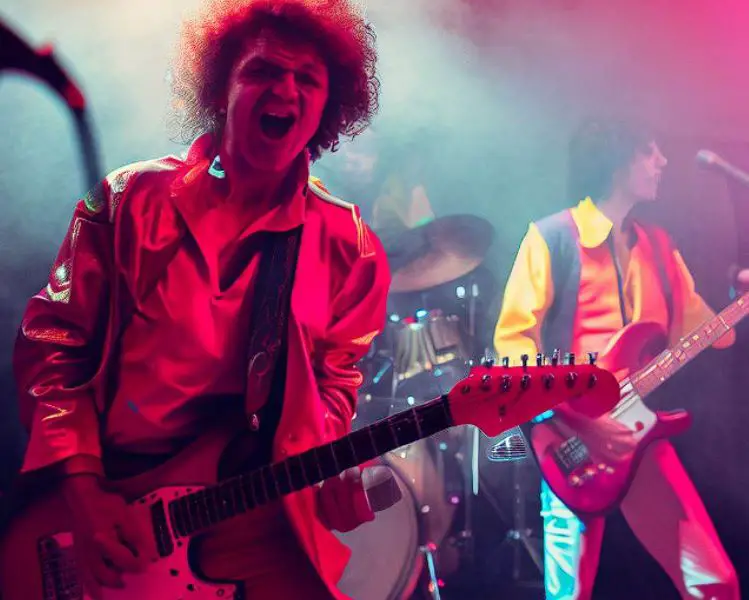 Hire a live band or reserve an 80s music-themed tribute group. A live performance will up the ante at your party, whether a cover band specializing in 80s rock or a tribute act honoring a specific artist like Queen or Bon Jovi.
Encourage visitors to join in on the singing and dancing while taking in a live music performance reminiscent of the famous concerts from the 1980s.
20. Retro Karaoke Party: Sing Your Favorite 80s Anthems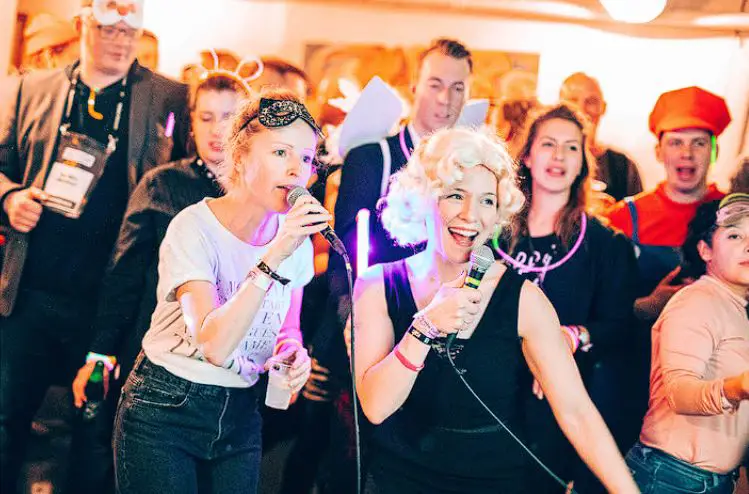 Set up a karaoke station where guests can sing along to various 80s hits. A stage area with microphones, a screen showing the lyrics, and vibrant stage lights should be created. 
Visitors can choose from various well-known 80s songs and display their vocal prowess. Encourage your guests to perform in groups, duets, and memorable sing-along moments that will unleash their inner rock stars.
21. 80s-inspired Magic Show: Mystify and Amaze with Retro Magic
Add a touch of enchantment to your 80s theme party with an 80s-inspired magic show. Hire a magician who specializes in throwback illusions and magic tricks. 
Include elements like Rubik's Cube magic, cassette tapes that vanish and reappearance, or mind-bending tricks influenced by well-known 80s movies. The nostalgic magic will enthrall your guests and take them back to when wonder and awe reigned.
22. Captivating Wall and Roof Decorations in 80s Style
The walls and roof should be decorated with vivid and bold retro wallpaper, cassette tapes, posters of popular 80s bands, actors, musicians, and old memorabilia like vinyl records and Rubik's Cubes. 
These accents will transform the area into a groovy 80s paradise by bringing the spirit of the era to it.
23. Explore the 80s – News, Politics, and More at Your Theme Party!
The 1980s was a dynamic time in history, so it is important to provide guests with glimpses of the decade's news and politics as they arrive. 
This can be done in small ways, such as giving each table a theme labeled on their seating cards, so guests can visit each table to learn a little about that aspect of the 80s. This will help guests appreciate the finer details and touches of the decade.
24. Sweet 80s Delight: Indulge in an Iconic Style Party Cake!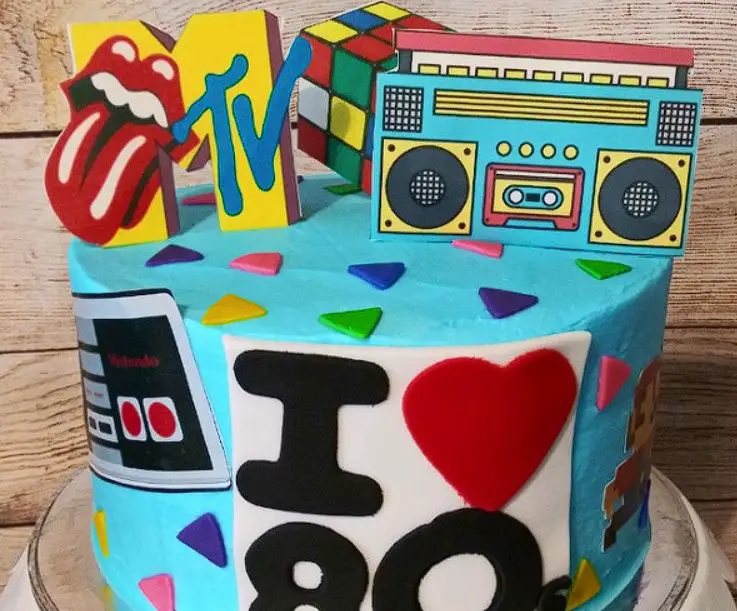 The 80s were all about bold and vibrant style, and your party cake can reflect that spirit. Opt for a tubular 80s-style party cake with bright, neon-colored icing to match the neon fashion trends of the time. 
Incorporate iconic 80s elements like boomboxes as cake toppers or decorations. Add edible prints of popular 80s icons to the cake for an extra touch of nostalgia.
Conclusion
With these 24 amazing 80s theme party ideas, you have all the inspiration you need to plan a time-traveling celebration that will shock you. From neon nights and retro fashion to iconic music and nostalgic activities, your guests will be immersed in the vibrant and nostalgic era of the 80s. 
So, dust off your cassette tapes, set up the Rubik's Cubes, and let the 80s nostalgia take over. Get ready for a rad party with everyone saying, "I love the 80s!"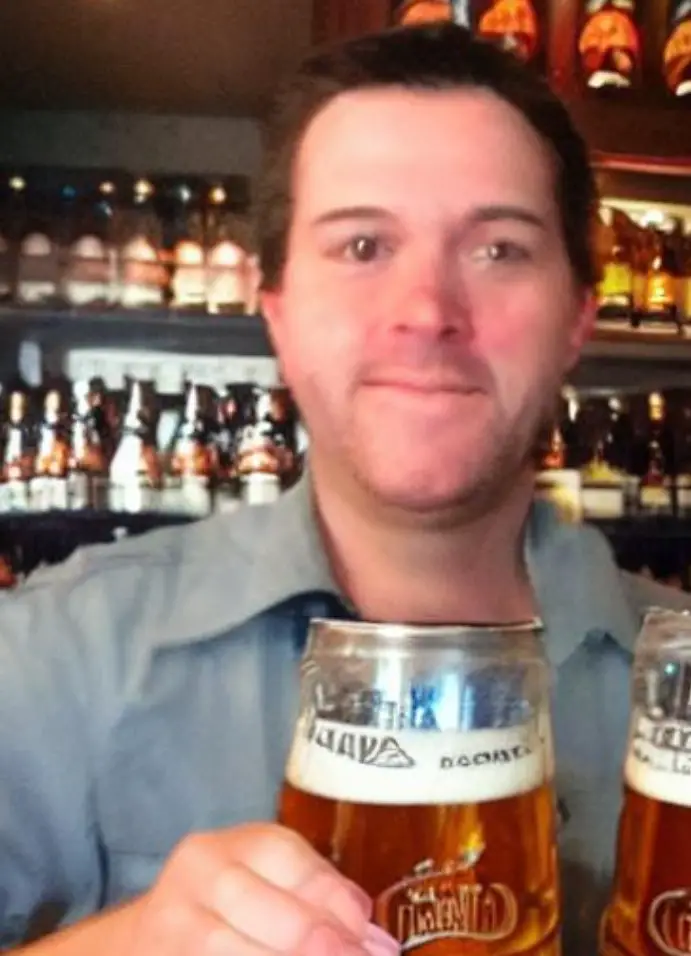 I am a passionate beer connoisseur with a deep appreciation for the art and science of brewing. With years of experience tasting and evaluating various beers, I love to share my opinions and insights with others and I am always eager to engage in lively discussions about my favorite beverage.