Albania is a mountainous land in the southeastern Balkans Peninsula region of Europe. It is a small country, but the beer culture is lively and vibrant, with prominent breweries that brew distinct aromatic flavors. Among all, Birra Tirana is the top-selling beer brand.
If you ever visit Albania to explore, must-try these top ten exceptional beer brands in the country. 
1. Birra Tirana
Second to none in Albania, Birra Tirana is the pride of the nation and Albanian beer industry, with an internationally recognized brand image. It is a Premium Pale Lager with a low ABV, i.e., 4%. Serve in a Lager glass and pour a pale golden beer with a white foamy head that stays persistent throughout your last sip.
The scent is inviting with malt and grassy hops notes, while the taste perfectly matches the aroma. With a medium-bodied mouthfeel and average carbonation level, Tirana is a matchless beer with a thirst-quenching feel and delicious flavor. Also, it finishes bitter, making it one of the best beers for hot weather.
2. Birra Korca Blonde
Birra Korca Blonde is a European Pale Lager. It is a light and flavorsome beer with a refreshing character. This irresistible Lager is synonymous with quality and flavor. Its golden body with finger-tall egg-white on top of the beer enhances its impression. Korca is as popular as Tirana, but the former is slightly underrated. 
With an unusual well-water aroma, the taste of this all-malt beer is distinct from other regular European Pale Lagers. The zesty, crisp mouthfeel with hoppy bitterness and malt sweetness uplifts the flavor profile of Korca Blonde. Moreover, it is crushable and enjoyable with good carbonation, so enjoy it to the fullest!
3. Birra Peja Pilsner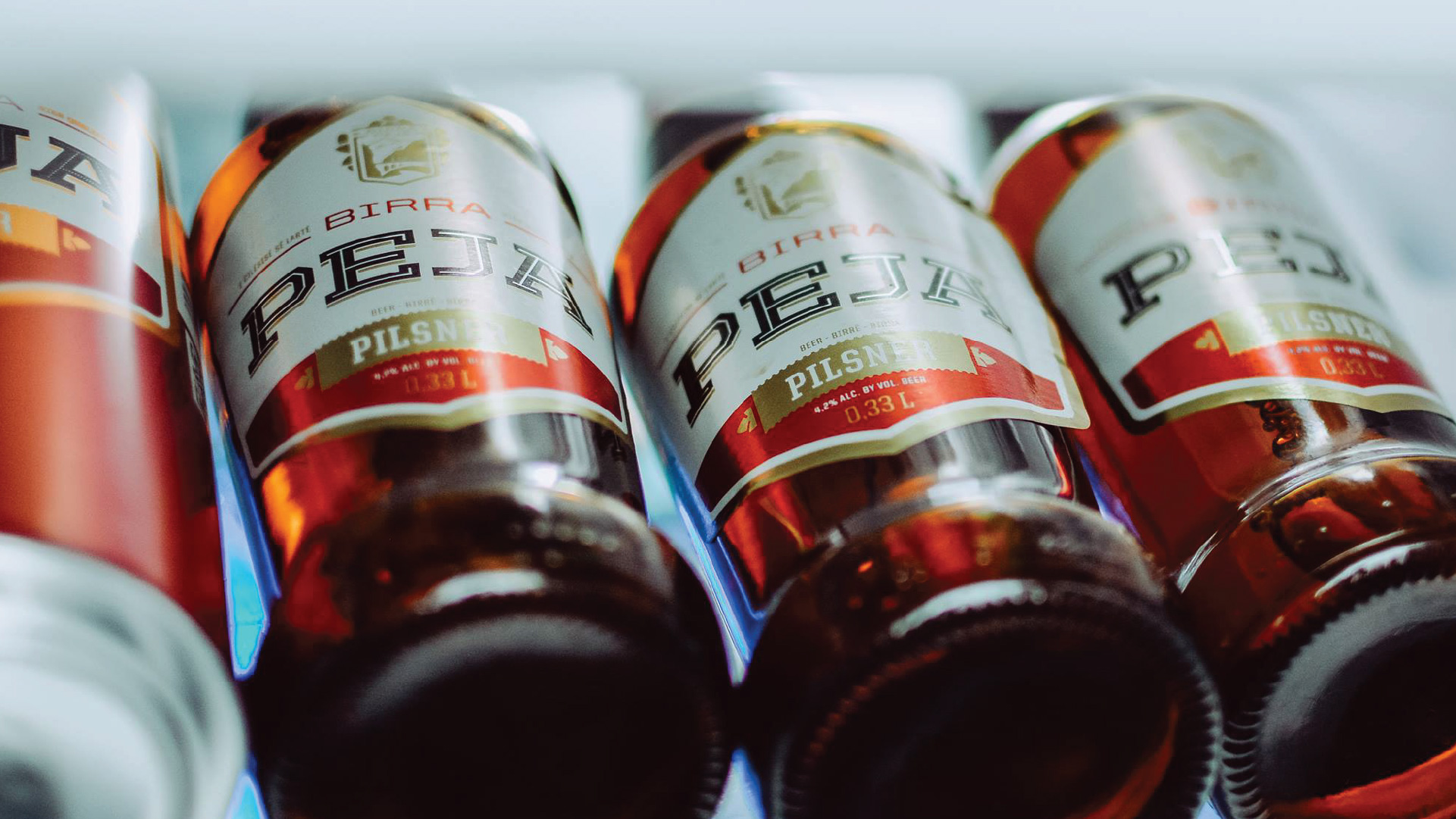 Though Peja Pilsner brews in Kosovo, the beer is popular and widely available in Albania. Both countries are close enough to share almost the same culture and traditions. Peja is a German-style Pilsner with 4.2% alcohol content. The beer pours a transparent golden color with a thin soapy white head of foam that fades away quickly.
With a tempting aroma of malt and floral hops, Peja Pilsner offers a decent taste with a medium-bodied mouthfeel as it feels crisp on the palate. It is quaffable and has enjoyable flavor, a perfect option for road trips and post-work evening gatherings.
4. Çek Pilsener
Cek Pilsener is a Premium Pilsner of Bohemian style with a low 4.5% ABV. The golden body looks vibrant with a short-lived white foamy head. 
It smells malty with a hint of herbal hops, while the taste offers malty goodness with a subtle bitterness. The beer is medium-bodied with average carbonation. Cek Pilsener is synonymous with quality, so serve it chilled on the hottest days in summer to thirst your quench.
5. Birra Stela
The second best-selling brewery in Albania is Birra Stela. It has been serving beer enthusiasts since 1994 with its unique aromatic flavor and lovely appearance. The company also brews non-alcoholic beverages for 58% Muslim community in Albania. With its golden body, the head seems small and dissipates after a few seconds. 
The smell suggests the classic fusion of malt sweetness and hoppy bitterness, while the taste reflects the nose quite well. Birra Stela offers a light bitter taste with a malty finish, so grab a glass of Stela to feel the thirst-quenching flavor.
6. Dyst IPA
IPAs always give a pleasant feel whenever you taste them. Dyst IPA from Albania is an excellent option to choose at every event. It pours a bright, transparent color with a thin soapy white head. 
With aromatic notes of citrus, pine, and stone fruits, the taste of Dyst matches the nose with additional flavors of grapefruit, mango, and candied sugar. The hoppy bitterness further enhances the taste. It is a well-carbonated beer with a lively profile.
7. Birra Elbar Weiss
Undoubtedly, Birra Elbar is among the quality beer brands in Albania. The selection of the brewing company includes Elbar Weiss and Elbar Lager. Though both are prominent and worth trying, Elbar Weiss is more famous among beer enthusiasts because this Weissbier-Hefeweizen bursts with irresistible flavors brewed with quality ingredients.
The hazy peach-colored body with a thin white foamy head looks decent. It leaves patchy lacing behind. It suggests the smell of fruits and spices. The taste matches the nose with a well-carbonated character. It feels pleasant on the palate. Moreover, you can pair it with your favorite Albanian cuisine to enhance the flavors.
8. Birra Puka Blonde
Puka Blonde is an American Blonde Ale with a lovely copper appearance and a fluffy, frothy white head of foam. It is among the most widely-consumed beers in Albania, with consistency and perfect texture. The head retention time is impressive, i.e., around 6 minutes. Also, it leaves random lacing around the sides of the glass.
The aromatic intensity is moderate, with notes of cream and Munich malts. Puka Blonde has the same taste as the nose with a well-carbonated mouthfeel. This Blonde Ale is ideal for any occasion. 
9. Brauhaus Helles
Are you in the mood to try the most delicious Albanian beer? If you have nodded your head in agreement, Brauhaus Helles is the ultimate solution for your cravings!
The hazy golden appearance with a decent white foamy head and aromatic flavors of grassy hops, malts, and fruits with a hint of citrus make this Helles beer more tempting. It finishes bitter with a touch of citrus fruits. The mouthfeel is pleasant, with a decent beer profile. 
Brauhaus Helles is an excellent Dortmunder Export with a delicious taste, so it is a must-try beer if you visit Albania.
10. Norga Rossa
Norga Rossa is an International Amber Lager brewed by A&B Grup (Norga). It contains a 4.5% alcohol content. The beer pours a nice-looking copper color with haziness and a beige head of foam.
With a smell of sweet raisins and brown sugar, the taste of this decent beer offers caramel toast with fruits and light sweetness. It is a medium-bodied Vienna Lager with a well-carbonated feel and texture. Also, it provides a long toasted finish with a pleasant aftertaste. 
If you want to taste something different than usual lagers in Albania, go for Norga Rossa.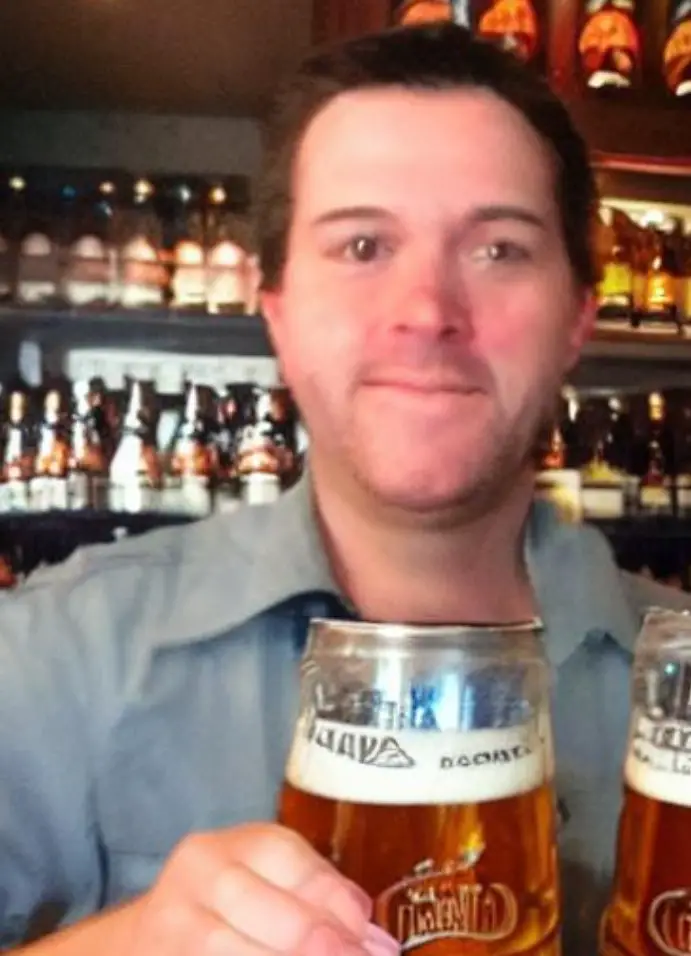 I am a passionate beer connoisseur with a deep appreciation for the art and science of brewing. With years of experience tasting and evaluating various beers, I love to share my opinions and insights with others and I am always eager to engage in lively discussions about my favorite beverage.