Home to top-notch breweries, Argentina has a thriving beer culture to explore. Oktoberfest, a beer festival held every year, is a popular activity in the country that draws millions of tourists from all walks of life.
Argentina has delicious beers to taste, so don't miss out on these ten most consumed beers in the country. Pick your favorite one, and enjoy!
1. Quilmes
Every country has one beer brand that rules the industry. In Argentina, Quilmes, with an ABV of 4.9%, leads the market with its exceptional flavors and quality. It is a European Pale Lager in a light yellow body with medium to high carbonation. Quilmes beer forms a one-and-a-half finger head that immediately fades away, leaving a froth around the glass.
The scent is sweetish with hints of grass, citrus, and maize, while the flavor profile traces the smell. Quilmes Lager is the best refreshment to spend summer in Argentina with a sparkly finish.
2. Patagonia Cerveza Bohemian Pilsner
Cerveceria Patagonia, a reputable brewing brand in Argentina, has its fair share of brewing top-quality beers in the region. One of its best-selling products is Bohemian Pilsner, which contains a 5.2% ABV. The beer has a translucent gold body that forms a short-lived soapy white head with no traces of lacing. Plus, the bubbles of a respectable amount appear when poured into a glass. 
The aroma is biscuity with lemon and honey-like notes with a touch of floral and grass to enhance the beer profile. However, the taste is better than the scent. The flavors include sweet grain, biscuit, honey, lemon, cracker, grass, and floral notes. It has a light to medium body with decent carbonation. Also, this crisp Pilsner has a smooth mouthfeel with a sweet to subtle bitterness aftertaste.
3. Schneider Cerveza Rubia
An American Pale Lager style beer brewed in Argentina, Schneier Cerveza Rubia is a pale golden drink with 4.7% alcohol content. Best served in a Dimpled mug or a Lager glass, Rubia creates a big fluffy white head, but it quickly fades away. The smell is maize, sweet malt, fruit, and syrup with notes of caramel. Its flavor profile is the same as the fragrance. 
Schneider is a delightful blend of sweetness and bitterness, making it a well-balanced beer to enjoy on a hot day. Also, this medium-bodied drink gives a pleasantly sweet mouthfeel. 
4. Andes
Are you an all-malt beer lover? If so, go for Andes, an American Adjunct Lager. It is famous for its sweet, refreshing taste brewed by the renowned brewery Cerveceria y Malteria Quilmes in Argentina. The clear light yellow body of Andes with visible bubbles and a low-retention white head looks decent.
Its aroma is faint adjunct malts, but the taste has rice adjuncts and corn, with a subtle bitterness extracted from the hops. Andes is a medium-bodied beer with balanced carbonation and a smooth mouthfeel on the palate. 
5. Otro Mundo Golden Ale
An American Blonde Ale by Otro Mundo Brewing Company, Otro Mundo Golden Ale is an amber-colored beer brewed in Argentina. It forms a thin white head that retains a while, then fades away, leaving trails of lacing behind.
Otro Mundo smells like grassy malt with hints of floral, herbal, and citrus notes. The taste offers doughy malt with a combination of earthy flavors. Also, the beer gives a buttery smooth mouthfeel. It possesses herbal and peppery spice savors to enhance the overall taste. 
6. Strange Almas Muertas
An Imperial Pastry Stout with an ABV of 13.5%, Almas Muertas by Strange is a distinct type of beer available in Argentina. This dark-colored beer offers a range of flavors, such as vanilla, caramel, cinnamon, coffee, and pecan pie.
Almas Muertas is probably the only Stout in Argentina with this high rate of alcohol content. Its design and packaging are unique, with a funky touch and different mouthfeel, making it an unusual beer to enjoy at night.
7. Isenbeck Premium
Isenbeck Premium is an inexpensive Argentinian beer with a 4.6% alcohol content. The American Adjunct Lager has a straw color with a thin head that dissipates quickly. Its grainy aroma with sweet malty taste makes it a clean, crisp beer with no complex flavor profile. 
Overall, Isenbeck Premium is a decent, refreshingly crisp Lager with good carbonation but a not-so-cool white head. Although the beer is highly affordable, still hard-core beer enthusiasts may not like it for its simple flavor profile.
8. Berlina Old Ale
Fancy name with an elegant design, Berlina Old Ale is an Argentinian Premium quality Old Ale with a slightly high ABV, i.e., 7.5%. It is a product of Cerveza Artesanal Berlina. The translucent dark amber color enhances its appearance, but the light head quickly fades away, leaving a thin layer of random lacing on the top of the beer when poured into a glass.
The rich malty scent of Berlina has hints of caramel and coffee with a similar taste on the palate. Also, its medium body with low carbonation makes it an inviting drink, perfect for heavy drinkers.
9. Antares Cream Stout
Stout lovers should discover the Cream Stout by Antares, an English Stout brewed by Antares in Argentina. With a high alcohol content of 7%, the deep black beer forms a beige head that lasts a long time.
The fragrance has hints of chocolate, light tobacco, and licorice. However, the flavor profile follows the scent with the addition of cola, earthy hops, and roasted malts. Cream Stout has a medium body with perfect carbonation, giving a pleasant mouthfeel with a lingering finish.
10. Brahma
From its name, the first thing that pops up in your mind is, 'oh, this is not an Argentinian beer,' right? Well, it is not.
Brahma is a famous Brazilian beer brand widely consumed in Argentina, too. With its pale yellow body and an ABV of 4.6%, this top-selling beer has a short-lived white foamy head with minimum lacing. It offers the flavors of malts and bread with a hint of hoppy bitterness. Believe it or not, Brahma is a refreshing American Adjunct Lager insanely consumed in Argentina. Furthermore, it can pair well with any traditional food.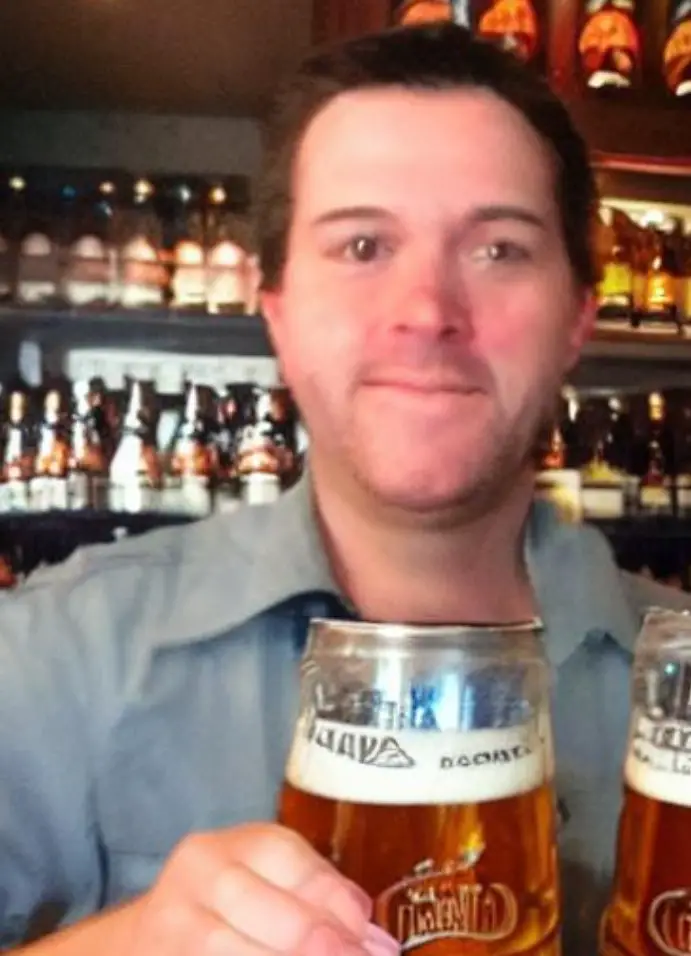 I am a passionate beer connoisseur with a deep appreciation for the art and science of brewing. With years of experience tasting and evaluating various beers, I love to share my opinions and insights with others and I am always eager to engage in lively discussions about my favorite beverage.