Palm Springs, California, is considered a lively city with gorgeous scenery and warm weather. Recently, it has gained recognition as a hub for beer enthusiasts who appreciate craft brews. The relaxed atmosphere and balmy climate of Palm Springs create an ideal environment for enjoying a cold beer with friends. If you want to know more about what makes Palm Springs a great beer destination, check out this list of the top 10 breweries in the city that you simply can't afford to miss.
1. Coachella Valley Brewing Co.
Coachella Valley Brewing Co. is a famous brewery in Palm Springs, California. This brewery is well-known for its use of locally produced ingredients and environmentally friendly brewing methods. They have a wide range of beers available, including IPAs, ales, stouts, and sour brews. Oasis Wheat Ale, Monumentous IPA, and Kolschella Kolsch are among their most popular beers.
This is a cozy and welcoming destination with modest designs and spacious areas. The establishment boasts a vibrant ambiance and offers a variety of seating options, including indoor and outdoor spaces. The brewery is located in a valley, so sitting on the outside patio will give you a panoramic view of the scenery.
The pub also provides a tour to let visitors walk around the place and see the brewing process. Coachella Valley Brewing Co. is undoubtedly the best brewery in Palm Springs
Address: 30640 Gunther St, Thousand Palms, CA 92276
Phone number: (760) 343-5973
Website: https://cvbco.com/
2. La Quinta Brewing Co. 
La Quinta Brewing Co. is a popular brewery brand with multiple locations throughout the Coachella Valley. This brewery has many award-winning beers with careful selections of ingredients. They offer a variety of beer styles, including IPAs, stouts, blondes, and lagers, as well as seasonal and limited-release brews.
La Quinta Brewing Co. offers many taprooms, each with its own unique atmosphere and food. Their Palm Springs site has an outside patio with spectacular mountain views, as well as internal dining and a bar area. Guests may also purchase a snack from the onsite kitchen, which serves a variety of delectable selections to pair with their beers.
Address: 77917 Wildcat Dr, Palm Desert, CA 92211
Phone number: (760) 200-2597
Website: https://www.laquintabrewing.com/
3. Babe's Bar-B-Que and Brewhouse
Babe's Bar-B-Q & Brewhouse in Palm Springs is a one-of-a-kind brewery that marries a love of barbecue and craft beer. This brewery is recognized for its award-winning beers and slow-cooked grilled meats. Babe's offers vegetarian and vegan options to meet everyone's preferences. Babe's Bar-B-Que & Brewhouse offers a unique dining experience that blends beer and BBQ.
One of Babe's Bar-B-Que and Brewhouse's highlights is their excellent choice of beers, which are made on-site using only the finest ingredients. They provide a broad range of beer varieties, including seasonal and limited-edition beers as well as IPAs, stouts, lagers, and ales. Their beers are well-known in the craft beer industry and have received several awards.
Address: 71800 Highway 111, Rancho Mirage, CA 92270
Phone number: (760) 346-8738
Website: https://www.babesbbque.com/
4. Desert Beer Company
Desert Beer Company's menu includes IPAs, stouts, pilsners, blondes, and saisons. These beverages are carefully crafted with premium ingredients and brewed at a temperature of 0.9. 
Their taproom offers various seating options with an industrial-style interior, as well as a spacious outdoor area. A food truck is also available on-site, providing delicious snacks and meals to complement the beers.
Desert Beer lets customers take their favorite beers home in a 32-ounce can, which is one of Desert Beer Company's unique services. This is a good alternative for folks who wish to sip their beverages later or take them on the road with them.
Address: 77770 Country Club Dr Suite D, Palm Desert, CA 92211, United States
Phone number: (760) 360-5320
Website: https://www.desertbeerco.com/
5. Palm Springs Brewing Co.
Palm Springs Brewing Co. was founded in 2015 with a vision to create high-quality, locally brewed beers that reflect the unique culture and history of the Palm Springs area. They use only the finest ingredients and take great care in the brewing process to ensure that each beer has a distinct and delicious taste.
The Palm Springs Blending Co. offers a variety of beer varieties such as IPAs, stouts, and ales. The Ace in the Hole IPA, Starlite Lager, and Square Grouper IPA are among their most popular beers. Two of their seasonal beers are the Palm Springs Pale Ale and the Palm Springs Blackout Stout; however, they only endure for a limited time, so you should understand their beer rotation before coming.
The brewery is decorated with a retro-inspired Palm Springs theme, featuring colorful murals and vintage furniture. They have indoor and outdoor seating options, as well as a selection of board games and other activities.
Address: 295 S Palm Canyon Dr, Palm Springs, CA 92262
Phone number: (760) 832-8920
Website: https://www.palmspringsbrewingco.com/
6. Las Palmas Brewing 
Las Palmas Brewing is a trendy and inviting establishment located in the historic Old Las Palmas neighborhood on the main street in downtown Palm Springs. Its ambiance resembles that of a hip coffee shop, complete with seating available outside on the street and a walled beer garden at the back. They offer an impressive selection of six different beers and hard seltzers; all produced in-house. 
Las Palmas is well-known for its innovative approach to brewing, specializing in farmhouse ales, European-style lagers, and unfiltered IPAs that are perfectly suited to the desert climate. Owners Rey Romero and Sam Gill are true craft beer aficionados, brewing their unique selection of beers at ambient temperatures using Kveik yeast, a hardy and resilient strain that thrives in warm climates without the need for refrigeration.
Address: 457 N Palm Canyon Dr, Palm Springs, CA 92262
Phone number: (760) 537-5990
Website: https://www.laspalmasbrewing.com/
7. Luchador Brewing
Luchador Brewing is known for its unique Mexican-inspired beers that are brewed in small batches using high-quality ingredients. Some of their popular brews include the Cerveza de los Muertos, a Mexican-style lager, and the El Chapulin Colorado, a hoppy red ale. 
The place is decorated with some pretty eye-catching murals, adding to the cool, laid-back vibe. Plus, there's plenty of seating, both indoors and outdoors, so you can kick back and relax while you sip on their delicious artisanal brews. And let's not forget about the food – they offer some tasty cuisine like tacos and nachos that perfectly complement their beers.
Address: 1800 E Locust St Suite A, Ontario, CA 91761
Phone number: (909) 947-6060
Website: https://www.luchadorbrew.com/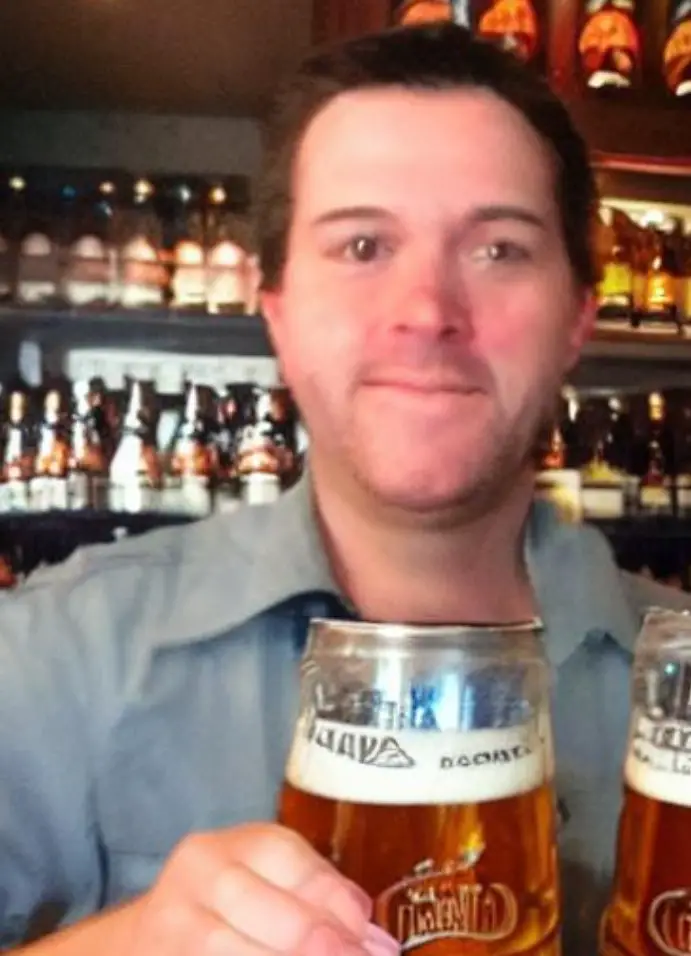 I am a passionate beer connoisseur with a deep appreciation for the art and science of brewing. With years of experience tasting and evaluating various beers, I love to share my opinions and insights with others and I am always eager to engage in lively discussions about my favorite beverage.