Step into a world of wonder and adventure where the spirit of family fun intertwines with grown-up indulgence. The Great Wolf Lodge, a beloved destination for families seeking unforgettable getaways, has long been synonymous with its enchanting water parks, themed attractions, and cozy accommodations.
While the little ones revel in the magic of this family-oriented haven, adults can now partake in a new dimension of relaxation and enjoyment – thanks to the enticing "Great Wolf Lodge Alcohol Menu." Offering a carefully curated selection of libations, this menu invites parents and couples to unwind and savor moments of tranquility amidst the excitement.
Come along as we venture into this realm of delightful beverages, where cherished memories are made and the spirit of togetherness is celebrated in every sip.
What's On Great Wolf Lodge's Alcohol Menu?
Indulge in a delightful array of libations as you embark on a thrilling journey through the "Great Wolf Lodge" drink menu. The "Classics" category presents timeless favorites with a twist, like the Great Wolf 'Rita, a compelling take on the classic margarita that promises to whisk you away to tropical shores.
The Great Wolf Lit offers a refreshing flavor for a lighter option, perfect for those seeking a laid-back sip. The Howlin' Sangria is a fruity and vibrant concoction, while the Lodge Mojito refreshes with its minty zing, making both choices ideal for warm afternoons by the pool.
For those craving a twist on a classic, the Frozen Jack & Coke provides a chilly delight, while the True Blue captivates with its blue raspberry charm.
The Frozen Tito's Mule presents a frozen take on a beloved cocktail, and the Strawberry Slush offers a burst of fruity sweetness. The Island Colada, on the other hand, transports you to a tropical oasis with its coconut and pineapple blend.
Classics
Great Wolf 'Rita $10.99
Great Wolf Lit  $10.99
Howlin' Sangria $11.99
Lodge Mojito $10.99
Frozen
Frozen Jack & Coke $12.99
True Blue $12.99
Frozen Tito's Mule $12.99
Strawberry Slush $10.99
Island Colada $11.99
Specialty
Discover a realm of unique blends with the "Specialty" drinks, featuring the Mango Spritz that dazzles with its tropical allure. The Brown Derby adds a touch of sophistication with its whiskey base and grapefruit twist. Embrace the Kiwi Melon Cooler, a refreshing and light delight, or dance your taste buds away with the lively Tropical Tango. For those who favor bourbon, the Maker's Peach Smash is a must-try, boasting the perfect balance of peach and whiskey flavors.
Mango Spritz $11.99
Brown Derby $11.99
Kiwi Melon Cooler $11.99
Tropical Tango $11.99
Maker's Peach Smash $12.99
Wine
Explore the alluring "Wine" collection at the Great Wolf Lodge to lose yourself in a world of complex flavors. The Prosecco, La Marca, the first of the "Sparkling" alternatives, entices with its enthusiasm and promises a fresh and enjoyable experience. While this happens, the Sparkling Wycliff Brut transports your taste buds on a voyage with its elegant and well-balanced flavor, making it ideal for celebrating special occasions.
For those seeking a taste of summer, the "Rosé" collection presents the Rosé, Prophecy, a delightful blend that exudes strawberries and citrus notes, crafting a refreshing and invigorating drink.
Moving on to the "White" wines, the Moscato, Stemarri, captivates with its sweet and aromatic profile, while the Riesling, Chateau Ste. Michelle charms with its balanced and slightly fruity essence. The Pinot Grigio, Mezzacorona, delights with its crisp and light character, and the Sauvignon Blanc, J. Lohr Fume Crossing, offers a refreshing burst of citrus and tropical fruit notes.
The Sauvignon Blanc, Oyster Bay, transports you to a coastal retreat with its bright and zesty flavors, while the Chardonnay, Seaglass, and Chardonnay, Kendall Jackson Vintner's Reserve, provide a harmony of richness and complexity, ideal for those who appreciate a full-bodied wine.
In the realm of "Red" wines, the Pinot Noir, Mirassou, entices with its vibrant cherry and berry notes, while the Pinot Noir, La Crema, captivates with its layers of flavor and velvety texture. The Merlot, Trinity Oaks, offers a smooth and approachable taste, and the Red Blend, Charles & Charles, showcases a harmonious fusion of varietals. For fans of boldness, the Cabernet Sauvignon, Drumheller, and Cabernet Sauvignon, J. Lohr Seven Oaks, present a rich and full-bodied experience, leaving a lasting impression on the palate.
Sparkling
Prosecco, La Marca $11.99
Sparkling, Wycliff Brut $12.99
Rosé
White
Moscato, Stemarri $9.99
Riesling, Chateau Ste. Michelle $11.99
Pinot Grigio, Mezzacorona $10.99
Sauvignon Blanc, J. Lohr Fume Crossing $11.99
Sauvignon Blanc, Oyster Bay $10.99
Chardonnay, Seaglass $12.99
Chardonnay, Kendall Jackson Vintner's Reserve $14.99
Red
Pinot Noir, Mirassou $12.99
Pinot Noir, La Crema $14.99
Merlot, Trinity Oaks $12.99
Red Blend, Charles & Charles $13.99
Cabernet Sauvignon, Drumheller $14.99
Cabernet Sauvignon, J. Lohr Seven Oaks $15.99
Beer
Draft
Bud Light $6.50
Sam Adams Seasonal $7.50
Yuengling Lager $6.50
Blue Moon $7.50
Rhinegeist Truth Ipa $8.50
Sonder You, Betcha! Ne Ipa $8.50
Grain works Blueberry Ale $7.50
Dogfish Head Slightly Mighty Low Cal $8.50
Bottled
Domestic
Bud Light $6.50
Budweiser $6.50
Michelob Ultra $6.50
Miller Lite $6.50
Coors Light $6.50
Sam Adams Boston Lager $7.50
Angry Orchard Hard Cider $8.50
Truly Hard Seltzer $8.50
Rhinegeist Cheetah Lager $7.50
Rinegeist Bubbles Fruit Beer $8.50
Madtree Psychopathy Ipa $8.50
Madtree Happy Amber $7.50
Import
Corona Extra$7.50
Guinness $8.50
Heineken $7.50
Conclusion
As the sun sets on a day filled with laughter and joy, the Great Wolf Lodge continues to weave its magic, embracing visitors of all ages with open arms. The Great Wolf Lodge drinks menu has undoubtedly become an integral part of the resort's allure, enhancing the experience for adults seeking moments of relaxation amidst the excitement. The selection caters to diverse tastes, from delectable wines to creative cocktails and refreshing beers, ensuring every guest finds a libation to savor.
What sets this menu apart is its ability to maintain a family-friendly atmosphere while offering adult-oriented indulgence, a perfect harmony that epitomizes the essence of the Great Wolf Lodge experience.
So, whether you're a parent needing some downtime or a couple looking to celebrate love and laughter, the Great Wolf Lodge has something delightful in store for you on its menu. Raise a toast to the moments of togetherness, the memories made, and the joy found in the heart of this extraordinary family resort.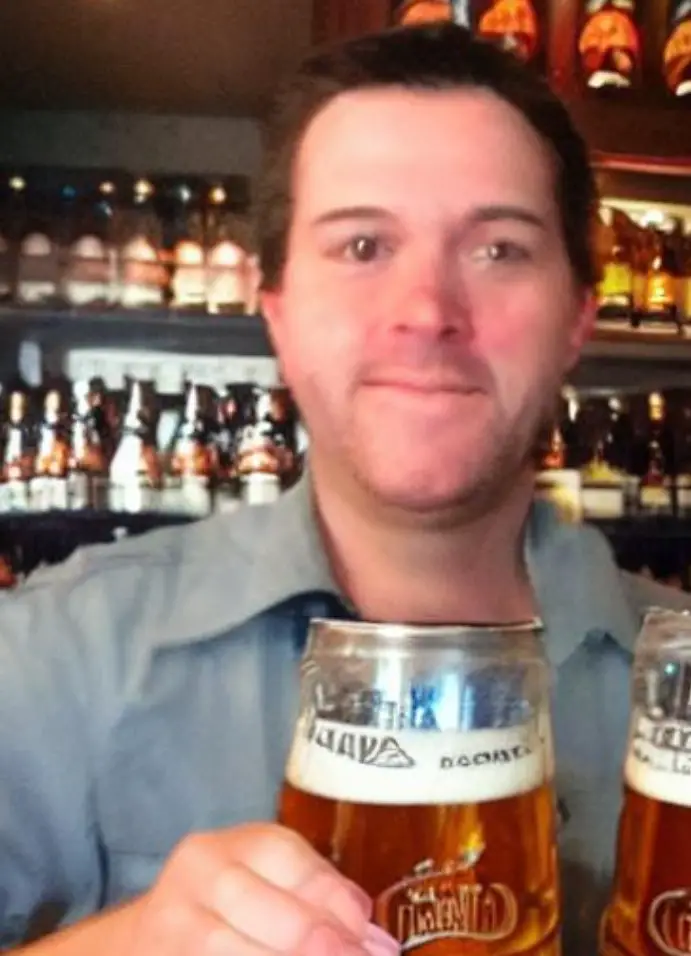 I am a passionate beer connoisseur with a deep appreciation for the art and science of brewing. With years of experience tasting and evaluating various beers, I love to share my opinions and insights with others and I am always eager to engage in lively discussions about my favorite beverage.