Once famous for its ouzo and wine culture, Greece has more craft breweries and beer festivals than its neighboring regions. The most renowned brewery is Athenian Brewery, introduced in 1864 but is now a part of Heineken. However, other brewing companies have their fair share in boosting the beer industry in the Greek region by using Greek-specific recipes and techniques to produce something unique but of high quality. For this purpose, they use natural ingredients, such as barley, honey, wild herbs, and fruits.
When visiting Greece one of the best things to buy is beer. Do you find this information interesting? If so, don't miss out on these top ten premier Greek beers to discover in 2023.
1. Mythos Hellenic Lager Beer
Undoubtedly, Mythos is the king of beers in Greece because of its immense popularity among locals and foreigners. The green bottle with an attractive label plays its part in enhancing the appeal. However, the translucent golden color with a frothy white head that retains a short time leaves a spotty lacing behind with a ring.
Mythos Hellenic Lager, a Euro Pale Lager with 4.7% alcohol content, is a decent beer to spend quality time with friends. The aroma is all about grassy hops and malts. Its taste is not different than the nose. If you accompany this widely consumed beer with some Greek food, it will give an essence of more enhanced flavors. Furthermore, the fizzy mouthfeel with good carbonation makes Mythos a better version than other pale lagers.
2. Vergina
Macedonian Thrace Brewery S.A. is a renowned brewing brand in Greece. Its famous variant is Vergina, a European Pale Lager with a standard quantity of alcohol content, i.e., 5%. Its transparent golden hue and foamy white head add beauty to its appearance. The white layer leaves no lacing behind it.
On the nose, a pleasant grainy smell will make your mood, while the taste has biscuits and grain malts with a hint of hops. Vergina is soft on the palate with no extra bubbles. Also, it entertains the drinkers with its crisp light body and good carbonation. Serve it alone from the bottle or accompany it with any Greek cuisine. The taste is superb both ways.
3. Fix Hellas
The European Pale Lager by Olympic Brewery S.A, Fix Hellas, with a standard 5% ABV, is a Greek beer with scintillating apple and banana fragrances. Its light golden shade forms a medium-sized white layer in the glass. The smell is adjuncts, pale malts, corn, grains, and mash, while the flavor profile offers the same flavors as the aroma. 
Fix Hellas is a medium-bodied Lager with a reasonable amount of carbonation, giving a crisp mouthfeel and a lingering finish. Pair it with your favorite food to get the best out of it.
4. Nissos
How many of you notice the bottle design and label of the beer after buying it? Sounds crazy? Nissos, a Bohemian Pilsner, comes in a beautiful bottle that will immediately uplift your mood. The Greek beer by Cyclades Microbrewery is an edgy drink with a suitable quantity of 5% alcohol by volume.
It pours a golden hue with a foamy white head that dissipates after a few seconds. The scent is bready and malty with a heavy dose of wet grassy hops, while the taste is not any different than the nose. It gives a light mouthfeel with decent carbonation. 
5. Voreia
Belongs to premium quality Greek beers, Voreia is an American IPA with 7% ABV. The off-white head is one finger thick and creamy with good retention. You will feel pine, 2-row barley, herbs, pale malt, and resinous hop character on the nose. The taste has hints of grapes and sweetbread with the sweetness of pale malt and floral/herbal bitterness.
Voreia is a reasonably complex beer with a clean wet texture. It gives a smooth mouthfeel with a decent quantity of carbonation. Moreover, it is among the standard IPAs in Greece, so beer lovers should taste it.
6. Mary Rose Premium Red Ale
Mary Rose is a beer brand of Septem Microbrewery. It is an English Bitter Premium Red Ale containing 4.5% alcohol content with a thumb-sized foamy white head that retains well. Its smell is citrusy and malty with a trace of caramel and hop characters. The taste follows the scent with a touch of lemon, orange, and toffee.
With a medium body and adequate carbonation, Mary Rose Red Ale gives a bitter, citrusy mouthfeel with a dry finish.
7. Zeos Black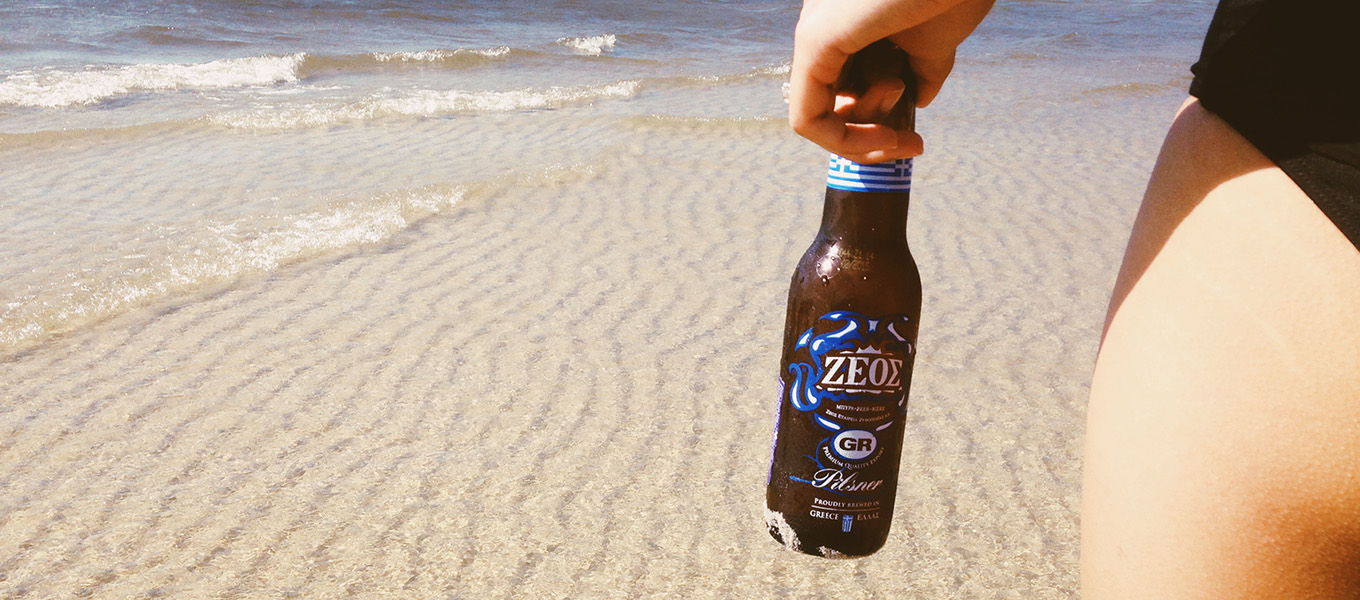 A Munich Dunkel-style beer brewed in Greece by Zeos Brewing Company S.A., Zeos Black, similar to black lager, is a blackish Dunkel with a bone-colored head that uplifts its appearance. The beer possesses a 5% ABV. Its aroma and flavor are the same, with malty sweetness and hoppy bitterness. Also, Zeos Black gives a delightful experience with a smokey finish. 
8. Septem 8th Day
Only a few beers have such an eye-catchy design/label with excellent taste. Septem 8th Day, an American-style IPA brewed in Greece, is one example of a kind. With 7% alcohol content, this murky dark gold body forms an inch-long white layer on the top when poured into a glass.
The smell is of biscuits and citrus with hints of floral hops, while the taste offers malty sweetness with a touch of bread. Septem 8th Day is a light-bodied IPA with a perfectly-balanced texture.
9. Bios 5
Among the oldest breweries in Greece, Athenian Brewery brews an American-style Adjunct Lager, Bios 5, that contains 5% alcohol by volume. According to the company, they use five grains to produce this best-selling beverage of the brand. 
Bios 5 pours a dark golden hue with medium carbonation and a pleasant-looking but short-lived foamy white head. The aroma and taste have cereals, grains, pale malts, and hops, giving a sticky mouthfeel. Pair this Lager with traditional Greek food for immense joy.
10. Piraiki Ale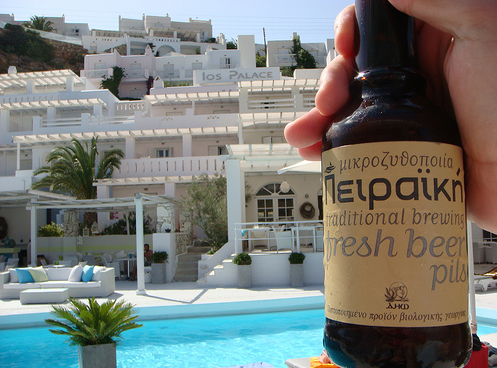 An American Pale Ale with 5% ABV, Piraiki Ale is a refreshing beer, perfect for hot days in Greece. Its dark golden color with an inch-long foamy white head boosts its look. The aroma has citrus, hops, malt, and bread with hints of lemons and oranges. Its flavor profile offers enhanced taste because of rich ingredients, such as melon, apple, and pineapple, giving a fruity mouthfeel but well-balanced.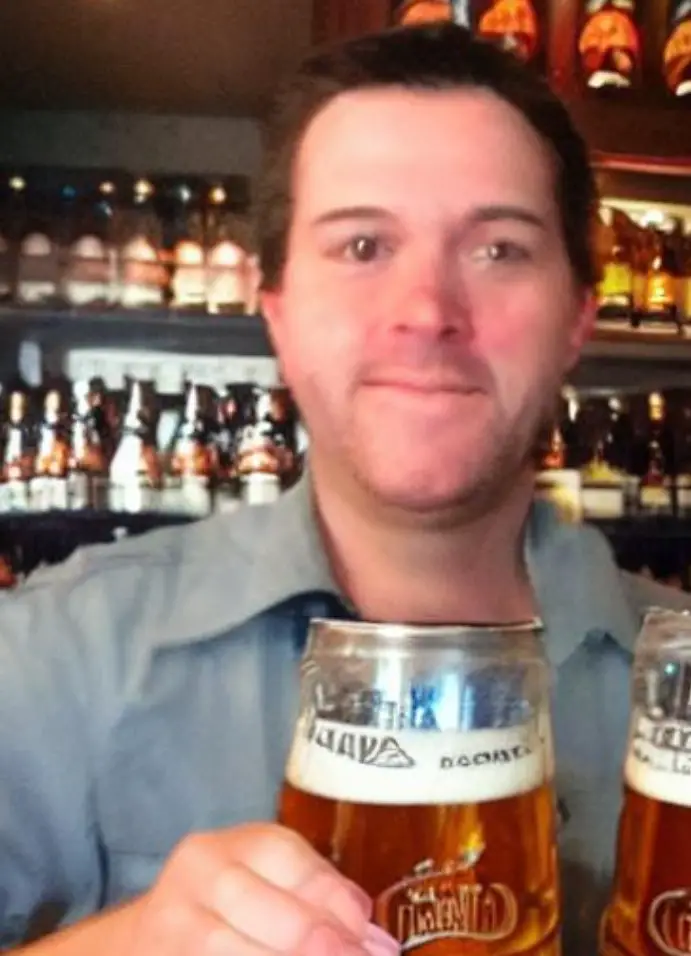 I am a passionate beer connoisseur with a deep appreciation for the art and science of brewing. With years of experience tasting and evaluating various beers, I love to share my opinions and insights with others and I am always eager to engage in lively discussions about my favorite beverage.