Can you make a cake without knowing how to bake it? What if I tell you it's possible to make a  perfect birthday cake without entering your kitchen? Well, this cake will not be a traditional cream cake, and you can't smite your friends' faces with the whipping cream.
Yet, there is much more to it. With this unique beer can cake, you can display your love for beer and the boldness in your personality. Last month, out of a total of four birthdays I attended, one had this creative beer can cake. That's when I decided to share the recipe for this amazing cake with you.
This article will explore how to make beer can cake in simple steps. It will also explain why you should opt for this beer can cake. So, take notes of every line you read, and don't forget to add your personal touch to make it yours.
Why Opt for Beer Can Cake Cake Instead of Traditional Cream Cake?
Being unique is the trend of this century, and everyone loves to be different. From fashion to food, everything is evolving in this world of individualism. When you stand out in a queue, you feel the change. And feeling change is the essence of life.
Life becomes dull with the same old routine. Trying something different is necessary to signal to your brain that you're alive. Make this idiosyncratic cake for this party and celebrate your liveliness.
What if you're going to attend your friend's birthday party? The one who is in love with the beer. Will you thrust a dozen beer cans into his hand and say, "happy birthday dear?" Isn't it too straightforward and monotonous?
Transforming these beer cans into a cake is the best idea. With this sophisticated change, you will kill two birds with one stone: Be in trend and show your bold and positive side, and tell your friend that he is special to you.
Want to Know, How to Make Beer Can Cake?
Making this sweet dessert without putting in a lot of carbs and sugars is the simplest cake-making method. You just need a few items to begin and some simple steps. Here is everything you will need.
Items that You Need to Make Beer Can Cake
Beer Cans (as per your demand and size of cake)
Pizza pan with holes at the bottom
Good quality tissue paper
2 bristle boards to stand your beer cans
A tape of good quality
A pair of scissors
Glue (hot glue gun or some other options available)
Items that You Need to Decorate Beer Can Cake
Colored Ribbons (both thin and thick)
Balloons in different shapes with glittery surfaces
Garlands for the edges
You can opt suitable topping for the event you're making this beer can cake.
Let's Start With Constructing the Beer Can Cake!
Follow these simple steps to make beer can cake:
Step: 1 Build your platters or cake cases first. Three layers are typical for beer can desserts, with each layer slightly thinner than before. One 14-inch cake board, for instance, could be the base, followed by a 10-inch and an 8-inch board for the center and top tiers, respectively. Some might first do two 14-inch boards, then a 12- or 10-inch one.
Step: 2 If plain, cover your plate or carton with sturdy paper, colorful fabric, or metallic foil.
Step: 3 Get your beer cans. Cans and containers can be combined. 6-7 cans will fit inside a 9-inch circle. This will be a sizable base because a cake board or dish that measures 14 inches is quite wide. For instance, a 14-inch board can accommodate 20–23 bottles or cans.
Step: 4 After completing the bottom layer, wrap the beer in your fabric. Over the bottles in the bottom tier, place the next board.
Step: 5 This time, use fewer beer cans and leave a space between them and the cardboard's edge. Put another thread around the cans in the second layer.
Step: 6 Add the last layer on top. This should fully cover the edges of the cans. The top tier is perfect for cans or bottles that were an odd height or didn't fit the other items.
Here Comes the decoration of Your Beer Can Cake
Decorating your beer can cake is the main fun when you have constructed the main cake structure. Generally, it is up to you how you like to decorate it, but I have a few essential decoration tips.
Ribbons to Wrap the Lower Cake Tiers
Use different colors and sizes of ribbons to wrap the lower tiers of the beer can cake. Use the broader one at the bottom tier and keep changing the size as you move up. Also, use small ribbons to make ties and paste them with tape on the sides of the tiers.
Garlands to Cover the Cardboards
Wrap all the cardboard circles with beer cans with garlands to hide the edges and make them sleeker. Use the garlands in contrasting colors with ribbons and other decoration materials. Don't use bulky ones, as they would hide the cans.
Toppings
This part of the decoration depends on the upcoming event. Why are you making this beer can cake? Add balloons or candles on the top if it's a birthday party. If it's a graduation party, try adding topping that your friends like. The same goes for other events. The kind of beer and topping depends upon the person you will give this masterpiece.
Final Thoughts
A unique and imaginative way to remember any occasion is to make a beer can dessert. This dessert is perfect for beer lovers who want to show themselves and stand out from the crowd. The cake is easy to make and only requires a few materials, and there are numerous decoration options.
You can customize the cake with ribbons, garlands, and other embellishments to fit any event. So, the next time you plan a celebration, consider making a dessert from a beer can to impress your visitors with your courage and ingenuity.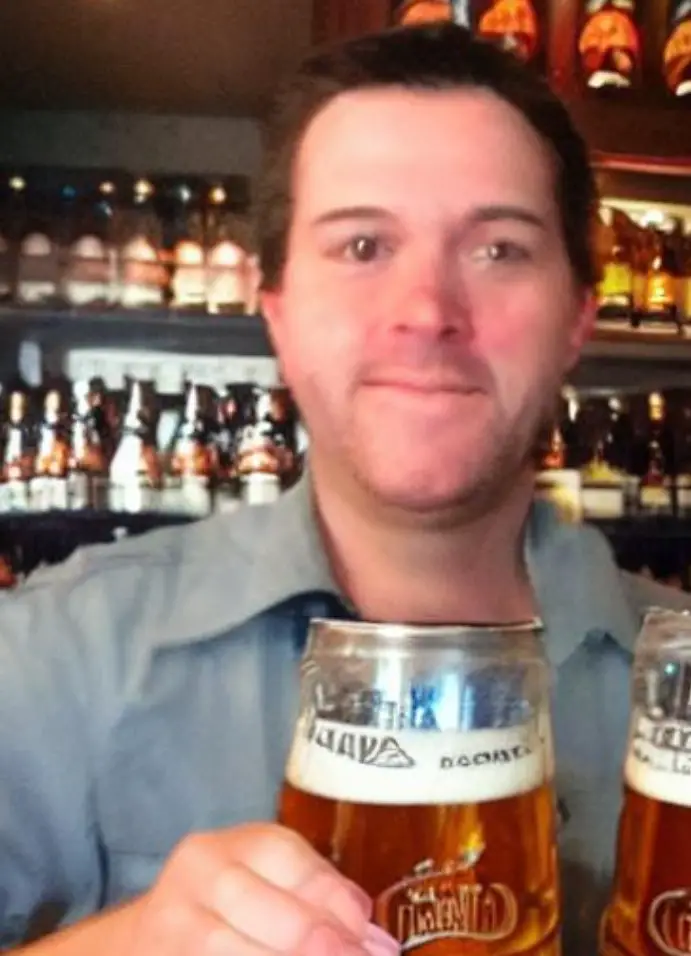 I am a passionate beer connoisseur with a deep appreciation for the art and science of brewing. With years of experience tasting and evaluating various beers, I love to share my opinions and insights with others and I am always eager to engage in lively discussions about my favorite beverage.