Ever met a movie star or seen one walk by you and been instantly starstruck? We all like stalking celebrities every now and then, trying to discover their habits and get a little sneak peek into their personal lives so that we can incorporate a little bit of them into our own lives. If you are a beer and a movie lover, you must be dying to get firsthand access to a list of renowned movie stars that clink beer mugs or cans with their friends and family every so often, and may even with you…one day! 
So, without further ado, here is a list of top movie stars who've had fun moments with beer:
1. Arnold Schwarzenegger
Arnold Schwarzenegger became an international star with his 1984 film The Terminator. He was once quoted as saying, "Milk is for babies. When you grow up, you have to drink beer.". The "I'll be back" star hated milk, and after he worked out, his go-to drink to replenish himself would be beer, which he drank with a whole roast chicken. The reference to milk here is for a particular reason. Arnold used to train in gyms in Munich for some time which would have milk bottles lined up across windows, and bodybuilders drank that milk. 
2. Paul Newman
While Gen Y and Z might not know him, Paul Newman was a celebrity back in the day and particularly known for his blue eyes. He was a functional alcoholic who drank a case of beer every day! He was once famously quoted as saying, "24 hours in a day, 24 beers in a case. Coincidence, I think not.".
3. Tom Hanks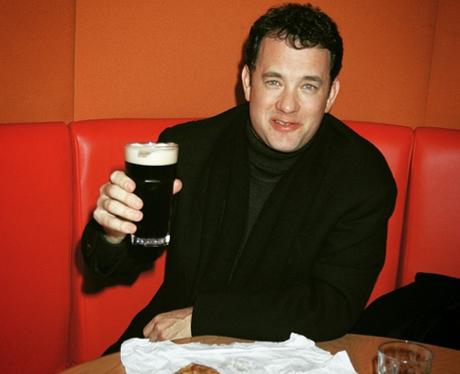 Celebrities are often doted on and surrounded by privileges that might not be offered to an average earthling. However, a funny incident happened with Tom Hanks a few years ago where he was denied a beer. The 60-something-year-old famous actor was asked to get his ID verified when he asked for a beer while at a music festival. Apparently, the staff had a hard time realizing he was over 21. 
4. Colin Farrell
Colin Farrell was once quoted as saying, "After 20 years of drinking the way I drank, the sober world is pretty scary.". During one of his interviews, where he was promoting his film 'The Recruit,' he was smoking and drinking beer throughout. While now sober, he's had a long history of consuming alcohol and drugs and was the ultimate Hollywood bad boy.
5. Jack Nicholson
Probably one of the greatest actors of all time, he mostly played roles that invoked intrigue and led the audience to question the very social fabric and structure of society. Jack Nicholson was once a heavy partier, and guests would complain that all he had in his refrigerator was milk, beer, and pot, no food! He once said, "Beer, it's the best damn drink in the world.".
6. Jon Hamm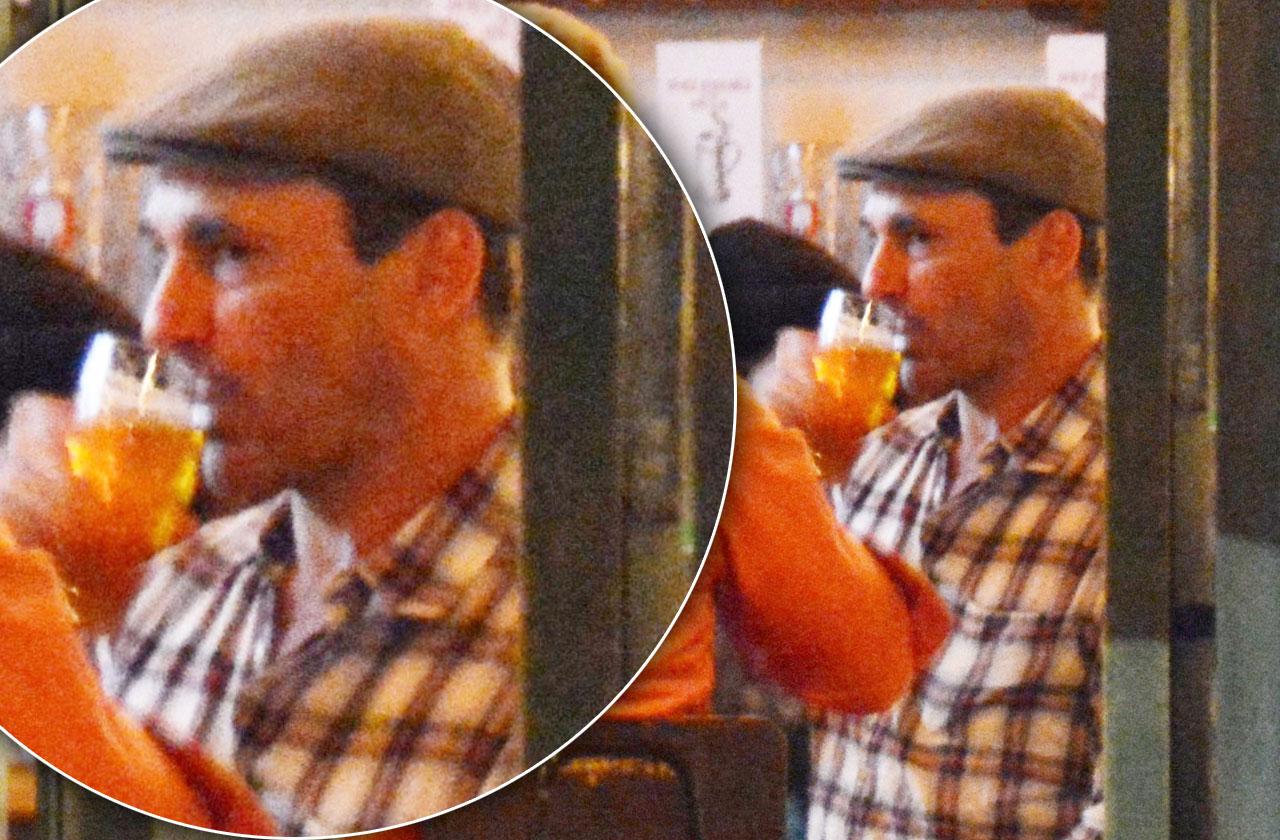 Hamm has been an alcoholic and went to rehab for it in 2015. But that doesn't stop the Mad Men star from enjoying a beer or two every now and then while eating out and socializing with friends. In 2019, he was photographed enjoying a beer with cigarettes while on a pause from promoting a film. The same year, he was recorded chugging Bud Light from the NHL championship trophy as players cheered all around him.
7. Brad Pitt
Angelina Jolie once revealed to the media that Brad Pitt had a favorite beer brand, Market Garden! He loved it so much that he had it around all the time. The actor battled with drug and alcohol addiction for a long time but is clean now. According to some FBI documents, Jolie and Pitt once got into a fight on a private jet, and during the flight, he poured beer on her while she was sleeping. 
8. Wil Wheaton
Wil Wheaton, famous for Star Trek: The Next Generation, has starred in multiple films and is actually a beer geek who loves homebrewing. In fact, he describes this as a "lifelong hobby." In his blog, Wil recounts the time when he made beer with his wife, which made them both very happy as they got to take some time out of their busy schedules and spend it together. He often experiments with different recipes and learns the art along the way.
Stone Brewing Company, a reputable craft brewer in the United States, collaborated with the actor along with Drew Curtis and Greg Koch in 2013 to release Stone Farking Wheaton W00tstout, a flavorful beer brewed with flaked rye, wheat, and pecans.
9. Justin Timberlake 
While famous as a singer, Justin Timberlake has also managed to gain popularity as an actor, starring in films like The Social Network and Friends with Benefits. He often drinks Coors Light beers when he's at a Lakers Game and has mentioned liking beer cocktails. He once had a honey wheat ale that was microbrewed with blueberries and half a shot of Woodford Reserve and loved the bourbon beer blueberry flavored combination.
For his role in Runner Runner, he played a college student and drank a lot of beer because "that's all you really do in college, right?" You just drink a lot of beer and run around, flipping around, flipping the bird."
10. Drew Barrymore
A famous actress known for films like Charlie's angels and 50 first dates, Drew Barrymore, was a heavy partier and was known for her extravagant nightlife even as a kid. she has struggled with addiction and gone to rehab several times. Now, while she keeps alcohol in her home and serves it to guests, she herself is off alcohol and enjoys non-alcoholic beer and mocktails when socializing with friends. 
11. Chris Evans 
Beer is Captain America's favorite drink, and he has said that he can "pour a beer like a ninja" ("You can give me a monster glass, that won't matter – you won't see a bubble."). But now, he admits to being too old for beer, claiming that if he's had two, he's done.
12. Russell Crowe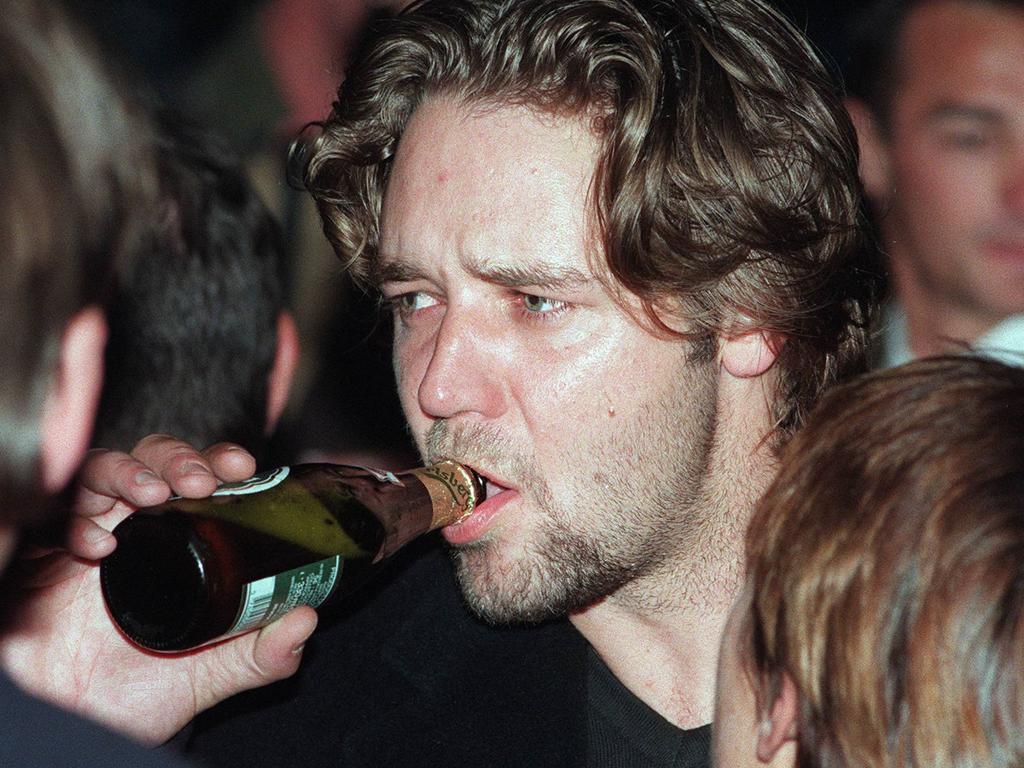 Russell Crowe was once quoted as saying, "I have respect for beer.". Crowe is best known for his performances in films like Gladiator, A Beautiful Mind, and The Insider and has recently starred in a movie titled The Greatest Beer Run Ever alongside Zac Efron.
13. Emma Thompson
A well-renowned British actress, Emma Thompson, drank constantly and every night during the COVID-19 lockdown in Scotland. Previously, Emilia Clarke, Emma's co-actor in Last Christmas, revealed that they drank a lot together while filming. The actress received a star on the Hollywood Walk of Fame in 2010 right in front of the Pig n' Whistle pub and thus celebrated the occasion with a beer and a pig while posing for the Paparazzi and the media.
14. Robert Redford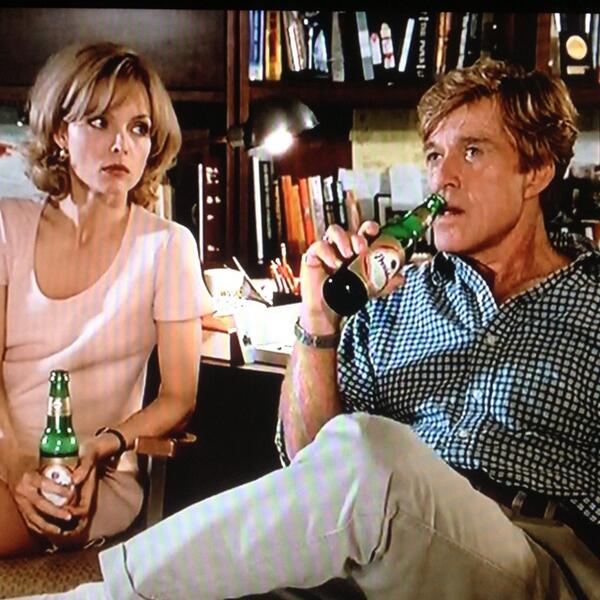 Robert Redford is an American actor and has received various awards for his work. In 2014, he was named one of the 100 most influential people in the world by Time. Before becoming an actor, Redford turned to alcohol on and off to deal with the ups and downs in his life. So much so that drinking eventually led to him losing his scholarship. But, at 86, he has a positive outlook on life and keeps himself maintained. He was once pictured sitting outside London's National Film Theater with a beer. 
15. Will Ferrell
We all know funnyman Will Ferrell and have seen his comedy films like Kicking & Screaming and Anchorman: The Legend of Ron Burgundy. 11 years ago, and he downed 18 pints of beer to see if he had any change in personality, comparing his experience to that of Frank "The Tank" Richard from Old School. Of the experience, he said, "My friend Andrew came over, and I drank 18 beers. I wanted to see if there was any sort of change that came over me. I'm just a happy drunk."
He was also preparing for his new role in Everything Must Go, where he was to play a relapsed alcoholic by recording his binge drinking.
16. Ashton Kutcher
Ashton Kutcher recently came on The Today Show, where he discussed his plans to run the New York City Marathon to support his foundation. Carson Daly and Savannah Guthrie offered him a beer early morning to load him with carbs in preparation for the big run, and he accepted it. Guthrie joked saying, "People who win the marathon, they always chug beer.". They both challenged each other to down the whole cup, with Kutcher finishing before Guthrie. 
When Mila was pregnant with their second child, their daughter Wyatt would think everyone had a baby in their tummy. But Kutcher jokingly taught her that there's beer in dad's belly, and she caught on to it. "Everyone's got a baby in their belly, but Papa's got beer in his belly," Mila said.
17. W.C. Fields
Many of you might not know him, but Fields had featured in many films in the early 1900s. He began regularly drinking after his juggling career because, according to him, juggling and alcohol weren't a good mix. He was once quoted as saying, "I never drank anything stronger than beer before I was twelve.". At another time, he said, "Everybody's got to believe in something. I believe I'll have another beer." He was exposed to alcohol early in life as his father was an alcoholic and he and his siblings lived above a bar. 
18. Daniel Craig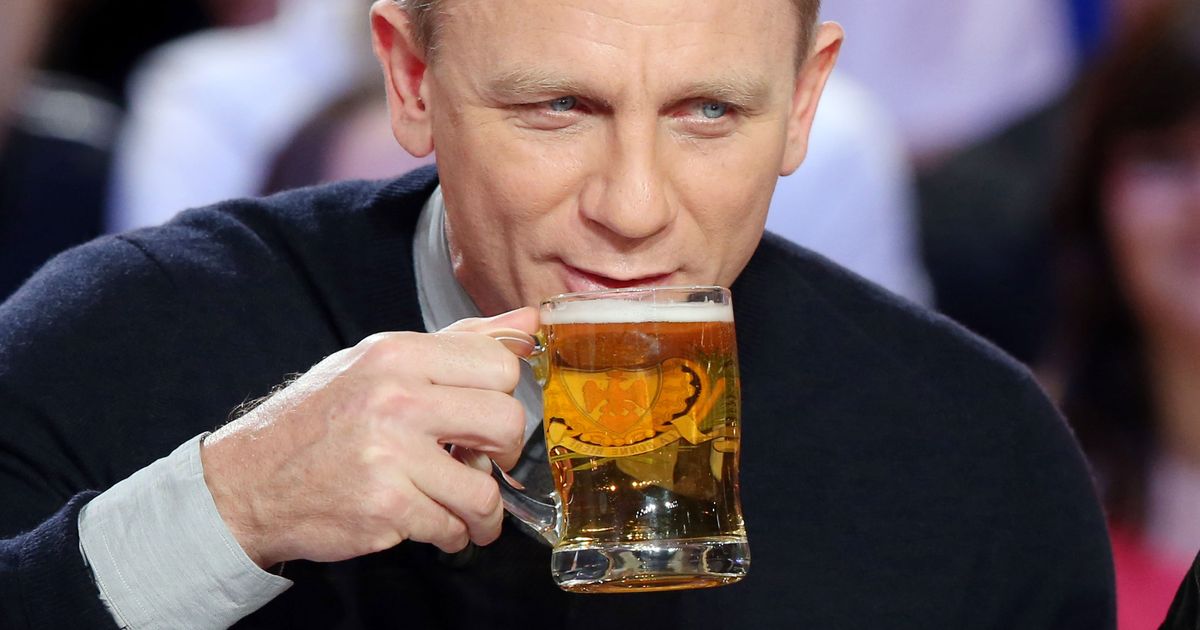 We all know James Bond loves his vodka martinis, but Daniel Craig, not so much. Craig is a beer guy, and in particular, he likes Guinness or a pint of lager. He once said, "Whenever someone asks me, 'Would you like it shaken or stirred?' I feel like punching him in the face.". And again, "You go into a bar for one drink, and you are served three. Besides, I am not really into martinis. I prefer beer.".
In early 2020, James Bond made a switch to beer, too, as can be seen in a commercial ahead of the release of his film No Time To Die, where he chooses a non-alcoholic Heineken 0.0 instead of his usual order at the bar. 
19. Jason Momoa
You probably remember Jason Momoa from Game of Thrones. But did you know he's acted in a bunch of films? He was the lead actor in 2018's Aquaman and also has the lead role in its sequel that will soon be released this year. 
Jason Momoa loves beer, particularly Guinness beer. He said, "I really love beer. I will not eat a carb all day long, and it's probably not the healthiest thing. But you gotta remember I'm like away from my wife, away from my kids, I'm eating no carbs, I'm on some crazy diet, I have to work out in between busting my a** and doing stunts. The dog needs a bone, and the bone is some Guinness at the end of the day.". While he trains hard to be fit for his demanding job, he incorporates a Guinness into his schedule: "I go to my trainer at the time, 'Give me a Guinness. Give me a Guinness,' so right before we did the underwater thing I cracked two Guinness, and pounded them. And my whole body's like you can see my veins, I'm like the Hulk.".
20. Jason Statham
The actor, known for playing tough guy roles in action-thriller movies, loves beer. But, when working out to get fit for his films, his diet is pretty strict. Carbs are definitely cut down to a maximum, and this includes beer. Outside of work, he is sometimes photographed chilling with friends at pubs over beer. He was once snapped at Rock & Reilly's Irish Pub with a friend and having a beer. He even smiled at the camera as he held up his beer glass. 
Conclusion
Beer love is universal and a go-to alcoholic drink for everyone, not just film stars. Some drink it to unwind after a long day at work, while others are addicted to it more so than normal. Whatever the case, these good-looking celebrities and their drinking habits definitely have us craving some beer right now!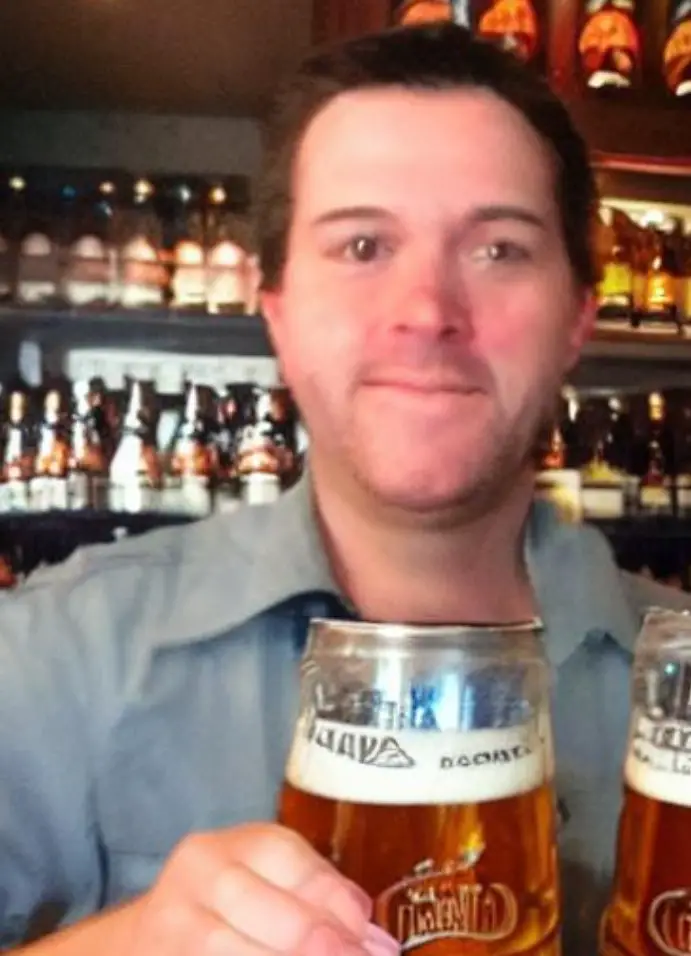 I am a passionate beer connoisseur with a deep appreciation for the art and science of brewing. With years of experience tasting and evaluating various beers, I love to share my opinions and insights with others and I am always eager to engage in lively discussions about my favorite beverage.