Aside from pubs, bars, discos, or house parties, you can share great food and liquor with your best friends in a beer garden. But what makes it different from beer-serving places out there? 
Here's how you can tell them apart.
They all typically serve alcoholic and non-alcoholic drinks with food, like a pub. A bar does the same, except it also offers cocktail drinks and live music and rarely charges an entrance fee, unlike going into a club.
Clubs require their customer to register and pay before letting them inside the venue. It is usually associated with a place that serves alcoholic drinks as customers enjoy music from live bands or dance while a DJ spins music. Disco is quite similar to clubs. But unlike clubs, discos offer VIP admissions and have dance floors dedicated to letting customers drink, dance, and party all night til dawn.
Meanwhile, a beer garden is usually in an outdoor setting with trees surrounding closely set up tables that encourage strangers to connect, make new friends, and chill while enjoying great-tasting food and quality beer.
Do you want to know more about the beer garden? Let's dig in and learn more about what it is and how to open one as a business.
Beer Garden Defined
An outdoor location where individuals may socialize while sipping on different beer types and other drinks are known as a beer garden.  The idea first appeared in Germany and has since expanded throughout numerous cities and towns, where it is now a well-liked form of entertainment and leisure.
The first brewery cellar became publicly accessible during the summer months, and soon people began to gather there to enjoy beer and conversation in the open air. Other German breweries eventually followed, and the beer garden shifted to a beloved aspect of Bavarian culture.
The most well-liked beer gardens may be found, in many other cities, Berlin, New York, and Melbourne, to name a few. These beer gardens usually include food, live entertainment, and a wide selection of beers from local and international breweries.
People of various ages and backgrounds frequently visit beer gardens because of their laid-back, collaborative environment. They also provide a venue for people to gather and interact, and they could be a great spot to meet people.
Beer gardens have lately gained appeal among tourists wishing to experience local cuisine and culture. Many beer gardens provide familiar foods and drinks and feature local music and entertainment to give customers a taste of the local culture.
Ultimately, beer gardens are a distinctive and pleasurable aspect of several cultures throughout the globe. A beer garden may offer all these things and more, whether you're searching for a place to hang out with friends, drink some cold beer on a hot day, or learn about a new culture.
Beer Garden's Pioneer and Spread
German Bavaria in the 19th century is where beer gardens first appeared as a place for folks to congregate and enjoy a beer in the open air. The beer garden idea immediately spread throughout Germany and later expanded to other nations.
When Georg Schneider, a Bavarian brewer, established one in Munich in 1812 and pioneered the beer garden. People started gathering in Schneider's brewery cellar when he opened it to the public to drink beer and socialize. The beer garden quickly spread throughout the country, and beer and non-drinkers established their versions of the popular gathering place.
Germany's strict alcohol sales ban in public spaces was one of the factors that contributed to the popularity of beer gardens there. Breweries had an opportunity to get around these regulations and give residents a location to drink and socialize by offering beer on their premises.
Beers and shaded areas under trees are the best combinations that make the beer garden experience remarkable. Set up a tiny kitchen with them, stock it with local delicacies like sausages and pretzels, and encourage everyone to join the fun. Some beer gardens often have live music or other forms of entertainment, which adds to the joyful atmosphere.
Midway through the 19th century, beer gardens started outside Bavaria in other regions of Germany and nearby nations like Austria and the Czech Republic. By the start of the 20th century, beer gardens had established themselves as part of German culture and were widespread across many German cities and towns.
An immigrant from Germany named John F. Schwacke opened the first beer garden in the United States in New York City in 1868. Locals quickly peaked at Schwacke's beer garden, which stood in the Harlem district.
Over the years, beer gardens continuously evolved and kept up with the changing times and tastes. During the 20th century, many beer gardens were closed forcefully due to the rise of prohibition and the decline of traditional Bavarian culture. Yet, as people look for authentic and distinctive experiences, beer gardens have seen a recent rise in popularity.
Today, you can spot a beer garden everywhere, from New York to Melbourne to Munich. While they may differ in size, atmosphere, and menu offerings, all beer gardens share one goal. It's to provide a place for people to gather and enjoy the company of each other over a cold beer.
The history of beer gardens is fascinating and spans centuries and continents. From humble beginnings in Bavaria to global popularity in the 21st century, beer gardens have always been a place for people to come together and enjoy hanging out over a cold beer.
Becoming a Beer Garden Owner
This beer history seems a lot of fun. Right? Yet, if you find yourself in a place where a beer garden in your neighborhood is non-existent, you could be the pioneer and build one. Let's go over the steps to start a beer garden yourself.
If you've always wanted to mix a passion for beer and socializing with entrepreneurship, creating a beer garden is the realization of your goal. It needs rigorous, thorough preparation and execution to be successful, just like any business.
Step 1: Market Research
Researching the market is the first step in opening a beer garden. It involves obtaining data on the regional beer market, the competition, and the target market.
The local beer type that sells must be one of the first things to know. It will help you decide on and consider the brand you may partner with and the ideal method for preserving the beer's freshness.
Next is identifying your competition. It means knowing what other establishments serve beer near your location. Also, knowing this information will allow you to prepare ideas for making your beer garden unique and more attractive to customers.
Speaking of customers, you also need to consider identifying your target customers for your beer garden. Ideally, it should be for all ages. It will encourage everyone in the neighborhood to come to your beer garden and get together. After determining your target market, it's also beneficial to thoroughly understand their demographics and purchasing patterns.
By gathering this data, you will have a deeper understanding of the regional market and spot possibilities and difficulties.
Step 2: Develop a Business Plan
Once you have completed market research, your next step is to develop a business plan. 
This plan should include details such as the concept and mission of the beer garden, the target customer and marketing strategy, the menu and beverage offerings, the location and layout of the beer garden, the staffing plan and operations, and the financial projections and funding sources.
All these may sound technical, but a well-developed business plan will serve as a roadmap for your beer garden business and help you secure funding from investors or lenders.
Step 3: Choose a Location
The location of your beer garden is critical to its success. Look for an area with high foot traffic, good visibility, and easy access. Consider factors such as parking, public transportation, and nearby attractions. You should also ensure the location has the necessary permits and licenses for a beer garden business.
Step 4: Get Licenses and Permits
And further on licenses and permits. To operate a beer garden business, ensure that the required licenses and permits from local and state authorities. These may include a liquor license, a food service permit, and a business license. You may also need to obtain zoning permits and inspections from the health department.
It's best to connect with the local authority that regulates business establishments and alcoholic drink sales to get the requirements that you need.
Step 5: Design and Furnish the Beer Garden
The design and layout of your beer garden should be inviting and comfortable for customers. Consider factors such as seating arrangements, lighting, and landscaping. You may invest in outdoor heating and cooling systems to make the space comfortable in all seasons.
Also, consider having a versatile theme for your beer garden interior and exterior design. It will encourage your customers to book your place for various events. 
Step 6: Develop a Menu
The menu at your beer garden should be simple and focused on the beer offerings. You can offer a small selection of food items such as snacks, sandwiches, or appetizers. Consider partnering with local food vendors to provide unique and diverse food offerings.
Step 7: Source and Stock Beer and Other Drinks
The variety of drinks you serve at your beer garden is critical to its success. Work with local and regional breweries to source a variety of beer styles and flavors. You may also want to offer wine, cider, and non-alcoholic beverages so your business will not be exclusive to alcohol drinkers alone but will be a non-drinker-friendly place. 
Also, do not hesitate to include imported beer brands. It may cost you a few more, but it will also encourage customers from other alcohol serving places to go to your beer garden because you have that one (or more) unique beer variants.
Step 8: Hire and Train Staff
Another step to making your beer garden a success is hiring a team of skilled and dedicated staff. Hire employees with experience in the food and beverage industry, and provide them with comprehensive training on the menu, service, and safety protocols.
Step 9: Market and Promote Your Beer Garden
Effective marketing and promotion are essential to building a customer base for your beer garden. You can use social media, email marketing, and local advertising to promote your business. Host events and special promotions to attract new customers and build loyalty among existing customers.
Today, customers are into unlimited servings. You may collaborate with local suppliers to offer a limitless supply of beer, buffalo wings, nachos, or any other item on your menu at a lesser cost.
Step 10: Monitor and Adjust Operations
Finally, it is vital to monitor and adjust your operations regularly. As the owner, you always have to oversee the ins and outs of your business. You to maintain and keep your books of inventory, sales, and expenses updated. 
Also, ensure to analyze sales data, customer feedback, and other metrics to identify areas for improvement. Plus, continuously innovate and improve the services and products that you offer. It will positively impact the value you give to your customers and the growth of your business.
Conclusion
Managing logistical issues, such as inventory taking, purchasing supplies, and getting ready for events like reservations, parties, and such, are the first things an ordinary day at a beer garden will have. You need to get used to managing them.
Also, compared to managers and owners, who may be present all day, staff often works in shifts. And so, as an owner, being present and on top of things is a task to perform every day. It helps to be a better beer garden owner if you have a strong background in managing restaurants or bars.
Lastly, starting a business is like raising a newborn baby by yourself. It will take so much of your time, energy, effort, money, and patience. It's a great challenge yet fulfilling. The higher the stakes, the higher the return. So it's best to do your research and calculate risks. Undoubtedly, your hard work will pay off.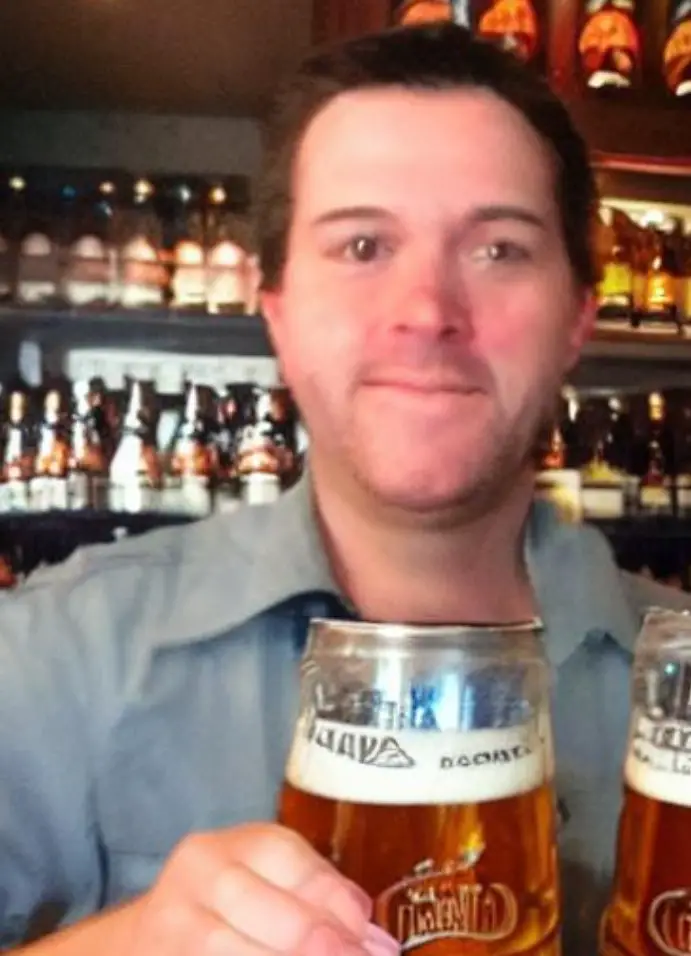 I am a passionate beer connoisseur with a deep appreciation for the art and science of brewing. With years of experience tasting and evaluating various beers, I love to share my opinions and insights with others and I am always eager to engage in lively discussions about my favorite beverage.