Lithuanian beer culture reflects the country's long brewing history and practices. It dates back to the medieval times, in the era of monasteries. The region has become famous for brewing high-quality beers with the finest and locally-sourced ingredients.
Beer festivals and events further help beer enthusiasts to discover unique and pleasing flavors. If you ever visit the place, don't forget to try these ten premier Lithuanian beer brands.
1. Švyturys Ekstra
Did you know that Svyturys Ekstra has won many awards since 1995 for being a quality European Dortmunder Export Lager?
Svyturys Ekstra is the first-ever beer brewed in Lithuania. It has a strength of 5.2% alcohol content. This drink is exceptionally delicious, with a clean golden body and a rocky white head with good retention.
Gentle and sweet toasted malt with a subtle hoppy aroma makes it unique from other alcoholic beverages. The taste is a classic blend of bold hop bitterness and malt sweetness. It is a medium-bodied drink that feels crisp on the palate. Moreover, a pleasant dryness further enhances its flavor. 
2. Utenos Alus
Utenos Alus is a nice-looking alcoholic drink brewed in Lithuania. This Pale Lager pours a lovely translucent yellow color with a short-lived head. 
The beer suggests sweet maltiness and honey-like essence with slight herbal notes. Its taste offers malty sweetness, sourness, and grassy hops that dominate the profile, but this drink also has a light bread malt flavor.  The mouthfeel is smooth and crisp. 
Grab a glass of Utenos Alus and get ready to taste the best flavor at an affordable price. It is an absolute delight!
3. Vilniaus Alus Tamsusis (Dark)
Have you tried Munich Dunkel yet? If not, now is your time!
Visit Lithuania and indulge in the goodness of Vilniaus Alus Tamsusis. It is a beer with an attractive label design and a nice-looking brown appearance. This drink has a creamy beige head that retains well.
The smell is roasted malt with hints of corn, while the taste offers a toasted barley character with traces of toffee and caramel. Vilniaus is a medium-bodied beer with good carbonation. You can try it alone or with your favorite food. The taste of this refreshing drink will make your day.
4. Kalnapilis Original
Kalnapilis Original is a decent European Pale Lager brewed with the finest quality malts and hops. The beer has a transparent bright golden body with visible carbonation. Its white head is small but leaves a generous amount of lacing behind it. 
The aroma suggests light and buttery malts and hops, while the taste gives a light-bready malt flavor with a traditional touch of hoppy bitterness and malt sweetness. It is a light-bodied drink with medium carbonation. Also, it feels dry aftertaste. Kalnapilis Original is an everyday beer to enjoy with colleagues after work.
5. Rinkuškiai Before-After Triple Bock
Are you looking for a Doppelbock with a sweet malt nose and flavor? Look no further!
Before-After Triple Bock is a widely consumed beer in Lithuania brewed by Rinkuskiai. The beer has an amber-colored body with a fluffy snow-white head, but it dissipates within the blink of an eye. It leaves a moderate amount of lacing behind. This drink has a strength of 12% ABV. 
The caramel malt with ripe fruit aroma is inviting, but the taste offers ripe fruit, sweet malt, alcohol, and peppery hops. Its mouthfeel is crisp with heavy carbonation. Whether you like it or not, this Before-After Triple Bock is one of the best options in the country to enjoy casual gatherings and parties.
6. Volfas Engelman Rinktini
Volfas Engelman Rinktini is a European Pale Lager produced in Lithuania. Its medium yellow body with a reasonable amount of visible carbonation sweetens its appearance. The beer has a two-finger tall white head of foam with medium retention.
The grainy malt smell with herbal hops gives a beautiful essence to feel, but the taste is superb with grassy hoppy bitterness and sweet maltiness. It feels delicious on the palate. Volfas Engelman Rinktini is a well-carbonated, medium-bodied beer with a crisp and clean finish. You can serve it with traditional Lithuanian dishes.
7. Zhiguly Barrel Beer 95
If you are a fan of European Strong Lager, don't miss out on Zhiguly Barrel Beer 95, brewed in Lithuania. It is a product of Gubernija Brewery with a strength of 9.5% alcohol content. 
The body is amber, while the head is pleasant-looking that stays persistent for a few minutes. It also leaves good lacing behind. The nose suggests caramel malt, bready lager malt, and overripe fruit with a hint of citrus. Its flavor profile reflects the nose weill with additional notes of corn and grain.
With medium-bodied and sharp carbonation, Zhiguly Barrel Beer 95 offers a bitter finish, but it feels pleasant and delicious.
8. Alyno Mango Milkshake IPA 
Have you ever tasted a Milkshake IPA before? If not, you can try Alyno Mango Milkshake IPA. It is a Lithuanian drink with a cloudy appearance. The beer pours an orange color with a decent foamy head. 
Alyno has a sweet aroma and flavor, thanks to mango, cereal, and fruits with traces of floral hops. It is a full-bodied beverage with a light, creamy finish. Add this to your party menu because it is highly drinkable and enjoyable.
9. Dundulis Humulupu IPA
Dundulis Humulupu IPA is a decent Indian Pale Ale beer with an amber appearance and a cloudy, foamy head. 
The aroma of fresh pine, malts, and citrus enhances its flavor profile, while the taste reflects the nose with caramel notes. It gives a pleasantly smooth mouthfeel with good carbonation. This medium-bodied IPA is quaffable and popular among beer enthusiasts.
10. Sakiškių Milk Stout
To all stout lovers, don't miss out on Sakiskiu Milk Stout brewed in Lithuania. It has a strength of 4.7%. The beer possesses a dark brown body with shades of deep red, but the head is of beige color. 
The smell of roasted malt and coffee makes it feel inviting. Its taste follows the nose but with additional notes of chocolate, dark fruit, sweetness, and bitterness in the background. The mouthfeel is soft and creamy with average carbonation. 
Overall, Sakiskiu Milk Stout is a decent beer to try at least once whenever your visit Lithuania.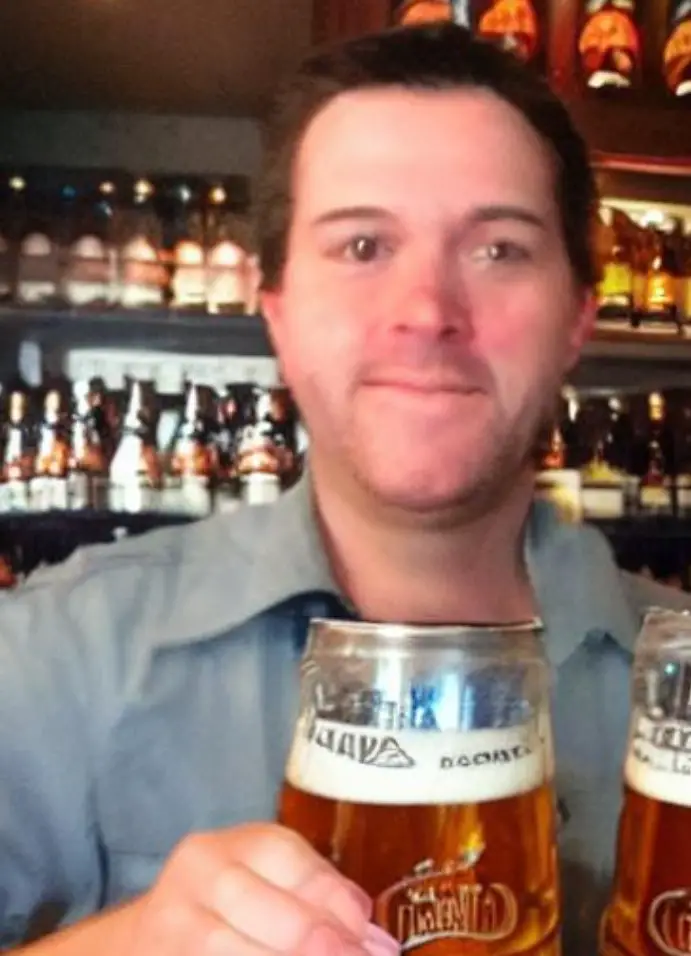 I am a passionate beer connoisseur with a deep appreciation for the art and science of brewing. With years of experience tasting and evaluating various beers, I love to share my opinions and insights with others and I am always eager to engage in lively discussions about my favorite beverage.