Planning a wedding is a daunting task. There's so much to consider and so much to do. Every little bit helps, and that's what we're here to do – help. Brewery weddings are on trend these days and provide a welcoming backdrop for your special day.
So, how do you go about planning it all? Here are a few tips.
Lock A Location Down
You've narrowed down on a brewery wedding, but which brewery? Choosing the perfect location is half your work done. Here are a few things to keep in mind when deciding on a venue:
Location and Size
Ensure the brewery isn't located in the back of Beyond but is easy to reach and at a convenient place. It should also be big enough to host the number of guests you have in mind and have all the facilities it takes to host a wedding party.
Ambiance
We know you have a mood board and Pinterest page dedicated to the wedding, so it's essential that the ambiance aligns with your vision for the day. Choose a venue that fits the bill.
The Brew
Like a menu tasting, it is essential to do a beer tasting before you finalize a venue. The brewery is the backdrop of your big day, and it would be a shame if the craft beers didn't live up to the hype.
Permits and Regulations
Due to licensing and regulations, many breweries are restricted to selling only their beers and drafts. This limits your choice of beverages to serve. Also, look into the licensing for large gatherings and if your venues have one. 
Plan The Ceremony Space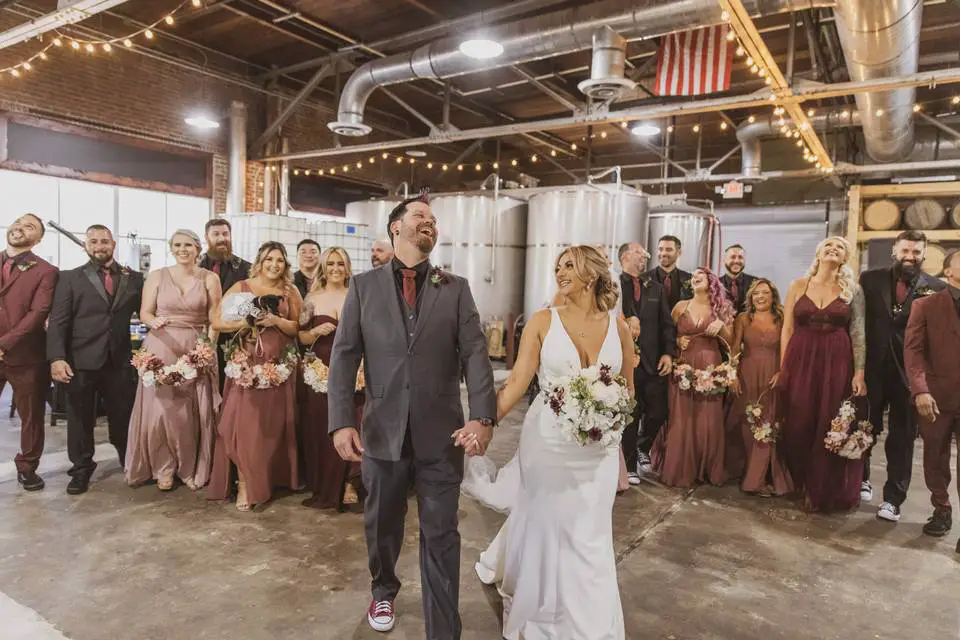 Now that you've got the place locked down, it's time to start planning exactly how to turn that space into the perfect wedding. Depending on your preference, you can choose to host the ceremony outdoors and the reception in the brewery's indoor space or vice versa. Here are some ideas on how to convert a blank space into your dream ceremony:
Decant a Decadent Decor
Instead of starting from scratch, try to build on the brewery's natural charm. This will reduce your work (and cost) by half. You can also lean into the brewery theme by opting for hops garlands, big wooden barrels as flower stands, and brewery signage to enhance the whole experience.
Seating
Make full use of the theme and install rustic benches and wooden crates as seating for your guests. Make it as casual and informal as you like without forgoing comfort. The view of your vows is what matters most, which leads us to the setting of the altar. 
Altar
The altar is the centerpiece of a ceremony. It will be immortalized in pictures and your memories of the day. Choose the background with care. Opt for the most scenic part of the brewery and flowers and decor that complement your theme. It will add a special magic to your very special ceremony.
Plan The Reception
The reception is where you make your debut as a married couple, and it is a party to celebrate your union so it should be the best party ever! It's time to shed the formality and dance the night away. Continue the theme from the ceremony to the reception with wooden barrels, rustic decor, and charming centerpieces.
In-House Catering
Luckily, most breweries have their own in-house catering services and even a wide selection of packages for wedding parties to choose from. Now, it's up to you whether you want a formal sit-down dinner service or a help-yourself buffet. Pair the menu that compliments the beer selection to make it a meal to remember.
Lights, Action, Music!
Hiring a band or DJ is essential. Provide them with a set list of songs to create a laidback atmosphere so everyone can let their hair down and socialize while they have a blast. 
Personalize Your Brewery Wedding
Personal touches add to the magic of the day. There are many ways you can customize the space and decor in a way that makes your guests feel welcome and truly encapsulates your personality at the same time. 
Custom Labels
Get creative! Use beer bottle caps as seals on wedding invites. Add customized labels to beer bottles as place settings. Work with the brewery to craft a special wedding beer that has your combined couple's name. Use this beer for the toasts at the reception. The ideas are endless!
Beer-Themed Wedding Favors
Customized beer steins with guests' names on them, filled with boozy chocolate and treats, make for the perfect wedding favors. Add bottle openers and mixed nuts for them to enjoy their beers even after the day comes to an end.
A Tour of the Brewery
You can also offer brewery tours for your guests as part of the wedding experience. It's a great way to showcase the brewery and add an educational element to the event.
Capture The Moment
Breweries are a great setting for photoshoots! Hire a professional photographer and videographer so they can capture every stunning moment, highlighting the warm yet rustic ambiance of the brewery. These pictures will be something you will cherish for years to come.
Fun Activities
Add an element of excitement for your guests. Involve them in the festivities with some creative ideas.
Beer Tasting
Set up a blind-tasting competition. Instead of a game of shots, have a game of beer pong where you have to drink whenever certain things happen.   
DIY Beer Brew
Set up a DIY bar and encourage guests to come up with their own concoctions and blends. Hold a competition for the best DIY beer!
Brewery-Themed Photo Booth
Create a photo booth with accessories and props, keeping the brewery theme in mind, and let your guests take pictures to immortalize the evening. 
And Most Importantly
Enjoy yourself! It's your day. Weddings can be stressful, and a lot can go wrong on the day. But a lot can also go right. Take the time to sit back and relax and have fun with your friends and family. Open up a chilled beer, lock hands with your partner, and welcome in the rest of your happily ever after with a kiss.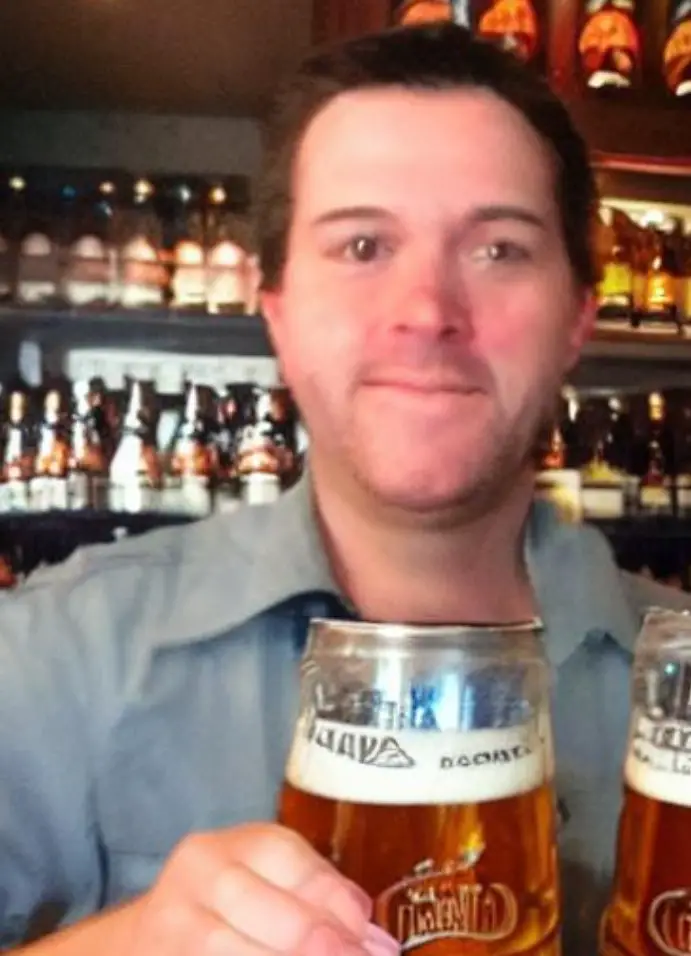 I am a passionate beer connoisseur with a deep appreciation for the art and science of brewing. With years of experience tasting and evaluating various beers, I love to share my opinions and insights with others and I am always eager to engage in lively discussions about my favorite beverage.