Pink Whitney is not just any flavored vodka – it's a drink that has taken the world by storm, and there's a good reason for that. The intriguing aspects of Pink Whitney include not only its delightful alcoholic pink lemonade flavor. But also its history and the part social media played in its popularity.
From a casual conversation between two former NHL players, Ryan Whitney, and Paul Bissonnette, and Barstool Sports founder Dave Portnoy to becoming the fastest-growing flavored vodka brand in the US, Pink Whitney has captured the attention of millions. It's a drink perfect for sipping on a hot summer day or enjoying it with friends while watching the game.
But what exactly is Pink Whitney? Where did it get its name? And is it any good and worth trying?
Let's jump in and take a deeper look into this famous Pink Whitney sensation.
How did Pink Whitney Start?
Picture this: two guys sitting around, chatting about hockey and liquor. One suggests a pink lemonade-flavored vodka, and the other thinks it's a genius idea. That's how Pink Whitney was born!
Former NHL player Ryan Whitney and Barstool Sports founder Dave Portnoy were the brains behind this now-famous drink. Whitney suggested the flavor, and the New Amsterdam Spirits company trusted the idea and invested in making it a reality.
Pink Whitney is a vodka drink made with New Amsterdam Vodka and pink lemonade. It consists of two parts New Amsterdam Vodka with one part pink lemonade, then served over ice. Pink Whitney got its unique flavor profile thanks to the combination of New Amsterdam Vodka's smoothness and the tart sweetness of pink lemonade. The result is a refreshing and easy-to-drink cocktail perfect for any occasion.
But why the name "Pink Whitney"? The cocktail has Ryan Whitney's name, and the pink hue is from his love of drinking vodka with pink lemonade. And with the power of social media, Pink Whitney quickly became a fan favorite.
Pink Whitney was the flavored vodka brand in the US with the highest growth in 2019, according to a statement from New Amsterdam Spirits. That's evidence of the drink's distinctive flavor and the enormous social media following of Barstool Sports.
But Pink Whitney's success didn't stop there. The drink has led to collaborations with other companies, including a limited edition "Pink Whitney" donut from Dunkin' Donuts.
There you have it! A simple idea between two friends turned into a drink loved by millions.
Types of Pink Whitney
Pink Whitney is a flavored vodka with a signature pink lemonade flavor, but there are a few different types available for drinkers to enjoy.
Original
Natural pink lemonade flavor and New Amsterdam vodka are combined to create the original Pink Whitney taste. For those who wish to try it before buying a full-sized bottle, it comes in a conventional 750ml container and a smaller 375ml bottle.
Lemonade
A limited edition Pink Whitney flavor is a variant in addition to the original taste. One is the Pink Whitney Lemonade, which gives the classic pink lemonade flavor a faint raspberry undertone. In 2021, Pink Whitney Lemonade debuted and became available to purchase for a limited time.
Lemon Tea
Another one of these limited-edition flavors is Pink Whitney Lemon Tea. This taste reinvents the traditional pink lemonade by blending the flavor with a hint of tea and honey.
What Do Pink Whitney Drinkers Say?
Since its introduction, Pink Whitney has gained popularity among fans, who celebrate its distinct flavor and silky finish. 
According to customer reviews, the drink's pink lemonade flavor is pleasant and perfect for sipping in the warm season. Liquor drinkers also like its adaptability because it may be consumed straight or used as a cocktail mixer.
Customers like the subtle richness and taste of the tea and honey in the pink lemonade's flavor. Despite its richness, the combination of tea and honey maintains its balanced taste. Pink Whitney Lemon Tea's limited-edition variation spin on the classic beverage has gotten positive feedback from fans of the original taste variety. 
Original Pink Whitney's sweetness, nevertheless, isn't liked by everyone. Some complaint about a distinct alcoholic taste, while other consumers find the flavor to be overly artificial and overbearing. The sweetness could also put off some people who prefer drier drinks.
Pink Whitney's popularity keeps rising despite these criticisms. Its extensive social media presence and business collaborations have helped it become a household name. While Pink Whitney may not be to everyone's taste, there is no denying that it impacted the market for flavored vodka (or a shot of vodka).
Generally, Pink Whitney has a devoted following thanks to its distinctive flavor and adaptability, although some drinkers defer it for its sweetness and strong alcoholic flavor. Nevertheless, its success and popularity are undisputed, which makes it an intriguing and controversial beverage that vodka lovers should taste.
Drink with Caution
While Pink Whitney can be a fun and refreshing drink, it's important to remember that all alcoholic beverages have potential risks when you intake them. As with other liquor, you should not over-consume Pink Whitney to avoid dangerous situations such as alcohol poisoning or impaired driving.
The sweetness of Pink Whitney can also be dangerous, as it can mask the strong alcohol taste and lead to overconsumption. Additionally, the high sugar content can cause dehydration and hangovers.
That said, it's important to remember that Pink Whitney is not suitable for everyone, especially those with a history of alcohol abuse or health problems that can heighten by alcohol consumption. If you choose to drink Pink Whitney, be mindful of your limits.
Conclusion
If you're interested in trying Pink Whitney, consider enjoying Pink Whitney on the rocks or mixing it with club soda or lemon-lime soda for a lower-calorie option. 
Don't forget that it has a good amount of alcohol that can still knock you out. It's best to set a limit to one or two drinks and hydrate with water in between to ensure you'll drink within your safe drinking capacity.
Nevertheless, you are still free to savor its unique pink lemonade flavor and enjoy it with caution with your buddies!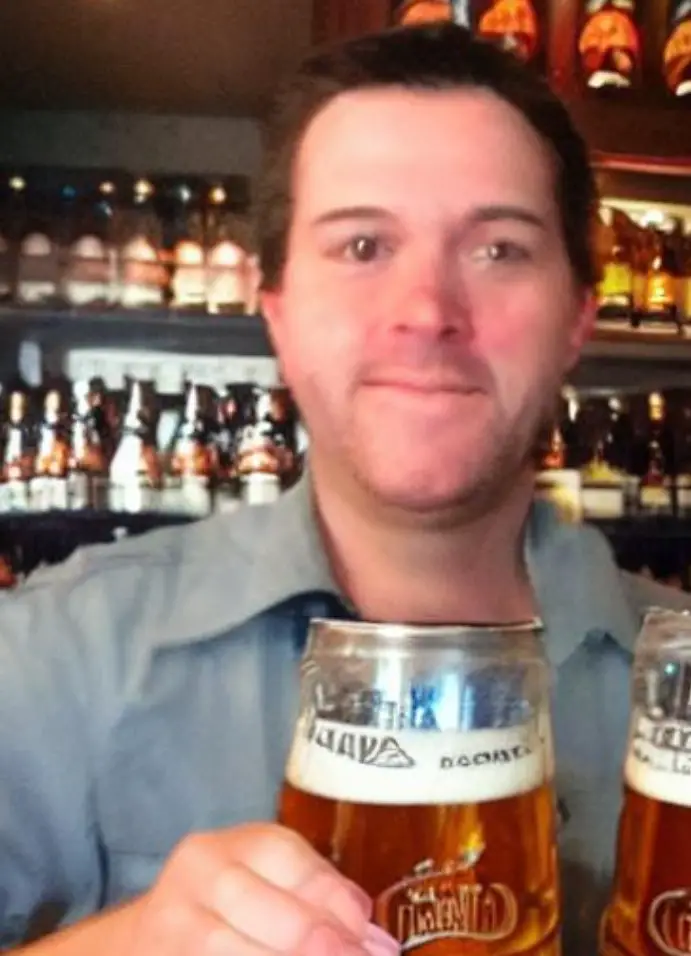 I am a passionate beer connoisseur with a deep appreciation for the art and science of brewing. With years of experience tasting and evaluating various beers, I love to share my opinions and insights with others and I am always eager to engage in lively discussions about my favorite beverage.