Imagine sitting on a beach with your favorite lusciously delightful strawberry beer to absorb all the positive vibes in you. Sounds intriguing? What will be your reaction if it happens in reality? 
You may visit a beach or not, but finding the juicy strawberry bitter-sweet taste in a beer bottle/can is a piece of cake. Search your favorite strawberry beer by uncovering the list of the ten luscious Strawberry beer brands.
1. Abita Strawberry Lager
Abita Strawberry Lager is an instant mood-lifter you should have in your life or at special events. Abita Brewing Company used fresh Louisiana strawberries to invent this master-level brew. The beer is fruit and field for the genre, with a less alcoholic character because of 4.2% ABV. 
Its bright orange-pink hue has its charisma nobody could easily ignore. However, the dense foamy head is a display of elegant craftsmanship. Abita Strawberry Lager does not have artificial flavors, making it ten times more tastier than other strawberry beers of the same genre. The mouthfeel is impeccable, with mildness in a bitter-sweet finish. It is quaffable, enjoyable, and available in the United States and around the globe at a pocket-friendly cost. 
2. Samuel Smith's Organic Strawberry Fruit Beer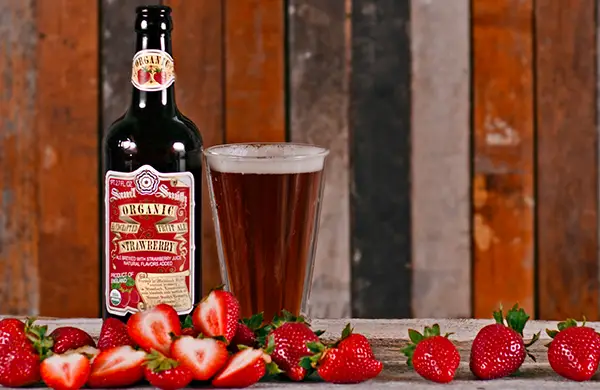 One of the most luscious fruit beers in the United Kingdom is Samuel Smith's Organic Strawberry Fruit. The fragrance is heavenly, with a cloudy amber-orange color and a dense beige head. 
There is earthy maltiness in the scent with sweet, aromatic notes of strawberry. The satisfactory thing is strawberries are not overly sweet or sour, perfect for the style. It also has a tanginess with a light to medium-bodied mouthfeel. The overall flavor of Organic Strawberry Fruit Beer is exceptional. 
3. New Glarus Strawberry Rhubarb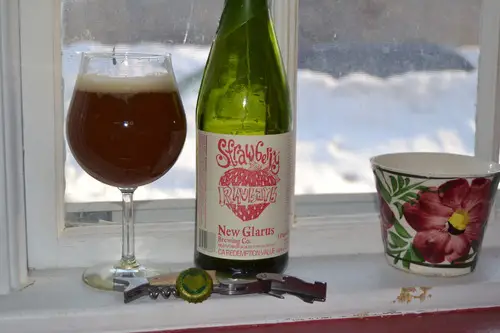 Wisconsin is the hometown of New Glarus Brewery, which produces Strawberry Rhubarb Fruit Beer. The purplish-red body looks lovely beneath the foamy pinkish head with dense lacing. 
It delivers pleasant tartness extracted from the combination of Rhubarb and Strawberries. There is a presence of fruity ester notes in the flavor, blended well with other ingredients. It sticks on the teeth because of the juicy thickness of the beer. Plus, prickly carbonation makes it delightful with a subtle dryish finish. New Glarus Strawberry Rhubarb is an elegant beer for sophisticated events.
4. Brouwerij Lindemans Strawberry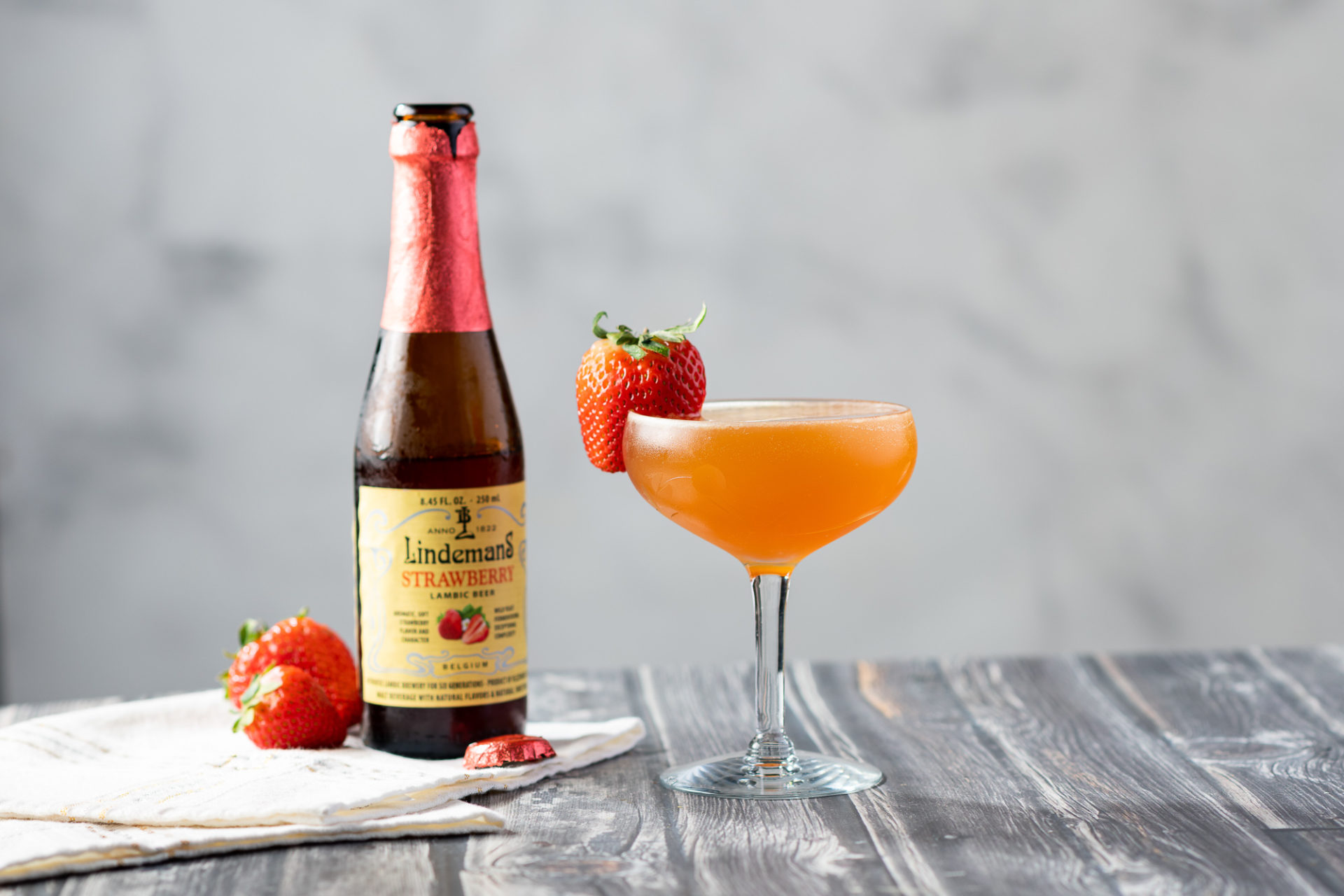 The Fruit Lambic by Brouwerij Lindemans is a tasty Strawberry beer produced in Belgium. Its alcohol content is not intense, which is only 4.1% ABV. The color is cloudy pink with orange streaks. The foamy, rosy head of around three-finger tall looks superb.
Its bitter-sweet taste is the highlight of Lidemans Strawberry. There is fresh breadiness with fruity, strawberry notes and juiciness in the mouth that feels lusciously delicious. It is even better than a champagne. The goodness in its flavor is what you need in a beer for your next party, so are you ready to give it a shot?
5. Cascade Brewing Strawberry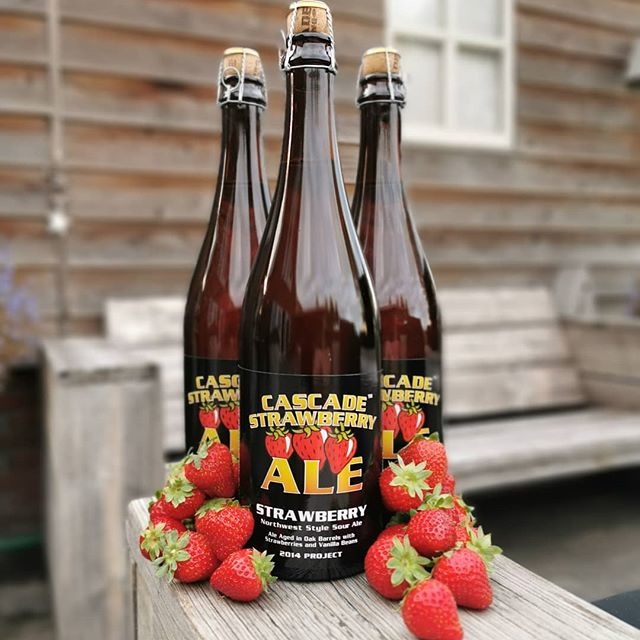 Do you like Wild beers? If yes, Cascade Brewing Strawberry is for you!
At a high level of 7.1% ABV, Cascade Strawberry is a bottle of refreshingly delicious flavors. The hazy amber-red shade of this Wheat Beer showcases sophistication with a medium-sized foamy head that retains better than others.
It has strawberry jam, vanilla, and oak notes with hints of vinegar to bring the tartness out. The medium-bodied feel with dry aftertaste and finish further improves its character. Cascade is a well-carbonated beer with an enjoyable taste.
6. Revolution Brewing Strawberry Jacket
Revolution Brewing Strawberry Jacket is an English Barleywine with fruity aromatic notes and a gorgeous hazy orange appearance. Its 13% ABV seems high but perfect for the style because the Strawberry Jacket is an outcome of delicate craftsmanship.
The barrel woody notes with strawberry flavor make it worth appraising. Even though the alcohol content is high, you will not feel excessive alcohol in the taste. The carbonation seems gentle and pairs perfectly with a medium body. Its dryish finish with moderate sweetness is excellent.
7. Almanac Farmer's Reserve Strawberry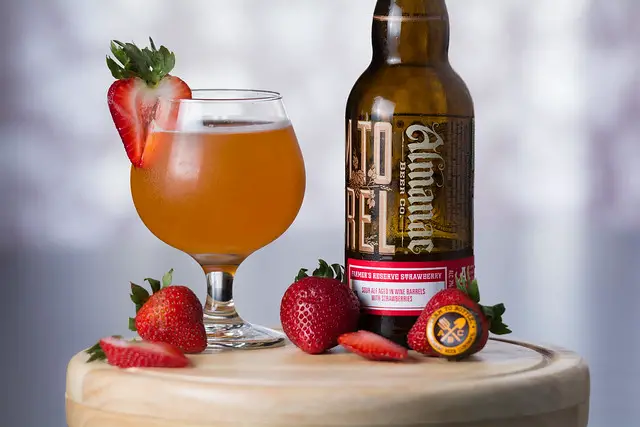 Another Sour/Wild beer from the American soil is Almanac Farmer's Reserve Strawberry. They keep this flavorsome fruity ale in wine barrels to age it for a few months. It has around 210 calories with a 7% alcohol strength. With an orange body and white head of bubbles, Almanac Strawberry gives an outlandish impression.
The taste is sour, but potent strawberry notes with light berry fruitiness create a unique flavor. It gives a fruity palate with crisp carbonation and a mild sweeter finish. Almanac Farmer's Reserve Strawberry is decent, delicious, and worth every drop.
8. Breckenridge Brewery Strawberry Sky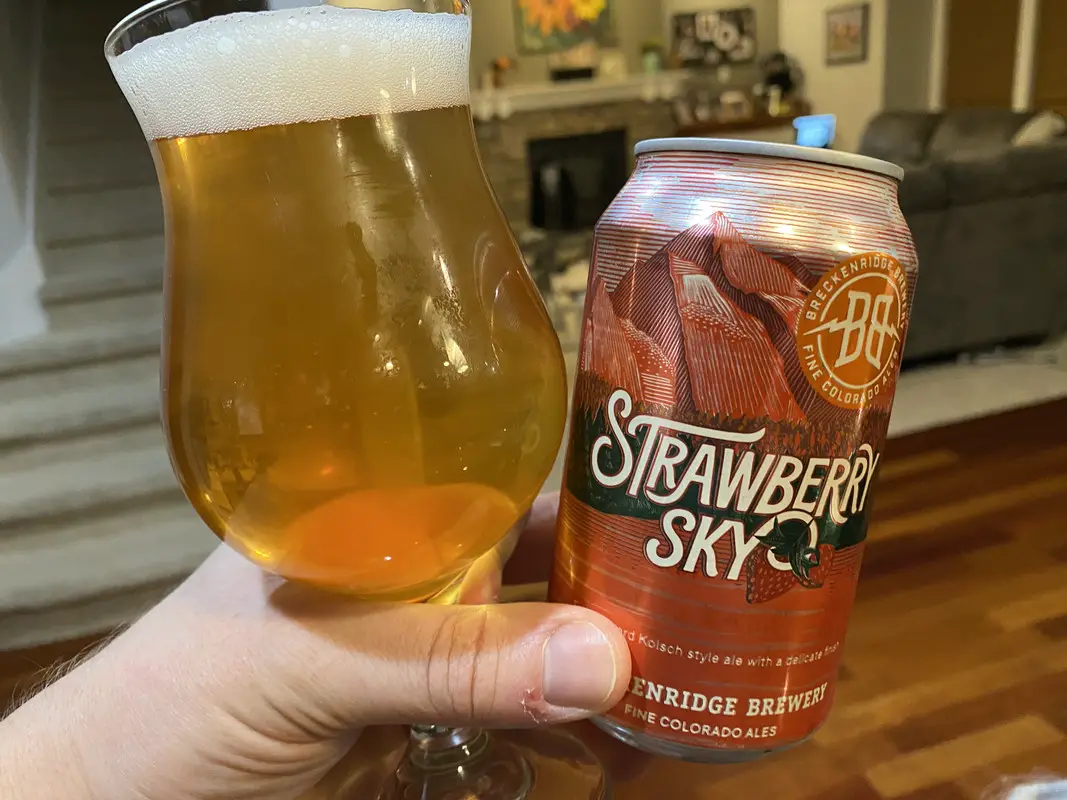 Any Kolsch fan here? Taste this Strawberry Sky brewed by Breckenridge Brewery!
The transparent golden body with a pinkish two-finger head of foam depicts the magical brewing heritage. Its malty aroma with strawberry flavor and lemon tartness is delightful. The floral hoppiness improves the taste of Strawberry Sky. Its low-carbonated and medium-bodied feel is also among the best characteristics of Breckenridge's Kolsch beer.
The overall attributes of Strawberry Sky exhibit authenticity and deliciousness with quality. Additionally, you can serve it with any snack or cuisine to complement your meal.
9. Tired Hands Milkshake IPA – Strawberry
The complexity of Tired Hands' Milkshake IPA's flavor profile makes it superior to other strawberry beers. It has vanilla, lactose, citrus, and fruity notes that flawlessly blend with Citra and Mosaic hops. The pour gives a cloudy golden color with a nicely-formed white head.
If you want to witness the heavenly taste of Milkshake IPA (Strawberry) with a pleasantly soft, medium-bodied feel, don't miss out on it!
10. Southern Star Strawberry Blonde
Strawberry Blonde is a magical Ale introduced by Southern Star Brewery in Texas, United States. It is a flavored beer with a rosy amber body and egg-white head. The beer offers well-blended cracker malt, hay, grass, and wheat aromatic flavors with prominent strawberry notes and a low alcohol content of 4.8% ABV.
The Strawberry Blonde delivers crisp mouthfeel with soft carbonation and moderate sweetness. Moreover, the beer is crushable and worth your money, time, and attention.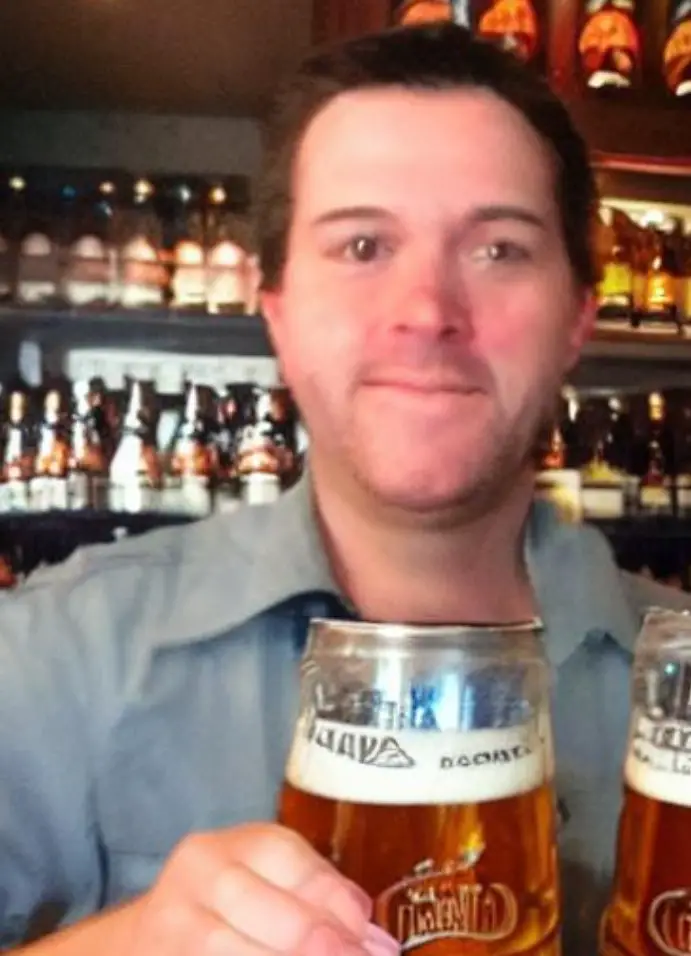 I am a passionate beer connoisseur with a deep appreciation for the art and science of brewing. With years of experience tasting and evaluating various beers, I love to share my opinions and insights with others and I am always eager to engage in lively discussions about my favorite beverage.