Ever tried a sweetened cocktail? It's an amazing combination of sugary, fruity, or creamy drinks with just the perfect touch of alcohol. You can enjoy your booze without having to taste its bitterness!
Nothing beats the summer heat more than a refreshing glass of your favorite cocktail. But getting a drink down with a harsh and pungent taste is not easy for everyone, especially those who are new to drinking. When you visit a bar, you can find tons of cocktail recipes that suit your taste. But if you're not a big fan of sharp and acidic flavors, take a look at the sweeter side of the picture.
By adding in a few ingredients, you can make your perfect sweetened cocktail at home. There is a big range of flavors you can pick, from tropical fruity to creamy and chocolatey delight. There are options for everyone and every event.
These budget-friendly cocktails are super easy to make and mostly served chilled or on the rocks. The refreshing taste in every sip is worth trying. Check out some of the best sweetened alcoholic drinks that are enjoyed by alcohol lovers around the world.
1. Pina Colada
Pina Colada is one of the most popular drinks you can find at any bar. This drink originated in Puerto Rico in the 1850s. It is really easy to make and has the right amount of sugar. Pina Colada is a refreshing drink made with cream of coconut and pineapple for a sweet taste blended with rum to add an alcoholic punch to your drink. 
Since it is made of fruit juice and rich cream, you won't experience the taste of alcohol as much as other drinks. Adding 3-5 ounces of rum makes the drink strong. You can add lime juice to make a more tangy flavor.
2. Cosmopolitan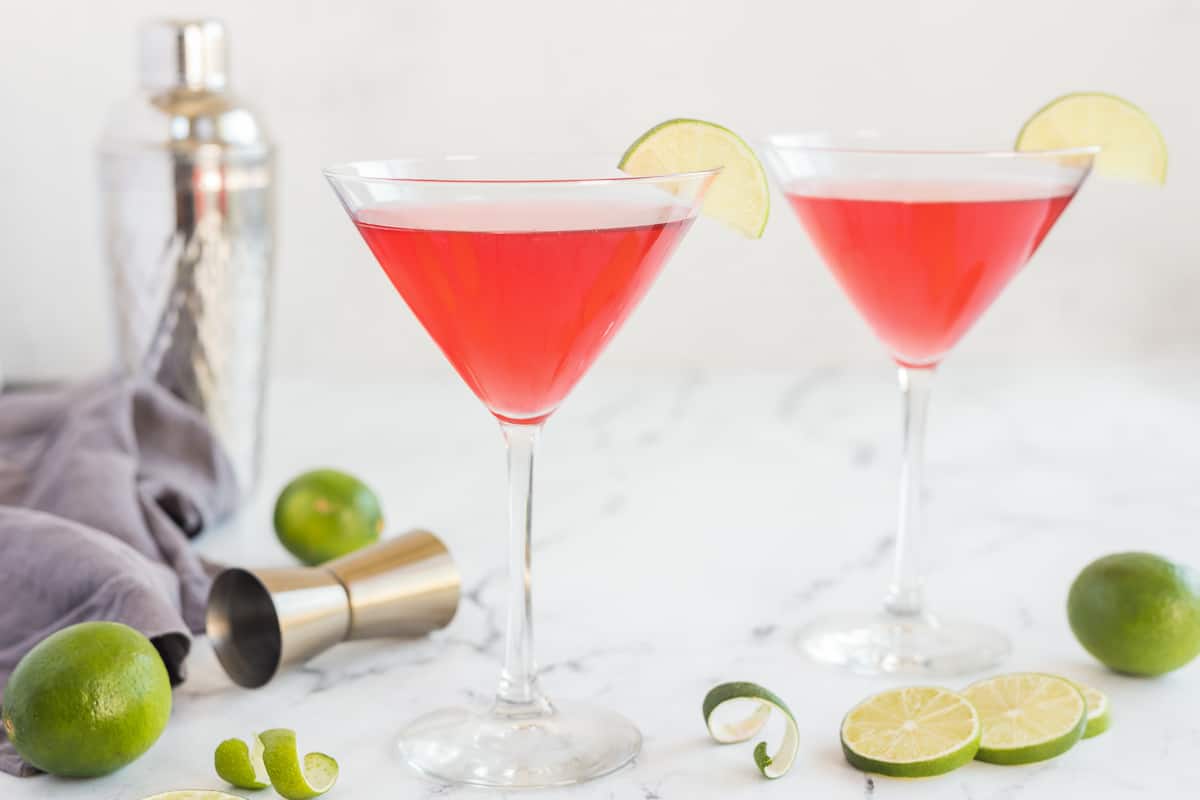 Cosmopolitan, aka COSMO, is a drink enjoyed by all adults. It was created by Tony Cicchini at Odeon in 1988. It's a perfect blend of cranberry juice, lime juice, and triple sec with vodka as the base drink. You can garnish it with an orange zest.
The bright pink color can really draw your attention, and the sweet and tangy flavor makes it an elegant and classy drink. You can try it out at a bar or make it easily at home and enjoy it with friends and family.
3. MudSlide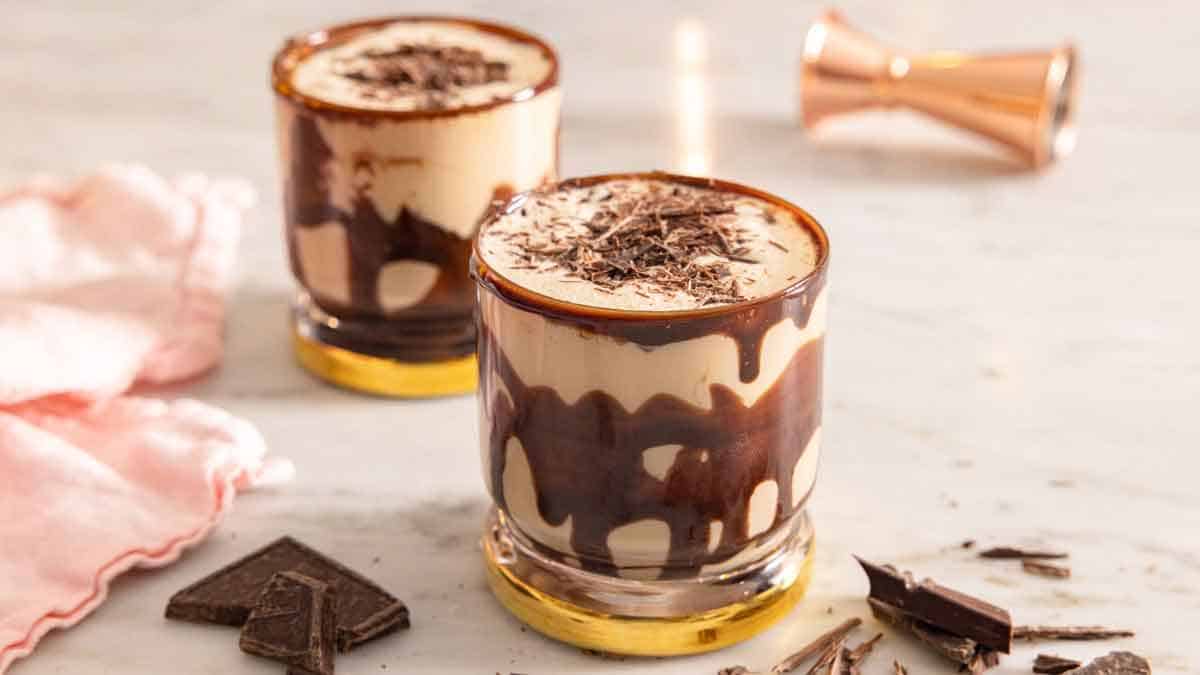 Mudslide is kinda like a chocolate milkshake or a creamy dessert that you can enjoy after dinner. It is made with chocolate syrup, Kahlua, baileys, cream, and 4 ounces of vodka to make it a scrumptious sweetened cocktail.
You won't find the neutral flavor of vodka that much as it is suppressed by the rich flavors of chocolate and cream. It has a high ABV of 12.5%, making it a punchy drink. It's totally up to you whether you wanna add cream or ice cream to the recipe. Taste best when served chilled and garnished with chocolate shavings.
4. Strawberry Daiquiri
It is a sweeter version of a classic daiquiri. Strawberry Daiquiri is a perfect blend of frozen or fresh strawberries, lime juice, simple syrup, a pinch of salt, and rum. Served chilled, it's another strong drink with 8-12% ABV.
You can use superfine sugar to make the blending easy. Some people love adding a little 7Up to mix to make it a perfect cocktail. It's a great drink for strawberry lovers. Served cold or a bit frozen and garnished with a slice of lime and strawberry. If you are having a couple of friends over, try impressing them with this sweetened cocktail.
5. Hurricane
Hurricane is a fruity cocktail with a double serving of rum. It was invented in New Orleans in the early 1940s. Since then, it has become a favorite of many. Hurricane is a combination of 2 types of rum, lemon juice, orange juice, grenadine, simple syrup, and passion fruit.
The dominating flavor of the passion fruit gives an extra kick to this amazing cocktail. The taste blends evenly because, when taken, it gives you the taste of both sweet and sour. When you visit a bar, don't forget to check out a Hurricane cocktail.
6. Mojito
Mojito is a soothing drink perfect for a hot day. It is made with rum, lime, soda water, and mint leaves. It is a simple drink that can be prepared anytime, anywhere. No wonder it is the most popular rum recipe found worldwide. It is served cold with a garnish of mint and lime wheel.
The mint and lime promote healthy digestion, whereas Vitamin C works as an immunity booster. Similar to others on the list, it has an ABV of 6-12%, making it a slightly stronger drink.
7. Tequila Sunrise
The name resembles the appearance. Tequila Sunrise is served in a tall glass unmixed. The different layer makes you feel like you are staring at a sunrise. The bright, attractive color and sweet flavor make this cocktail unique as compared to Tequila Sunset, which has a tart flavor. It is made with tequila, of course, orange juice, and grenadine syrup.
It was made in the 1970s by Bobby Lozoof and Billy at the Sausalito Bar, California. But the drink gained popularity after Eagle's famous song "Tequila Sunrise." You don't need to go to a bar to have a taste of this drink. It's very easy to prepare even at home. So if you wanna enjoy a colorful sweet cocktail, give Tequila Sunrise a shot.
8. GrassHopper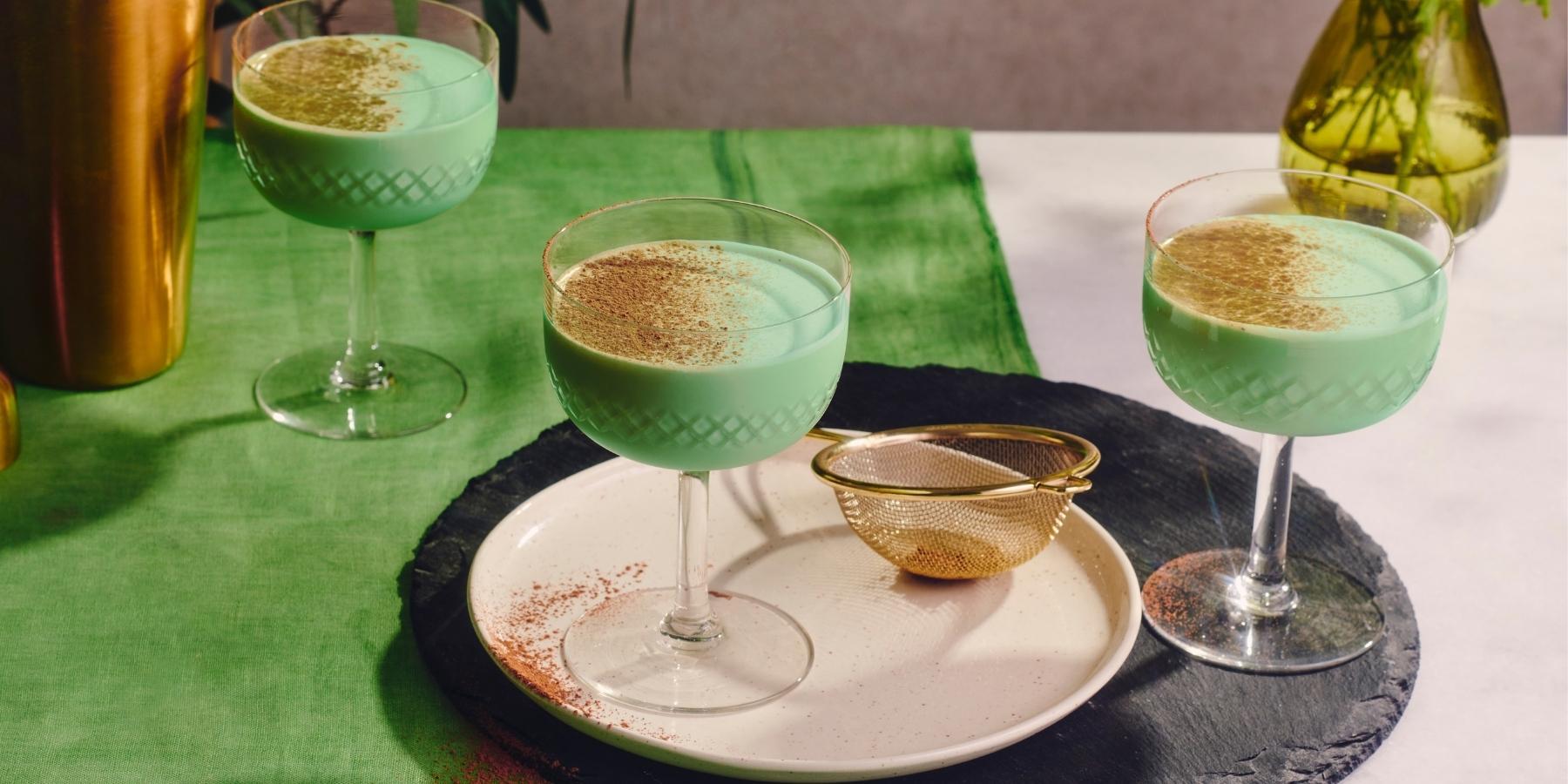 A drink that gives you a refreshing vibe. Grasshopper is a classic drink made with two different alcohols, crème de cacao, crème de menthe. Fresh cream is added to give a rich flavor to the drink. It is served chilled in a martini glass. This green cocktail has a sweet and mint-chocolaty flavor, which you can enjoy after dinner.
You can add different variations to the drink, like adding ice cream to the recipe. Overall the creamy peppermint flavor is a delicious addition to your cocktail list.
9. French 75
This classic and delicious cocktail was named after a French field gun used in the First world war. Don't worry; you're not gonna turn all aggressive after downing the drink. French 75 is a light drink with a refreshing taste. It is made with gin, champagne, lemon juice, and simple syrup.
The drink offers a tartness of lemon juice and a sweetened touch of simple syrup. There is not much alcohol content present in the cocktail; hence you can enjoy it as a morning drink as well.
10. Brandy Alexander
Another dessert cocktail on the list is Brandy Alexander. It is made with Crème de cacao, brandy (Cognac), and heavy cream. Crème de cacao has a chocolaty milky flavor, while brandy gives a sweet taste to the cocktail. 
It is served chilled with a garnish of freshly grated nutmeg over the top. If you wanna add a punch, double the amount of brandy in the cocktail. It's a perfect drink for the winter season.
11. Floradora
If you wanna try out a refreshing gin cocktail, ask the bartender for a floradora cocktail. The drink became popular in the 1900s. It is made with gin, raspberry syrup, lime juice, and ginger ale.
Ginger ale spices up the drink, while lime juice adds tartness to it. Raspberry syrup is used to add a sweet flavor to the cocktail. On average, it has 10-15% alcohol by volume. Floradora is a great drink when you're planning to have a cocktail party with your friends.
A Sugary End To A Sweet Article!
If you are tired of the same old harsh flavors of alcohol, try out one of these sweetened alcoholic cocktails. Order them at a bar or simply make them at home. These recipes are simple and refreshing to drink anytime.
If you love a fruity cocktail, try Hurricane or a Strawberry Daiquiri. However, if you want to enjoy a more exquisite dessert flavor cocktail, give Brandy Alexander or Mudslide a shot. Tequila Sunrise and Mojito are the most refreshing drinks you'll find on a hot summer day.
There are a lot of variations you can try out with these cocktails. Whatever cocktail you choose, remember to drink responsibly.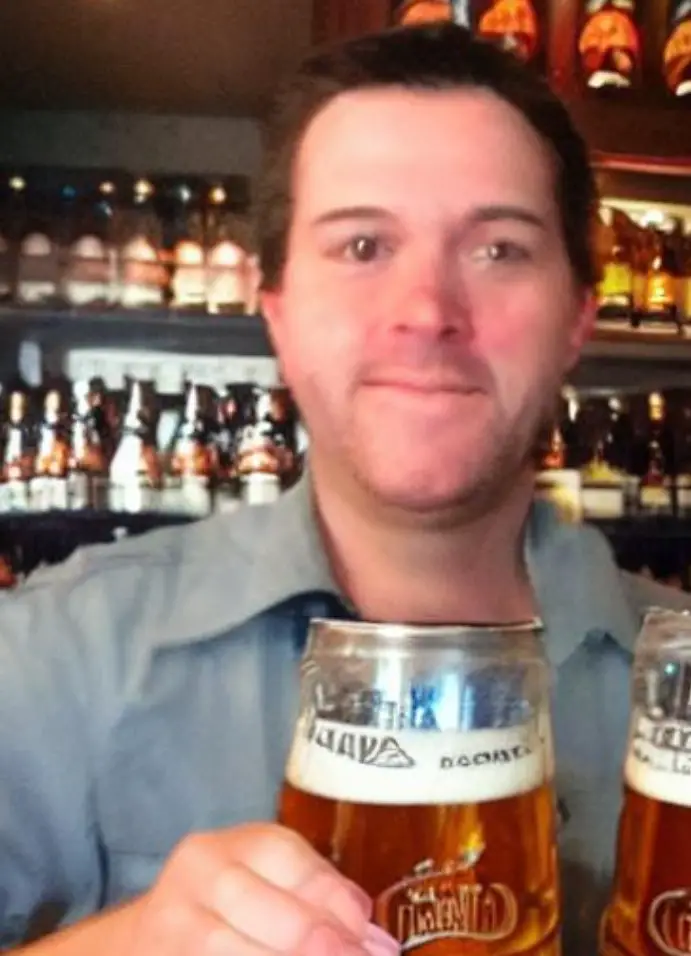 I am a passionate beer connoisseur with a deep appreciation for the art and science of brewing. With years of experience tasting and evaluating various beers, I love to share my opinions and insights with others and I am always eager to engage in lively discussions about my favorite beverage.