Step into the captivating world of innovation and tradition, and explore the best beer scene in Uganda. The place is known for its bustling streets, cheerful people, and lively nightlife. Uganda is witnessing a boost in the beer industry because of exceptional craftsmanship and unique brewing traditions.
Whether you need a tasty Wheat Ale or a refreshing Pilsner, visit the place and uncover the delicious beer brands in Uganda to experience new flavors.
1. Nile Special Lager
The best in Uganda, Nile Special Lager takes pride in serving beer enthusiasts with a grainy malt flavor. It is an American Adjunct Lager with a dark golden body that looks decent beneath the small foamy white head. Nile is more like a tropical beer with a mild hoppy aroma.
The smell is pleasant, the taste is delicious, and the texture is good. It is a medium-bodied Lager with a medium carbonation level. The smooth finish and malt aftertaste make Nile Special Lager more special.
2. Moonberg Premium
A bottle of freshness awaits you to visit Uganda and unveil its authentic flavors. Moonber Premium is an American Pale Lager. It has a 5% standard alcohol by volume. Parambot Breweries Limited ensures they use pure water, selected hops, and high-quality malts to brew this masterpiece. It pours a translucent yellow color with a small white head that dissipates quickly.
The nose suggests malts and floral hops with a sweet maltiness in the flavor. Its taste follows the aroma with a medium body and low carbonation. The hoppy bitterness dominates the profile with a dryish finish. Discover the distinct flavor of Moonberg Premium and enjoy this crushable beer with your buddies.
3. Bell Lager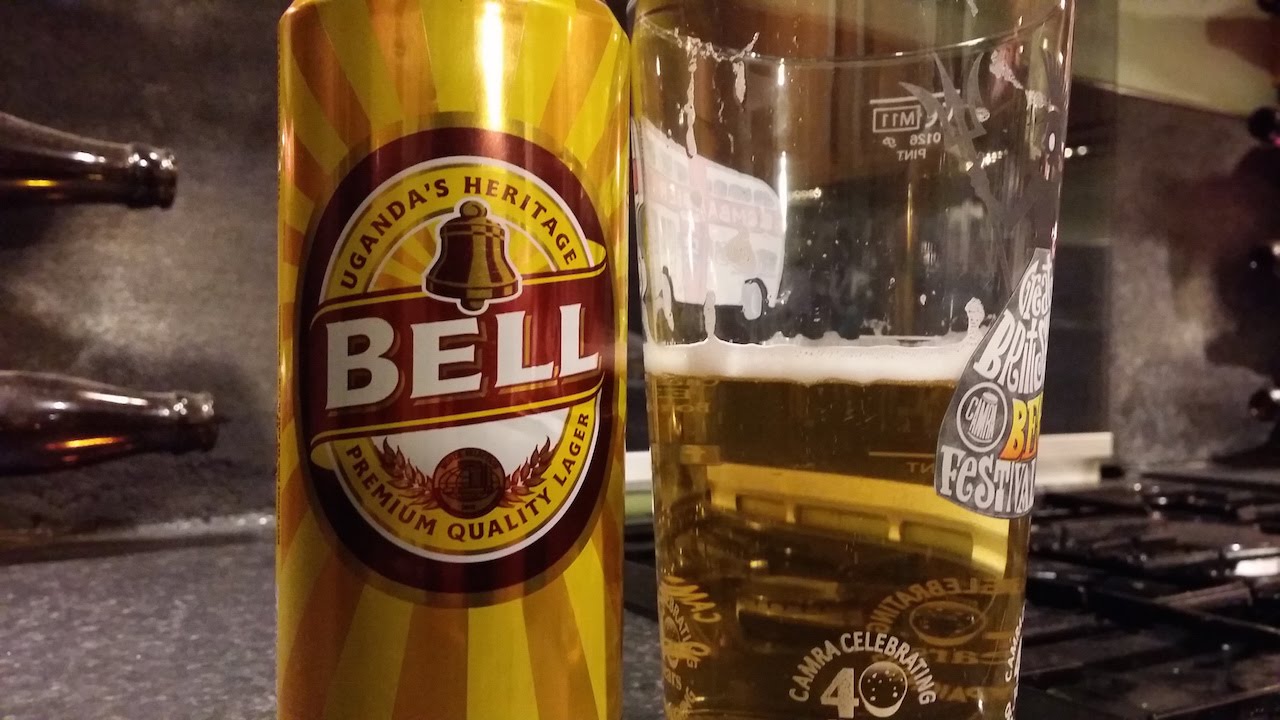 One of the most consumed International Pale Lagers, Bell Lager can ignite the taste buds with its refreshing essence and flavorsome taste. The alcohol is low for the style, but the flavor is worth trying, especially with friends. It pours a clear golden color with a medium-sized white head of bubbles that stay persistent for a few moments.
What sort of aroma do you like? Bell Lager's corn, malt, and hoppy nose enhance its flavor. It makes the beer ten times better than a traditional pale lager. The taste reflects the aroma with a medium body and average carbonation. Moreover, there is a touch of dryness in the finish. 
Though Bell Lager might not be everyone's favorite, it is quaffable and has a decent beer profile. 
4. Uganda Breweries Pilsner Lager
Uganda Breweries is a household name in Uganda because they produce impeccable flavors to serve their audience. Pilsner Lager is a Premium Pale Lager that pours a golden hue with a white head that recedes to a thin lacing. 
Like a classy fusion of malt goodness and earthy bitterness, the aromatic flavors of this yummy beer are irresistible. The body is thin with average carbonation and a dryish finish. Also, it pairs well with any food. 
5. Senator Extra
Did you know about any award-winning beer brands from Uganda? It is Senator Extra! 
The beer is an International Pale Lager brewed with quality barley malt. It contains a 6% alcohol content. The golden body gives a lovely impression with its foamy white head.
With an aroma of grains and malts, the taste of sweet malt goodness and a slight bitterness sweetens its flavor. It is a medium-bodied beer with average carbonation and a malty finish with a sweet aftertaste. Senator Extra is a decent and enjoyable beer for the style.
6. Chairman's ESB (Uganda)
Chairman's ESB is an Extra Strong Brew with a strength of 7% ABV. It is an Imperial Pilsner for the style. The beer pours a yellow color with a full-sized white head of bubbles.
It offers an aroma of grassy hops with malt goodness. The taste matches the nose with a medium-bodied feel and decent carbonation. It finishes smoothly, with hoppy bitterness dominating the beer profile.
Refreshing, crushable, and enjoyable!
7. Rock Stout
Are you ready to experience the first stout of Uganda? It is Rock Stout!
Rock Stout is a creamy and sweet beer with a deep ruby color. The head is medium size with good retention. It suggests the scent of roasted malt and hoppy bitterness, while the taste is pleasantly smooth with notes of raisins, roasted malt, and nuts.
With a medium body and decent carbonation, Rock Stout finishes smoothly. Try this sweet, creamy stout, perfect for road trips or casual meetups.
8. Eagle Extra Lager
Having identical ingredients to Eagle Lager, Eagle Extra Lager is undoubtedly the top-notch beer brand in Uganda. It is an Imperial Pilsner with a strength of 6.5% ABV. Unlike Eagle Lager, it has a more well-balanced blend of bitterness and sweetness. The body is light yellow, while the foamy white head retains well.
Its aromatic flavor provides a pleasant taste of grains, malts, bread, and hops. The beer feels creamy and smooth on the palate, with a medium body and average carbonation. It finishes smoothly with mid-bitterness at the end. Eagle Extra Lager is an enjoyable beer with high drinkability.
9. Ngule
Ngule is a delicious International Pale Lager brewed by Uganda Breweries (EABL – Diageo). It has a strength of 6% alcohol by volume. The transparent yellow body looks decent with its diminishing fizzy off-white head that leaves moderate lacing behind.
The nose suggests light grain, pale malt, and sweet malt notes with traces of corn. Its taste matches the aroma, with moderate sweetness, oily texture, and a medium-bodied feel. Also, the carbonation is soft. Ngule is an all-malt beer that makes it an enjoyable Lager. Try it to believe it!
10. Guinness Foreign Extra Stout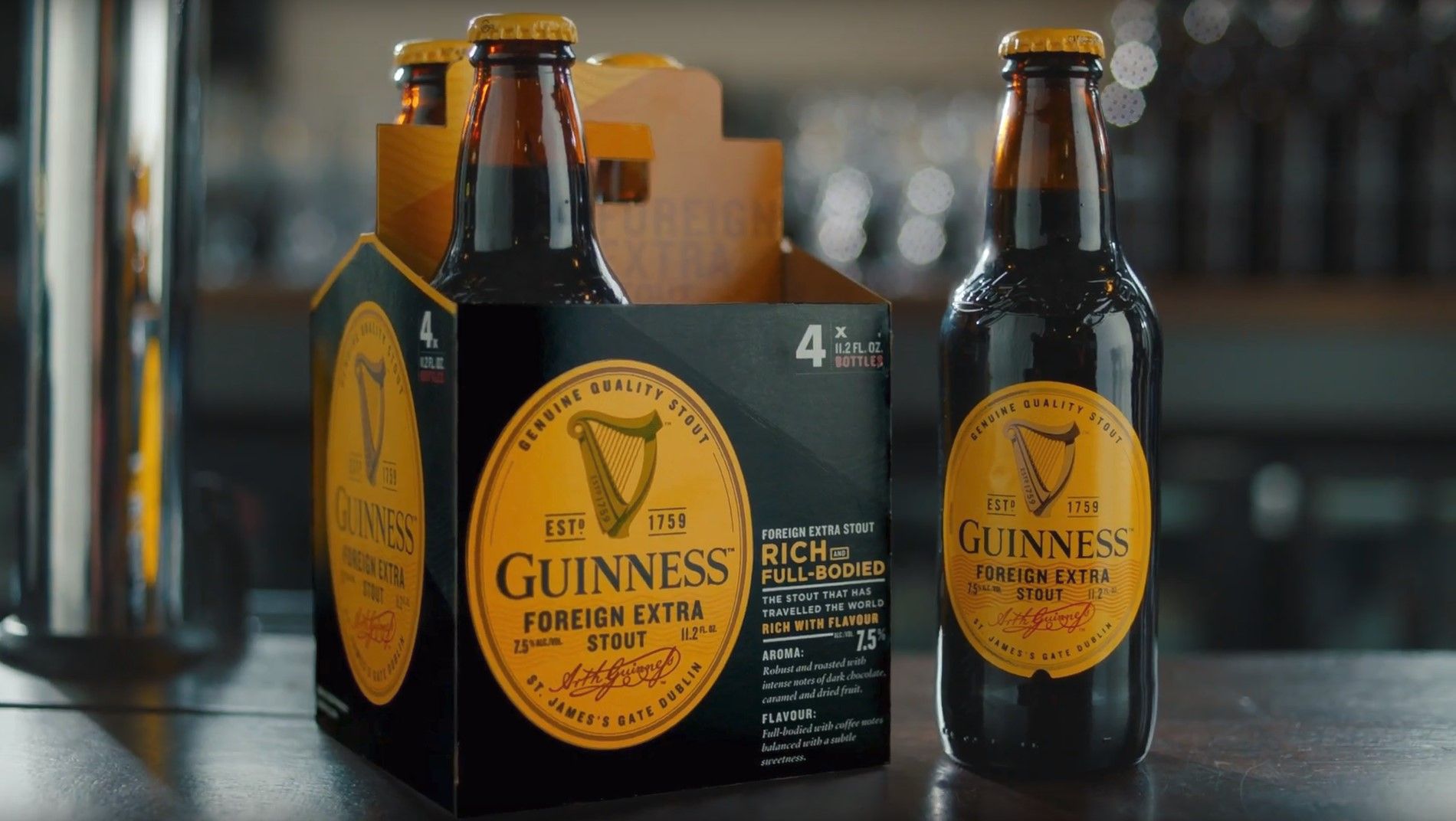 Uganda has its fair share of brewing the robust flavored beer, Guinness Foreign Extra Stout. One of the leading international beers in the country offers a complex yet delicious flavor to discover.
The aromatic flavors present caramel malt, coffee, caramel, chocolate, and cocoa flavor. Its taste matches the nose well. Guinness is a medium-bodied beer with average carbonation. So, invite your friends, grab a glass of Foreign Extra Stout, and cheers to your best time.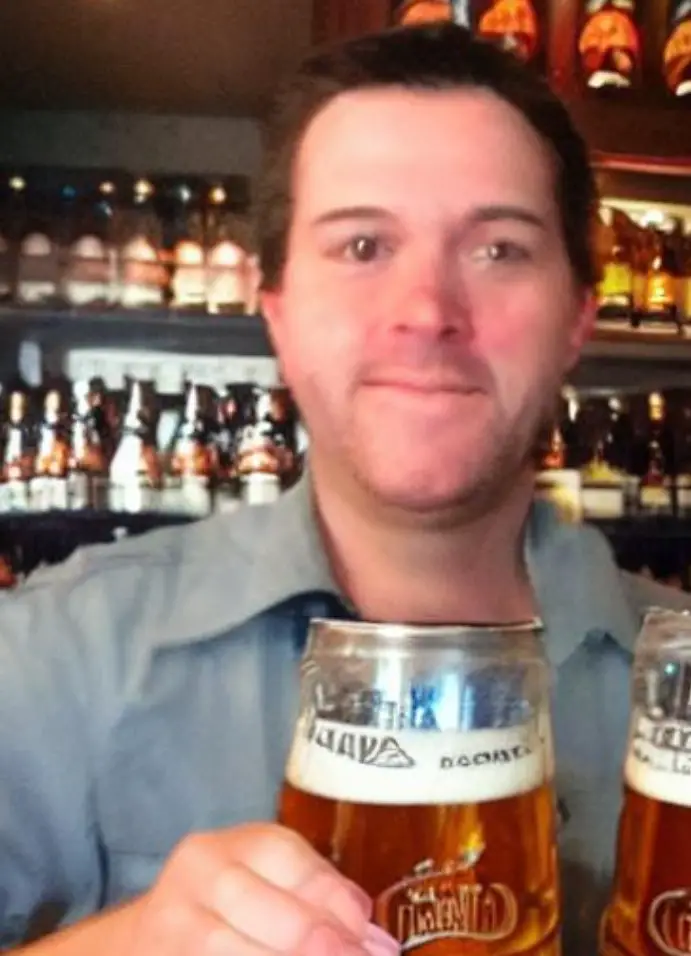 I am a passionate beer connoisseur with a deep appreciation for the art and science of brewing. With years of experience tasting and evaluating various beers, I love to share my opinions and insights with others and I am always eager to engage in lively discussions about my favorite beverage.