For years, beer has been made using the same traditional brewing method and the same four ingredients: Water, yeast, malt, and hops. In fact, according to German Beer Purity Law, you were supposed to use only these ingredients for making beer. 
However, in the last few years, the taboo has been broken, and multiple new twists and weird flavors are entering the beer mainstream. Manufacturers all across the globe are experimenting with new ingredients to spark and satisfying taste in their beers. Some worked out to be really amazing, while others had a distinct, weird flavor, quite different from regular beer.
So, after trying various beers as well as asking the bartenders and beer manufacturers, we have topped up the list of the top 20 weird flavored beers that you must be well aware of.
Want to unleash the categories? Then quickly jump into the article.
1. Hvalur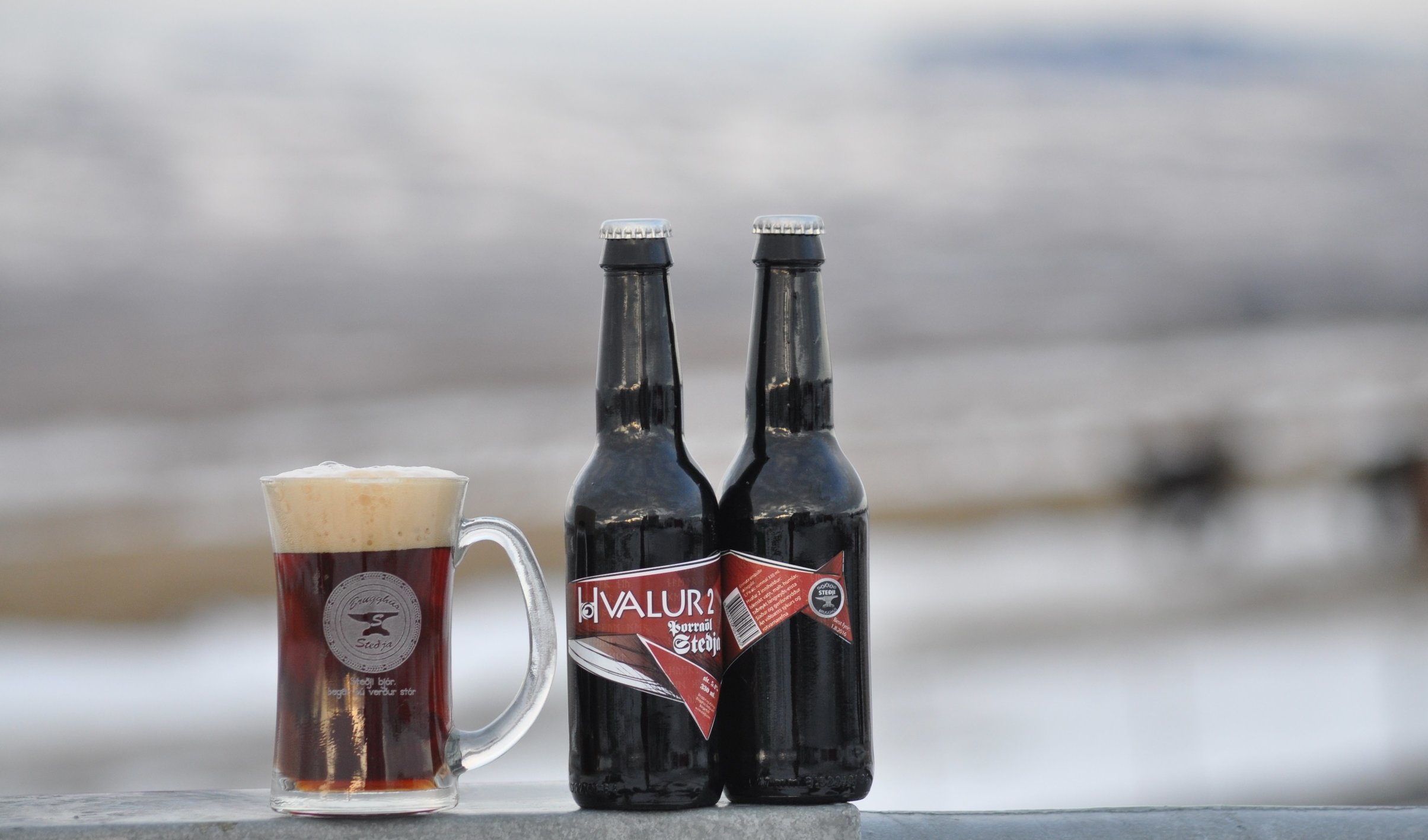 ABV: 5.2%
Brewed By: Stedji Brewery
Hvalur by Stedji Brewery is counted as one of the weirdest flavored beers. Where regular beer uses malt and hops, Hvalor involves no such ingredient in its manufacture. 
The unique beer is made using the following two ingredients.
Whale testicles 
Icelandic water
Whale Testicles are smoked with sheep dung before using them. As a result, the final drink gets a smoky flavor profile with a bold porter-like taste. 
This beer is available at some specific times of the year, like winter, then a lot of fermentation Shakespeare is used by the people. 
However, you can request one at Stedji Brewery too.
2. Rocky Mountain Oyster Stout
ABV: 7.5%
Brewed By: Wynkoop Brewing Company
Guess what? A beer having a flavor that has a sweet spot between version and chicken? Seems impossible?
But that's already possible. And Rocky Mountain Oyster Stout is an example. 
It is an unconventional beer by Wynkoop Brewing Company that is made using 
Roasted bull testicles
Spicy malts
Roasted barley
Goldings Hop
All these ingredients mix together to give a savory and meaty taste profile to the beer that no one beer has been able to match till now.
It is a deep blackish brown colored drink with hints of chocolate aroma in addition to chicken notes.
3. Ghost Face Killah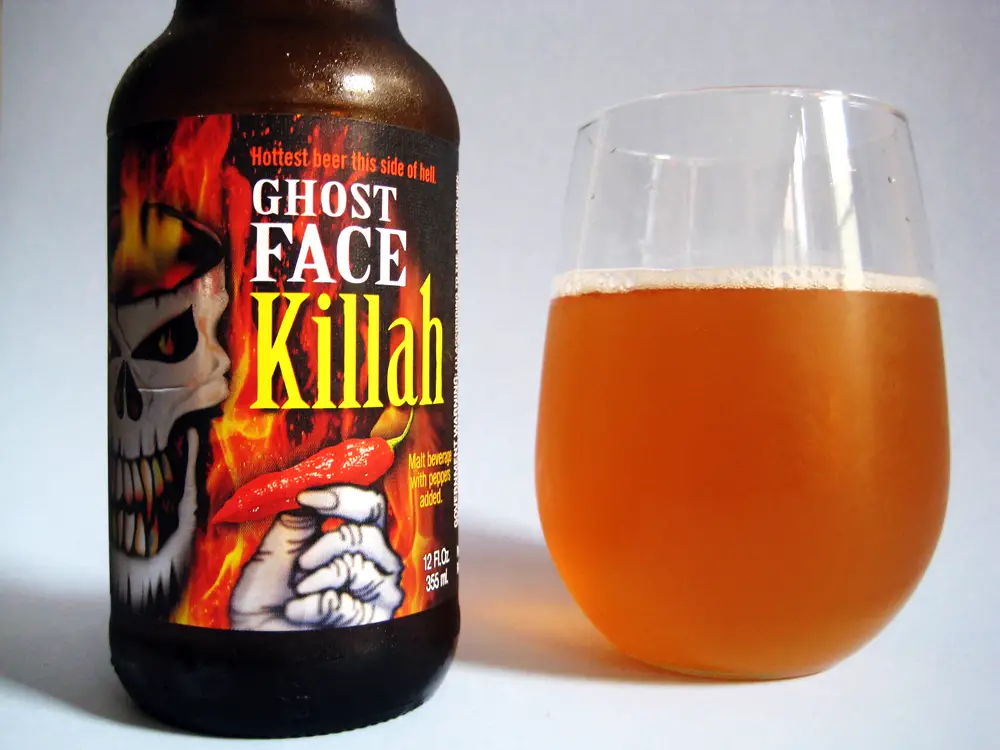 ABV: 5.2%
Brewed By: Twisted Pine Brewing Company
Ghost Face Killah by Twisted Pine Brewing Company is another weird and fiery flavored beer that you can give a try.
The drink includes six chili peppers that give an intense hotness to the drink.
In addition to chili peppers, it includes habanero, Fresno, jalapeño, and Anaheim peppers which give a complex hit of spiciness to the overall flavor.
Initially, the drink seems to have a crisp and refreshing wheat taste. But with every next sip, you start to feel the explosive chilies in your mouth. 
And wait, there is nothing to worry about. Though the drink exhibits a heat of spiciness, it definitely doesn't destroy the taste, and you will surely enjoy drinking the fiery kick.
So, why not try it with your best buddies this weekend?
4. Saturday Morning IPA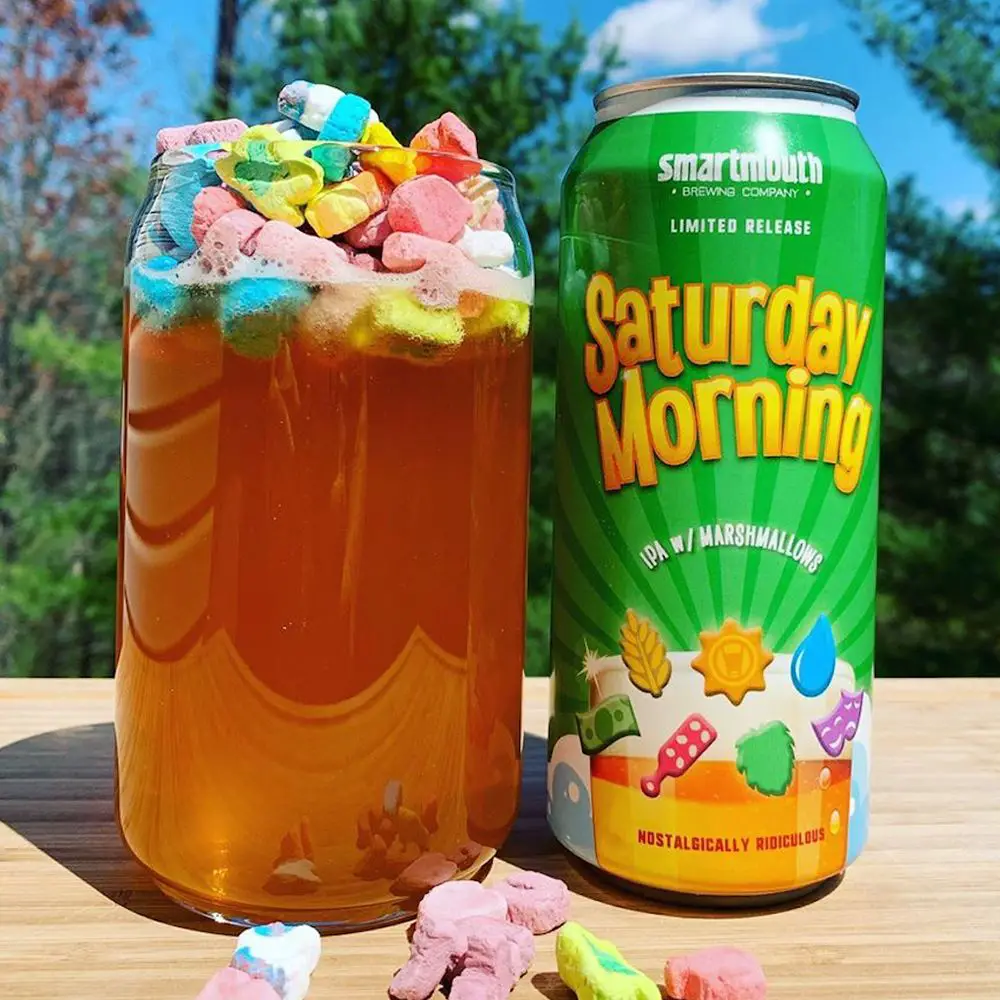 ABV: 6.6%
Brewed By: Smartmouth
Saturday Morning IPA is a soft, light, and mouthful beer that knows how to satisfy one's taste buds. 
The drink has a soft pillow body made using following 
Toasted marshmallow 
Dehydrated Marshmallow 
Calypso and Galaxy Hops
All these ingredients are United to give a sweet cereal taste to the drink with hints of orange pear mixed aroma. 
But yes, the drink is not available throughout the year and everywhere. It's either available at the Smartmouth location or a few others.
So, why not try this uniquely flavored beer to evoke nostalgic moments with your friends?
5. Avocado Honey Ale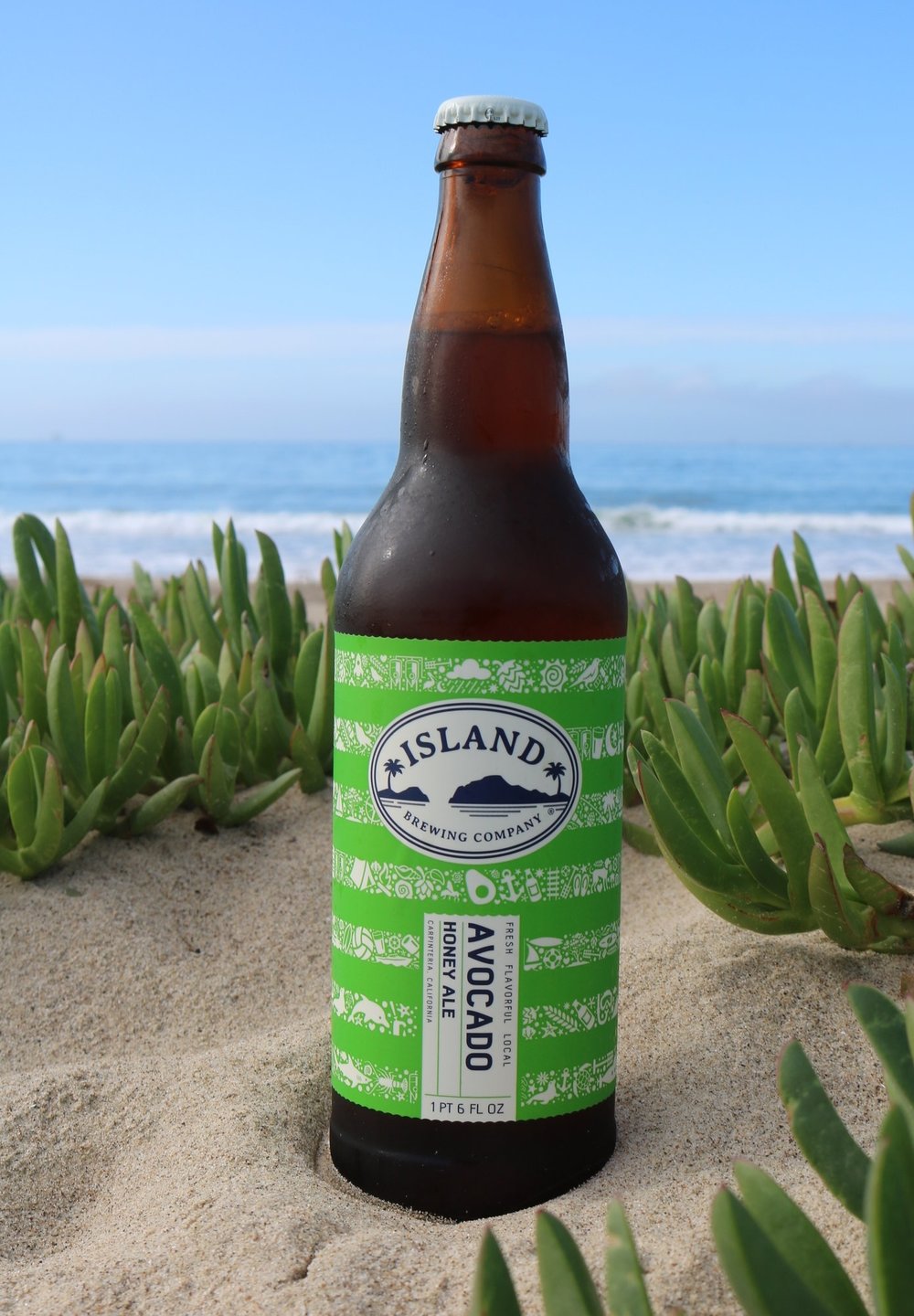 ABV: 5.3%
Brewed By: Island Brewing Company
Another weird flavored beer is "Avocado Honey Ale". The beer is made using avocado honey, which grants a distinct flavor profile to the drink.
The beer has a light golden haze appearance with an ivory frothy head. Moving to its aroma, the beer shares a biscuity and nutty aroma with hints of sweetness reminiscent of wildflowers. All these make the drink a sound option to check on.
Additionally, it has a super smooth and silky texture that further makes the drink mouthful and appetizing. 
6. Lugene Chocolate Milk Stout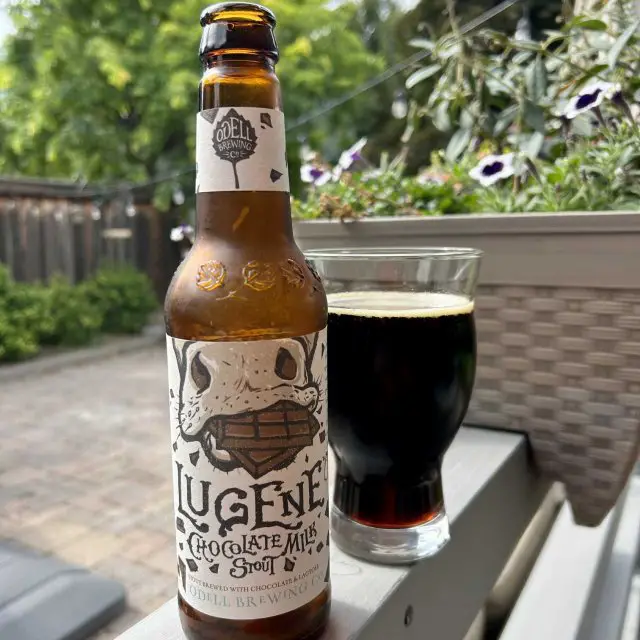 ABV: 8.5%
Brewed By: O'Dell Brewing Company
For those who are chocolate lovers, Lugene Chocolate Milk Stout would not be a weird drink but a dream coming true. 
This Milk Stout is made using milk, chocolate, and sugar as the unique ingredients, to which dark and roasted malts, along with American hops and barley, are added to give an earthy tone.
The final drink comes out to be very crisp and clean, with an aroma of pleasant roasted grains.
7. Coconut Curry Hefeweizen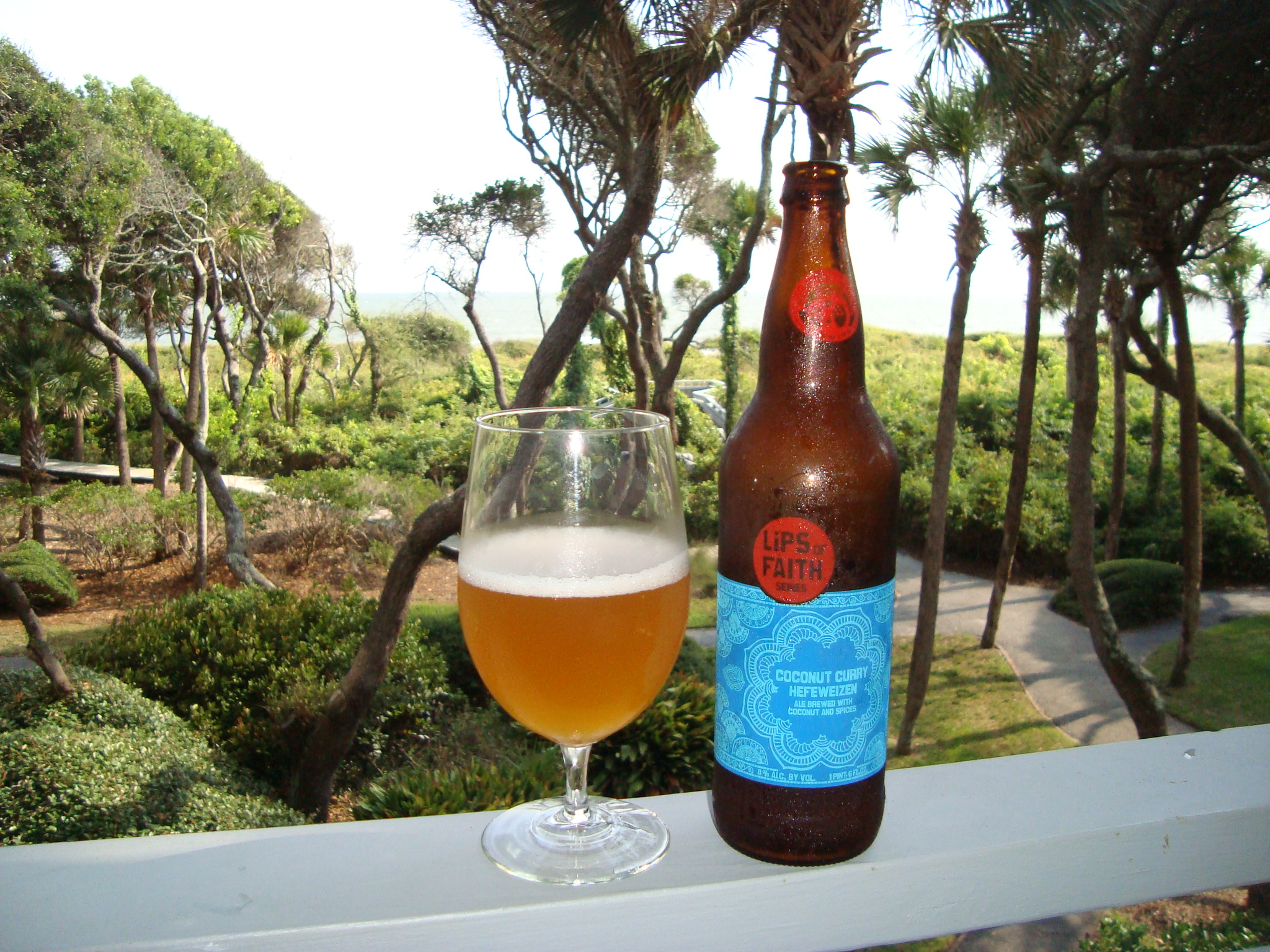 ABV: 8%
Brewed By: New Belgium Brewery
Coconut Curry Hefeweizen is a spicy beer made by New Belgium Brewery that was made as a part of an experimental series and turned out to be really good.
The unique ingredients of the drink are
Fenugreek 
Kaffir Lime Leaves
Cinnamon 
cayenne pepper
As a result, the drink gets spicy, earthy undertones with the aroma of Thai curry leaves, along with some fruity notes of pineapple, ripe bananas, and bubbles.
Moving on to the appearance, the drink has a golden hue with a thin white frothy head.
8. Magic Dips Chocolate Dipped Strawberry Ice Cream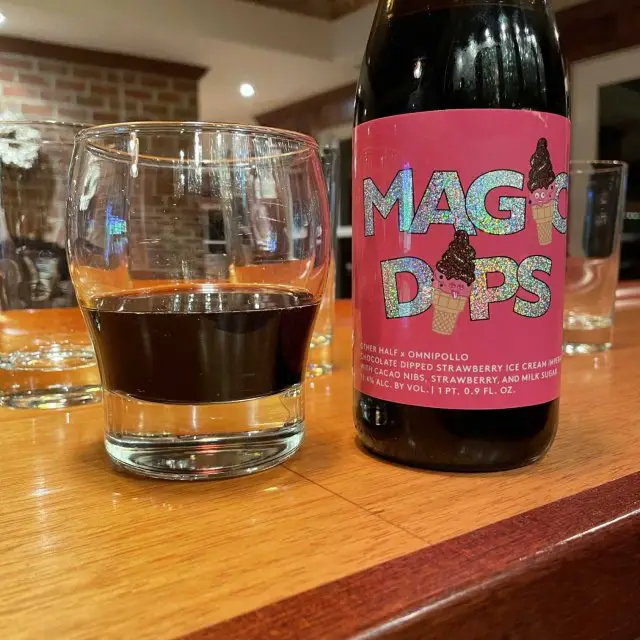 ABV: 15.4%
Brewed By: Other Half Brewing Co.
Magic Dips Chocolate Dipped Strawberry Ice Cream is a thick imperial stout with a creamy texture. It is made using cacao nibs, strawberries, milk sugar, and some base liquor that gives a mouthful taste to the drink.
Moving to the taste profile, the drink tastes like dried strawberries and vanilla mixture. 
So, if you are a sweet milkshake lover, definitely this beer is made for you. 
9. Spicy Nachos
ABV: 5.5% ABV
Brewed By: Evil Twin Brewing
Spicy Nachos by Evil Twin Brewing is yet another weird beer flavor to count on. The brand probably made it by using Spicy jalapeño. 
It was a limited edition that people claim was nothing less than spicy nachos in liquid form. The first sip feels spicy and hot on the tongue but with some hints of mango.
However, with every next sip, the jalapeño flavor and spiciness start to dominate.
10. Oyster Stout
ABV: 5.2% 
Brewed By: Porterhouse
If you are not a vegetarian, another weird beer to try this season is Oyster Stout by Porterhouse. It is a 5.2% Stout which is made using lots of oysters. 
Reviewers claim the drink shares a dark chocolate taste with a coffee beans aroma. Additionally, there is a subtle taste of the Irish Sea. Moving to the appearance, Oyster Stout has a pitch-black hue that captures everyone's attention. 
11. Fiery Crunchy Cheesie Bois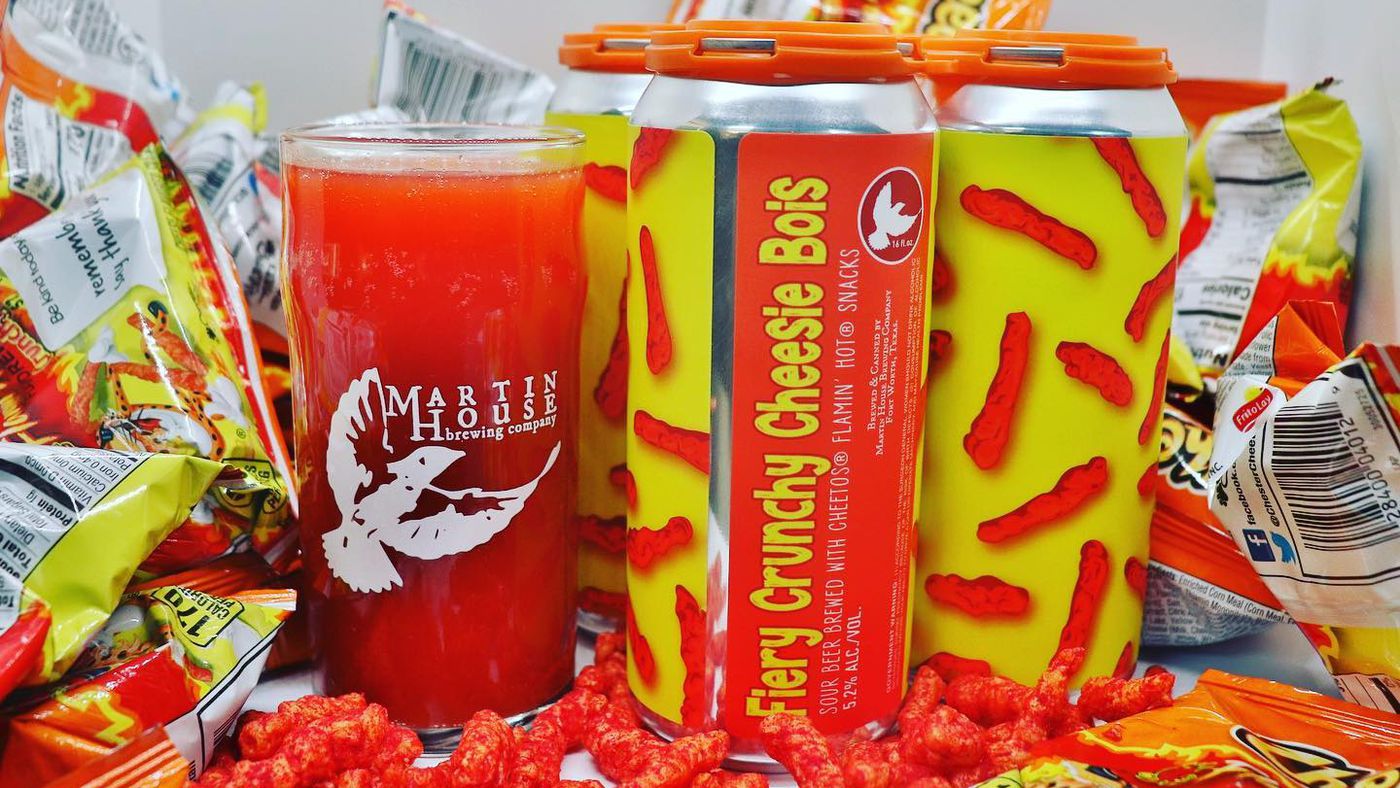 Brewed By: Martin House Brewing
Do you love eating Flamin' Hot Cheeto? Surely, everyone does. Well, Fiery Crunchy Cheesie Bois is no exception to it. Reviewers claim that the drink tastes just like drinking the Flamin' Hot Cheeto in liquid form. 
It's a spicy, hot, and fiery drink to try. 
However, the brewing brand has not revealed the exact composition and ingredients to date.
Moving to the appearance, the drink has a hot reddish-orange color, whose every sip exhibits spiciness. 
12. Fudgie The Beer
ABV: 6%
Brewed By: Captain Lawrence Brewing Co. and Carvel® Ice Cream
Fudgie The Beer is a chocolaty beer that seems more like drinking the chocolate fudge cake rather than a beer.
The special drink is made using the following:
Chocolate Crunchies
Sugar
Milk
Ice cream
Fudge
As a result, the beer gets fresh, velvety textured with cocoa and roasted crunchies aroma. Indeed, for people who love chocolate and cream, this Fudgie The Beer is no less than a treat to enjoy.
13. Roasted Jalapeño Blueberry Porter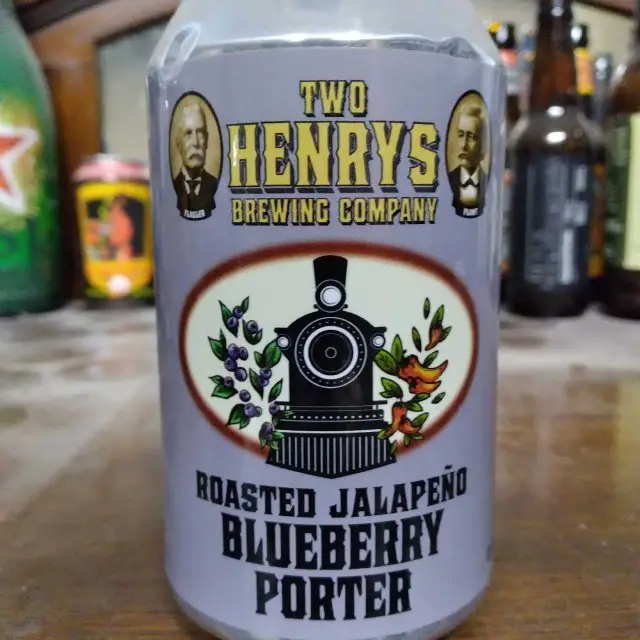 ABV: 5.5%
Brewed By: Two Henrys Brewing Company 
And here comes another weird-flavored beer. Roasted Jalapeño Blueberry Porter is made using blueberry, whose puree is made, along with some roasted Jalapeño. The two ingredients harmonize and balance out each other's flavor as well as that of a light brown porter.
Additionally, various spices and peppers are added to the drink to grant the drink some fruity and malt aromas. 
Moving to the texture, Roasted Jalapeño Blueberry Porter has a light creamy texture with robust carbonation. And yes, it has 5.5% alcoholic content too.
The drink has a blueberry-rich flavor profile with a slight kick of jalapeño spiciness. 
14. Snake Venom Beer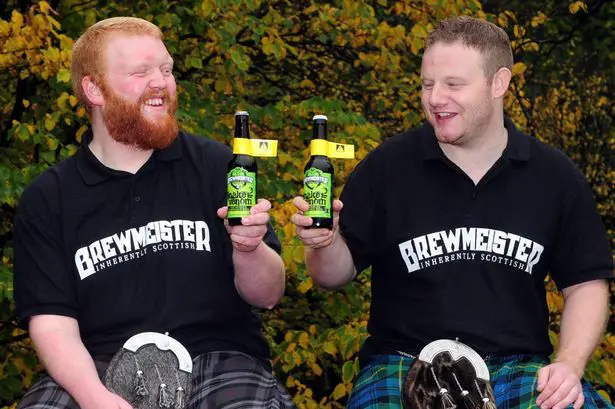 ABV: 67.5%
Brewed By: Brewmeister
Snake Venom Beer by Brewmeister is not only a weird flavored drink but the strongest beer in the world with up to 67.5% alcoholic content. 
Though it doesn't have Snake Venom in it, the taste is no less. It has a fiery taste, and every sip gives a different flavor. Sometimes, it seems to have caramel, bubblegum, and fruity aroma; sometimes, it tastes earthy and nutty.
However, since the beer has a high alcohol content, it is not made for faint-hearted people. 
Additionally, you need to keep a count of shots, as if consumed in large amounts, it can cause you to blackout.
15. Fire in the Ham
ABV: 5.4%
Brewed By: Jack's Abby
Fire in the Ham is an unfiltered, extremely smoky lager beer that ingrains the flavors and hints of soft malt, hop, bacon, smoked ham, and campfires.
As a result, the drink gets a distinct flavor profile that is more or less neutral with mild bitterness and a bready malt taste.
In short, it is a complex beer with lots of flavors and kicks. So, why not try it and find which flavor you find to dominate the most?
16. Peach Grand Cru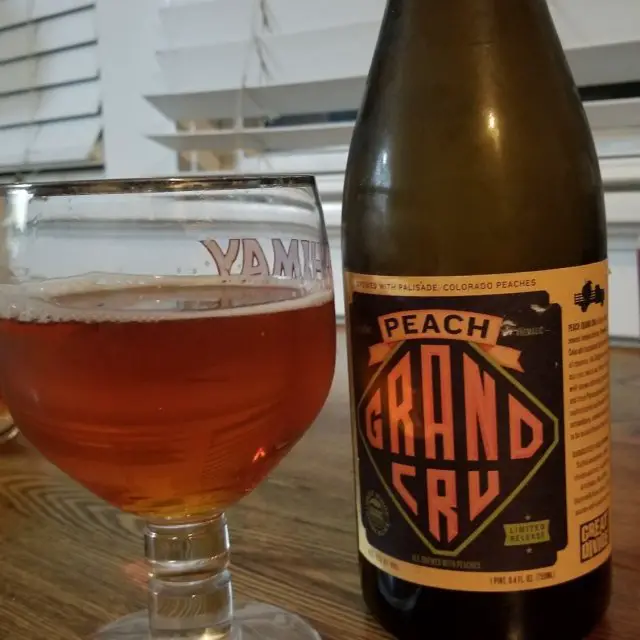 ABV: 12%
Brewed By: Great Divide Brewing Company
Think about adding peach chunks to your beer. Seems weird? But the Great Divide Brewing is already doing it. 
They have made Peach Grand Cru that infuses the fruity and sweet-filled notes of peach with the bitterness of the beer. As a result, the beer gets a peculiar and intriguing taste to enjoy.
And yes, the taste is quite different from that of traditional beers. 
Moving to color, it features an orange hue with a white foamy head.
17. Mint Chocolate Stout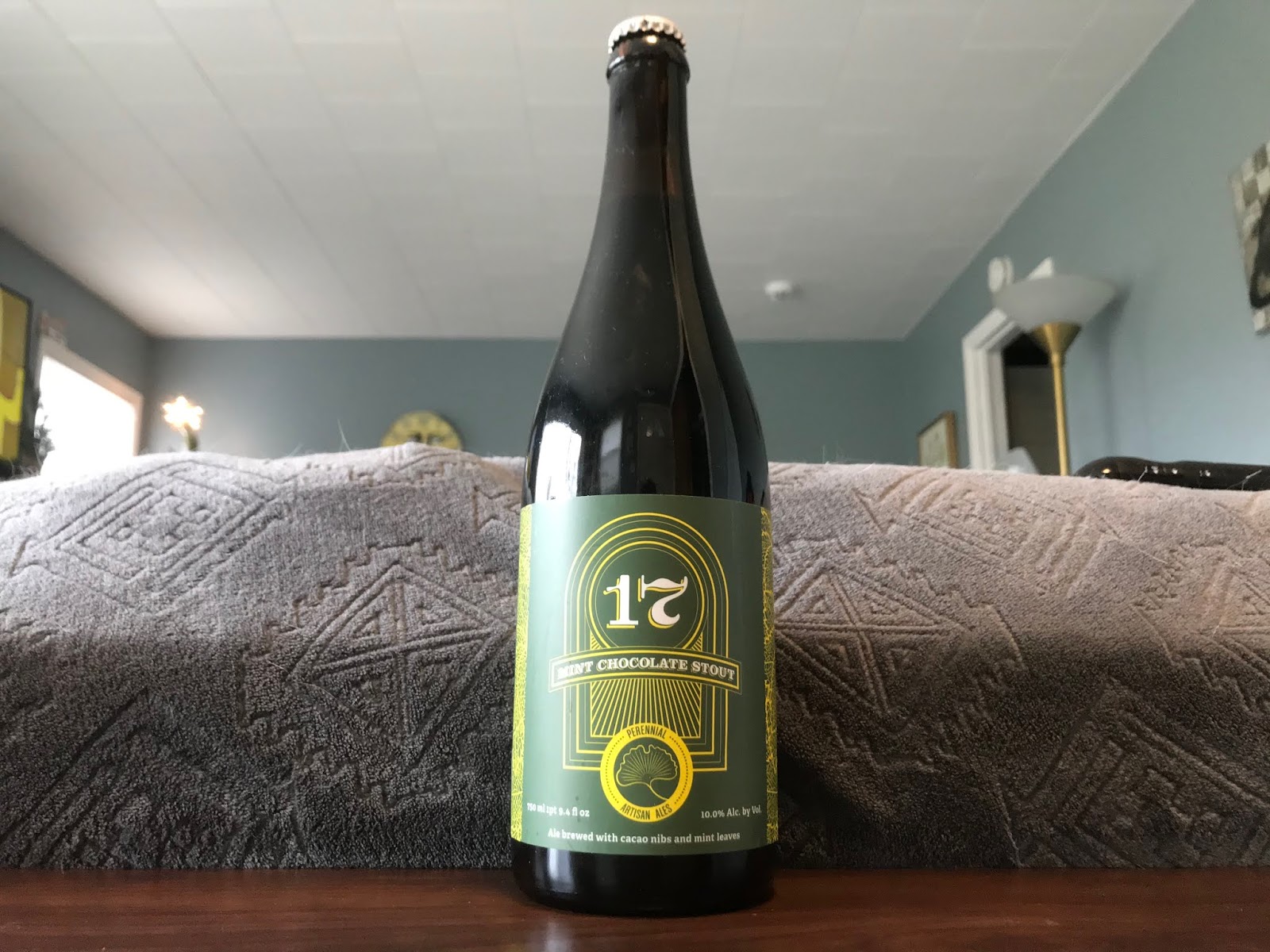 ABV: 10%
Brewed By: Perennial Artisan Ales 
It is an imperial stout which is brewed using the following ingredients:
Cacao nibs
Chocolate malts
Fresh mint
Chocolate, when combined with fresh mint, gives the drink a very weird, mellow flavor with hints of hop and barley.
18. Peanut Butter Cup Coffee Porter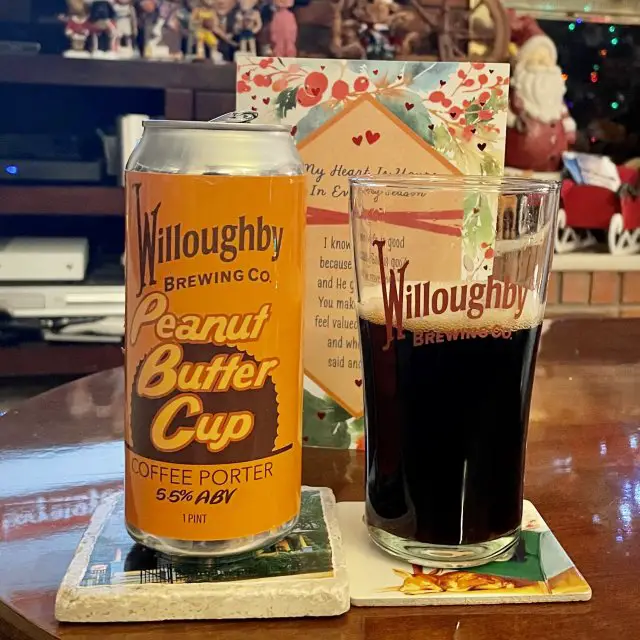 ABV: 5.5%
Brewed By: Willoughby Brewing Company
Have you ever thought of combining coffee, chocolate, peanut butter, and beer? No? Well, Peanut Butter Cup Coffee Porter got it for you. The drink involves brewing a robust Porter, followed by the addition of roasted coffee beans, melted chocolate, and peanut butter. 
Consequently, you get a delightful yet strong beer to blow your mind.
19. Alba Scots Pine Ale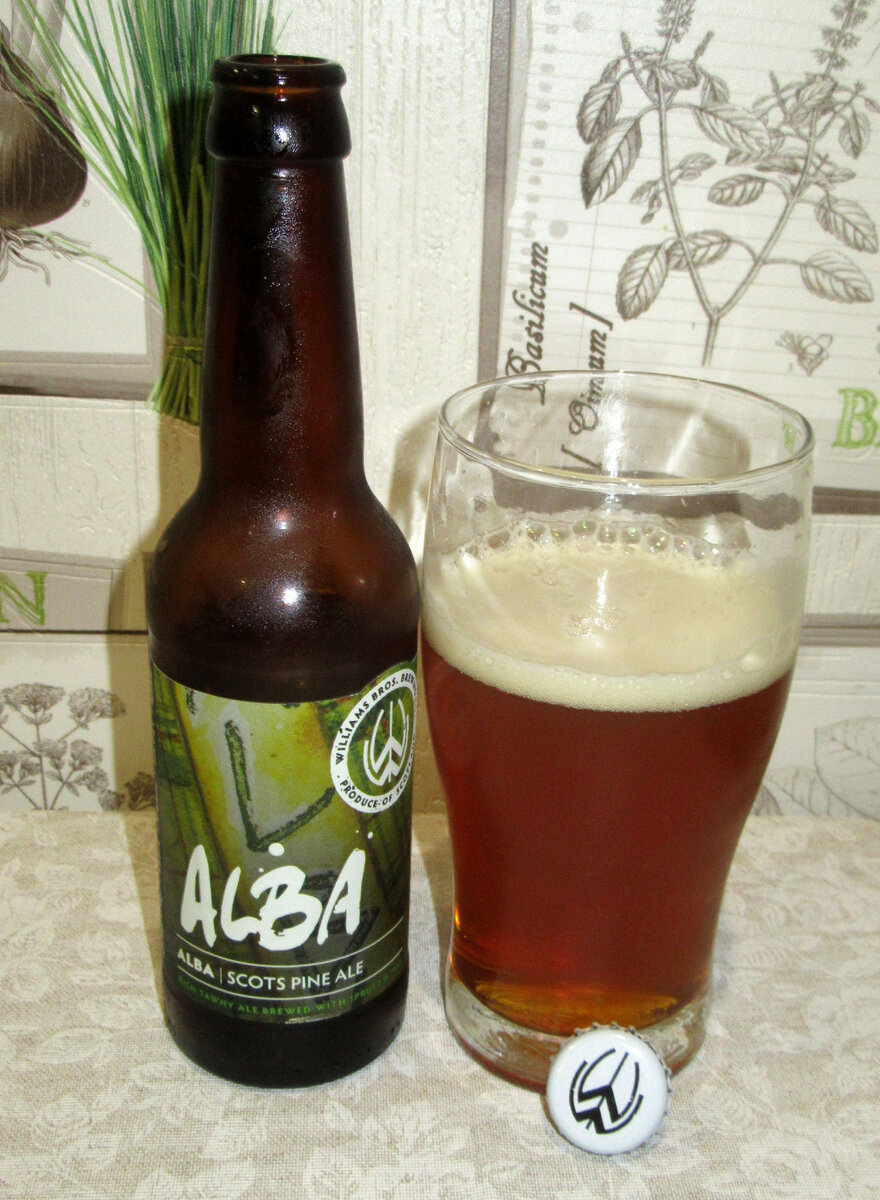 ABV: 7.5%
Brewed By: Williams Bros. Brewing Company 
Alba Scots Pine Ale is more of a cute Brewed beer. It is a tripel-style ale containing pine trees, pure malted barley, and firewood and is made using a traditional Highland recipe.
As a result, you get a dry yet warm Ale with distinct caramel and malt flavors.
20. Pizza Beer
ABV: 4.7%
Brewed By: Mama Mia! Pizza Beer 
And here comes the last beer we found to have a weird taste compared to traditional ones, The Pizza Beer. It's a single beer that offers the unique taste and crispness of beer and the mouthful flavor of pizza.
And with this, the article concludes.
Final Verdict 
So, these were a few of the most weird flavored beers manufactured worldwide. These beers infuse unique things like Oyster shells, pizza, chocolate, avocado, etc., into the beer in their experiment to come up with some new flavors. Of these, some, like Fudge The Beer, turn out to be amazing in taste, while others, like rocky mountain oyster stout, taste bizarre.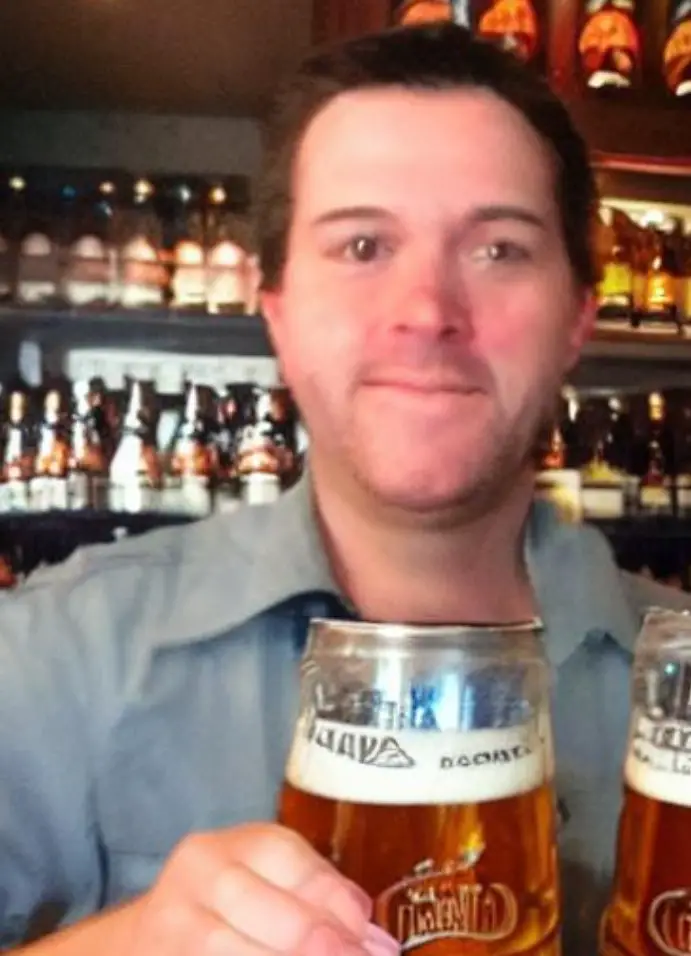 I am a passionate beer connoisseur with a deep appreciation for the art and science of brewing. With years of experience tasting and evaluating various beers, I love to share my opinions and insights with others and I am always eager to engage in lively discussions about my favorite beverage.