Looking for alcohol to mix with lemonade? Well, here's our collection of the best ones. These go really well with lemonade. Dig in!
These are our alcohol and lemonade recipes. Feel free to use and share them. We find these good for nice summer brunches with family and friends. Plus, since lemonade is really hydrating and comes with plenty of vitamins — We highly recommend this refreshing all-day drink!
But wait! How did we come up with this list? Well, aside from our tests and careful evaluations, we went to our peers and contacts. Many of them are moderate to veteran alcohol lovers and bartenders, as well as lemon growers and medical specialists — And here's the result of our concerted effort:
Top 6 Best Types of Alcohol That Go with Lemonade
1. Limoncello 
What is Limoncello? It's a type of lemon-tasting liqueur. The origin is Italy. If you're a lemonade fan, then this drink might be right up your alley, as it gives a double dose of lemon tartness. We pair up lemonade with this zesty liqueur and sip it at parties, family gatherings, and at home. 
Pros
Brings out a delicious lemon flavor in the drink itself
Provides a healthy dose of vitamin C
Cons
Limoncello is quite expensive
Hard to find outside Italy or even across Europe
2. Vodka
It's easy to make a spiked version of the plain family-friendly lemonade by adding a splash of vodka. You just need some vodka and lemonade. But you can also add a few sprigs of mint leaves for that extra color, and to make it twice as refreshing. Vodka is essentially colorless and flavorless, so it doesn't affect the color and taste of the lemonade too much. 
Pros
Best enjoyed on warm lazy afternoons
Simple and easy to make 
Vodka gives your drink a bit of a kick 
Cons
Excessive vodka consumption can lead to a stroke, among other health risks
3. Sangria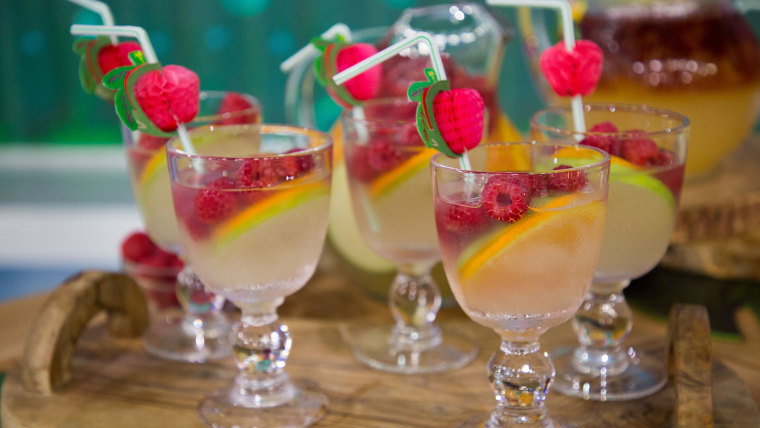 We like this mix at barbecue parties, happy hour with friends, or game nights. Compared to other sangrias, this version — Which brings together lemonade, white wine, and a dash of sugar — Doesn't have to sit for several hours for the flavors to seep in. Any type of sangria is fine, but it's recommended to go for inexpensive ones instead, as they pretty much taste just the same as high-priced ones. 
Pros
Feel free to use sangria for other citrus fruits, such as oranges 
Cons
Only lasts for several days before the drink starts going stale
4. Gin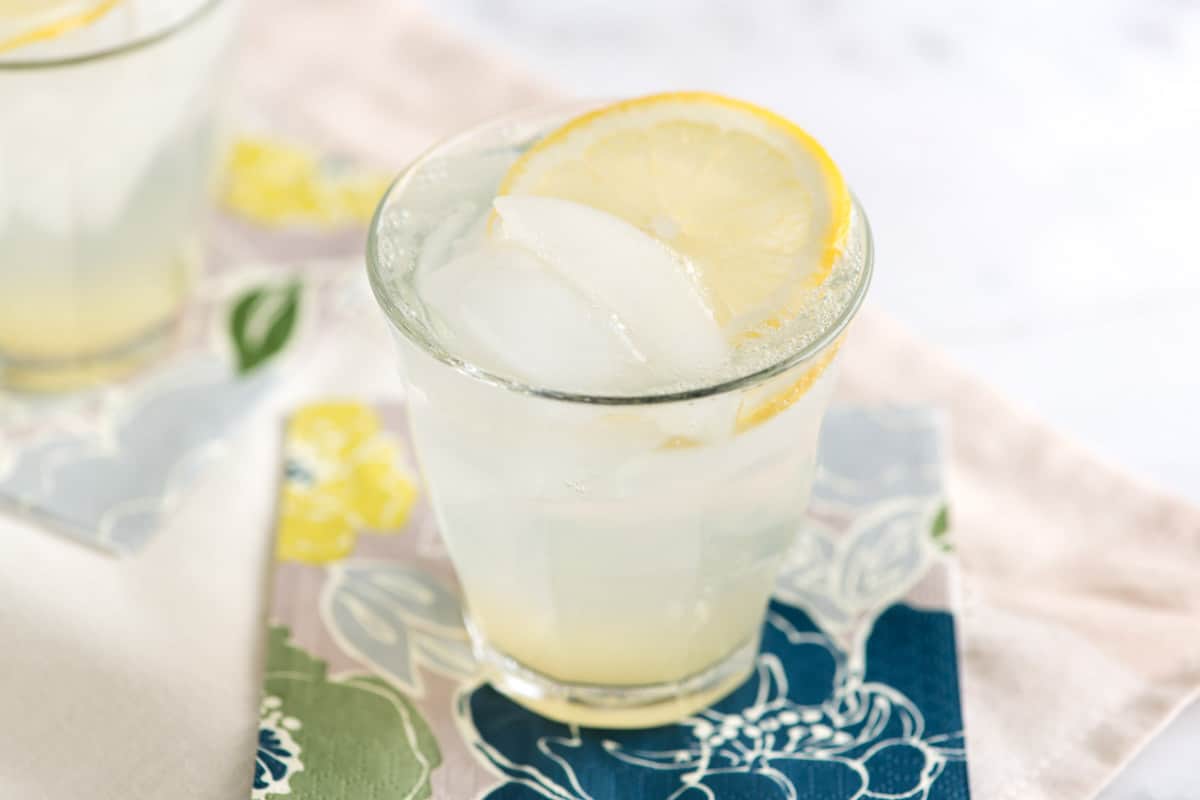 Gin has a floral, herbal scent. This makes it an excellent pairing with lemonade. Add a few mint leaves to give your mix that fresh, minty flavor. Or add a bit of elderflower liqueur for a sweet finish. 
Pros
Known to improve skin health
Prevents the onset of diabetes 
Has anti-inflammatory properties 
Cons
Excessive consumption is known to lead to health risks like liver damage 
5. Bourbon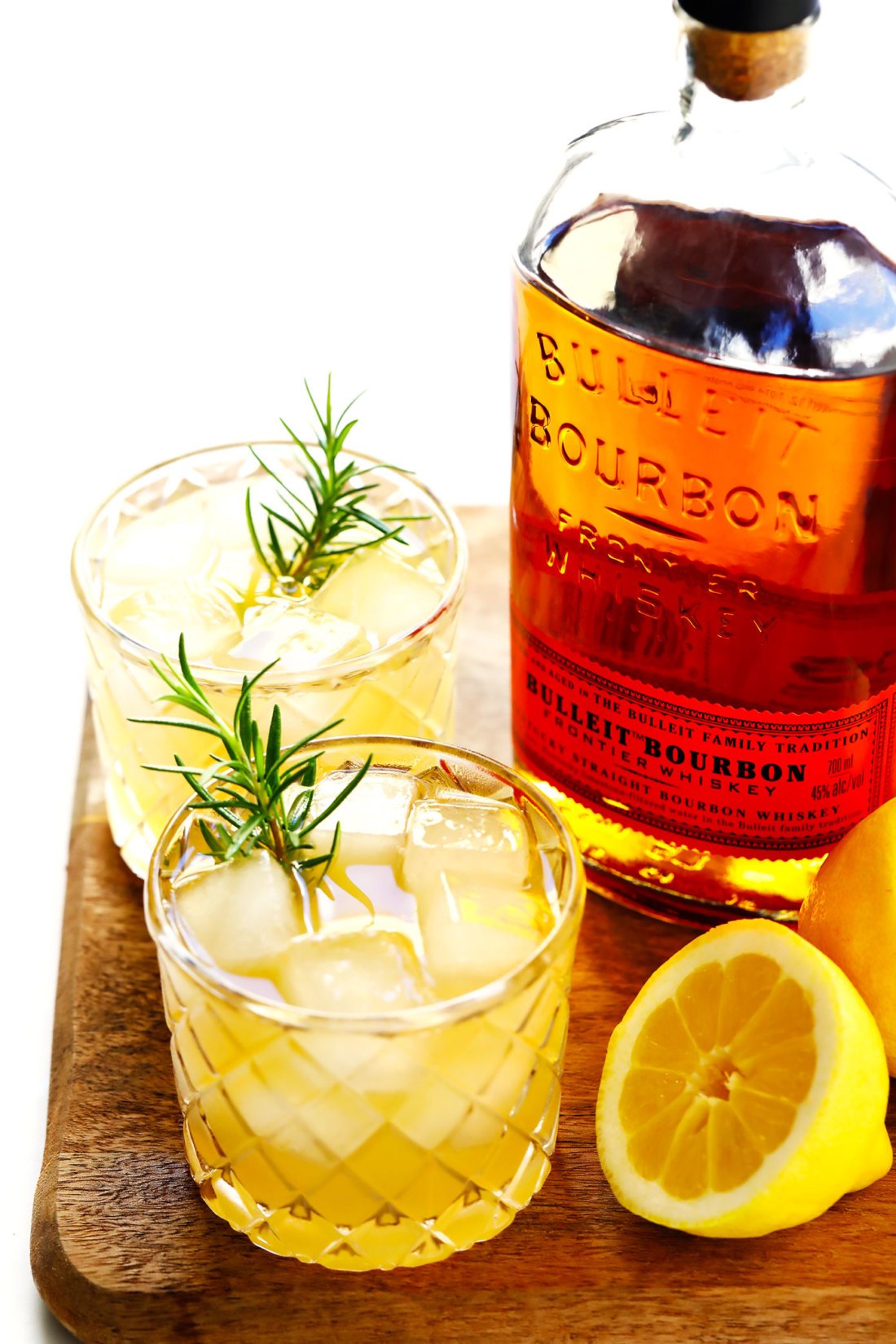 This combination of bourbon and lemonade is best served frozen, or at least with plenty of crushed ice, like a slushie. You can make this drink in several batches and serve it to your friends at a gathering. The lemonade in this recipe is both sweet and tart and complements the caramelly notes of the bourbon very nicely. A great tip would be to top this drink off with tonic water for that extra fizz. 
Pros
Aside from those caramel notes, bourbon also gives this drink a spicy finish 
Cons
One of the known long-term effects of excessive bourbon consumption is cognitive decline
6. Tequila 
You can combine tequila with lemonade. This is a version of the classic margarita cocktail. There's also the option to add other ingredients, like watermelon cubes or some Triple Sec (a type of liqueur in France). Well, this isn't too strong. But for more kick, just add more tequila.
Pros
Helps you lose weight
Can combat diabetes
Cons
Excessive consumption of tequila is known to worsen existing skin dryness
FAQs About Lemonade & Alcohol
Is Drinking Lemonade Healthy?
Lemonade is an interesting alternative to a morning cup of coffee. It's known as a refreshing caffeine-free drink with a mild wakefulness-alertness kick. The amount of vitamin C found in lemonade is also excellent in keeping your body nourished and hydrated throughout the day. Another advantage of supplying your body with vitamin C is that it keeps your skin and hair looking amazing, giving you a healthy glow. 
Is Lemonade Good for Your Teeth?
This is one of the downsides of too much lemonade consumption — Since it is an acidic drink, it can gradually erode your teeth and cause cavities. All of the acids and sugars found in lemonade can stick to your teeth and allow bacteria to grow, especially if you don't maintain good oral hygiene. Another negative effect of drinking lemonade is that it can lead to tooth sensitivity because all the acid in the beverage strips the minerals from your teeth. 
Wrapping up Our Deep Dive into Lemonade & Alcohol
A good way to enjoy the taste of lemonade is to leave the sugar out and enjoy its all-natural tartness. But if the sourness is too overwhelming, then the only thing you have to do is to dilute it with more water — Or just drink lemon and mint-infused water instead, which also comes with the same amount of benefits as lemonade. Lemonade is also a more sustainable, healthier option compared to lemon-lime carbonated sodas like Sprite or 7-Up. 
Of all the six options in our collection of the best alcohol for lemonade, Limoncello is ideal for pairing with this drink. And If you can afford it, then purchasing a bottle of Limoncello is worth every penny, as it enhances the tartness of your drink. Limoncello is also good to add to other drinks, especially if you want to add a bit of a citrusy note to any beverage.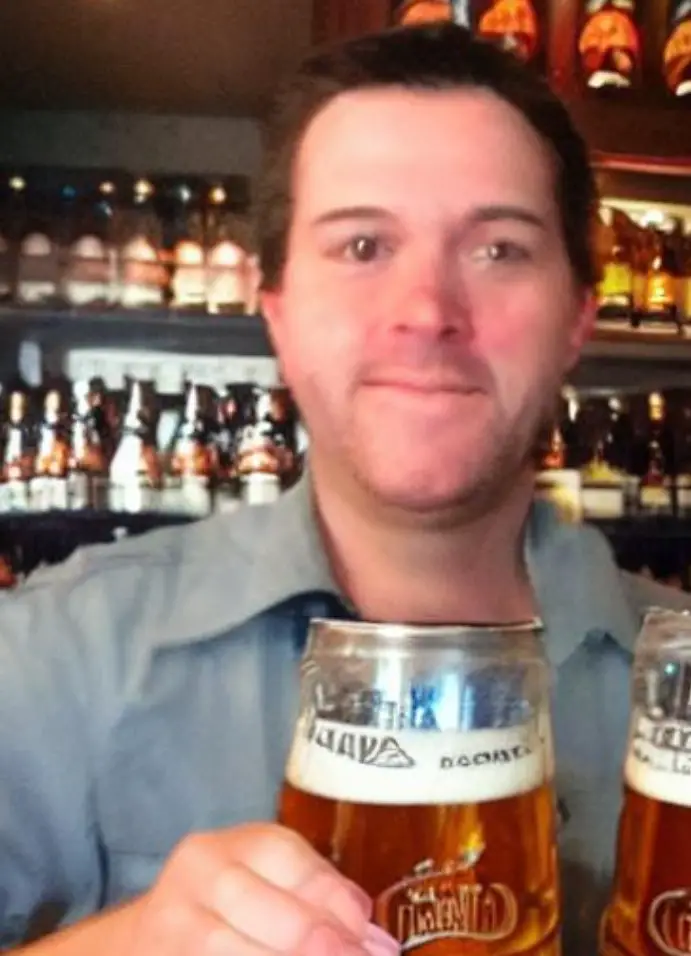 I am a passionate beer connoisseur with a deep appreciation for the art and science of brewing. With years of experience tasting and evaluating various beers, I love to share my opinions and insights with others and I am always eager to engage in lively discussions about my favorite beverage.