How many of you love drinking beer while enjoying a cricket match? Closely associated with sports, Australia has a vast history of crafting beer. Plenty of microbreweries and pubs are there to entertain drinkers, especially Generation Z. With hundreds of new flavors and styles, Australian beers have their fair share of generating sales at the national and global levels. 
So, are you looking for something flavorful to ignite your taste buds? Check out these best-selling beers from Australia, and choose your favorite one to taste.
1. Balter XPA
Queensland is a place in Australia where you can find the best-quality beers at a reasonable price. For beer enthusiasts, XPA from Balter Brewing Company would not be less than a source of happiness. It is getting immense recognition across the country. The beer contains 5% ABV, which is a fair amount.
When poured into a Tulip glass, XPA looks more like orange juice with a catchy hazy golden-yellow shade. Although the thin bubbly head immediately dissipates, it still looks lovely. Talking about the scent, it gives hints of fruits, such as orange, mango, pineapple, and passion fruit. The taste is a tad more than the nose, with a perfect tang at the last sip to even the overly sweet flavor. 
XPA is a highly drinkable beer with a medium body and decent carbonation. Discover its distinctively unique taste by yourself.
2. Victoria Bitter (VB)
A perfect thirst quencher for Aussies, Victoria Bitter is a highly consumed beer brand of Carlton and United Breweries. This beer contains 4.9% alcohol content. It pours a honey-gold shade into a pint glass with a head of foam that appears on the top to enhance its looks.
Victoria Bitter has an aroma of Classic Aussie Adjunct Lager with a pale malty taste and hints of earthy and grassy hops. Believe it or not, VB is the best combination of sweet and sour flavors with a highly carbonated medium body and a dry bitter finish.
3. XXXX Gold
Castlemaine Perkins features XXXX Gold beer by using gold cluster hops to give this beer a perfect Gold appearance. The finest quality ingredients, including company-owned yeast and Australian malted barley, made it easy to run the process smoothly. It has a significantly low 3.5% ABV.
It pours a signature golden hue with a foamy head. The aroma and taste offer cereal grains with hints of malty sweetness and hoppy bitterness. Moreover, it is a highly carbonated beer in a medium body, making it the right choice in humidity and hot days.
4. Original Pale Ale By Coopers
The finest cloudy appearance of an English Pale Ale with an ABV of 4.5% is a phenomenal product of Coopers Brewery, a renowned Aussie brewing company. Its deep gold shade with a generous amount of frothy white head sweetens its appearance.
With no preservatives, Original Pale Ale has a fruity smell with hints of yeast and earthy hops with the same flavors. The mouthfeel is smooth with mild bitterness on the finish.
5. Hahn Premium Light
A Light Lager with a low ABV of 2.7%, Hahn Premium Light is a beer produced by Hahn Brewing Co. Its straw color looks appealing, but its thick, soapy head disappears quickly and converts it into a dense, creamy texture. The aroma has malts and grains, with a blend of citrus/lemon flavor, while the taste has hints of grassy grain with a dry aftertaste. Hahn Premium Light is light in body with heavy carbonation, making it the right option to beat the heat in summer.
6. Carlton Draught 
Carlton Draught by Carlton and United Breweries is an American Adjunct Lager with a low 4.6% alcohol by volume. It provides a true draught character because of the highest quality malt, sugar, and hoppy flavor.
The translucent gold-colored beer makes a thick head of lather. Its aroma and taste are good enough to give a crisp mouthfeel. However, the chemical/metallic aftertaste can be a turn-off for many beer lovers.
7. New By Tooheys 
One of the mainstream Ausses Adjunct Lager beers, New by Tooheys Brewing, takes pride in giving the best-quality drink with a moderate amount of alcohol content, which is 4.6%. The deep straw color looks inviting, but the head fades away quickly without leaving much lacing.
As for the smell, its aroma is sweet malt and bitter hops extracted from the Pride of Ringwoods Hops. The taste has grains and biscuit malts with a sour flavor in the background. With high carbonation, New By Tooheys is a decent beer with a clean, smooth finish.
8. Black Hops G.O.A.T. Hazy IPA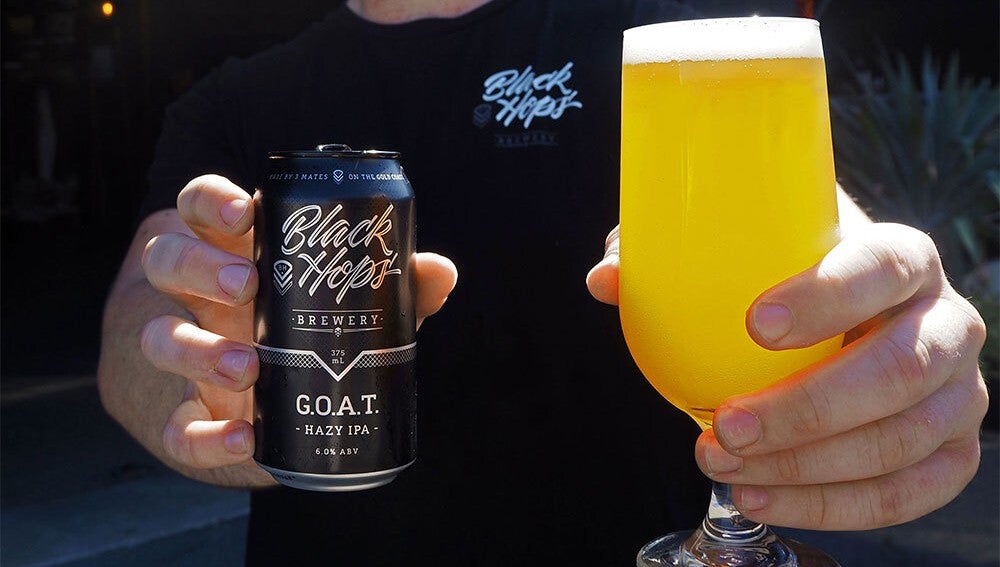 The hazy IPA from Black Hops Brewery, G.O.A.T., is a New England IPA brewed in 2018 for AIBA Awards. The name of this delightful beer has a unique story. Due to higher expectations attached to its production, the brand named it G.O.A.T., meaning the 'Greatest of All Time.' It won the Gold Medal at the event.
Bursting with juicy fruitiness, probably the best variant of the Black Hops brand pours a murky amber appearance with a thick off-white frothy head. The smell and flavors have tropical fruits, such as guava, pineapple, and papaya, with hints of hoppy bitterness. With a slightly high carbonation, this New English IPA has become famous among heavy drinkers.
9. Pure Blonde (CUB)
A Pure Blonde is a green-bottled Light Lager with an alcohol content of 4.6%. It develops a foamy white head that dissipates after a few minutes. This low-carb beer from Carlton and United Breweries has hints of grains and malts. Pure Blonde is a light-bodied beer with a moderate level of carbonation and a sweet finish with little to no trace of hoppy bitterness.
10. Great Northern Brewing Super Crisp Lager
A transparent golden-colored beer from Carlton and United Breweries, Great Northern Brewing Super Crisp Lager contains a low ABV of 4.2%. It creates a thick fizzy white head, while the nose gives hints of grain, cardboard, and lemon with a similar taste on the palate. It is a light-bodied alcoholic drink with a moderate amount of carbonation. This Super Crisp Lager may appeal to casual drinkers, not heavy enthusiasts. So, consider it a decent everyday beer.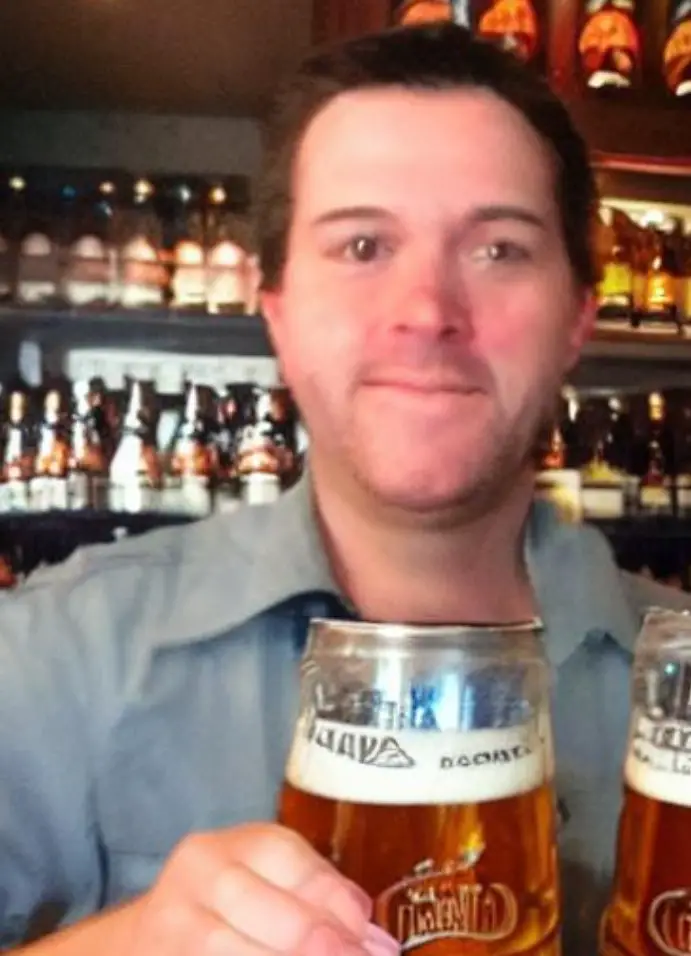 I am a passionate beer connoisseur with a deep appreciation for the art and science of brewing. With years of experience tasting and evaluating various beers, I love to share my opinions and insights with others and I am always eager to engage in lively discussions about my favorite beverage.