This is an apt article for anyone who enjoys a fun party. Today, we will go on a journey of discovering some fantastic products. These particular products are best suited for everyone wanting to be the life of the party! 
We will discover the best beer-drinking hats of all time; yes, you read that right. The ultimate wackiest, wildest, and most beautiful products will also make you want one for yourself. When you want to explore such an item, we want you to invest your money correctly and get to know the best products. 
With the reviews in tow, here are 4 of our best suggestions for the best beer-drinking accessory which may blow your ordinary hat off!
1. Beer & Soda Guzzler Helmets – Drinking Hats By EZ Drinker 
This is the best option for a beer and soda, a multi-use helmet that can hold two beverages simultaneously. It comes with an adjustable headband that can be catered to anyone's head size. This party helmet can fit anyone and instantly makes them the life of the party. 
It has the style of an ordinary baseball hat. Still, it's not that run-off-the-mill cap but a traditional American beer accessory. With two cup holders on each side and a straw long enough to be attached to both cans and still reaches the brim of the mouth. It costs 18$.
2. Fairly Odd Novelties Beer Soda Guzzler Helmet Drinking
This particular helmet is blue and is, again, shaped like a regular baseball cap but has unique attachments to each side. This hat is perfect for being super bowl gear, a party, or even a typical lazy day. It can be the ideal hat to wear while watching tv and enjoying snacks. Sometimes not having to hold the beer can be a blessing.
This fun and funny beer-guzzler helmet from somewhat odd novelties is also perfect for a night out with friends. The adjustable head straps make it a secure foundation to hold two beverages simultaneously. It can even make for a perfect gag gift that any friend would appreciate and even use. Either that or have it be a crowd-pleasing accessory at the next birthday office party or even a club. It is one to make everyone laugh while taking full advantage of it. It costs 20$.
3. BLACKSMITH Drinking Helmet
This is one item anyone would love to receive for their birthday just to be able to use for the coming Halloween. This headpiece is massive and, indeed, a statement piece. It's roomy and comes with foam, making it comfortable.
The Viking look of it can make it a fantastic party pleaser. The tough job is to assemble it. However, once put together correctly, it can hold the beers like nobody's business. The cup holders ensure the beer is secure and not moving around too much by being wobbly. 
This hat is the most interesting from the list because it has a unique design that sets it apart. It can elevate everyone's drinking experience from boring to fun. It can be anything from an icebreaker, a gag, a funny reference, and a costume that unites beer enthusiasts. This costs 30$
4. Forum Novelties St. Patrick's Day Drinking Helmet
This beer-drinking hat can be on the theme. It can be most taken advantage of on St Patrick's Day and can be used as a statement piece every year. Be sure to be prepared to be the life of the party every year on March 17th if you invest in this hat.
This double beer holding cap allows you to drink hands-free and makes every party a stress-free experience. After purchasing, there is little to worry about, but drink responsibly! This costs 20$
Final Thoughts
As a result, dear beer mates, the most fabulous beer-drinking cap is more than simply a fashion statement; it represents freedom, enjoyment, and camaraderie. It's a game-changer, a discussion starter, making you the center of attention at any gathering. Life is too short for warm beer and awkward handshakes, so grab your favorite hat, crack open a cold one, and enjoy yourself!
Frequently Asked Questions (FAQs) 
What is a beer-drinking hat, and how does it work?
A beer-drinking hat is an accessory that promotes you from a guest at a party to the life of one. It is a fun and functional hat that can be worn to support beer while you dance away at a party. It features cup holders on each side and a long straw that quickly reaches your mouth. It creates accessibility and a fun environment for anyone who enjoys their beer but wants to do it conveniently. 
Where can I buy the best beer-drinking hat?
You can find beer-drinking hats in various places. Checking online retailers should be the first step to scout the market significantly. It has gotten easy to browse multiple types of products to select the perfect option, so Amazon is always a go-to for that. 
Are beer-drinking hats one-size-fits-all?
Most beer hats come with straps and strings which you can loosen and tighten. This helps maintain the hat on your head perfectly so nothing spills. However, a quick look at the product description can always help to ensure what you are receiving. 
Is the beer-drinking hat suitable for all types of drinks?
There is a lot of versatility in beer-drinking hats. The molds on the sides to hold the drink are mostly can-shaped. This also helps load up your hat with any of your favorite sodas and other can-contained drinks. All of your favorite beverages can be enjoyed hands-free.
Are beer-drinking hats washable?
Yes, if you don't wash your beer-drinking hats, it results in a great deal of mold and can be an entire mess. So it is essential to wash your beer hat after every time you use it. However, be sure to do it under the instructions of the manufacturer. 
Can I use the beer-drinking hat for activities other than drinking beer?
The hats can be used for a party, even as an accessory to stand out from the crowd. It helps you go that party animal mode even if you are not mainly drinking beer.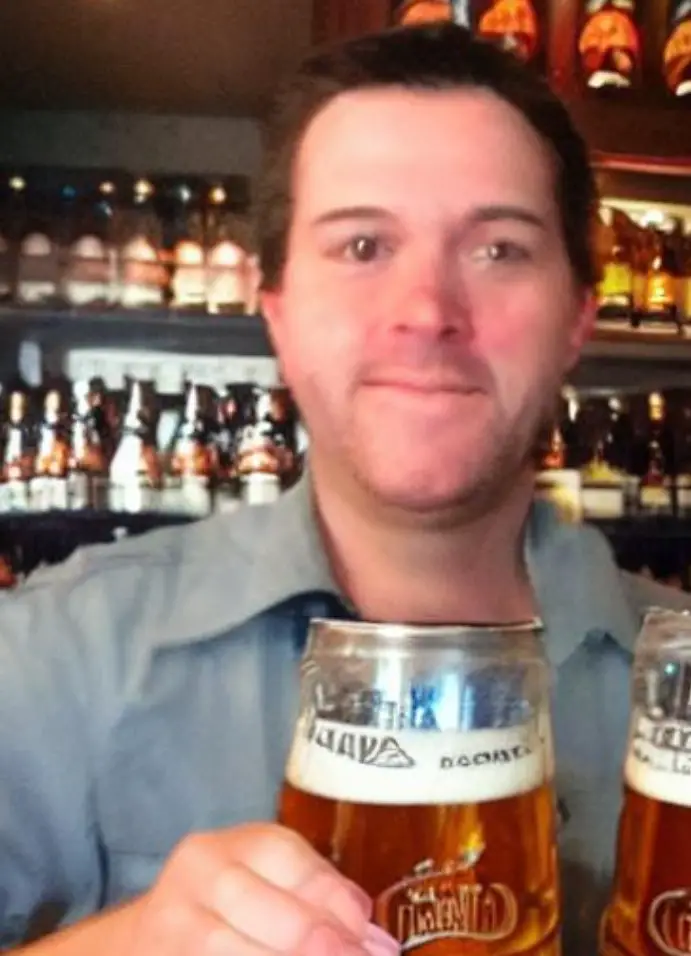 I am a passionate beer connoisseur with a deep appreciation for the art and science of brewing. With years of experience tasting and evaluating various beers, I love to share my opinions and insights with others and I am always eager to engage in lively discussions about my favorite beverage.