Belgium is home to the most remarkable beer brands and some of the best beer tours in the world, with a comprehensive collection of delicious liquors. Whether you want a light, refreshing Lager or a complex Quadrupel, Belgian beers will ignite your taste buds with distinct flavors, aromas, and styles. Especially if you are spending Christmas in Brussels, be sure to look up the locally run "The Beer Project" which comes out with seasonal Christmas beers each year.
So, if you ever visit Brussels and you are a beer lover, these are some of the best beers you'll sip during your visit. So, get ready to discover the wonderland of Belgian beers with these ten finest beer brands from Belgium.
1. Duvel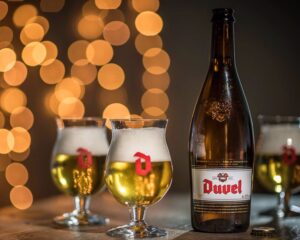 The best in Belgium, Duvel, is a complete package of flavorful characters. It is an iconic beer with a funky-looking attractive design and label. Consider it an absolute delight that pours a mesmerizing transparent golden color with a four-finger foamy head. The head retention is superb and also leaves generous lacing.
The freshly baked bread and Belgium yeast, with an herbal, spicy nose, make it an exciting drink. Its flavor is complex, so there is no chance for you to get bored while drinking it. The taste will remind you of coriander, clove, yeast, fruitiness, and honey-like flavor with a well-balanced hoppy bitterness, thanks to the high-quality hop varieties used in the beer.
Duvel offers a medium-bodied feel with lively carbonation, bringing the best flavors to entertain beer enthusiasts. 
2. Chimay Rouge (Red)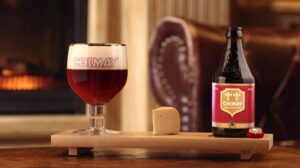 After Duvel, Chimay Rouge (Red) is probably the most beloved and consumed Dubbel beer brewed by Bières de Chimay in Belgium. It is a dark ale that has a strength of 7% ABV. The hazy amber-colored body enhances its appearance with a well-retained foamy white head that stays persistent till your last sip.
With a yeast-forward smell, the flavor offers toast and toffee with a touch of fruitiness. It is among the most delicious beers with perfectly-balanced hoppy and yeasty flavors. Chimay Red often feels like a hefty, full-bodied liquor with good carbonation.
So, sit back, relax, and grab a glass of Chimay Rouge to enjoy something different but delightful.
3. Hoegaarden
One of the top-quality witbiers in Belgium is Hoegaarden. It has a captivating scent and pleasant flavor. Its yellowish color looks slightly hazy with a thick white head of foam. The head retains well and leaves a generous amount of lacing behind.
The hazy yellow body looks perfect with a thick foamy white head that lasts long. It also leaves copious lacing behind. The aroma suggests orange zest, wheat, and coriander. It is more like a traditional Belgian witbier. Its taste reflects the scent. Moreover, the mouthfeel is medium-bodied with decent carbonation. Hoegaarden is a quaffable, refreshing beer to taste whenever you want.
4. Trappist Achel 8° Bruin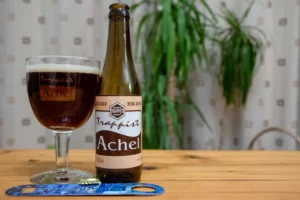 Only genuine beer connoisseurs can admire this absolute delight Trappist Achel 8° Bruin. It reflects the authentic flavors brewed by the top-notch German craftsman with the help of selected ingredients. The beer is Dubbel with a strength of 8% alcohol content. Its beautiful brown body with a long-lasting foamy head retains for ten minutes.
Trappist Achel is a product of Brouwerij der St. Benedictusabdij de Achelse that offers pleasant aromatic flavors of freshly baked bread, toffee, malts, raisins, plum, brown sugar, and apples with hints of chocolate and fruits. It offers a medium-bodied mouthfeel with good carbonation and a sweet aftertaste. Overall, it is a tasty liquor to taste with buddies.
5. Grimbergen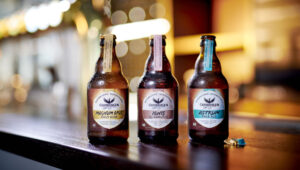 If you haven't tasted the Grimbergen beer from the leading Belgian brewing brand, Brouwerij Alken-Maes, add this tasty alcoholic beverage to your bucket list. 
Grimbergen is a Belgian Blonde Ale with 6.7% ABV. It pours a nice-looking amber color with a medium-sized white foamy head that quickly dissipates. The aroma is grainy and hoppy, while the taste is fruity with reasonably balanced bitter and sweet flavors for fruits, malts, and hops.
With a light to medium-bodied feel and medium carbonation, Grimbergen is a decent Belgian drink you can taste at least once in a lifetime.
6. Leffe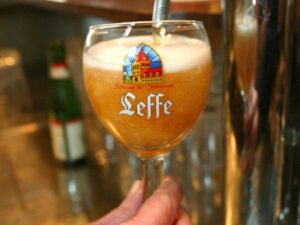 Leffe is an authentic beer produced with the finest quality ingredients. It is a Belgian Blonde Ale with a 6.6% alcohol content. The body is golden and transparent, while the head is fluffy with good retention.
The smell is of dried fruit, clove, vanilla, and spices, while its flavor is complex with moderate sweetness. It is a medium-bodied beer with high carbonation. Overall, it is a decent drink that goes well with any food.
7. St. Bernardus Wit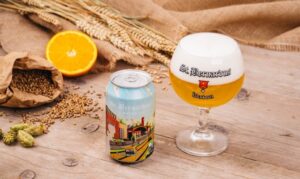 St. Bernardus Wit dates back to the 20th century, making it an unfiltered traditional wheat beer. The body is cloudy yellow with a well-retained head. 
It suggests a citrusy aroma with hints of yeast, coriander, and lemon, while the taste is delightful with creamy wheat flour flavor. The mouthfeel is creamy and smooth with a lingering hoppy finish. Overall, it is an outlandish liquor.
8. Stella Artois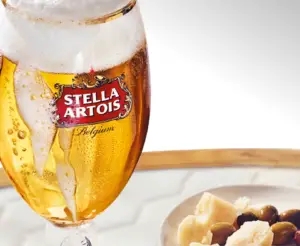 A big name in the beer industry, Stella Artois is a perfectly-balanced drink with tempting aromas and unforgettable flavors. It is Belgium's most consumed beverage with distinctively pleasant characteristics. The beer is a Euro Pale Lager with a standard 5% ABV. Its dark straw body, topped with a small white head, looks promising. The only drawback is its head retention is low.
Stella Artois offers a well-balanced combination of malty sweetness and hoppy bitterness. Plus, its mouthfeel is light with good carbonation. It finishes with a lingering taste. The beer pairs well with traditional Belgian dishes. 
9. La Chouffe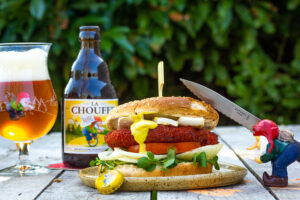 Who else loves to enjoy a Belgium Strong Pale Ale? 
If you are searching for one, this is your time to taste La Chouffe. The beer is a delicious masterpiece, perfect to quench your thirst in a hot heather. It pours a golden color with haziness. The fluffy white head has medium retention, enhancing the overall appearance of the beer.
Malt and semi-sweet fruity touch, mingled with herbal hops, are enough to provide pleasant aromatic flavors. Moreover, it is a medium-bodied drink with an exceptional feel and semi-sweet finish. You can blindly trust this beer brand to uplift casual gatherings and meetups. 
10. Saison Dupont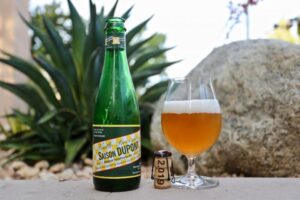 Saison Dupont is a classic Saison beer brewed by Brasserie Dupont in Belgium. The honey-golden body, topped with an inch-tall head, looks lovely. It contains 6.5% alcohol by volume.
The aromatic flavors of bready malt and grassy hops lead to a citrusy taste. This light-bodied beer finishes clean with moderate carbonation. Moreover, it can pair well with any food.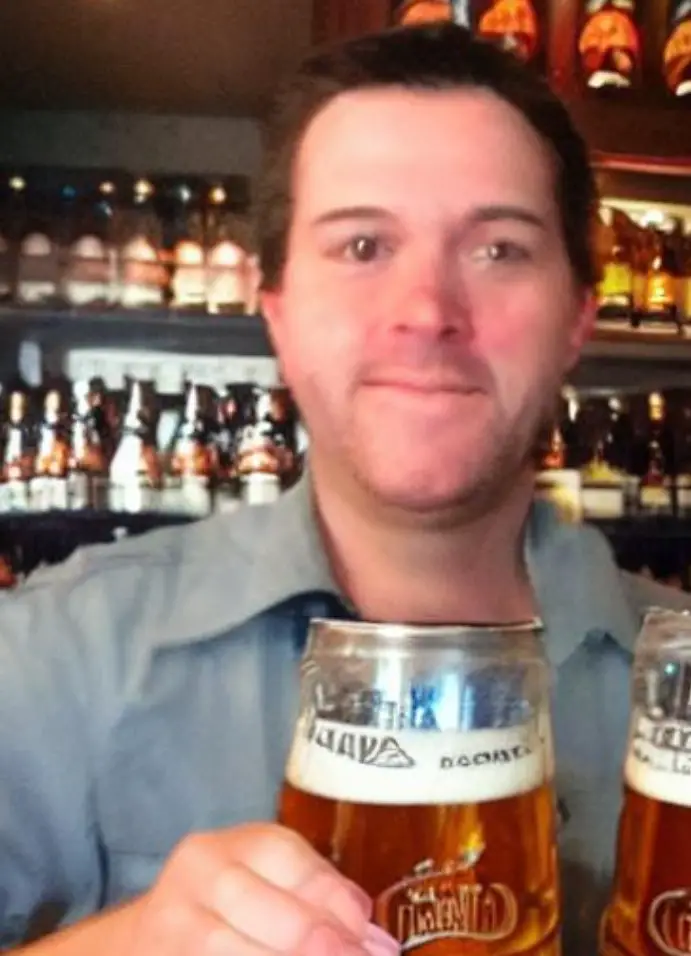 I am a passionate beer connoisseur with a deep appreciation for the art and science of brewing. With years of experience tasting and evaluating various beers, I love to share my opinions and insights with others and I am always eager to engage in lively discussions about my favorite beverage.