Drinking alcohol comes with a plethora of raging side effects on the human body, out of which, one is a nasty hangover. Usually, if drunk in moderation, there are fewer chances of waking up with unpleasant symptoms. However, for individuals who overdo it, there is no escape from a nasty morning hangover. 
A hangover is indeed the worst short-term effect of alcohol. That leaves the body drained of energy and lets you experience symptoms like severe headache, irritability, migraine, dizziness, nausea, and many others.
Are you tired of wasting your entire day because of experiencing a bad hangover? Then here comes a list of the best teas to help you combat the hangover symptoms. However, the ultimate cure is to cut off your alcohol consumption. 
Now, without any further ado, let's blow-by-blow unveil the curing teas.
Why Is Tea The Perfect Cure For Combating Hangover Symptoms?
Tea is considered the prime cure that addresses all the problems associated with hangovers. The reason lies in the following three facts:
It is hydrating in nature
Tea has anti-inflammatory effects
Its composition is rich in antioxidants 
And with it, tea solves the three problems that account for hangovers:
Dehydration 
Extreme oxidative stress 
 And along with it, other associated symptoms like headache, muscle ache, and dizziness are also reduced.
Best Tea For Hangover
Now that we are up with how and why tea is claimed to be the perfect combat against hangover symptoms let's dig through the different types of tea that work best for hangovers due to their specific properties and medicinal benefits. 
The list includes 
1. Ginger Tea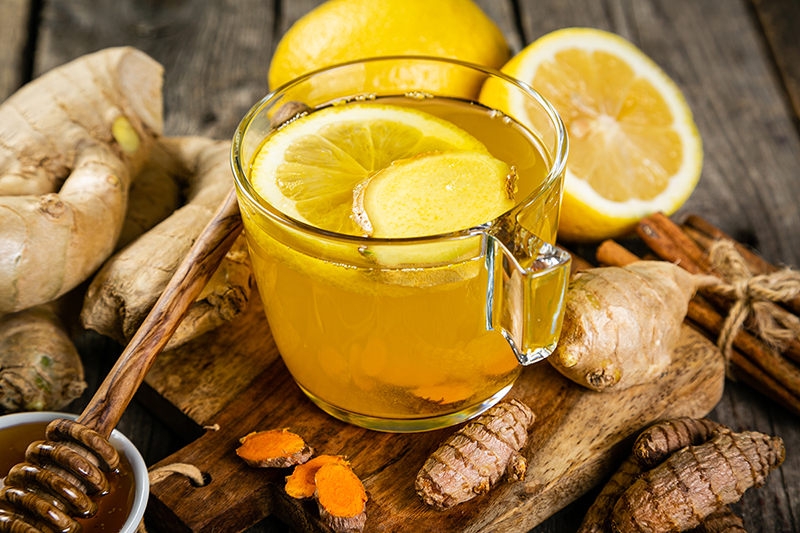 Feeling low and nauseated? Got no energy to finish your pending work? Then here comes the perfect rescue for you. 
Ginger Tea is known to be the best solution to overcome hangover symptoms. Medical science has proved it to be effective for controlling vomiting and nausea. The reason is that it has a rich composition of gingerols and shogaols that help to reduce gastrointestinal tract irritation and thyme that acts as antioxidants—all these work synergistically to calm your bellies and rehydrate your body. 
And to surprise you further, you can get your superpower ginger tea ready in two minutes. Just grate raw ginger, add it to a cup of hot water, and here you go! Your tea is ready. 
So, try a cup of ginger tea next time you have an ill hangover.
2. Green Tea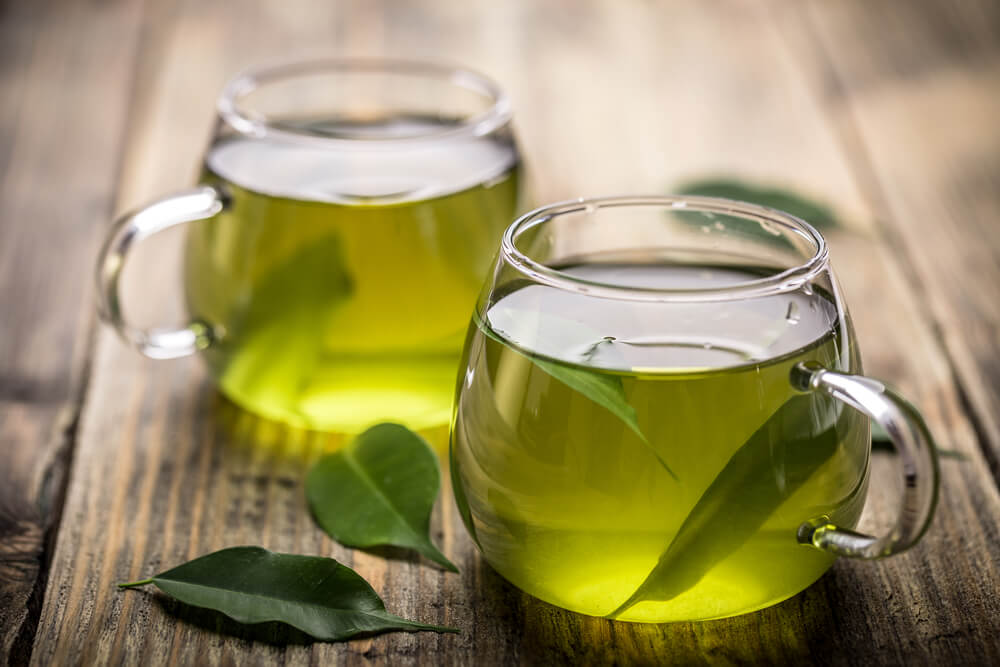 Next in the row comes green tea. And indeed, no one is new to its incredible benefits on the human body. It contains catechins and is a well-known antioxidant that not only soothes the body but also stimulates digestion and restores gut health.
Additionally, a few studies have shown that green tea contains L-Theanine, which increases alpha wave production, thus helping calm your body and further alleviating the symptoms. 
3. Peppermint Tea
If your mouth feels dry and tasteless, nothing can work better for you than peppermint tea. It has a refreshing taste with an energizing effect. This not only relaxes your mind and freshens you up but also has an equally anesthetic effect on CNS and GI tract, just like ginger. 
It is a host of unique properties that aid in headaches, digestion, boosting energy levels, and improving concentration. 
So, why not get a peppermint plant in your backyard, and make fresh peppermint tea next time you experience a hangover?
4. Turmeric Tea
Yet another tea that is well known for its anti-inflammatory and antioxidant activity is turmeric Tea.
Since turmeric is effective against metabolic diseases, the tea works best in settling the ill effects of hangovers. Particularly, the increased amount of curcumins in it is known to have anti-inflammatory nature that helps to reduce inflammation tissues caused by heavy drinking and aids in managing oxidative conditions.
Moreover, mixing turmeric and ginger tea is known to do wonders for your body.
5. Lavender Tea
Since hangovers also contribute to irritation and anxiety, taking lavender tea can turn out to be quite helpful. 
Lavender is known to boost one's mental health and emotional stability and help the body relax. Consequently, it relieves the associated symptoms of hangovers like restlessness, pain, and headache.
Moreover, lavender tea has a sedative effect, too, that can help you enjoy a powerful nap and wake you with no hangover. 
6. Chamomile Tea
For those who experience insomnia, Chamomile Tea is not a new term.
It is one of the best herbal teas that help overcome hangover symptoms like disturbed sleep, fatigue, nausea, etc.
Chamomile is rich in flavonoids and terpenoids. These ingredients have relaxing effects that soothe muscle aches, increase dopamine production, and boost energy.
And since Chamomile Tea is caffeine free, it won't disturb your sleep-wake cycle.
7. Black Tea 
And indeed, one can't forget to mention black tea. 
Black Tea has a rich composition of caffeine and L-Theanine, just like green tea, and is therefore quite effective in treating aftereffects of booze by:
Aiding digestion
Boosting energy level
Reducing irritability 
So, why not get either of these drinks and get a drip on your hangover symptoms?
A Few More Tips To Cure Hangover 
In addition to consuming tea, here are some additional tips to help you soothe the ill hangover symptoms. These include 
Practicing light cardio or yoga since they help to release mood-boosting hormones
Eating carbohydrates that are light on your stomach and prevents sugar levels from dropping too low
Drinking lots of water
However, prevention is better than treatment. Moreover, these teas can only lower or reduce hangover symptoms to some extent, but not the harmful effects of alcohol. 
Therefore, one should shift to non-alcoholic beverages to enjoy a healthy life.
Conclusion
Undoubtedly, hangovers are the most unwanted gift that comes along with alcohol consumption that leaves your body drained of energy and lethargic. However, sipping special teas can help you overcome the ill effects by replenishing dehydration and boosting your energy level to some extent. 
So next time you risk overdosing, remember to plan your hangover treatment ahead.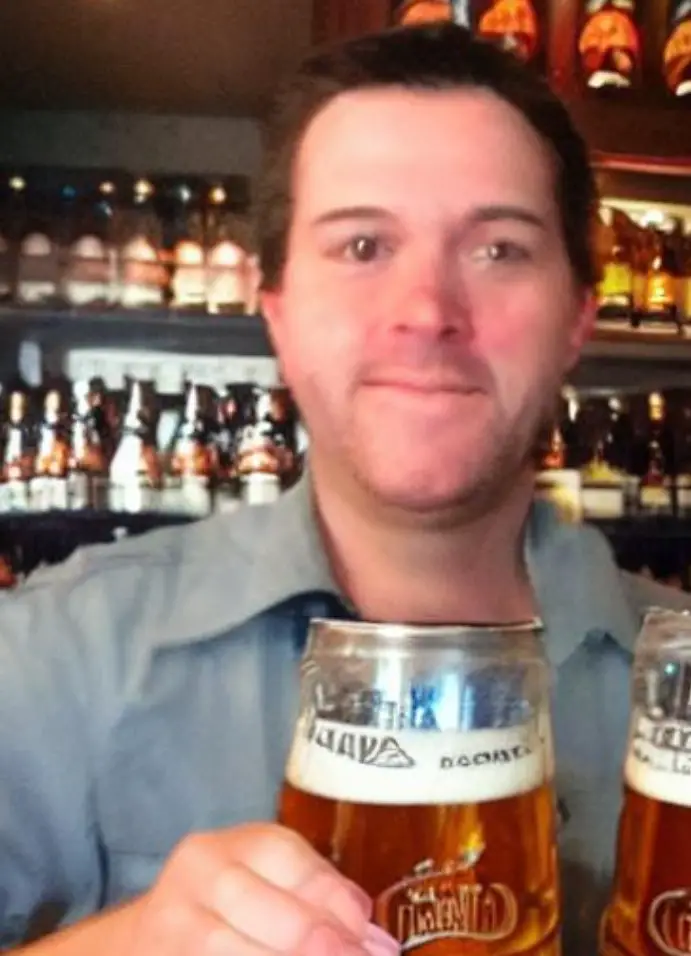 I am a passionate beer connoisseur with a deep appreciation for the art and science of brewing. With years of experience tasting and evaluating various beers, I love to share my opinions and insights with others and I am always eager to engage in lively discussions about my favorite beverage.