All beers require their own unique glassware. Yes, you read it right! The best to enjoy a beer is to have it in its compatible beer glasses. The experts believe this is due to the beer glasses' temperature and design. Much research goes into determining whether beer should be served chilled and whether you can serve it in a pilsner or a tulip glass.
The tulip glasses have a bulbous body resembling a tulip or a bud. The design is made to capture the head and exaggerate the aroma. Belgian ales, hoppy beers, and malty are best enjoyed in tulip glasses.
This guide has compiled a list of 6 beloved tulip beer glasses among consumers who never go out of style. But before jumping onto it, let's first learn what to look for before buying a set of tulip beer glasses.
Points to Remember Before Buying a Tulip Beer Glass
Material: Beer glasses come in various materials ranging from glass, crystal, plastic, etc. As a buyer, it is necessary to determine the material you look forward to, as not every material is best suited for the occasion and beer taste.
Purpose: Beer glasses are wonderful gifting occasions for housewarmings, birthdays, and especially weddings. It is necessary to jot down the purpose on a paper and then proceed to determine the material you would choose. For instance, crystal and steel tulip glasses are preferable for house warmings or for someone from a family. Meanwhile, glass beer glasses are a class statement and stand out. Thus, a very good option for wedding gifts. You can win the receiver's heart by understanding the emotions and warmth attached to the type of material.
Style: Style is another factor that goes hand in hand with material and purpose. Tulip beer glasses come in various styles, from traditional, modern to novelty. You can pick any style per your or the receiver's taste or the type of occasion.
Price: As tulip glasses are a class statement, the price can go as high as you can imagine. Some of the brands have established themselves as a novelty which levels their monetary value. However, there are budget-friendly options too available online. Libbey tulip glasses are one of the budget-friendly options out there.
Care: Beer glasses can be fragile, especially if their material is not that thick. This makes their maintenance a fiddly task. Moreover, it is important to note whether the glasses are heat tolerant and dishwasher safe before making a purchase. People usually ignore this point and waste their money on an unsuitable option.
Top 6 best Tulip beer glasses of 2023
Spiegelau uses a unique platinum glass crystal to create its tulip beer glasses, making them robust and break-resistant so you may use them for a long time. Spiegelau tulip beer glasses give contemporary customers luxury and ease, making them ideal for graceful entertaining and gracious living.
To properly appreciate the rich brewed taste you adore in a tulip beer glass you will grow to treasure, a tulip glass aids in the texture and general balance of the beer's development. 
Pros
Dishwasher safe
High-quality material used
Excellent clarity
 Cons
Breaks easily
The material thins out to the top
The Libbey tulip glasses will enhance your enjoyment of craft beer. These elegantly shaped glasses, which include a tulip shape, are perfect for pouring your finest ales and craft beers. They provide stability and brilliant clarity, improving presentation thanks to a robust stem and wide foot. These glasses are a beer enthusiast's best option and are ideal for microbreweries, pubs, bars, and lounges. Two dishwasher-safe, shiny-finished glasses are included in each box. Order now and sip on the ideal pint.
Pros
Value for Money
A perfect gifting option
Easy to wash and dishwasher safe
Cons
The glass is quite thicker than usual, with a rubbing on top
Use the Rastal Teku Tulip Beer Glass to enjoy a perfect sip. For full-bodied beers, cocktails, pina coladas, and whiskey, the traditional tulip shape of the glass, which is made to develop complex flavors and aromas, is the ideal option.
These Italian-made glasses are renowned for their sturdiness and use and are made from the finest glass. The Rastal Teku Tulip Beer Glass may serve various drinks, including water, juice, lemonade, and more, so they are not just for alcoholic ones.
This glass is the best option for those wishing to improve their drinking experience due to its excellent design and usefulness. So why choose a regular glass when the Rastal Teku Tulip Beer Glass allows you to take the ideal sip? To see the difference for yourself, place your order right away.
Pros
Crafted with the finest quality in Italy
Best for all occasions
Suitable for a wide range of drinks and concoctions
Cons
The rim is quite thinner than expected
The EISCH Tulip Glass will take your beer tasting to a new level. Since 1946, EISCH GERMANY, a renowned glass brand, has created glassware as a creative element of table culture at the highest level.
This goblet is ideal for beer aficionados because it can hold a range of beers. The glass's distinctive form is intended to promote the best possible development of the head of foam, and the stem prevents the beer from heating up while you hold it.
These glasses are useful and come in a gorgeous gift tube that won't break, making them the ideal present for events like Christmas, weddings, Father's Day, and birthdays.
The EISCH Tulip Glass lets you enjoy the ideal sip. Place your order immediately to find out why EISCH GERMANY is a reputable brand in the glassware design industry.
Pros
Value for Money
A perfect gifting option.
Easy to wash and dishwasher safe
 Cons
The packaging is a bit extra for two tulip beer glasses
Use Stolzle's Tulip glasses to enjoy the luxury of drinking with style. The premium tulip glasses are meticulously hand-cut from 100% lead-free crystal and are mechanically produced. The glasses provide support and style while keeping beverages cold. What more could you ask for when they are also recyclable and dishwasher safe? But wait, you will be surprised to know that these are fire tempered and hard enough for long-term use. The ideal drinking experience awaits you when you get your hands on these opulent tulip glasses!
Pros
Provides a nice hold on aromas
Best for IPAs
A classy choice for those who want to enjoy craft beer.
Cons
The stem is quite fragile
6. Final Touch's Tulip Glasses 
With the Tulip Glass Set from Final Touch, you can enjoy your favorite beers in flair! In addition to a sampling guide and wooden paddle, this full set includes all the glasses you'll need to enjoy the best craft beer. The tulip shape retains the aroma and carbonation. Also, when you keep the head moving, the porter/stout stem elevates the beverage to display its dark, rich color. Order your Final Touch Tulip Glass Set immediately to enjoy a truly memorable beer!
Pros
Comes in a set of 4 different glasses with a wooden paddle
A great option for gifting purposes
Cons
Some buyers have complained that the wooden paddle has inappropriate fittings for the glasses.
Conclusion
If you are a beer enthusiast like us and want to learn more about beer glasses and the right way to enjoy your beer, then you must subscribe to our blogs and be up-to-date on the latest trends in glassware and brewing.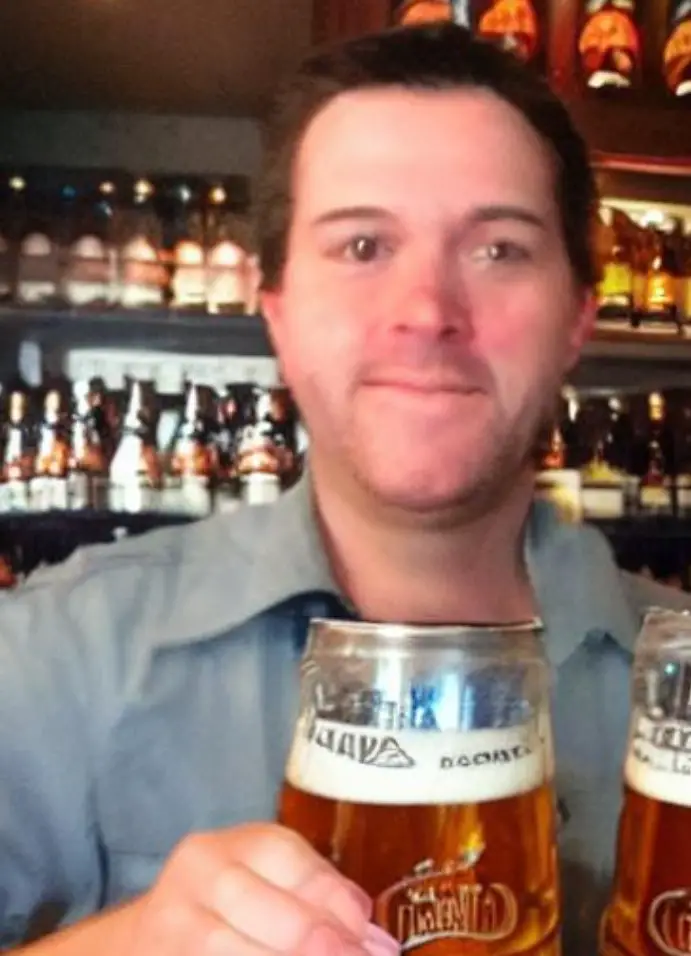 I am a passionate beer connoisseur with a deep appreciation for the art and science of brewing. With years of experience tasting and evaluating various beers, I love to share my opinions and insights with others and I am always eager to engage in lively discussions about my favorite beverage.