It is Bock O'Clock! Tired of drinking Pilsners or Light Lagers and want to taste something extra? Try a Bock!
A Bock is not just an ordinary beer because it is a conventional German Dark Lager. It has different variants and styles, such as Doppelbock, Weizenbock, Eisbock, Traditional Bock, and Maibock. Each Bock style suggests a matchless, unique taste you may remember for weeks. 
Here is a collection of the top ten exclusive Bock beer brands to make things easy. Pick the one you like the most and share the bottle of deliciousness with your best buddies.
1. Original Stieglbock
Original Stieglbock is the ultimate solution to quench your thirst and provide you with the tastiest Bock beer at a not-so-pricey price. The half-opaque orange body indicates exquisite craftsmanship. 
It has fruitiness, sweetness, and moderate bitterness to keep it balanced. The caramel malt sweetness, bitter-sweet grapes flavor, bread, grains, and hoppy touch are the high points of Stieglbock's flavor profile. Its clean, smooth mouthfeel with the right carbonation and a dryish finish makes it worth tasting on a scorching day. It feels exceptional in the mouth with a smooth finish.
2. Michelob Amber Bock
Need an unusual flavor of a Bock in the United States to satisfy your thirst? No worries, Michelob Amber Bock is your next party saver!
Anheuser-Busch feels proud to present this quality and enjoyable beer to the world. The alcohol content is about 5.1% ABV, which is moderately balanced. Its rusty amber hue with a diminishing white head of bubbles sweetens the elegance of Michelob Amber Bock. 
The dark roasted malt with caramel malt, corn, and imported hoppy bitterness combine to make a complex but tasty beer profile. Its light-bodied feel with a dryish finish is delightful. Though Michelob is slightly pricey, it is still worth tasting. 
3. Pandora's Bock
Have you heard such a weirdly cute name for a beer before? Pandora's Bock is another North American beer you can serve anytime and anywhere. At this high 7.5% ABV, the taste is remarkable. The complexity of flavors makes it ten times more tempting. They bottom-fermented Pandora's Bock at colder temperatures to develop smoothness and assertiveness to the beer. The darkish amber look seems excellent for the style with its nice-looking head. 
The light toasted malt scent adds a genuine taste with caramel and toffee notes. Bready, malty goodness is present in the flavor with a subtle bitterness. You need its creamy feel and surprisingly matchless taste to celebrate any event. 
4. Ayinger Winter Bock
Did you know Germany is the hub where the highest-quality bock beers are available to entertain beer enthusiasts? 
Ayinger Winter Bock is one of the excellent examples of terrific German craftsmanship. The deepest darkest ruby body seems elegant when it pours into a glass. Its 1 cm beige/tan head adds beauty to its appearance. The intensity of alcohol content is moderate, which is 6.7% ABV. 
Serve it with your favorite meal to feel the authentic maltiness with caramelized notes and sweetness. It has a hoppy bitter flavor in this delicious Bock to make everything balanced. The medium-bodied mouthfeel with a long-lasting aftertaste is unforgettable. If you don't believe it, buy Ayinger Winter Bock and decide for yourself. 
5. Aass Bock
It might surprise you, but Norwegian's Aass Brewery delivers happiness in the shape of its flagship beer, Aass Bock. With the most delicate brownish pour, it gives unbelievable taste and pleasure that you can feel from the first sip. 
The Munich malt aromatic flavor seems impeccable for this style. Its creaminess further adds deliciousness with a subtle dry finish and aftertaste. At 6.5% ABV, Aass gives pleasure to beer enthusiasts. 
6. Samuel Adams Amber Bock
Boston Beer Company from the United States presents the tasty Samuel Adams Amber Bock to deliver quality and taste in one bottle for Bock beer lovers at a reasonable price. Its 6% alcohol content with lively carbonation increases the credibility of this famous beer brand. It pours a perfectly-blended amber shade with subtle haziness. The head seems nicely formed and retains for a minute or two. 
Its caramelized taste with malty goodness produces distinctiveness and quality. Also, you can sense a portion of hoppy bitterness in it. The overall Bock profile is impressive. 
7. Shiner Bock
If you are living in Texas, you will feel proud to have this matchless blend of grains, malts, and imported hops. It is Shiner Bock, an internationally beloved Bock-style beer. 
This copper-shade beer offers a roasted barley malt taste with German Specialty hops to keep the balance. With its robust, full-flavored mouthfeel, Shiner is an enjoyable beer. 
8. Rogue Dead Guy Ale
A distinct Bock beer with a weirdly attractive name, Rogue Dead Guy Ale is another enjoyable Maibock-style beer from American soil. With a honey-colored body, it pours with a sturdy head. 
Its malt-forward taste with a back-end bitterness develops a unique fusion, ideal for those who like complexity in flavors. Also, it hides the alcohol well with a perfectly-balanced mouthfeel and dryish bitter finish. 
The only drawback it has is its high price. If you can afford a Rogue Dead Guy Ale, don't wait any longer. 
9. Schell's Bock
Everybody loves Schell's Bock, and you? It is a Dunkler Bock with a mesmerizing beer profile. The body is transparent darkish amber, while the head is off-white.
The toasted malt, caramel, and nutty taste with fruitiness and honey-like flavor make it a flavorful beer. Its mouthfeel is fantastic, with a smooth, creamy finish. Schell's Bock goes down well, so pair it with any food to elevate your meal's taste. 
10. Troegs Troegenator Double Bock
Troegs Troegenator Double Bock is a tasty Doppelbock-style beer produced with bold ingredients. It pours a dark shade with a stable fizzy head. The ABV is around 8.2%, which is adequate for the style. 
The malt scent feels tempting, with a malt-forward taste and caramel, dried stone fruit notes. Its mouthfeel is deliciously creamy with a soft, smooth finish. Also, Troegs beer becomes more flavorful when served with cheese and dried fruits.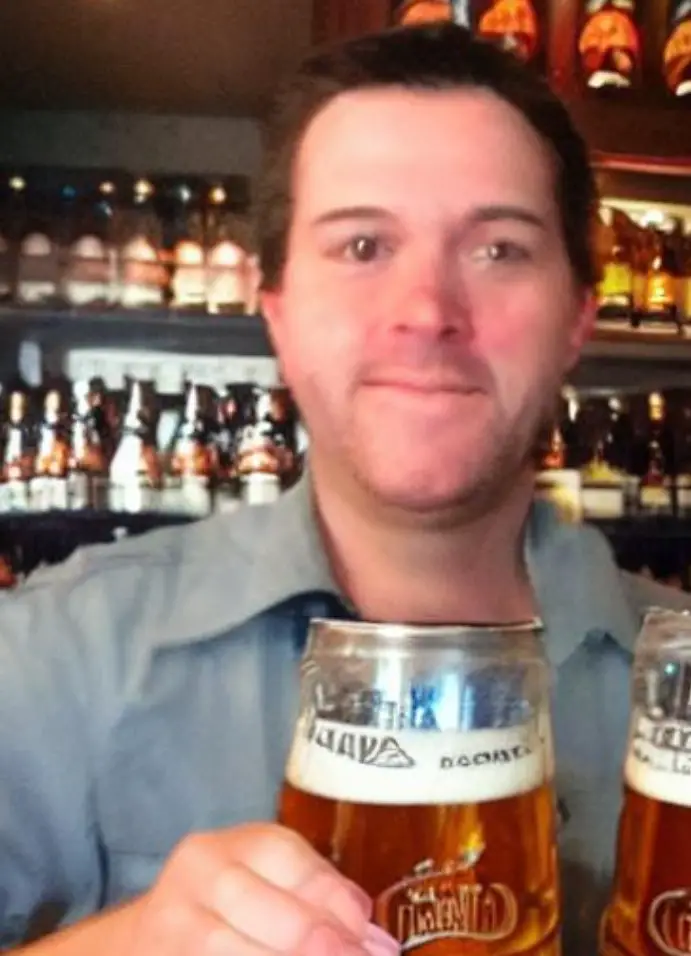 I am a passionate beer connoisseur with a deep appreciation for the art and science of brewing. With years of experience tasting and evaluating various beers, I love to share my opinions and insights with others and I am always eager to engage in lively discussions about my favorite beverage.