Known for its sophisticated drinking culture and social activities, Canada is a highly advanced country with thousands of microbreweries in every prominent part of the nation. Canadians love to spend time with colleagues and pals after hectic schedules to uplift their mood, so drinking is a social activity. It is super easy to find plenty of premium-quality beers with distinct varieties. 
Are you interested in discovering the top-notch beer brands to buy in 2023? If so, taste any of these ten best thirst quenchers from Canada and share this information with your friends.
1. La Fin Du Monde
Named after the predicted end of this universe by the Mayan calendar, La Fin Du Monde, a Belgian-style Tripel with a 9% ABV, is one of the most consumed alcohols by Unibroue, a Canadian brewery.
A pale orange hue with a medium-sized white head that dissipates after a few minutes, leaving subtle lacing, La Fin Du Monde is a delicious blend of pale malts and wheat with a hint of corn. Unibroue uses coriander and orange peel to make this best-rated Ale an ideal beer with well-balanced ingredients. Moreover, the yeast enhances the flavor profile, giving it a fruity and spicy touch.
Among the top non-Belgium Belgian-style beers, La Fin Du Monde is a flavorsome beer with moderate carbonation and a bitterly pleasant finish. 
2. Molson Beer
In 1786, John Molson established a brewery in Montreal named Molson. It is North America's oldest brewery and a renowned beer brand in Canada. The brand brews the best-selling beers, such as Molson Ice, Molson Canadian, Molson Export, and Molson Dry.
Every variant of this brand has a different specialty. Molson Ice offers a bold taste with a strong aroma and flavorsome ingredients, such as malts and extra hops. The Canadian is a comfortable drink with a crisp mouthfeel, making it a refreshingly light beer. 
Molson Export has a distinguishing flavor profile with Canadian and European ingredients. While the Molson Dry is for health-conscious beer drinkers with low carbs and calories. 
To sum it up, Every beer from the Molson brand is unique and famous among Canadians and Americans.
3. Big Rock Traditional Ale
An English Brown Ale by Big Rock Brewery, a Traditional Ale with an alcohol content of 5%, is a honey-brown dark-colored beer. It is widely well-known in Canada and its nearby regions. It makes a one-finger dense off-white head that dissipates after a few minutes and leaves a fine lacing on the glass edges.
The aroma and taste offer a similar caramel, watery, and roasted malt with notes of nuttiness. Also, some bready flavor in the background makes this Traditional Ale more flavorsome than other Ales in the country. Its medium-light body with decent carbonation gives a smooth mouthfeel but a dry finish. Serve it warm rather than cold for a better taste.
4. Labatt Blue
Equally famous in Canada and the United States, Labatt Blue has been entertaining beer lovers since 1951. The company fermented it at a low temperature. Labatt, an American Adjunct-style straw-colored Lager, contains a standard 5% alcohol content. It forms a one-finger foamy white head when poured into a Lager glass.
Although the smell is yeasty and corny, the taste is delicious enough to attract beer drinkers. The flavor is bright up front and becomes malty with a hint of corn later. Consider it among the best-quality AALs in the North American region. 
5. Sleeman Honey Brown Lager
A Canadian American Amber Lager brewed by Sleeman Breweries Ltd. is a dark red-colored alcohol with a 5.2% alcohol content. It pours a clear drink with a creamy, foamy beige-colored head. 
The butterscotch and biscuity aromas with a touch of walnuts are perfect on the nose. If talking about the taste, it has all the aromatic flavors with an addition of barley, honey, and apricot with hints of hoppy bitterness to even the flavor profile. The mouthfeel is a bit syrupy and toasty with a light-medium body and light carbonation. Serve it with or without your favorite Canadian food because you will enjoy it either way.
6. Moosehead Lager
Did you know Moosehead is among the oldest independent breweries in Canada? Dating back to 1867, the American Lager, with an ABV of 5%, a standard alcohol level, is gold in color and forms a short-lived white head that disappears quickly.
With the help of pure water from the Pristine rivers and Lakes of New Brunswick, two-row pale malted barley, and hops, Moosehead Lager offers a unique blend of aromas and flavors. It is a deliciously tasty beer for everyday use.
7. Red Racer IPA
Widely consumed because of its bold hoppy character, Red Racer IPA is an Indian Pale Ale with 6.5% alcohol by volume, brewed by Canadian Central City Brewers and Distillers. With a well-retained off-white frothy head, this clear copper-colored beer is also famous as Red Betty IPA in the United States. Dominated by the hops, such as pine and citrus, with a delicate touch of malty sweetness, this IPA is a medium-bodied beer with a bitter finish.
8. Mad Tom IPA By Muskoka Brewery
Toronto has many preeminent breweries to buy quality drinks, but Muskoka Brewery's Mad Tom IPA offers a unique blend of Chinook and Centennial hops with caramel and biscuity malty flavors. It has an ABV of 6.4%, and the smell of citrus with a hint of west coast pine enhances the profile. Additionally, this Indian Pale Ale gives a lingering bitter finish. Buy and discover other characteristics by yourself.
9. Steam Whistle Pilsner
Steam Whistle Pilsner, a Bohemian-style Pilsner, is one of the authentic beers in Canada with a standard 5% alcohol content. The aroma and flavors are refreshing and crisp, brewed from the finest ingredients, such as malted barley, hops, spring water, and the company's made yeast. It is a highly drinkable beer with a slightly bitter aftertaste.
10. Maudite By Unibroue
With a complex aromatic profile and a distinct taste, Maudite is a Belgian-style Ale by Unibroue with a strong alcohol content of 8%. The creamy head of this dark amber beer offers an aroma of yeast and dark fruit with a hint of spices. Moreover, it is a full-bodied beer with a delightful mouthfeel.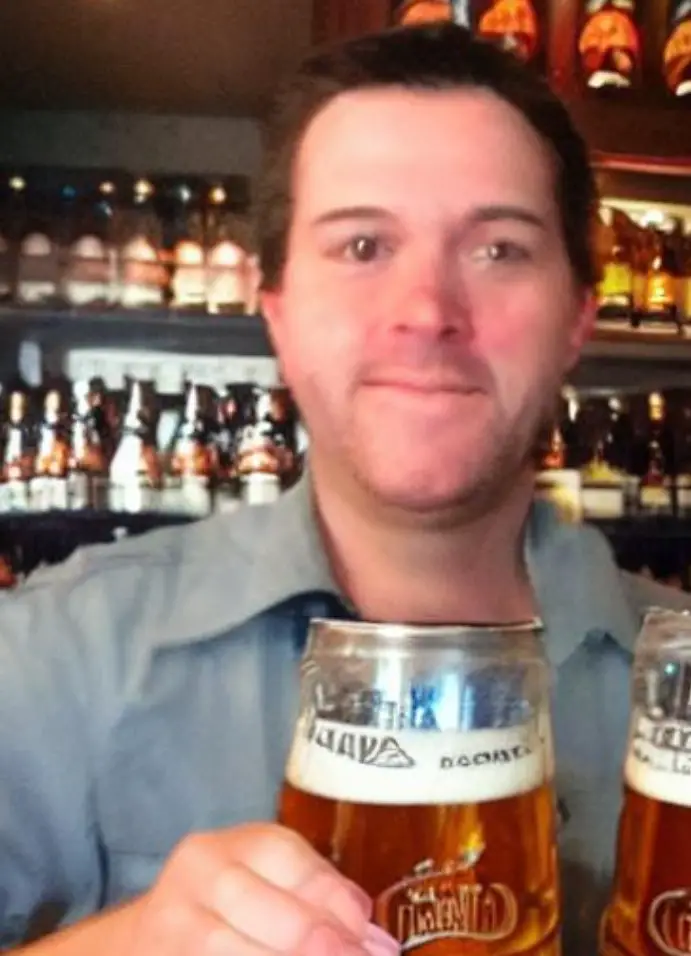 I am a passionate beer connoisseur with a deep appreciation for the art and science of brewing. With years of experience tasting and evaluating various beers, I love to share my opinions and insights with others and I am always eager to engage in lively discussions about my favorite beverage.