Looking to buy just the perfect gift for your beer lover friend? Your search ends here…With so many options to choose from, you will definitely find the perfect gift for your loved one.
Finding the right gift for someone close to you is always tough, but things might get tougher if he or she is a beer lover. Sure, they will be happy if you give them a few beers on their birthday, but that won't add any excitement to their lives. So, what can you do to make their day special? Or make them feel you truly understand them.
Whether it's your beer-loving dad, friend, or your partner, getting the perfect gift is a challenge. But don't worry! You're not alone. Look around you. Try to find what things your beer-snob friend enjoys the most. Or simply just check out the list below to find the perfect gift for your close one. These items are carefully selected, keeping in mind what beer enthusiasts truly love. The list contains 15 best gift ideas for beer lovers that are special, just like your beer buddy.
1. FIZZICS FZ403 DraftPour Beer Dispenser
Time to make the drinking experience an easy one. With Fizzics beer dispenser, you can easily pour your drink without worrying about spilling it. Just open the can or bottle, place it under the dispenser, and you're good to go.
You are just one push away from the freshly chilled beer with microsized bubbles and foam that gives off the perfect look of the drink. No need to worry about the size of the bottle or can as it can cover large bottles and cans as well. Now you can pour beer for your friends in a stylish way.
It is a perfect addition to your home bar and a wonderful gift for your beer-enthusiast friend who likes to chug his chilled booze with ease.
2. Host Freeze Pint Glasses (Set of Two)
Whether you talk about a Miller Lite or a stout, the Host Freeze Beer Glass makes your drink look super classy. No need to worry about drinking a warm beer or melted ice on a hot summer day. The double-walled glass with active cooling gel keeps your drink chilled for 2 hours. Now you can enjoy your drink freely, even outdoors.
The comfortable silicon grip allows you to hold the glass firmly without letting your hands feel the chills. Beer lovers who are fond of beer accessories will find these glasses a great addition to their collection. Just freeze the gel for two hours and enjoy the taste of a perfect cold brew with your partner. Also great for pool parties.
3. Beer Chiller Sticks
Simple and portable, Beer chiller sticks are the most handy gadget for a beer lover. You'll be surprised how fast the freezing starts. The weather doesn't matter, you can raise the temperature to ice cold with these little stainless steel sticks.
Put it in the fridge for 30 to 50 min. Till then, chug a little portion of your beer to make room for the chiller sticks. Close the bottle firmly once you place them inside the bottle. Quick and easy chilling. The most important fact is that these chillers won't change the taste of your precious drink. You can enjoy the exact flavor and aroma as before.
A perfect men's gift for your hubby, partner, dad, or your friend.
4. ICEMULE Classic Collapsible Backpack Cooler
This a useful and stylish gift for a beer enthusiast who enjoys taking trips in the open air. IceMule cooler is kinda like a backpack and a cooler ( two-in-one option). Icemule cooler can hold up to 9 liters and keep your drinks cold for 24 hours straight. Now you can enjoy your adventurous trip alongside your favorite beer.
Don't worry about dropping it in the water. It is waterproof and has floating capabilities that make it perfect for places like lakes or beaches.
Place ice on the top and bottom of the bag while placing the drinks in the middle, and enjoy an ice-cold supply of beer for hours. So, raise a toast with your partner as he downs a refreshing, icy-cold beer, all made possible with this amazing gift.
5. Beer Pong Table
If your special one knows a thing or two about drinking games, then he will surely love this Beer Pong table. Beer Pong is a game enjoyed by beer enthusiasts all around the world. Your partner can play with you and even invite a few friends over to party along.
A whole table might appear like a big gift, but the best part is it is foldable to a 2 feet x5.5 inches x 2 feet (LxWxH) size briefcase. You can play all sorts of beer games on this table, like beer pong, flip cup, or beer die. It's sturdy and portable and can withstand many competitions. Takes less space than a homemade table and enhances your drinking experience as you play your favorite game along with your favorite beer.
6. Stanley The Big Grip Beer Stein
Anyone can easily get emotionally attached to this Stanley Beer Stein. It's not just a mug but a personal style statement for many. It has a sturdy material made of stainless steel that goes a long way. Throw anything at it or drop it on the floor; this baby can withstand all challenges. 
Whether you're at a party or going on camping, this large-size stein will be your best go-to accessory. The double walls keep the drink fresh and chilled for 5 hours. The capacity is also worth the price. You don't have to worry about refilling now and then. It can hold up to 24 fluid ounces, or you can simply chug two beers at a time.
It's a classy item with a strong grip that lets you enjoy every sip to the fullest. It's a handy gift for your close ones who like to have their accessories close by to enjoy their favorite beer whenever they want.
7. True Tasting Kit Set of 4 Beer Glasses
If your beer-snob friend likes to experiment with tasting different beers, then the True Tasting Kit Set is a very in-demand gift. The stylish set of four glasses will make beer tasting a more fun activity.
Whether it's IPA, lager, or stout, these sparkling beer glasses will give your drink a classy look. With all four glasses in different designs, you are sure to have a great time gulping down your drink from the first sip to the last. 
8. LEGACY – a Picnic Time brand – Craft Beer Flight Set – Beer Glasses Set
Another elegant item in the line is Legacy- Beer Glasses Set. Made with hardwood; it's a tough baby to break. Whether you're buying it for your girl or boy, this stylish pick will surely grab everyone's attention at the party.
It also works well for beer lovers who enjoy tasting different styles of beer. It's portable and easy to carry to your destination place. That way, everyone can have a taste of different brews. It has a separate chalk panel so that you can label each drink creating a genuine drinking experience.
9. LEGACY – a Picnic Time brand Couple Pilsner Craft Set with 2 Glasses
A perfect gift for a newly wedded couple. You can even gift it to your beer connoisseur partner on your anniversary. The Legacy Pilsner Craft Set is made of acacia wood with sliding panels. The real beauty lies within the wooden box. It comes with two beautiful 12 oz tall glasses for you and your partner to enjoy every sip and cherish your wonderful relationship.
Craft beer lovers will fall in love with this item. Opening a bottle won't be an issue anymore, as the set comes with a bottle opener and two real beverage cork coasters. If you wanna buy something elegant and classy for your spouse, try out this product.
10. Keter Cool Bar
Keter Cool Bar is an elegant and useful furniture item for backyard parties. Everyone gets to enjoy a chilled drink as it has ample room to put a lot of ice and 40 beer cans.
It is quite easy to use. Just pull the lid upwards and place ice and beers inside to enjoy a great beer party. You can also place other snacks or beverages in the upper area of the minibar. When the lid goes down, it can be used as a multi-purpose side table to serve tea or coffee. An awesome gift for an amazing person.
11. Craft A Brew – Irish Stout – Beer Making Kit 
If your beer lover friend loves to brew his own beer at home or is planning to master the art of homebrewing, then why not give him something he would enjoy making and drinking?
It is a complete kit that features a 1- gallon carboy, perfect for first-time brewers, and other essential equipment to make your brewing process a smooth one, and don't forget the recipe kit. Making a stout has never been so easy. Just follow the instructions and enjoy a perfectly brewed Irish stout. It's a dude's gift. You can give it to your dad, friend, husband, or your partner.
12. Beer Aerator Sonic Foamer
What a cool gadget for a beer lover. Beer Aerator has a simple mechanism that creates ultrasonic vibration to make a perfect foamy head of the drink. Literally, it makes you go, wow!
Most of the aroma and flavor are gone once you drink the top creamy head of the drink. But with sonic foamer, you can make a new head as many times as you want till you're outta drink. It gives your drink a more fresh and tasty flavor. A great gift for craft beer lovers or those who love to enjoy every sip of their drink.
13. Jack Link's Beef Jerky
Why not enjoy your drink with the most healthy and simple beer snack? Jack Links Beef Jerky is one of the most sold-out products in the USA. The mouth-watering flavor and the perfectly cooked meat serve as a great source of protein for your body with low calories.
So, whether it's a dark beer or a light one, you can pair it with the type of jerky you want to love. Just put your beer and your pack of beef jerky in your backpack, and you're good to go. It's a good portable snack that helps create fullness in your tummy. No need to keep it in the fridge. Just open and enjoy. Even if your friend is not a foodie, he will still love this simple snack that goes well with his favorite beer.
14. Stainless Steel Baseball Bottle Opener
Time to open your bottle with style. Stainless Steel Baseball Bottle Opener is specially designed for folks who love to enjoy a baseball game while chugging down their booze. It is made from original baseball with a stainless steel opener in the middle. The magnet under each screw keeps the cap of the bottle stuck on the ball. You can also use it as a fridge magnet.
Place the bottle cap inside the given space and pull it upwards. No technical stuff! Enjoy your chilled drink, and please don't try to open a bottle with your teeth; it can hurt you badly. If you are looking for a convenient and trendy option, try this baseball can opener and surprise your friends with your unique style. And if your beer connoisseur's friend is a baseball enthusiast, then getting him a baseball bottle opener is a perfect idea.
15. Brewing Porters and Stouts
Terry Foster's Brewing Porters and Stouts is an amazing book that covers the history of these two popular styles of beers and how you can homebrew them perfectly. If your beer lover friend enjoys reading, then it's a perfect addition to his collection. He will not only enjoy learning about history but will also be able to homebrew with 60 different recipes published in the book. 
For beer enthusiasts, it's kinda like a treasure box that holds all the secrets of brewing. In addition, it is one of the most budget-friendly and useful gifts you can think of. So, go ahead and give it a shot.
Conclusion
Now you have all the cool options to pick the best gift for your beer loving guy or girl. The options vary in budget. Some might be costly, yet every item is unique and useful. Imagine the joy on your loved one's face as they hold their favorite beer accessory or gadgets in their hands- a truly priceless moment that will make your gift even more special.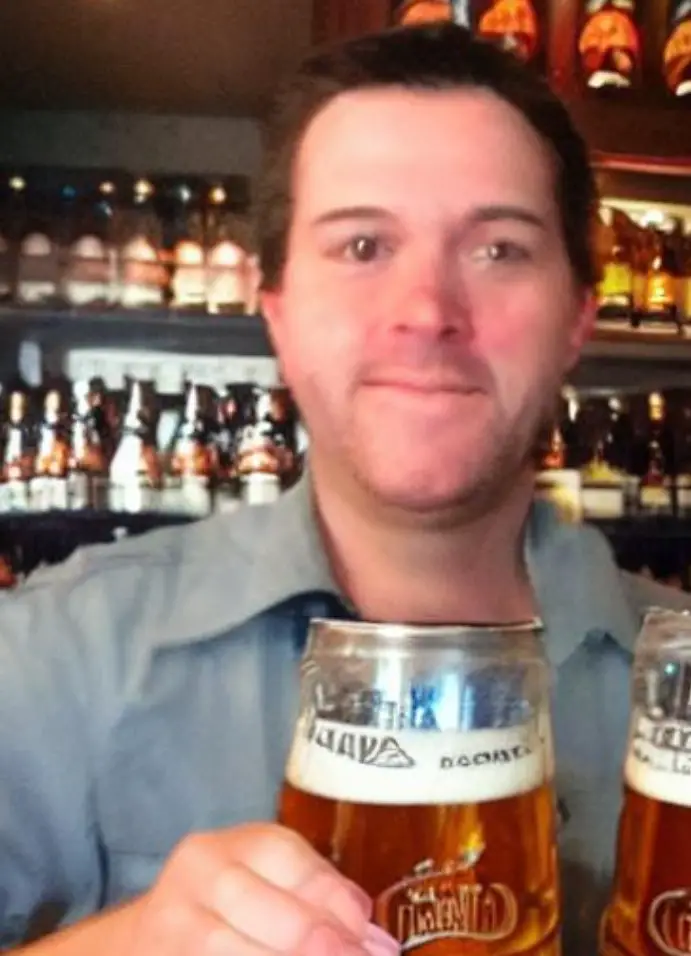 I am a passionate beer connoisseur with a deep appreciation for the art and science of brewing. With years of experience tasting and evaluating various beers, I love to share my opinions and insights with others and I am always eager to engage in lively discussions about my favorite beverage.