Immerse yourself in the vibrant beer scene in Mongolia to discover the unusual flavors brewed with the help of the finest craftsmanship. It is the land of warm hospitality and jaw-dropping landscapes, so what stops you from indulging in the passionate and impressive Mongolian brewing culture?
The country arranges beer festivals to express how they celebrate their moments of joy. Do you want to discover the top-quality flavors on your next trip? No worries, here is the list of the ten best-selling Mongolian beer brands to try. 
1. Chinggis Mongolian Beer
Chinggis Mongolian Beer is a flagship product of Chinggis Beer Co. It is an International Pale Lager brewed in Ulaanbaatar, Mongolia. The beer pours a pale golden color with an inch-tall foamy white head that quickly dissipates. 
Serve it in a Lager glass to enjoy the classic Lager aroma with a delicious flavor. The hops and malts create a well-balanced taste with a light to medium-bodied feel and a decent finish. Chinggis Mongolian Beer is an exceptional choice to stay cool in hot weather. 
2. Sengur White
How many of you need quality beer in Mongolia? If you are one of those, why haven't you tried Sengur White yet? 
Sengur White is a blend of hops, malts,  and an expensive ingredient, yeast. Its cloudy appearance looks beautiful when poured into a glass. The head is nice-looking with decent retention. 
It uses the German and Bavarian traditional brewing techniques to produce a matchless thicker taste than usual Lagers. You can use an orange peel zest to improve the flavor. 
3. Golden Gobi
Golden Gobi is a fabulous name with an attractive label design brewed to perfection in Mongolia. Its golden packaging elevates its impression. It is an International Pale Lager with 5.1% alcohol content. The company uses only water, hops,  malts, and yeast to produce this tasty beer, according to Reinheitsgebot (German Purity Law 1516). It pours a transparent pale golden color with an average white head. 
With a grassy, herbal nose, the taste offers a grainy malt flavor. It provides a thin mouthfeel with a metallic finish. Pair Golden Gobi with any Mongolian dish to sweeten the taste of your meal. 
4. Borgio
One of the most beloved beer brands, Borgio has been serving Mongolians since 1927. It is an American Pale Lager well-known for its bold taste and crisp feel. The hazy pale golden hue looks decent with a long-lasting white head of foam. 
The smell of wheat, corn, yeast, and hops, while the taste is slightly bitter and medium sweet. It is a moderately-carbonated beer with a medium body and a thin texture. Borgio finishes with a syrupy touch and bitterness. Also, this mass-pleaser beer is among the top options for Mongolians to enjoy their happy moments. 
5. Niislel Capital
Did you know that Niislel means capital city? The name represents the brewing history of Ulaanbaatar, the Capital City of Mongolia. Niislel pours a hazy straw-like color with a creamy white head of bubbles. The sparkling appearance is a treat for the eyes. 
With aromatic notes of bread and grassy hops, the taste offers a tasty fusion of sweet grainy malt and citrusy, grassy hops bitterness. The dry and crisp mouthfeel improves the beer profile with a slightly bitter finish. Moreover, Niislel is a light-bodied beer with lively carbonation, excellent for regular meetups. 
6. Gem Draft
A flagship beer of Gem International, Gem Draft is an American Pale Lager with a malty and caramel malt nose. It offers a cloudy amber hue with a small white head of foam. 
With a medium-sweet flavor and slightly hoppy bitter notes, Gem Draft provides a thin mouthfeel. The carbonation is average, with an oily texture. Consider it a simple yet delightful beer, so you should try it for once. 
7. Jalam Khar
Jalam Khar is a Premium Pale Lager brewed to excellence by MCS Tiger Brewery (APU – Heineken Asia Pacific). It is a regular beer in Mongolia with a fresh, light, and crisp taste. The appearance is good enough to attract beer enthusiasts. It pours a clear gold color with a white head of foam. 
The aromatic flavor offers a hoppy and malty combination with a trace of banana and corn. It is a light-bodied beer with moderate carbonation. You can consume it without thinking twice. It is light, refreshing, and inexpensive. 
8. Khan Bräu Pilsner
A flagship beer of Khan Brau Brewery, Pilsner is a refreshing beer to try in Mongolia. It has a strength of 4.6% alcohol by volume. The translucent golden body gives a decent impression with a fizzy white head of bubbles. 
There is a blend of bready-malty goodness in the aromatic flavor with a trace of earthy, grassy hops. It balances the flavor. The mouthfeel is pleasant and feels smooth on the palate. It finishes clean with soft carbonation. So, which is the best beer to stay cool in summer? Yes, you know the answer.
9. Chinggis Khan Pilsner
Don't mix this beer with Chinggis Mongolian Beer because that one is from a different brewery. Chinggis Khan Pilsner is a Czech Pilsner brewed by APU Company. It has a 5% alcohol content. The straw-like golden body looks decent beneath the medium-sized head of bubbles. 
Like other classic Bohemian-style Pilsners, Chinggis Khan Pilsner is a traditional combo of hops and malt with a smooth mouthfeel. It gives a light to medium-bodied feel with a crisp taste. Serve it cold to enhance the flavor. Also, it goes down well, so enjoy its flavorsome taste at a reasonable price. 
10. Khar Khorum
The dark bottled beer in Mongolia is Khar Khorum, a Dunkel Dark Lager. Its name represents the historical capital of the country, which is Kharkhorum. The transparent dark brown body boosts its appearance with a foamy beige head. 
The smell and flavor offer caramel, roasted malt, coffee,  and toasty notes with fruits, brown sugar, nuts,  and molasses flavors. It provides a thin-bodied mouthfeel with a bready, caramelized finish. The carbonation is average with a good texture, so try Khar Khorum to experience the genuine taste of a quality beer.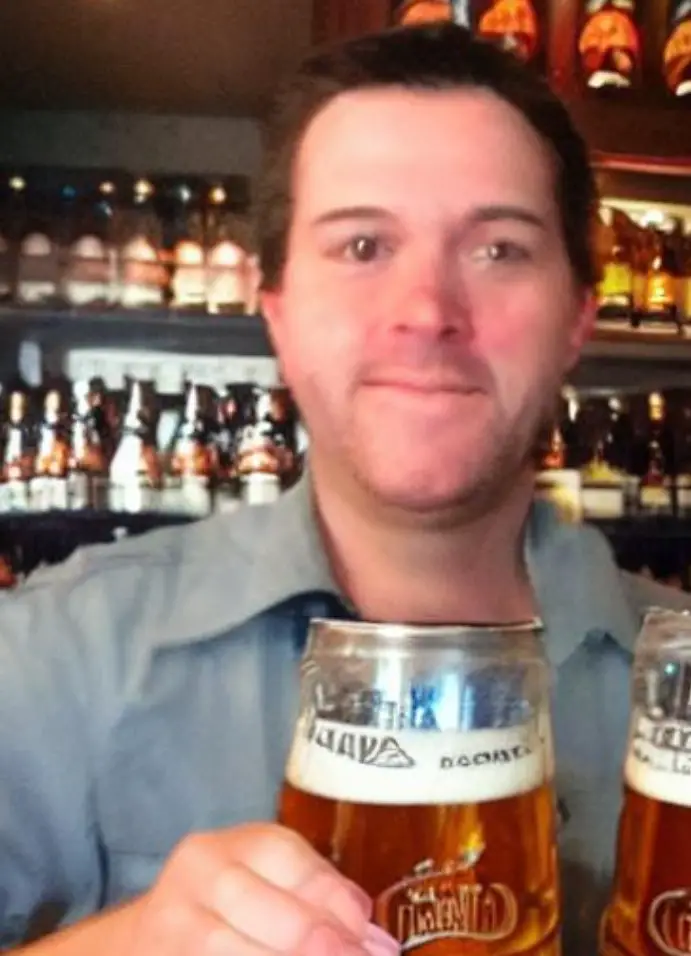 I am a passionate beer connoisseur with a deep appreciation for the art and science of brewing. With years of experience tasting and evaluating various beers, I love to share my opinions and insights with others and I am always eager to engage in lively discussions about my favorite beverage.