You may have known Spain for its breathtaking, scenic places, delicious cuisines, historical monuments, lively vibes, and mystically romantic atmosphere. Still, a lesser-known fact is that the country brews some premium Pilsners and Ales in Europe to try. 
The drinking culture in Spain is relatively new, but now Spaniards love to spend a day with a glass of their favorite Damm or Mahou or other exotic drinks. If you are fond of premium quality beers, check out the top ten Spanish beers for every occasion.
1. Mahou Cinco Estrellas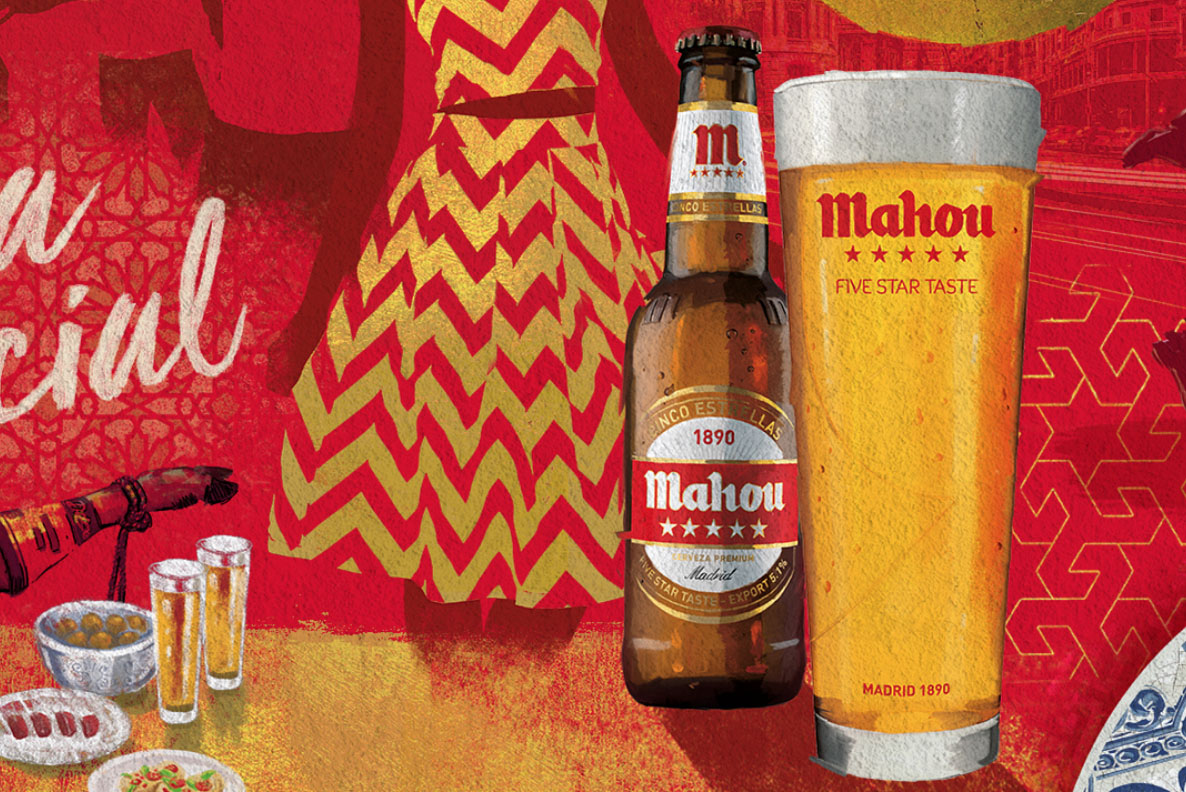 Among the leading beer brands in Spain, Mahou Cinco Estrellas, brewed by Mahou S.A., is a European Pale Lager serving Spaniards since the 19th century. Enriched with malts, Mahou has 5.5% alcohol by volume. The best way to enjoy Mahou Estrella is to drink directly from the bottle, but the golden-pale color also looks tempting when poured into a glass with its frothy white head and swirly lacing.
The aroma is malty and bready with a hint of lemony and grassy hops. It also has notes of cereal grains, making it biscuity-sweet. This light to medium-bodied beer with moderate carbonation offers a crispy and smooth mouthfeel with a dry finish. Mahou Cinco Estrella is arguably the best thirst-quencher beer in Spain that goes perfectly well with the famous Spanish cuisine, Tapas. 
2. San Miguel 1516
Like Mahou Estrella beer, San Miguel 1516, an International Pale Lager, is one of the premium quality beers brewed by the Mahou-San Miguel Group in Barcelona, Spain. In 2000, Mahou bought San Miguel to expand its business and purchased every right to brew San Miguel from its parent company. It has an ABV of 4.2%. Moreover, it is a light-bodied beer.
A moderately decent clear golden lager with fizzy carbonation, San Miguel 1516 creates a foamy white head when poured. Its aroma is grainy, malty with earthy hops and a touch of caramel and corn. The taste is sweetish malty with a metallic aftertaste. San Miguel 1516 is a decent beer with a smooth mouthfeel, a perfect everyday lager to enjoy little moments.
3. Cruzcampo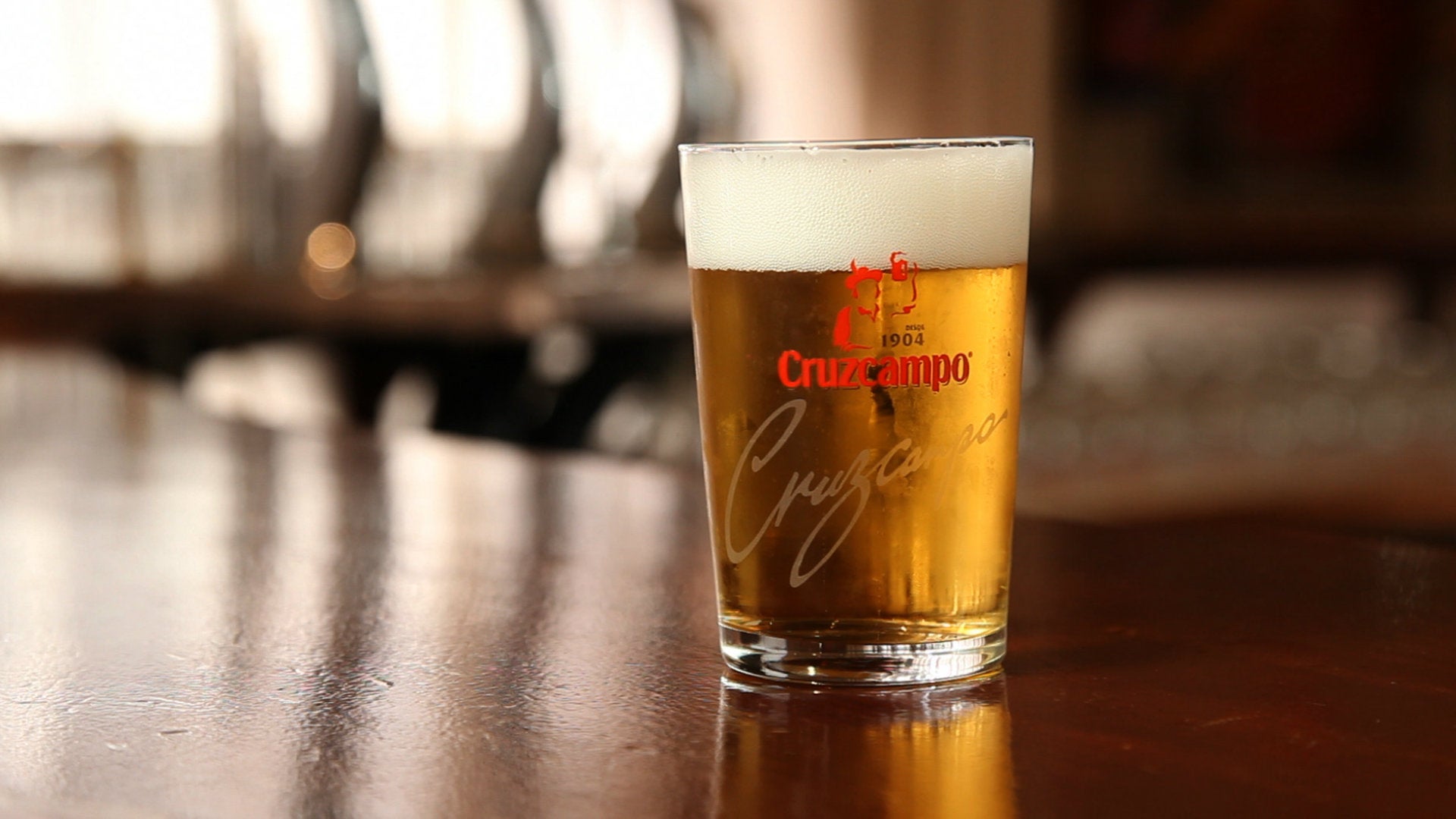 Cruzcampo, brewed by Grupo Cruzcampo SA, is a household name in Spain. This German Pilsner offers a dense permanent foamy head. Its golden-colored appearance makes it inviting. It is a Pils than a Pale Lager with a fruity and malty aroma with a slight hint of hops and some floral notes. Overall, the flavor of this refreshing Cruzcampo Pilsner is malty and sweet, with a 4.8% alcohol content. It is a light-bodied beer with a fantastic texture and moderate carbonation.
Some heavy drinkers may find Cruzcampo a bland or basic beer, but most Spaniards consider it the right option to make your afternoon pleasant.
4. Estrella Galicia 1906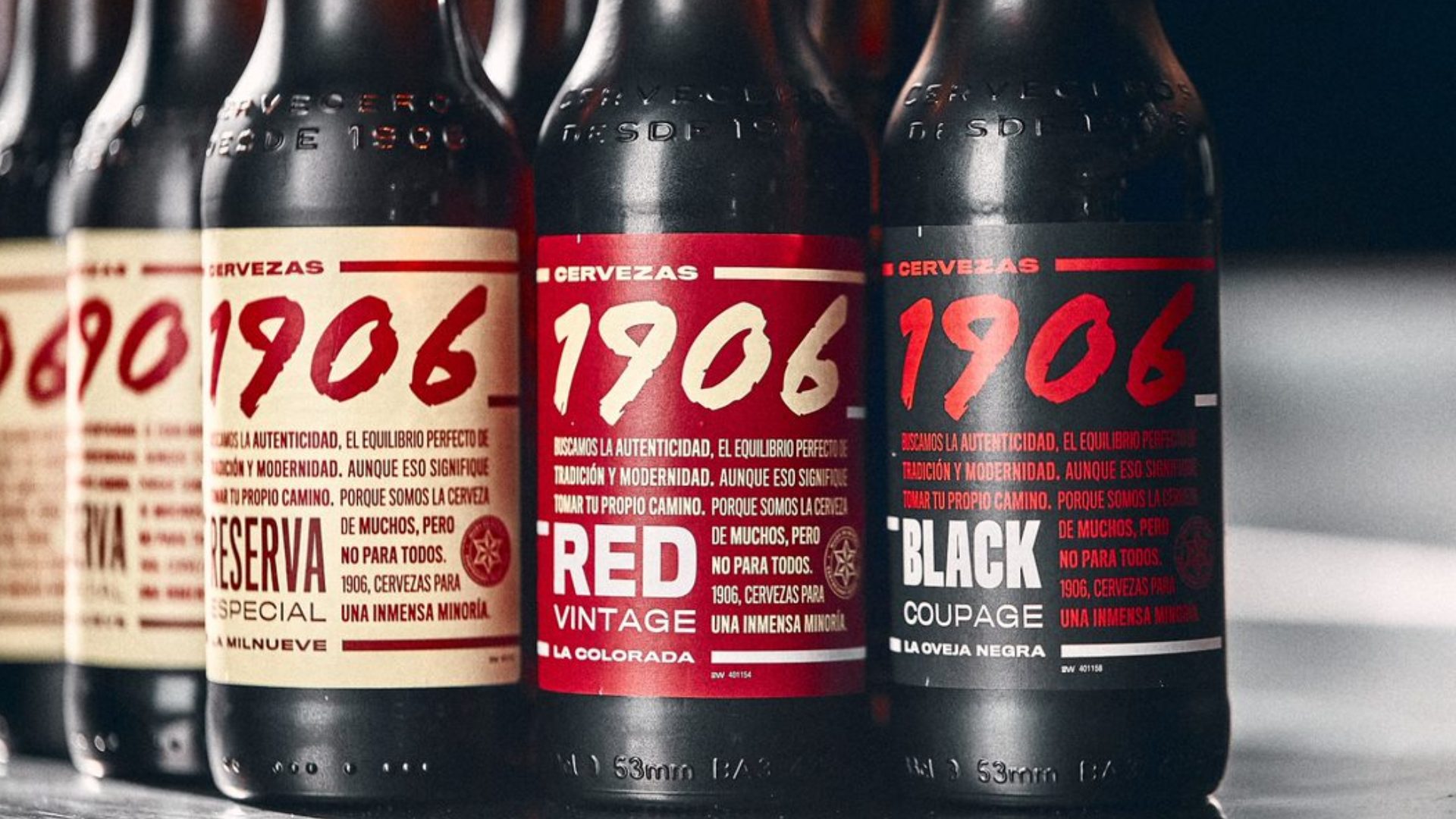 Introduced by Estrella Galicia, a prominent Spanish beer brand serving premium quality beverages since 1906, 1906 Reserva Especial is a dark amber Lager with a thick creamy white head that retains till your last sip. The aroma is a beautiful blend of malts and hops, making it an authentic Spanish Lager beer with an ABV of 6.5%. It has a pleasantly long-lasting finish. The 1906 Reserva Especial smoothly melts in the mouth, leaving a weirdly delightful bitter taste. This premium Lager goes exceptionally well with many traditional cuisines, including smoked cheese, grilled salmon, sushi, blackened mahi, BBQ lamb, and smoked wings.
5. Moritz Epidor
A strong European Lager with an ABV of 7.2%, Moritz Epidor is another Spanish beer of high quality and rich ingredients brewed by Cervezas Moritz, S.A. It has a beautiful caramel color with a subtle toffee-colored head and a malty aroma with a hint of the bitterness of hops. The taste of Moritz is a fusion of grains, malts, and earthy hops, leaving a good mouthfeel. Furthermore, it is a medium-bodied beer with moderate carbonation. You can enjoy Moritz anywhere and at any time.
6. Alhambra Reserva 1925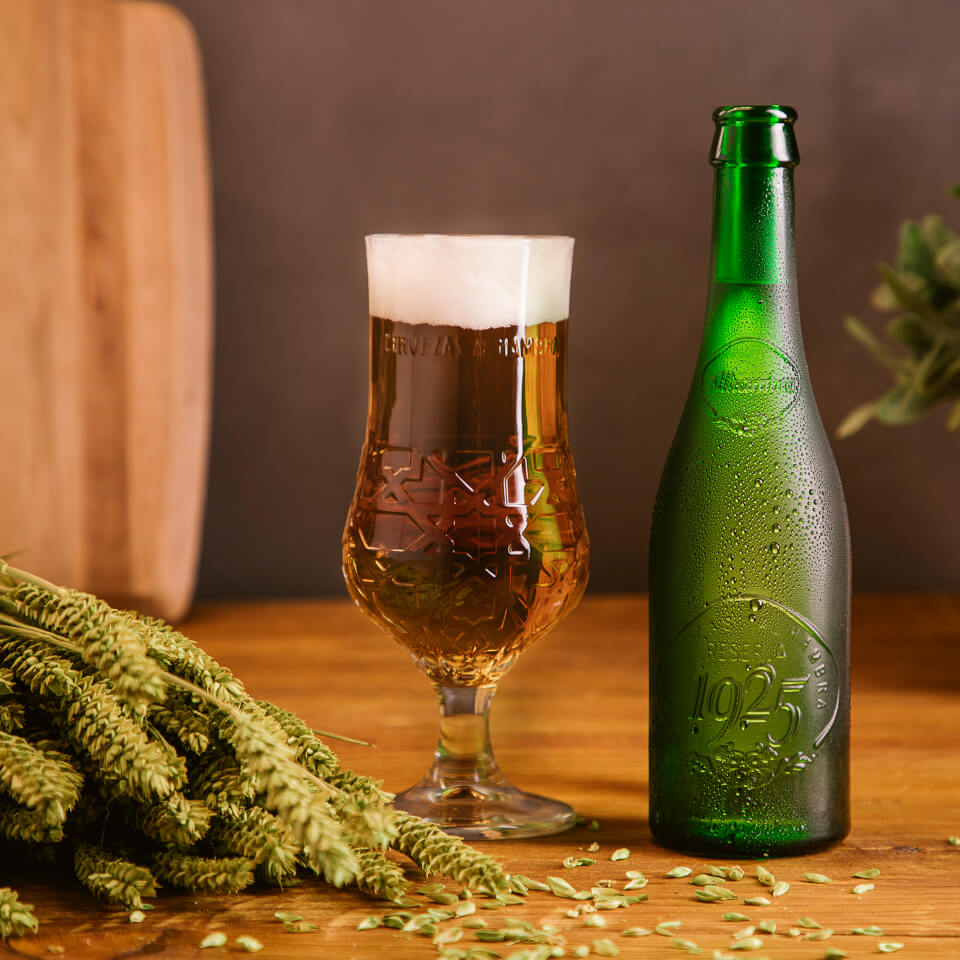 Alhambra Reserva 1925 is a synonym for class, elegance, and quality. A strong European Premium Lager with 6.4% alcohol content, this delicious beer in a stylishly designed green bottle is the pride of Grupo Cervezas Alhambra, SL. 
Reserva 1925 creates a one-finger head when poured, but it disappears within a blink of an eye, leaving speckly lacing. A pleasantly rejuvenating to the palate, Alhambra 1925 tastes like sweet malts and the bitterness of hops present in the beer with a touch of spicy notes and caramel. However, the aftertaste is slightly metallic. It is a perfect sipper on the hottest afternoons in warm areas.
7. La Virgen Madrid Lager
La Virgen Madrid Lager, a pale beer with a clear golden color and a decent white head, contains 5.2% alcohol content with a medium body and moderate carbonation. Its aroma and flavors offer malts, fruits, and citrus with a hint of grassy hops. Additionally, the beer aftertaste is dry with low bitterness. If you are fond of light lagers, La Virgen Madrid Lager is the right choice.
8. Rosita Negra
An American Porter-style beer, Rosita Negra, brewed in Spain by Cerveses La Gardenia with an ABV of 6%, is a dark black-colored alcohol with an off-white head. Though the head has a low retention level, the aroma is of roasted malts with a touch of hazelnuts, dark chocolate, and earthy hops. Rosita is a medium-bodied beer with decent carbonation, making it worth trying alcohol in Spain.
9. Estrella Damm
Beat the heat with Estrella Damm this summer!
A production of Damm S.A., Estrella Damm is a European Pale Lager that makes a two-fingered, well-retained foamy white head with 5.4% alcohol content. It is a fizzy drink with a golden color with an aroma of yeast, fruit, and bread. The taste is malty and grainy with a touch of grassy hops. Damm is a light-bodied beer with a smooth, clean feel. 
10. Ambar Especial
Brewed in Spain by La Zaragozana S.A., Ambar Especial, an American Adjunct Lager with an ABV of 5.2%, is a copper-colored beer with a thin white head. It has an aroma of malts. The caramel malt taste with a hint of hops makes it a delicious alcohol to drink at any event.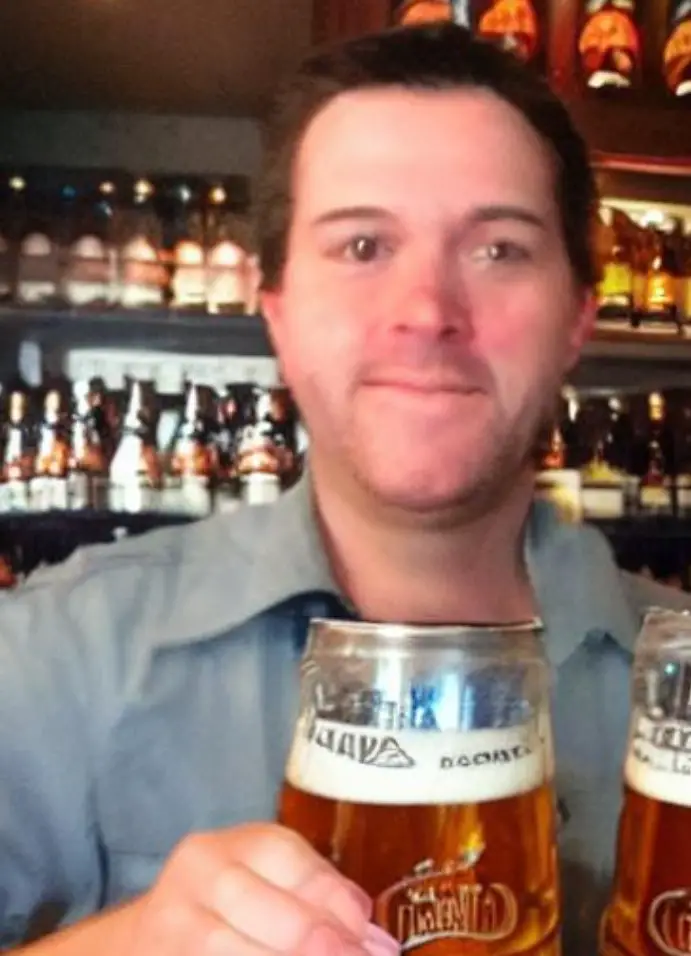 I am a passionate beer connoisseur with a deep appreciation for the art and science of brewing. With years of experience tasting and evaluating various beers, I love to share my opinions and insights with others and I am always eager to engage in lively discussions about my favorite beverage.