Whenever people go to watch a movie in movie theaters, the only familiar selections on the menu are popcorn and sodas of different flavors. Today, it's no longer a surprise for some movie theaters to serve alcoholic beverages for moviegoers aged 21 and up.
1. Alamo Drafthouse Cinema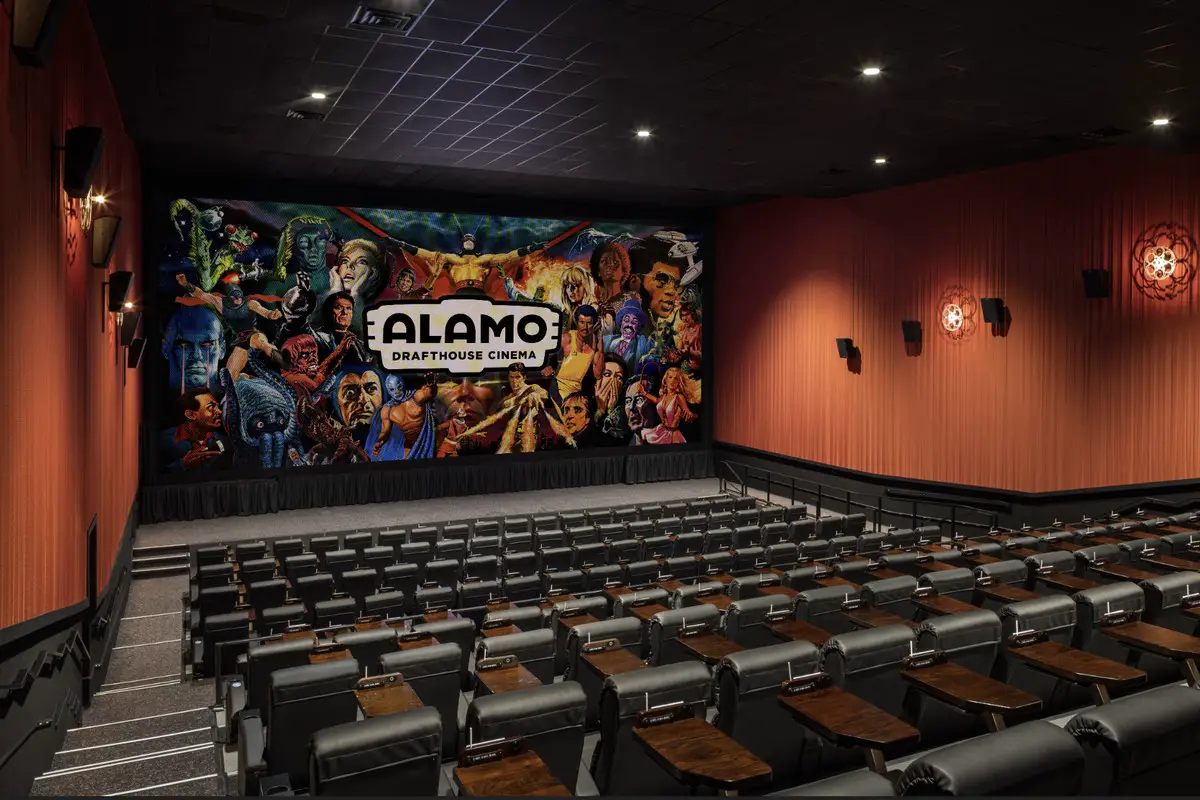 The Alamo Drafthouse Cinema is known to have the biggest chain of theaters in the country. Founded in Austin, TX by Tim and Karrie League in 1997. They started with titles that are second-run for a discounted pass and just a year after they first opened their humble theater doors to the public, they started to host film premiers and connected to different moviemakers in and out of Texas. Soon, their original garage theater was converted into a theater laboratory.
Currently, they have the following theater locations across the country: Austin, Birmingham, Boston, Charlottesville, Chicago, Corpus Christi, Dallas/Fort Worth, DC Metro Area, Denver Area, El Paso, Houston, Laredo, Los Angeles, Lubbock, New York City, Northern Virginia, Omaha, Raleigh, San Antonio, San Francisco, Southwest Florida, Springfield MO, St Louis, Twin Cities, Winchester, and Yonkers.
Just like fancy restaurants, this theater serves a wide variety of food selections from the kitchen straight to the comforts of the moviegoers' seats, and of course, the experience is not complete without the offerings of the theater bar's handcrafted cocktails and beer selections sourced from local homebrewers.
2. AMC Theaters
Now, AMC Theaters positioned itself differently, known to be one of the biggest theater companies not just in the country but on a global scale, with an estimated revenue of $3.91 billion between the years 2021 and 2022. Their main house is located in Leawood, KS, with over 940 theaters across the country with a count of 10,474 screens (and they're still growing as of this writing). 
The theater is known to premier big movies, both local and international; they're also famous for their world-class bar service. Twinned with MacGuffins Bar which is usually found in the theaters' reception, this is where the moviegoers and guests queue for the alcoholic beverages, like cocktails, beers, and wines, that they can enjoy while watching movies.
The bar in 300 theater locations also offers appetizers and main courses just like how restaurants would do it. Depending on the theater location, some sites won't allow people to bring and consume their food and drinks inside. Keep in mind, though, that not all theaters stand with MacGuffins, so it's best to check the listings on their website first if the plans of watching a movie include trying their food and drink selections.
3. Cinemark
Cinemark is another company that owns a theater chain in the US and Latin America of 514 theaters with a count of 5,812 wide screens across all locations, of which 315 cinemas are in the US. Their main theater and office are located in Plano, TX; they have been marked as the 3rd largest chain of theaters in the country. 
They're one of the theaters that offer alcoholic beverages like wines, bottled and draft beers, and other cold drinks to the moviegoers, but also, please keep in mind that this is only available to select theater locations. 
That being said, it's better to check the theater location first to confirm if they're servicing alcoholic beverages to their moviegoers.
4. Cineplex
This is a Canadian-owned theater chain that also operates in the US. They're one of the biggest theater companies in Canada, with its main home in Toronto. 
Cineplex theaters offer different kinds of food selections with different concessionaires in their theater reception, and of course, they also sell different alcoholic beverages to their patrons who are 19 and older in Ontario (ages 18+ in Alberta) and 21 and older in the US. They're known to serve cold beer, cider, and other alcoholic beverage selections.
5. Landmark Theatres 
Landmark operates on a wide stretch across the US. It started operating in 1974 with just one screen in its first theater in West Hollywood, and now they have theaters in Arizona, California, Colorado, the District of Columbia, Florida, Illinois, Indiana, Maryland, Massachusetts, Missouri, New Jersey, New York, Pennsylvania, Texas, Washington, and Wisconsin. 
Landmark Theatres offer all-time favorite movie snacks in the US like popcorn, locally sourced chips, cookies, chocolates, pastries, and other hot food options like chicken and cheese sticks, that they also pair with a wide selection of cold beer, wines, and cocktails for moviegoers age 21+ in select locations.
6. Marcus Theaters
Interestingly, Marcus Theaters is one of the oldest and biggest theater companies in the US. This theater company was founded by Ben Marcus on the 1st of November 1935 in Milwaukee, WI, and is now under the parent company – The Marcus Corporation.
It all started with a single screen that Ben set up in their neighborhood in Ripon. Headquartered in the same city where it all started, Marcus Theaters is now operating in Illinois, Iowa, Minnesota, Missouri, Nebraska, North Dakota, and Ohio. Not to mention, Marcus Theaters (The Marcus Corporation) has also ventured into owning a chain of hotels and restaurants in the US, making them one of the industry leaders in entertainment, dining, and lodging.
With their long history in the theater industry, they certainly didn't want to go last to offer fun drinks (non-alcoholic), hot food selections, and snacks to their patrons. Yes, they offer different alcoholic beverages like bottled, canned, and draft beers, wines, and cocktails for moviegoers aged 21 and up.
Conclusion
This is a not-so-new trend in the chains of movie theaters in the country, where people nowadays expect to get more than just the movie that they waited in line for. 
At first, movie theaters introduced the concept of comfortable watching by adding different kinds of seat options in the theater, such as remote-controlled recliner chairs with built-in trays where moviegoers can place their food and drinks. 
Until someone thought of adding more fun to the entire movie experience by offering and serving alcohol to those moviegoers who were old enough to grab one.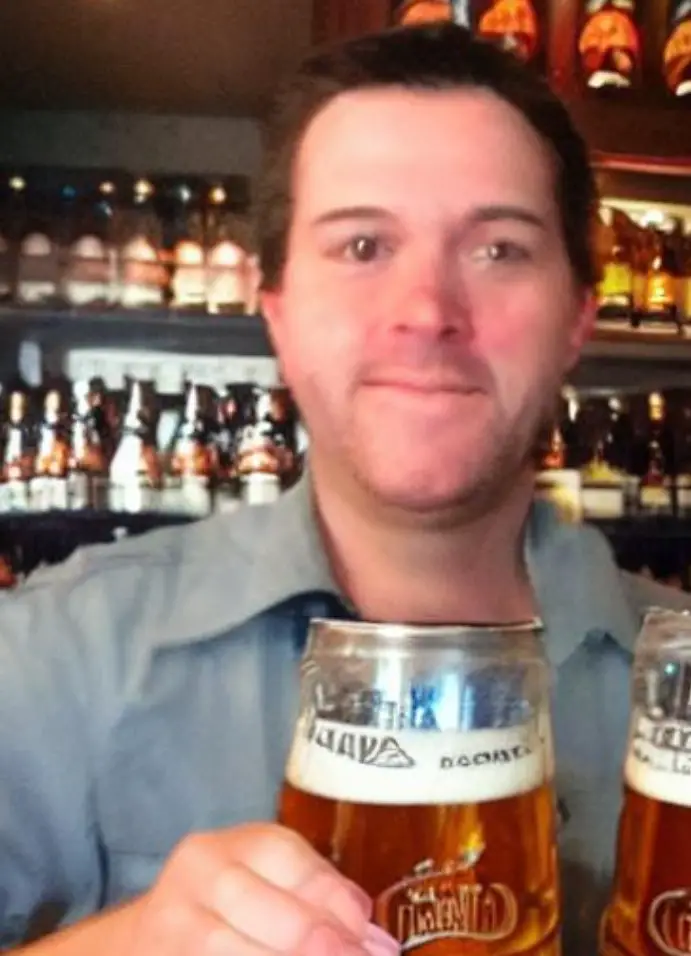 I am a passionate beer connoisseur with a deep appreciation for the art and science of brewing. With years of experience tasting and evaluating various beers, I love to share my opinions and insights with others and I am always eager to engage in lively discussions about my favorite beverage.