One of the mesmerizing South Asian countries, Sri Lanka is best known for its tropical landscapes, beautiful beaches, delicious fruits, and lively beer culture. From local craft breweries to international brewing brands in Sri Lanka, find your favorite beer brand to satisfy your taste buds. Lagers are the most consumed style, followed by stouts and pilsners.
Sounds intriguing? Unleash delightful flavors of Sri Lankan beer brands to stay cool on a hot summer day.
1. Lion Lager
Are you searching for a thirst-quenching beer in Sri Lanka? If yes, look no further than Lion Lager! 
It dominates the Sri Lankan beer industry. Lion Lager is a well-balanced combination of taste and looks. It is a European Pale Lager for the style. The eye-catchy labeling of golden and black with a picture of a golden lion, 'the King of Savannah,' makes an elegant appearance. It has a golden roasted malt color with a dense foamy white head that stays persistent till the last sip. 
The smell and flavor offer grainy and sweet, with traces of corn and grassy hops. Lion Lager is a light-bodied beer with rounded bitterness and a dry finish. It is a decent thirst quencher Euro Pale Lager to survive in the hot weather in Sri Lanka. 
2. Guinness Foreign Extra Stout
The epitome of deliciousness, Guinness Foreign Extra Stout is a robust beer brewed with quality roasted malt, caramel,  and dried fruits. Though the brand is Irish, it is among the most consumed beers in Sri Lanka. Its jet-black appearance with a beige head of foam enhances the impression. 
With imported and homegrown ingredients, including water, malted barley, hops, barley, and yeast, the full-bodied taste with a trace of sweetness and coffee notes can be irresistible for beer lovers. It has a 7.5% ABV, which is ideal for the style.
3. Kings Pilsner
One of the top competitors of Lion Lager, King's Pilsner, is a fusion of malty goodness and bitter hops. It contains a 4.8% alcohol content. The straw-like golden hue with a foamy white head leaves a decent impression on beer enthusiasts. 
The medium bitterness and malt sweetness feel pleasant on the palate, making it a perfect summer beer. It gives a light-bodied feel with moderate carbonation. Kings Lager is an ideal thirst quencher to stay cool on a sun-soaked hot day in Sri Lanka. 
4. Beck's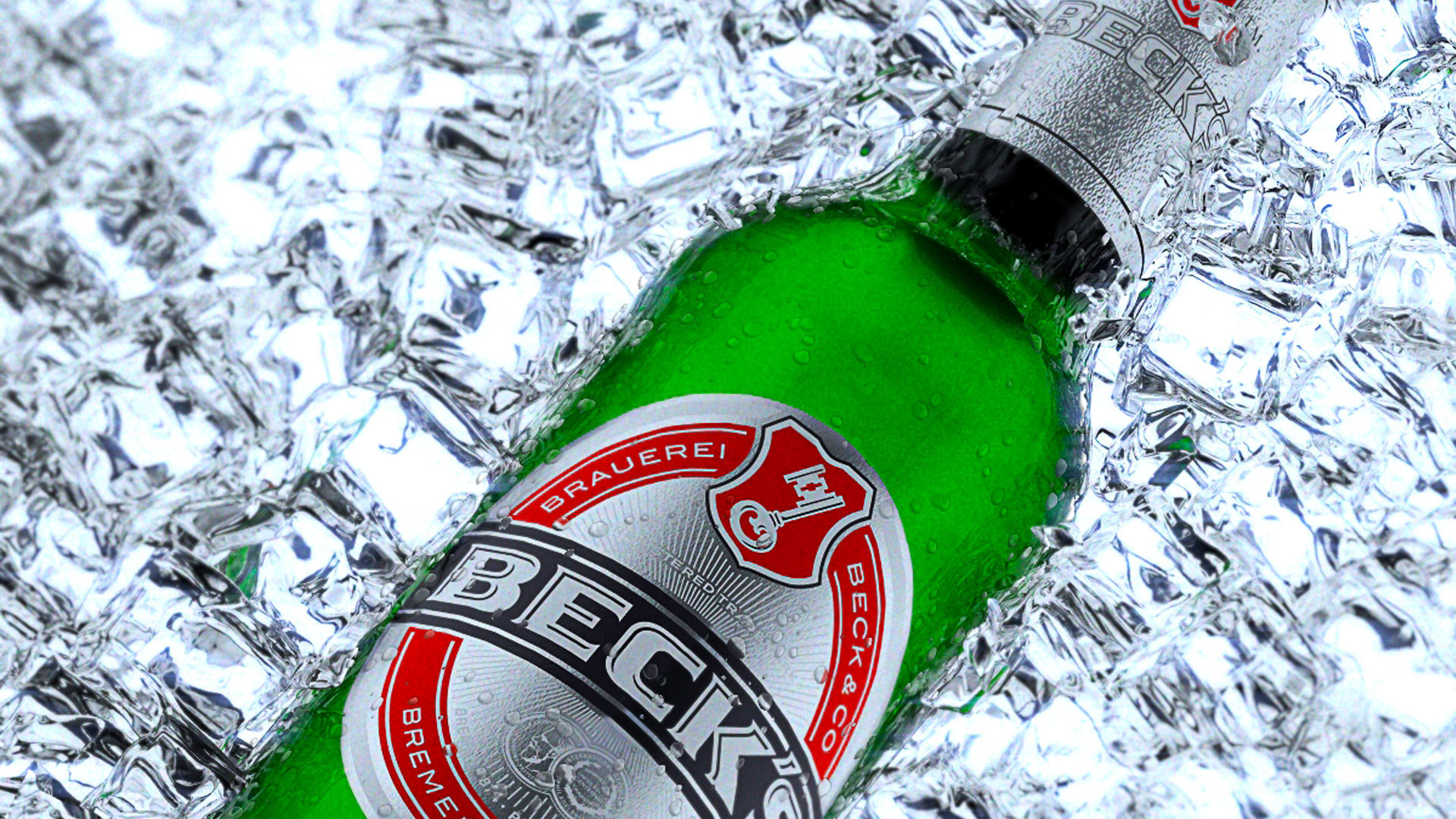 Beck's beer represents the authentic brewing heritage of Germany. With the help of only four ingredients, such as malted barley, hops, water, and yeast, Beck's pours a golden hue with a frothy white head. 
The fruity and floral European Noble hops nose with sweet grainy and biscuity flavors sweeten the flavor profile. It is a clean and well-balanced beer to satisfy your cravings. Moreover,  Beck's goes well with beef and nuts because of its high drinkability. 
5. Three Coins Irish Dark
An Irish Dark Ale for the style, Three Coins Irish Dark is a blend of elegance and deliciousness brewed with the best quality ingredients in Sri Lanka. The Dark Ale pours a deep black color with a thin to medium-sized fizzy off-white head. 
Consider it a dark horse because of its lighter body and heavy alcohol (7.5% ABV). The beer pleasantly strokes the palate with its tempting flavors of hops and malts, providing a crisp and clean finish. Three Coins Irish Dark Ale goes down well, so you should try this beer. 
6. GB Beer
A European Strong Lager produced by Ceylon / Lion Brewery Limited in Sri Lanka is a bottle of deliciousness. Its name is GB Export (Grand Blonde). The alcohol content is 8.8%, which is perfect for the style. Its deep golden appearance gives a beautiful impression with a half-inch foamy white head. 
The mild scent and sweet malt flavor add a delightful touch to the beer profile. It provides a medium-bodied feel with average carbonation. GB Export is a decent beer that pairs well with beach parties or road trips. 
7. Papare English Red Ale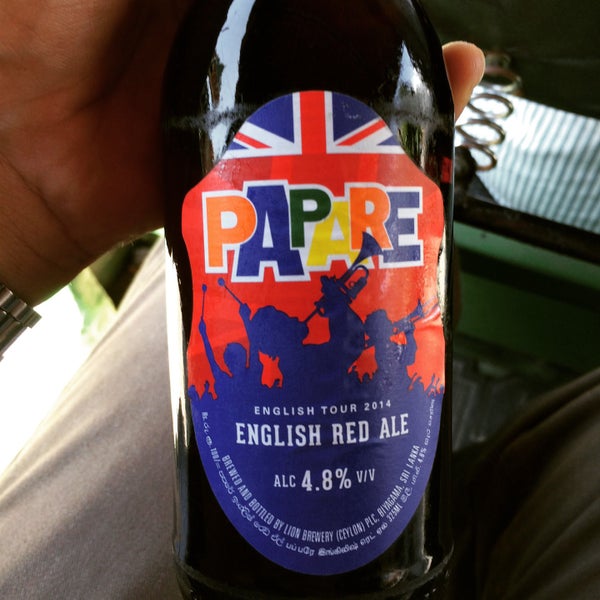 Papare English Red Ale is an International Amber Ale for the style. It pours a deep reddish amber color with a frothy white head that dissipates moderately. 
With a strength of 4.8% alcohol content, the aromatic flavors of sweet malt and hops improve the taste of Papare. It is a light to medium-bodied beer with decent carbonation and a smooth finish. You can serve it chilled to maximize the flavor. 
8. Ryder's Wild Apple
Any apple-flavored beer lover? Ryder's Wild Apple is the solution to your cravings. The beer has a strength of 8.8% alcohol by volume. It contains the original apple juice. The transparent dark golden hue looks beautiful with a thin white head. 
There is apple syrup and apple peels in the flavors with a trace of alcohol, making it an authentic apple beer. It is medium-bodied with average carbonation. Ryder's Wild Apple feels sweet on the palate with the natural apple taste. It can be an ideal beer with low bitterness and a crisp, refreshing flavor. 
9. Carlsberg Special Brew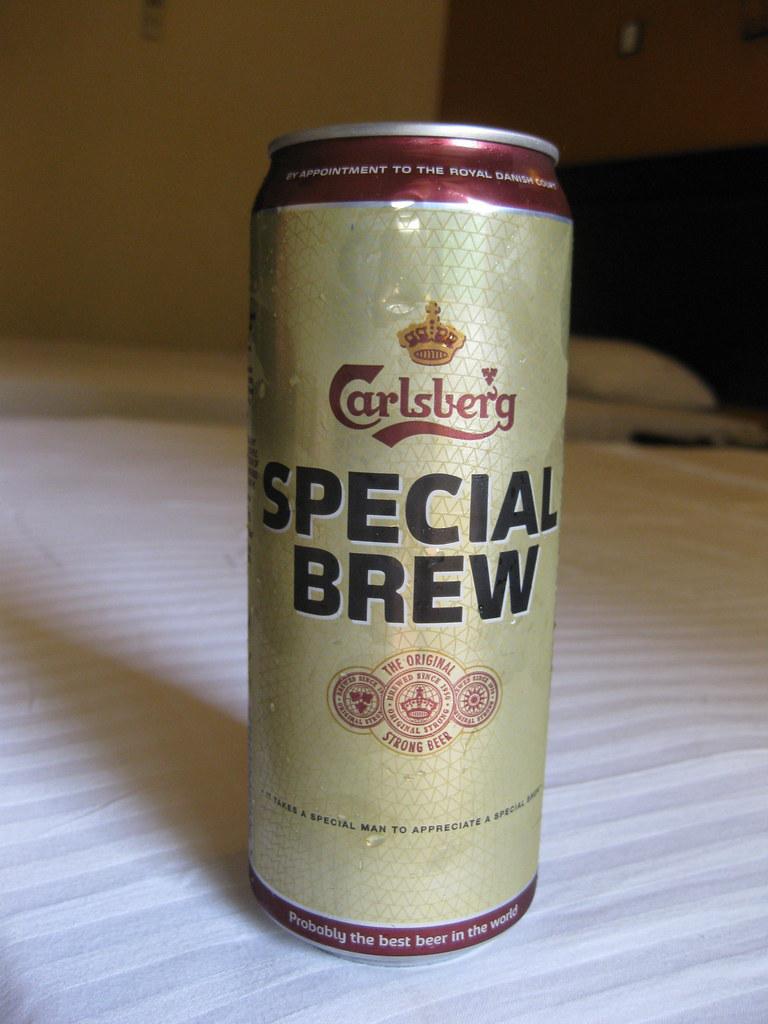 The name of a popular Premium Strong Lager served in Sri Lanka is Carlsberg Special Brew. It is a robust malt beer with a deep golden appearance and a fizzy white head of bubbles. It contains 8.8% alcohol content. 
The fruity taste of Carlsberg is pleasant, but it enhances ten times due to the apparent bitterness in the flavor profile. It is a full-bodied beer with moderate carbonation and a pleasantly smooth finish. Serve it chilled on a hot day to stay hydrated and cool. 
10. Millers Sando Power Strong Beer 
Sri Lanka 100% owned Millers Sando Power Strong beer with 8.8% ABV. It pours an orange-golden color with a white head of foam.
The nose suggests honey, grain,  and malt, while the taste matches the aroma with additional caramel and grass flavors. Sando Power Strong beer is a moderately-carbonated Lager with a syrupy texture. There is slight alcohol in the aftertaste. It is a quaffable beer that goes well with Sri Lankan food. Do try it to believe it!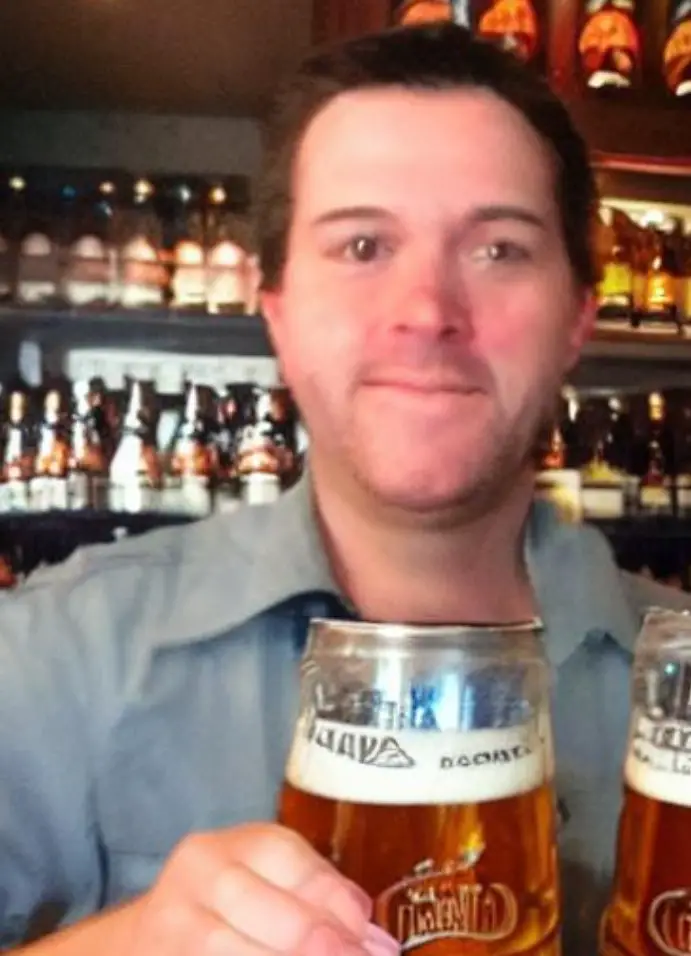 I am a passionate beer connoisseur with a deep appreciation for the art and science of brewing. With years of experience tasting and evaluating various beers, I love to share my opinions and insights with others and I am always eager to engage in lively discussions about my favorite beverage.