Every person has personal preferences when it comes to beer. Some people like heavy drinks, and some prefer light. The beer industry has many exciting and versatile beverages, but the most popular style is Ale. It is a complex, fruitier, aromatic, and somewhat bitter liquor. Also, Ales are more flavorful.
Sounds interesting to you? Check out these ten best quality Ale beer brands for beer lovers. Explore and share with your buddies.
1. Murphy's Irish Red
Murphy's Irish Red Ale is an international beer brand brewed in Ireland. Consider it a pride of Irish connoisseurs because of the aromatic flavors of malt and caramel. The reddish body, topped with a fizzy beige head, looks elegantly attractive.
The nose is malt, bread, and caramel with a trace of earthy hops, while the taste is a yummy combination of hoppy bitterness and malty sweetness. Moreover, the mouthfeel is smooth and excellent enough to remember for a long time. The best thing about Murphy's Irish Ale is that you can pair it with any Irish cuisine. 
2. Kilkenny Irish Cream Ale
Another Irish Ale with a creamy and smooth texture, Kilkenny Irish Cream Ale is a product of Diageo Company in Ireland. Its red body and slightly tan creamy head make a lovely combination. It contains 4.3% alcohol content. Kilkenny is a nitrogenated Irish Ale, but salute to the finest craftsmanship as they brew it like a traditional red ale.
The aromatic flavors of roasted malt, caramel, and coffee add an authentic taste to the beer. Its mouthfeel is creamy with low to moderate carbonation. Also, Kilkenny is available in different countries, especially the UK, Ireland, and Canada.
3. Black Sheep Ale
A premium bittersweet ale, Black Sheep is an Extra Special Bitter Ale brewed in the United Kingdom. With 4.4% ABV, brewers have used Goldings Hops to brew this masterpiece. Its orange-golden color with a dense, creamy white head is a treat to watch. Also, it leaves a generous amount of lacing behind.
The nose is grainy, malty, and hoppy with hints of peppery spice, toffee, and ripe banana. Its taste follows the aroma with additional notes of grassy, earthy hops and toasted malt. Black Sheep finishes with a crisp, bitter mouthfeel and a lingering aftertaste. Overall, it is a nicely-balanced pleasant beer to taste whenever you want.
4. Belhaven Scottish Ale
Are you fond of Scottish Ales? If so, have you tried Belhaven Scottish Ale yet?
Belhaven is a trustworthy name in the United Kingdom's beer industry, with many aromatic alcoholic beverages of premium quality. Its Scottish Ale, with a standard alcohol content of 5.2%, is the company's signature beer brewed with 100% Scottish Crystal and Optic barley malts. The copper-colored body with a thin foamy beige head always looks promising.  
It suggests a nutty caramel aroma and flavor with a well-balanced sweet, smooth mouthfeel. The beer develops a hoppy dry aftertaste, perfect for those who love hoppy drinks. 
5. Boddingtons Pub Ale
The United Kingdom is renowned for brewing quality alcoholic beverages. You can take the example of Boddingtons Pub Ale, an English Pale Ale with 4.7% ABV. Its light amber-colored body sweetens the beer's appearance with a well-retained foamy bone-white head that often leaves good lacing. 
The malty aroma with a yeasty touch makes it more tempting, while the taste is not different than the smell with additional notes of creamy sweetness. Its mouthfeel is soft and creamy with a bit of hoppy bitterness to balance the flavor. Boddingtons Pub Ale is a lively beer to taste in the United Kingdom, so try it on your next trip.
6. Smithwick's Ale
Have you ever been to Ireland before? If yes, you may have heard about Smithwick's Brewery, one of the top-rated breweries in the country. The best-selling beer of Smithwick's is Irish Red Ale, with a low alcohol content of 3.8%.  Its color is transparent ruby with a thick, creamy white head with excellent retention.
The aromatic flavors of caramel, grain, herbal/spicy hops, and light toast notes make this beer a timeless drink to serve with traditional cuisine. With a medium-bodied texture and good carbonation, Smithwick's Ale gives a semi-sweet feel and a dry finish.
7. Old Speckled Hen
If you are an ale drinker and haven't tasted Old Speckled Hen yet, this is your time!
It is an English Pale Ale brewed by Greene King/Morland Brewery with an ABV of 5%. The body is copper with a nice-looking nitro cascade effect. Its creamy off-white head retains well.
The aromatic flavors of yeast, malt, and hops dominate the flavor profile with a perfect combo of sweetness and bitterness. It offers a dry finish with a lingering bitter taste. However, Old Speckled Hen is a quaffable beer with a smooth feel and lively texture. You can surprise your friends with this quality drink at your next gathering.
8. Adnams Broadside
The United Kingdom has many flavorsome ales. One is Adnams Broadside, an English Pale with 6.3% alcohol by volume. Its caramel-colored body with a long-lasting head that is persistent enough to last a few minutes makes it a wise choice for social gatherings. 
The smell is caramel malt, bready, and dark fruitiness with a trace of spices, while the taste follows the nose with additional notes of toffee, dates, chocolate, and herbal hops. It offers a thick mouthfeel with medium carbonation. Overall, Adnams is a complex but well-balanced drink.
9. Bass Ale
Bass Ale is a classic pale ale brewed in the United Kingdom. It pours a copper shade with a creamy head that lasts a few minutes. The beer has a 5.1% alcohol content with lively carbonation. 
The sweet malty, grainy aromatic flavors are enjoyable. Plus, it is a medium-bodied beer with a smooth and soft mouthfeel. It is a decent drink and widely consumed in the UK.
10. La Chouffe
La Chouffe, brewed in Belgium, is a Belgium Strong Pale Ale. It is a delicious sipper with a thirst-quenching character. The beer has a well-carbonated hazy golden body with a fluffy white head. This delightful drink looks lively.
La Chouffe has aromatic flavors of malt, semi-sweet fruit, and herbal hops with a medium-bodied feel, making it an exceptional choice to spend a day in hot weather.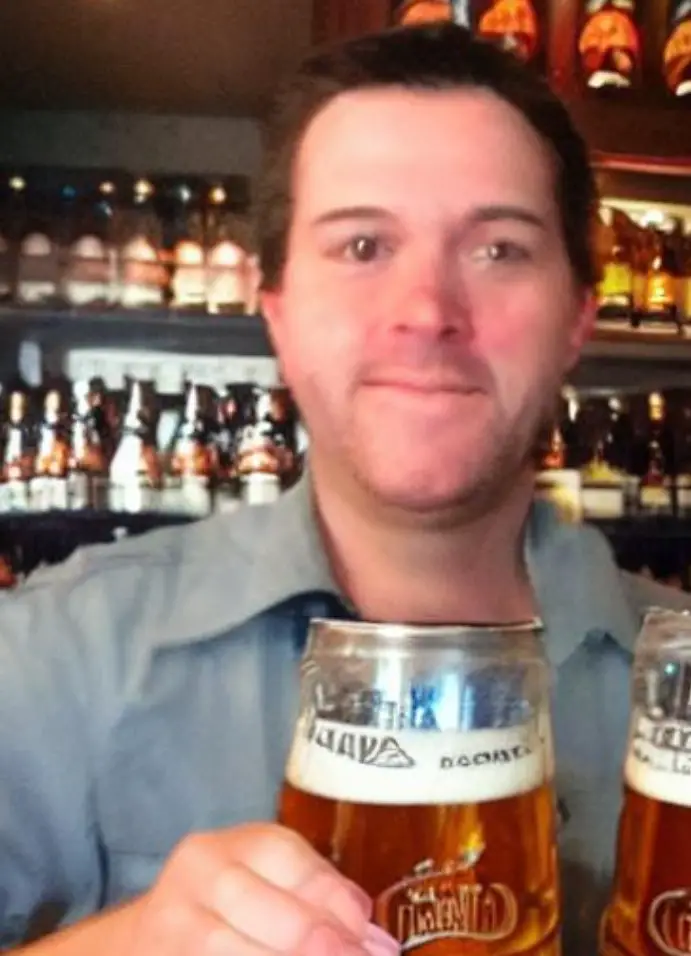 I am a passionate beer connoisseur with a deep appreciation for the art and science of brewing. With years of experience tasting and evaluating various beers, I love to share my opinions and insights with others and I am always eager to engage in lively discussions about my favorite beverage.