You may have known South Korea for its K-pop culture, spicy food, and high-quality cosmetics, but have you ever tried its beers?
South Korea is one of the world's most popular countries, with an exotic beer scene and vibrant nightlife. Though people usually drink "Soju," still several beer brands are there to entertain enthusiasts. 
Do you want to discover more about them? Here is the list, so check it out!
1. Cass Fresh
One of the most popular beers with an iconic taste, Cass Fresh, is a crowd-pleaser in South Korea. Unlike other famous South Korean beer brands, Cass has a strong flavor brewed with quality ingredients. It is an American Adjunct Lager with a straw-like appearance and a sturdy white head of foam. The strength of Cass Fresh is 4.5% alcohol by volume.
With a light, fresh malt character and tempting aroma, the taste offers a crisp, refreshing, and hoppy touch. The mouthfeel is pleasant, with an average carbonation. Moreover, it goes well with spicy Korean food.
2. Jeju Wit Ale
Korea has distinct beer brands with quality flavors. Take the example of a Jeju Wit Ale, a Witbier with a strength of 5.3% alcohol content. It pours a pale golden coloration with a milky haze and a 1cm bubbly white head that stays persistent till the last sip.
Jeju Wit is a beautiful fusion of wheat and coriander. There is unique dry hoppy bitterness in the finish. It is a highly drinkable, refreshing, and enjoyable beer. Like other beers, it pairs well with spicy and hot-served Korean food. Also, it is authentic for the style, so don't forget to taste it whenever you visit South Korea.
3. OB Premier Pilsner
Oriented Breweries Limited in South Korea is among the leading contributors to the South Korean beer industry. The company offers many distinct flavors, but OB Premier Pilsner is everyone's favorite. It has a nice-looking golden-yellow appearance with a foamy white head. 
The floral and malt aroma feels tempting, but the taste matches the nose with the additional flavor of corn. It provides a pleasant mouthfeel with decent carbonation. Premier Pilsner is a quaffable and enjoyable beer, so add it to your bucket list.
4. Hite Extra Cold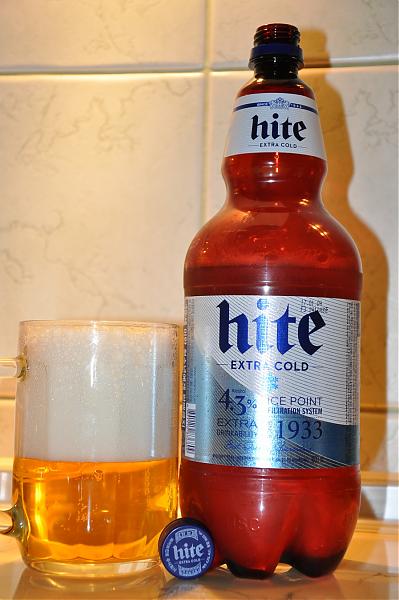 Koreans love to consume American Adjunct Lagers as they are popular in the country. One is Hite Extra Cold by Hite Brewery Company LTD. It contains 4.3% alcohol content. The beer pours a transparent golden color with an inch-tall foamy white head. 
It has an aroma of light grains with touches of floral. The taste follows the nose with a malt backbone. Hite Extra Cold is a light-bodied beer with a slick texture and good carbonation. Undoubtedly, it is a refreshing Adjunct Lager, perfect for any occasion. Also, Hite is pocket-friendly.
5. Kloud
A German-style Pilsner brewed by Lotte is a widely-consumed beer in South Korea. Kloud is an all-malt classic Pils with a refreshing quality. It is available everywhere in the country. Lotte entered the South Korean market in 2014, so Kloud is a relatively new beer brand, but its popularity has been skyrocketing since it launched. 
It has a distinct cereal hops taste with bready notes and fruity flavors. The aftertaste is slightly sweet, with a pleasant finish and average carbonation. Kloud is a light-bodied party beer, ideal for regular meetups and casual night parties with friends. 
6. Magpie Pale Ale
Are you an APA lover searching for a crisp, refreshing beer in South Korea? If yes, try Magpie Pale Ale!
Magpie Pale Ale is an American Pale Ale for the style. It has a 4.8% low alcohol content with a nice-looking appearance. It pours a reddish amber hue with an inch-tall fluffy white head that retains for a few seconds.
The nose suggests resin and a light citrus aroma, while the taste offers bitter grapefruit notes at the end. It provides a refreshing mouthfeel and pleasant aftertaste with average carbonation. Also, Magpie Pale Ale goes well with spicy Mexican and South Korean dishes.
7. Gorilla British Stout
In 2015, two British brothers started their beer brand in South Korea, Gorilla Brewery. It has become a household name among Koreans and visitors alike. The most-selling product of Gorilla is British Stout. With a deep black body and a fluffy beige head, this tasty stout offers a roasted malt aroma and tempting caramelized flavor. 
The roasted malt gives a beautiful but complex coffee flavor with a well-balanced blend of English yeast and caramel malt. It is a full-bodied beer with a creamy mouthfeel and a perfectly-carbonated finish. Whether you like stouts or other styles, Gorilla British Stout will ignite your taste buds after a first sip.
8. Terra From AGM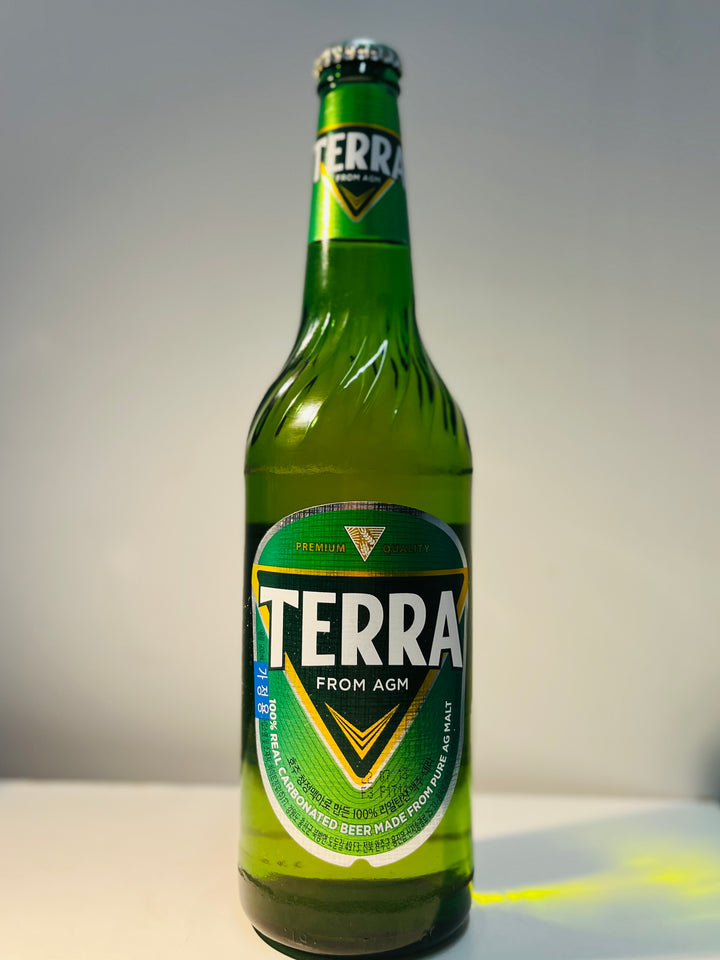 Terra is second to Cass Fresh in South Korea. It is an Adjunct Lager brewed by HiteJinro. Terra has exceptional AG malt that enhances the flavor profile. The beer has a unique appearance with a clear golden color and a foamy white head. It has a strength of 4.6% alcohol content. 
Take a first sip and indulge in a light malt taste that grows stronger after a few minutes with a distinctive corn-like flavor. It provides a soft mouthfeel with a refreshing finish and aftertaste. Terra is highly crushable, so you should taste it on your next trip to South Korea.
9. Craftbros Super IPA
Have you tried a New English IPA from Craftbros in South Korea? It is Super IPA available at every convenience store. A burst of tropical and dank hoppy flavor is something you don't want to miss out on. 
Super IPA is a hazy, juicy beer with a silky mouthfeel. The bursting flavors of stone fruit, mango, and citrus enhance the taste with moderate hoppy bitterness. Consider it the best IPA in South Korea.
10. Cafri
Cafri is a light Lager with a low 4.2% alcohol content. It is a Korean version of the famous Mexican beer, Corona. Cafri pours a straw-like color with a fizzy white head. 
It is a fusion of grainy malt and slight hoppy bitterness. The beer feels thin on the palate with fizzy carbonation. Heavy drinkers may not like it, but you can consider it for casual meetups or road trips. Also, it is highly crushable and inexpensive.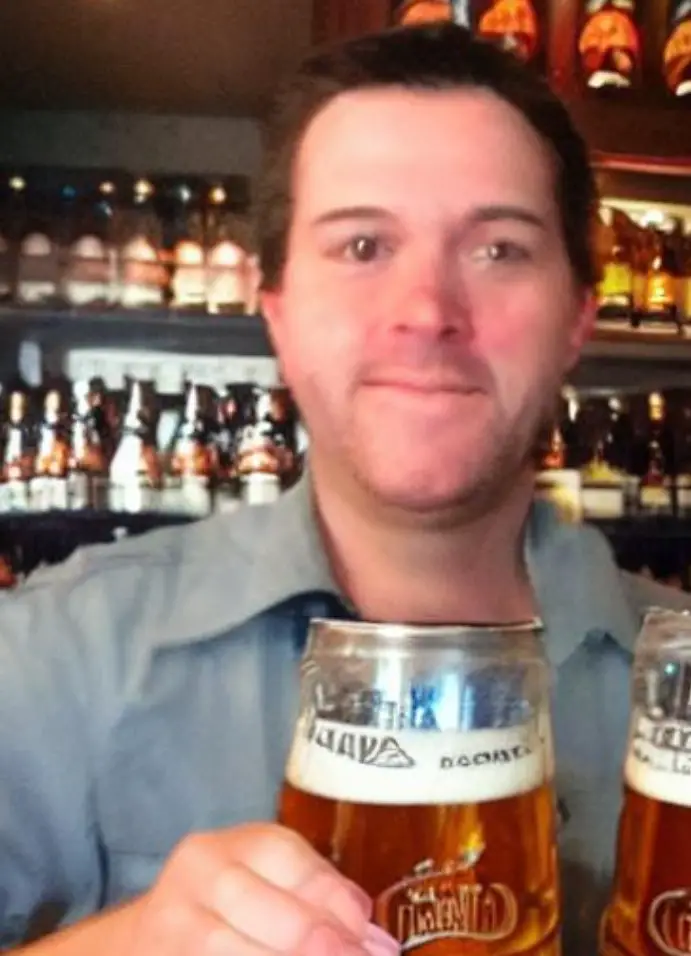 I am a passionate beer connoisseur with a deep appreciation for the art and science of brewing. With years of experience tasting and evaluating various beers, I love to share my opinions and insights with others and I am always eager to engage in lively discussions about my favorite beverage.