If you are looking for delicious premium beers, you have two options, i.e., buy German beers or move to Germany to drink the best quality alcohol. There is no in-between. 
The German drinking culture is one of the most exquisite in the world. It is a place where you can drink, even in public areas, without the fear of being caught by the police. The popular types of beer in Germany include Lager, Bock, Helles, Dunkel, German Pils, Kolsch, Witbier, and Schwarzbier. Also, here is a list of top-quality German beers to try in 2023. So, check out!
1. Weihenstephaner Hefe Weissbier
Germany takes pride in brewing top-quality beers worldwide. One of the best German beer brands is Weihenstephaner Hefe Weissbier, a pale yellow alcohol with a 5.4% alcohol content.
A fine-sized foamy white head appears tempting in a glass. The aroma of cloves, banana, and pineapple, with a hint of soapy hops and the spiciness of cherry, clove, and pepper, would tickle your taste buds.
Moreover, the flavor offers a hoppy bitterness up front and a sweet wheaty touch in the background, making it a unique, full-bodied beer to serve with traditional German cuisines.
2. Erdinger Kristall
Like other German premium beers, Erdinger Weissbier is a Kristallweizen alcoholic drink with a 5.3% alcohol content. The translucent gold hue with a rocky, creamy, off-white head gives its appearance a more enhanced look.
Loaded with deliciously inviting aromas of doughy malt, lemon, honey, sweet banana, and peppery hops, thanks to the selected German ingredients.
While the flavor profile is quite outstanding with earthy wheat, lemon and orange zest, malt, honey, and banana with a subtle blend of grassy hops, this moderate-bodied beer is surprisingly refreshing on the palate, paired with a medium level of carbonation.
3. Paulaner Salvator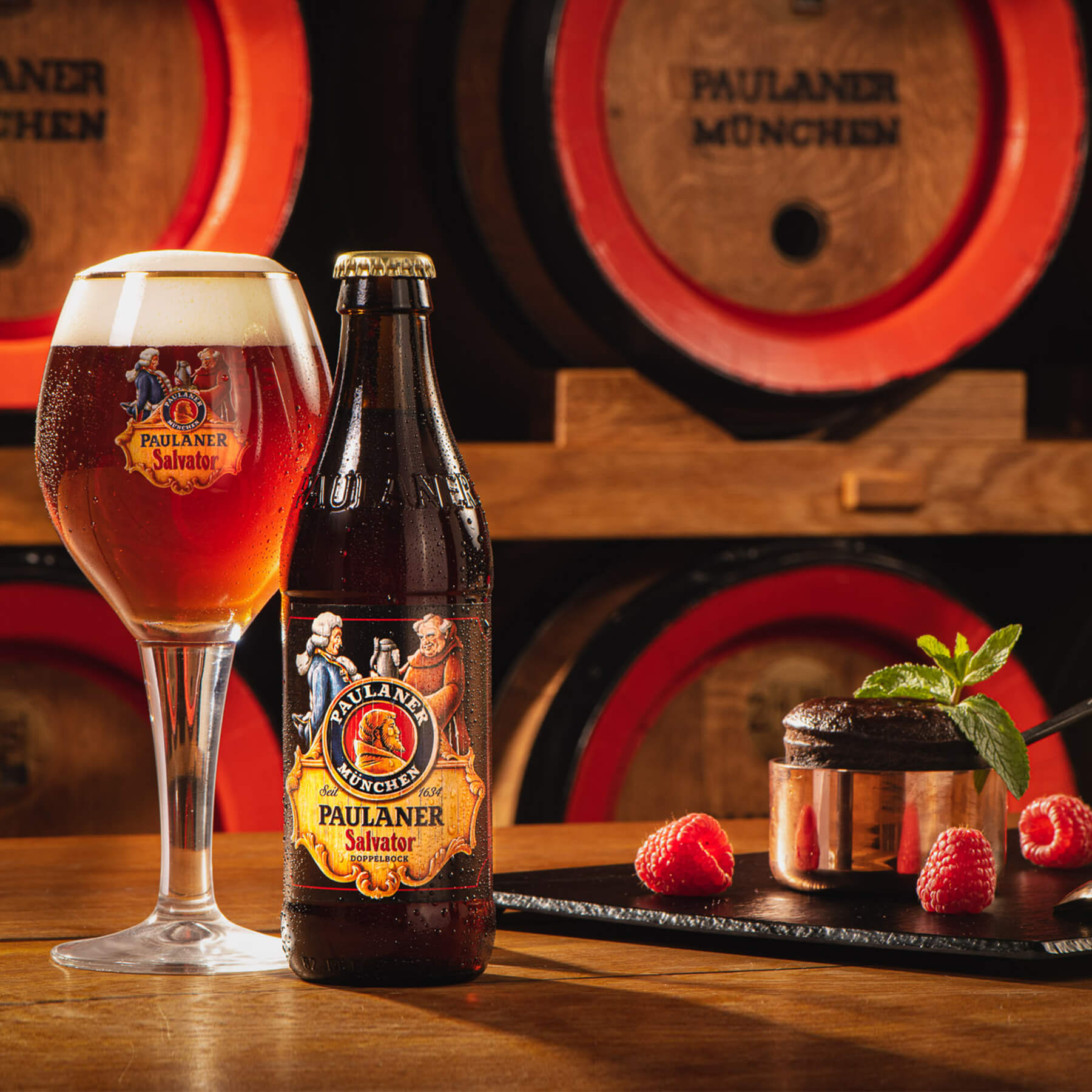 A Doppelbock German beer with an ABV of 7.9%, Paulaner Salvator, brewed by Paulaner Brauerei in Munich, is an unfiltered bottom-fermented alcohol with a dark beige hue.
It creates a thin, light head that dissipates within seconds. Paulaner is all about the quality combination of sweet aromas and flavorsome tastes. The smell has malty sweetness and fruitiness with a hint of bitter hops.
On the palate, it feels delicious with lots of sweetness. Due to its ingredients, Paulaner may make you feel hot in the throat or stomach with a fruity aftertaste. Overall, it is a perfect everyday beer you can consume, so if you are ever visiting Munich, make sure you try this beer.
4. Köstritzer Schwarzbier
A stand-out beer with 4.8% alcohol by volume, Kostritzer Schwarzbier, brewed with the finest German ingredients, is a deep black beer with a thick white head. Being one of the beer industry leaders, it allows consumers to feel immense pleasure with its aromatic character and malty taste.
Schwarzbier is a dark beer with a light body, making an elegant pair. The mouthfeel is also refreshing with good carbonation. If you love dark alcoholic drinks, Kostritzer Schwarzbier would be your ultimate choice.
5. Bitburger Premium Pilsner
Made from the selected German ingredients, the Bitburger Premium Pilsner by Bitburger Brauerei is a straw-colored Pilsner of the highest quality and elegance with a dense white cap. Loaded with pleasant aromas of distinct flavors, Bitburger has an ABV of 4.8%.
The smell of floral hops and excellent taste with a touch of bread make it more interesting. Bitburger is an exciting beer with good carbonation. Also, it gives a pleasantly smooth mouthfeel with a floral finish. You can trust this brand if you want something unique at an affordable price.
6. Augustiner Edelstoff
A Dortmunder Export Lager with a 5.7% alcohol content, Edelstoff, brewed by a German brewery, is a blonde beer that makes a small head when poured into a glass. Its appearance is eye-catching, with the pleasing aroma of bread and grassy hops.
However, the initial taste of Edelstoff is bready and malty with notes of butter, grassy, and floral hops in the center, directing towards a crispy finish. Furthermore, it is a full-bodied beer with a smooth mouthfeel, which perfectly goes well with any traditional food.
7. Reissdorf Kölsch
Reissdorf Kolsch is a Kolsch German beer brewed by Brauerei Heinrich Reissdorf. It pours a copper hue with a 2-finger white foamy head with low retention. The smell is sweet with fruity hops and roasted grains with a subtle blend of honey. Like the nose, the taste is malty and refreshing with a light mouthfeel and bitter lingering finish.
8. Krombacher Pils
A refreshing German beer brewed in the stunning hills of Westfalia, Krombacher Pils is another name for quality flavors. With its pale golden color, the foamy 2-finger white head with lovely retention and lacing is fair enough to taste this beer.
The smell of biscuit and light bready malts with a hint of yeast is inviting, while the flavors follow the aromatic profile. Being a medium-bodied beer with light carbonation, Krombacher Pils brings a creamy mouthfeel. The savor may slightly differ in other regions, but if you love authentic Pilsners, move to Germany.
9. Beck's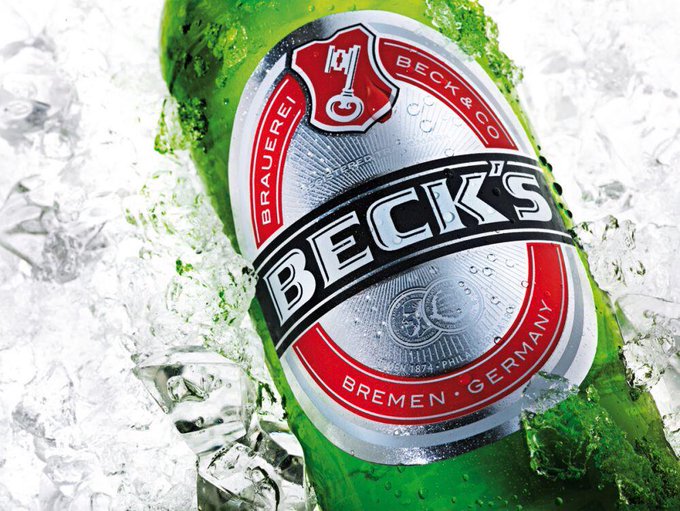 Beck's is a green-bottled, flavorsome International Pale Lager with mystical characteristics. With a golden hue and white head, this type of alcohol with 4.8% ABV offers a full-bodied taste to its consumers.
The smell can remind you of grains, bread, and yeast, while the flavor profile tells about a wheaty and yeasty touch with a hint of grassy hops. Beck's is light in body with a fizzy carbonation and smooth texture. Also, the aftertaste is good enough. So, all beer enthusiasts should give it a try.
10. Warsteiner Pilsner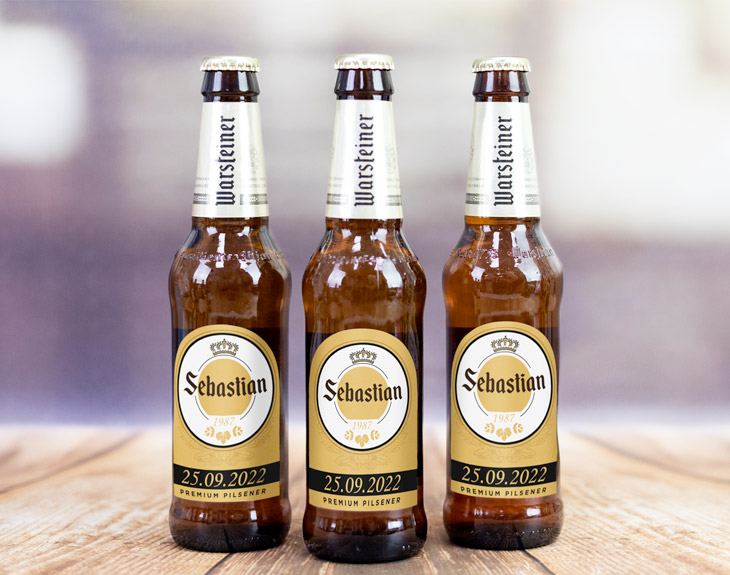 A type of German craft beer with a 4.8% ABV, Warsteiner Pilsner is a premium Pils drink with elegant labeling and lovely packaging. Its pale gold color looks perfect in a Pilsner glass. Warsteiner Pilsner is a complete package with bundles of flavors and pleasant aromas.
Almost all the required ingredients are present in this beer to enhance the taste, including malts, lemon extracts, grains, and earthiness, with a subtle touch of biscuit. Warsteiner is a pure and sharp Pilsner with a slightly bitter finish, making it more appealing than other non-German Pilsners. Also, it can go well with nuts and other Bavarian foods.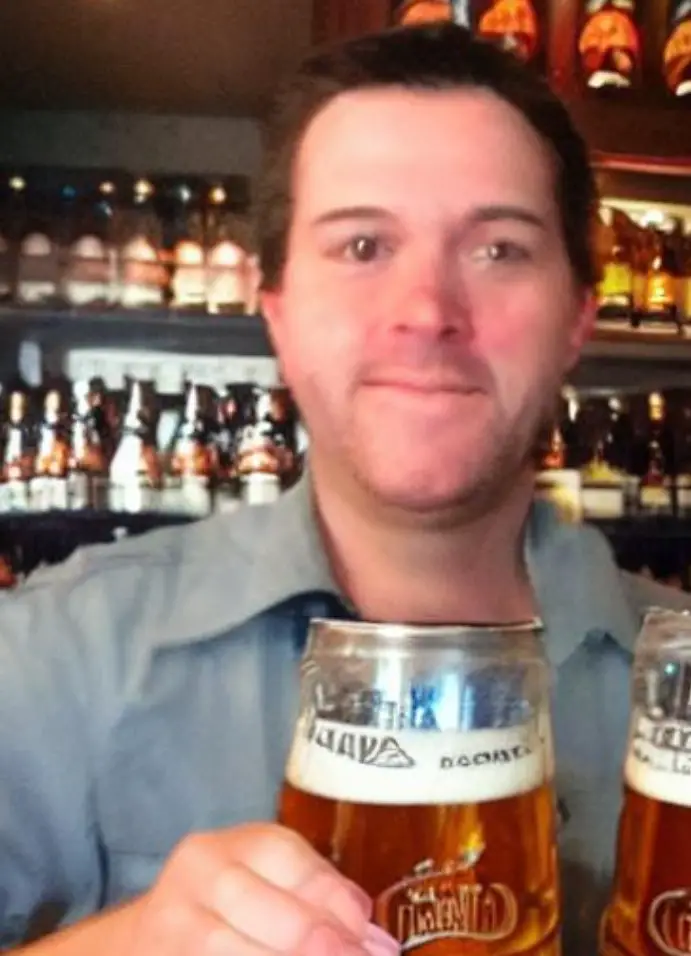 I am a passionate beer connoisseur with a deep appreciation for the art and science of brewing. With years of experience tasting and evaluating various beers, I love to share my opinions and insights with others and I am always eager to engage in lively discussions about my favorite beverage.