Are you fond of combining together refreshing beers and woodsy-tasting cigars? Then you're in luck because we have rounded up the best beers to pair with your favorite cigar. Thanks to the combination of flavors from the two, it actually pairs so much better than you would think. Beer is a carbonated beverage, and this actually works nicely with cigars as it soothes the heat of the cigar smoke on the palate – Letting you feel the sensations from both. 
For this list, we have sought the opinions and advice of the following: Cigar sellers, cigar experts, people who work or run breweries, and just about anybody who enjoys at least one or both of these things. There's also some advice at the end that helps you choose the right beer for the right cigar. So if those two are right u your alley, then keep on reading!
What Types of Beers are Better for Cigars? 
1. Samuel Adams Spruce Tip Lager
This is a two-row and pale lager that goes down on the throat easily. It's very light-tasting, with hints of tart pine as its flavors. It's just strong enough to pair up with a milder brand of cigar. The shade, when poured out of the bottle, is a light copper, with foam and carbonation that fades away quickly. You can really smell the malt on the beverage, along with a bit of toasted caramel and some herbs. These ingredients give it a tart flavor, which adds a balance to the cigar. 
2. Dogfish Head Bier de Provence
The flavors and scent of this beer were inspired during trips to the South of France. The main ingredients include a combination of rye malts and some wheat alongside Jarrylo hops. The beer smells spicy at first, as it includes notes of chervil, lavender, bay leaves, and marjoram. Meanwhile, the taste is similar to bananas, with some herbs and licorice – The licorice is so strong, in fact, that you can even taste it after the beer is gone. Pairs nicely with a premium brand of cigar. 
3. Angry Orchard Old Fashioned Cider
This beer version of the Old Fashioned cocktail has been crafted using a combination of American apples and aged inside a large oak barrel. The taste has a hint of cherry and orange peel, as well as the bourbon barrel staves that provide the beer with apple and vanilla flavors. The overall mouthfeel has been described as 'rounded' and 'full-bodied', like the cocktail it was inspired from. Pair this drink with a premium cigar to balance out the sweetness.
What Beers to Avoid for Cigars?
1. Lefty's Big Brekkie Breakfast Stout
A lot of the ingredients for this particular beer come from Massachusetts and are completely fresh. These include maple syrup, coffee, and essence of bacon and chocolate. It's a really delicious beer that you can chug down as a dessert or even breakfast, as the name says. It's not suitable to be paired up with cigars simply because of how delectably sweet it is. 
2. Anheuser-Busch Natural Light
This is a completely light American-style lager that is a great drink to chug down on warm summer days. Perhaps it's better suited for a day of backyard barbecuing with your friends (or by yourself) instead of pairing it up with a cigar. If anything, this product works nicely with seafood and grilled meat. The lengthy brewing process ensures that the drink doesn't contain extra calories that the average beer usually possesses – So it's made for easy drinking. 
3. UFO Big Squeeze Shandy 
The overall taste of this produce has been described as citrusy, with a hazy look when poured into a glass. Its main ingredients include pure grapefruit juice, as well as some wheat malt that gives it a somewhat sweet malt flavor. Its overall feel is light-bodied, making this beer an easy beverage to drink. However, pairing it with a cigar might cause you to feel a bit overwhelmed by the citrus notes in both the beverage and the cigar itself. 
FAQs About the Best Beers for Cigars 
Why Do People Pair Beer with Cigars?
Both of them are made with the same kind of principles that can potentially affect the quality of their finished products. There's also the fact that beer is a carbonated beverage, and the bubbles found in the carbonation will refresh and clean your palate. This lets you fully experience the aroma and taste of your beer and your cigar. According to experts, craft beer is the best type of beer to pair up with cigars because they come in so many flavors. 
How Do You Pair a Cigar with Beer?
Think about the basic characteristics of both products first. For instance, pilsners and lagers have a lighter sensation or flavor, so they are better with a mild-flavored cigar rather than a bolder one. Meanwhile, an intense-flavored cigar is better with darker alcohol, such as stouts and ales. IPAs, meanwhile, are best with medium cigars. 
A great way to check which beer goes well with these cigars is to look at its physical appearance. Cigars with a darker wrapping will have a richer, bolder flavor, while a milder-tasting one will come with a lighter-colored wrapping. The same can be said for beers and their colors. 
Aside From Beer, What Alcohol Goes Well with Cigars?
Whiskey, rum, and bourbon have always been the go-to liquors when it comes to pairing drinks with cigars, but they don't have that carbonation that beer can deliver – Although they have a nice smokiness to them. Other pairings include wine or even vodka. Meanwhile, non-alcoholic options include coffee. 
A Roundup of the Best Beers for Cigars 
To cap things off, we have unanimously agreed that Samuel Adams Spruce Tip Lager is the best beer to pair up with a cigar. This beer is super versatile and actually goes well with whatever cigar you choose to partner it with – Be it light, dark, or moderately flavored. Of course, you are more than welcome to try it even without the cigar bit, as it still carries plenty of delicious flavors. It's a beer that is truly refreshing to drink.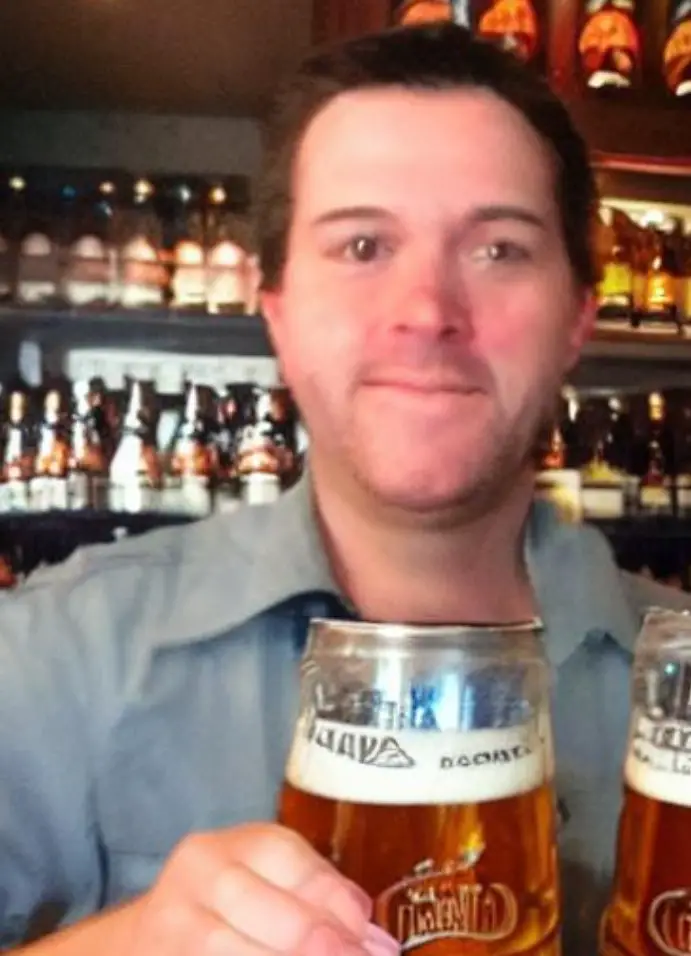 I am a passionate beer connoisseur with a deep appreciation for the art and science of brewing. With years of experience tasting and evaluating various beers, I love to share my opinions and insights with others and I am always eager to engage in lively discussions about my favorite beverage.