Are you bored seeing the same old beer bottles littering your house after a party? Don't despair! Plenty of creative and fun ways to upcycle those bottles and turn them into unique decorations for your home.
In this article, we've rounded up 24 crazy and innovative decoration ideas that will add an eye-catching touch to any living space – from beer bottle garlands to beer bottle menorahs!
From wall art with beer bottle caps to wind chimes made out of bottles – there's something here for everyone – grab a cold one and prepare to be inspired to transform empty bottles into works of art!
Upcycling With Beer Bottles
Upcycling beer bottles are an excellent way to add flair and personality to your living space. This is how you be a responsible citizen. Upcycling saves you money and reduces landfill waste by repurposing items already in your home; it's a win-win situation as you get creative while doing good for the planet simultaneously!
So before you throw away those empty beer bottles, take some time out for some eco-friendliness and consider all the exciting ways you can upcycle them into something unique and exciting!
24 Crazy Decoration Ideas With Beer Bottles
1. Beer Bottle Garlands at Your Next Beer Party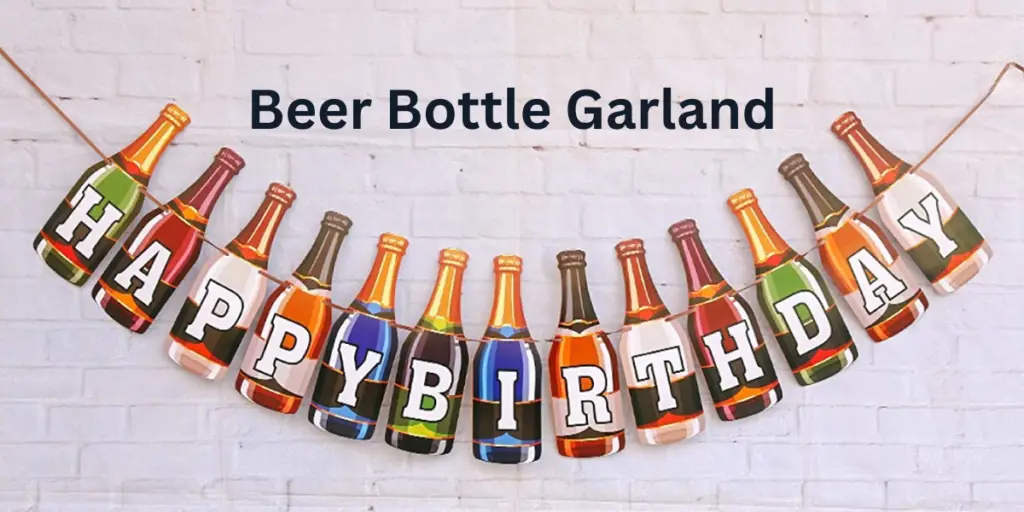 This was not the last beer party. Right? There will be many more. How about decorating your next beer party with the empty bottles of previous parties? Have you ever made garlands? You must have made them using posters and other stuff.
This time try using your vacant beer bottles. There are various other ways that you can add to this garland. You can paint these bottles fun colors or fill them with shiny brittle stuff.
2. Go Green With Empty Beer Bottles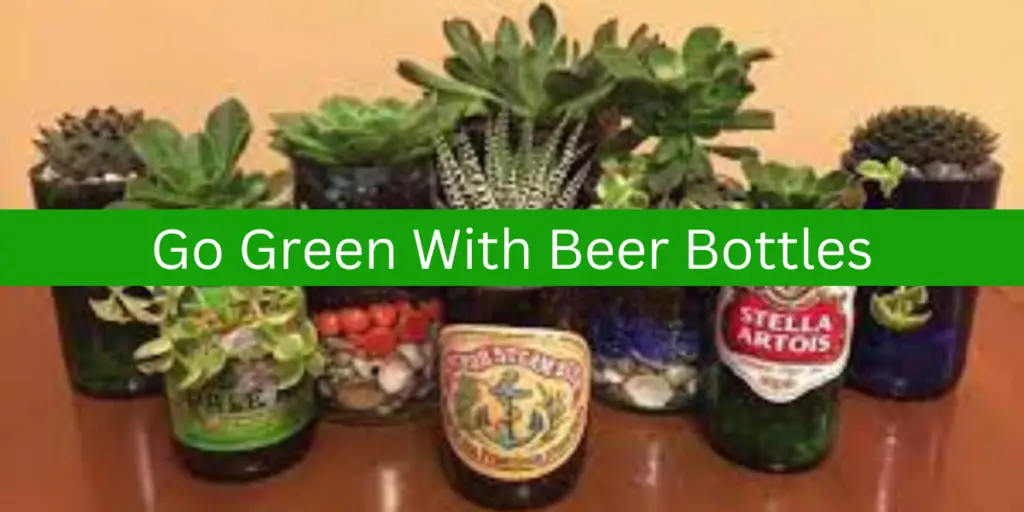 Are you a plant lover? Let's go green with your waste beer bottles. Wash them and fill them with loam. Plant your favorite piece, and there you go. You did three good deeds: recycled waste, saved the environment by adding a plant, and lastly, gave a homeless plant a beautiful home.
Being a responsible citizen, this idea should be your priority as it saves your environment. Our planet is in serious need of this kind of recycling. If only you start doing this and convert every empty beer bottle into a plant, there will be a considerable change.
3. Create Unique Mug Coaster
You not only use bottles, but you can also employ caps. Color them as per your likeness. Glue the color caps together to make a square, circle, or another shape. It will end up in beautiful and artistic mug coasters.
Coloring is optional. You can use the caps as they are. It will also add a classical touch to your coasters. So, do whatever you like with bottles next time. Change the caps into fun and antique mug coasters.
4. Transform Beer Bottles into Glasses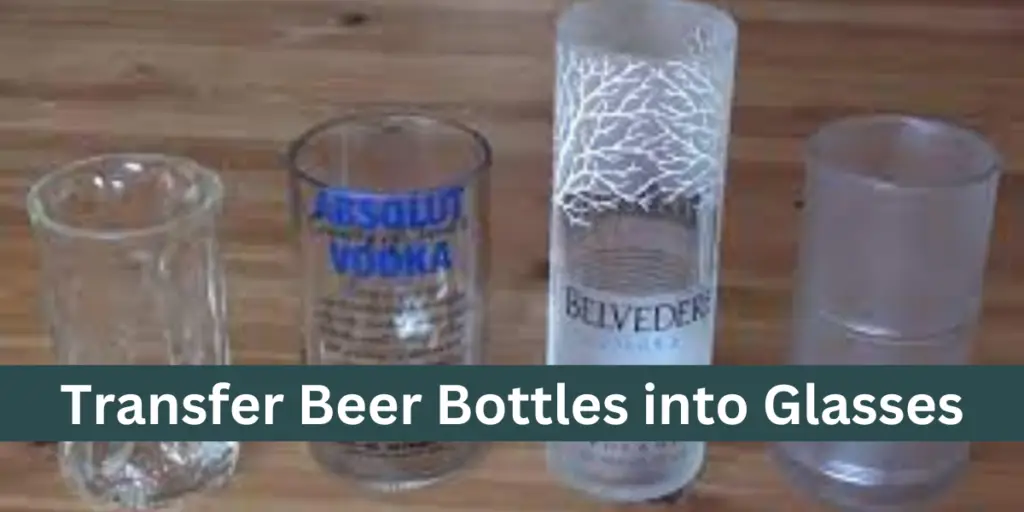 Changing your empty beer bottles into glasses is another option you can try. Cut your bottles from the narrow upper sides. The rest will make a glass. Use these glasses indoors and outdoors.
Next time you go camping, try carrying these beer glasses and have some fun. These beer glasses show that you love nature and care for your surroundings.
5. Make a Soap Dispenser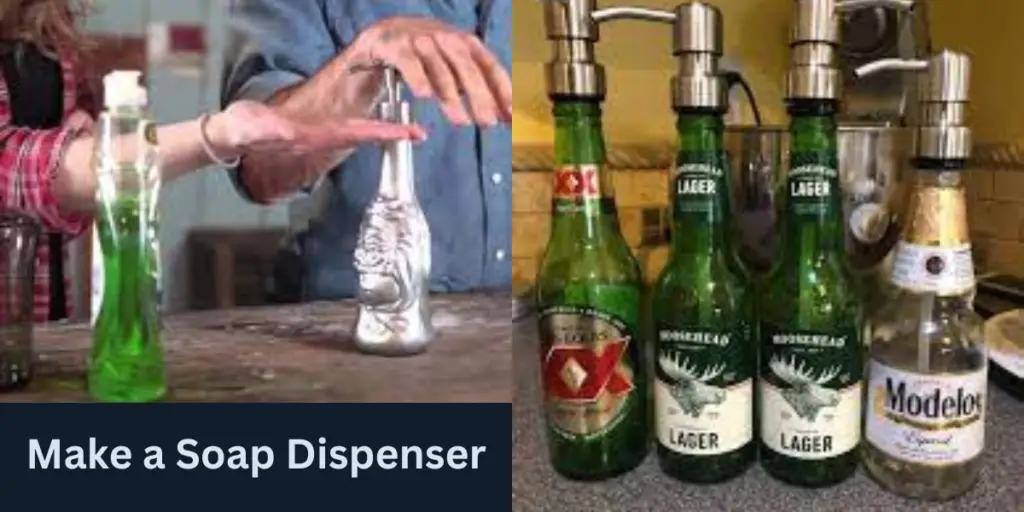 Liquid soaps are a challenge to handle. Instead of buying containers from the market, use your beer bottles to make a soap dispenser. Take a squeezer or nozzle and add it to the empty bottles. There you go!
You must be careful to place these bottles in a secure place. They are made of glass, so kids roaming around in your kitchen might break them. Be careful.
6. Create a Unique Coat Rack
How about making a coat rack out of these recycling bottles? Looking strange? Don'tDon't know how to do that? Doing that is fun, and you feel a sense of achievement. Let me tell you what to do. Use a long wooden board. Add branches to this wooden board and put the bottles upside down on these bottles. You may further decorate this coat rack. Put it at the entrance of your home and let your inner artist cherish it.
7. Beer Bottles Centerpieces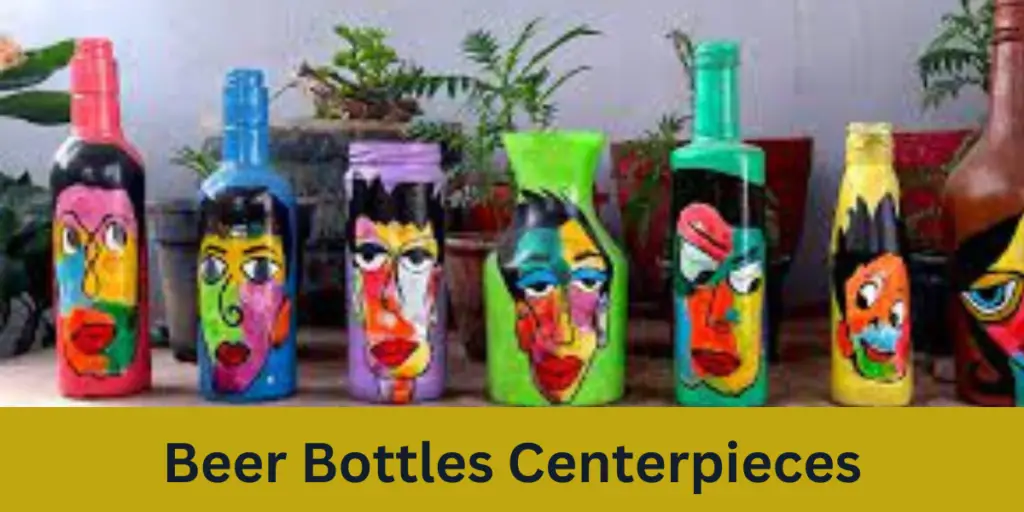 Cover your washed-up beer bottles with woolen threads or shiny beads. Add some polished beads inside or put some metal balls in them. Place these beer bottle centerpieces somewhere in your drawing room.
They will give your architecture an antique look. If you don't like beads or shine, color these bottles boldly and place them on side tables. You can also add artificial plants to them.
8. Beer Bottle Candle Holder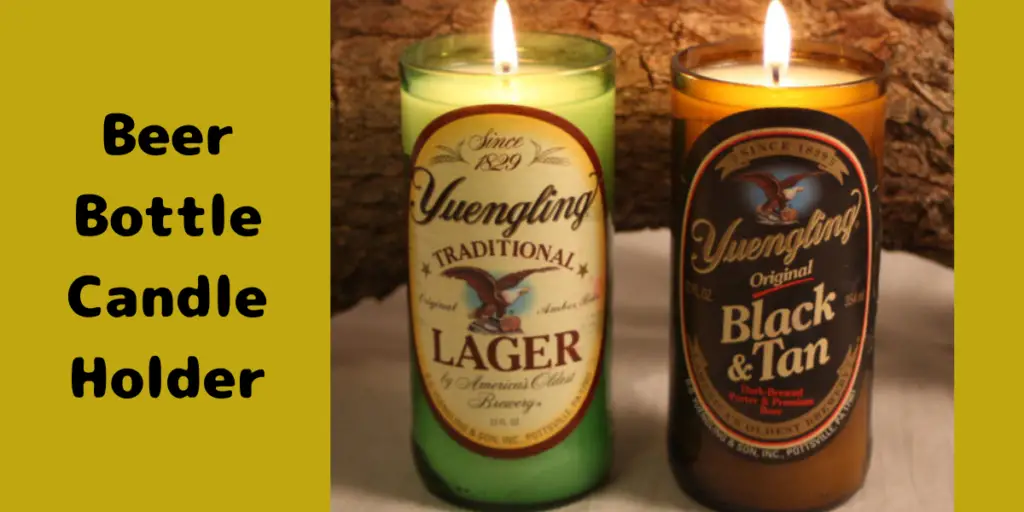 This is the era of bulb and tube lights. Yet, some classic souls like putting scented candles inside their beds and drawing rooms. Are you also one of them? If yes, I have some crazy candle hacks for you.
Put the candles inside the bottle with the base attached at the bottom, or melt the entire candle and put the burning thread in the middle. Both methods will give you a scented beer bottle candle.
9. Wall Art With Beer Bottles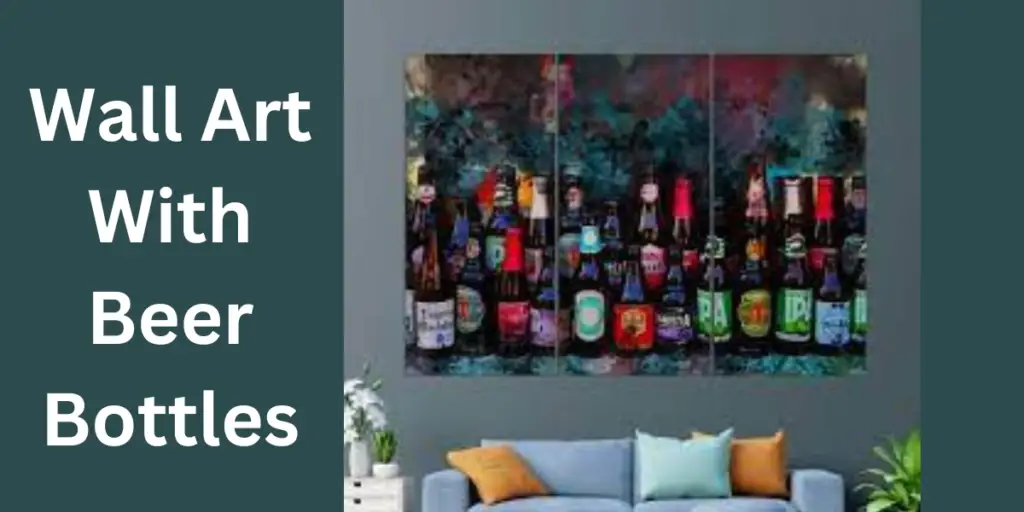 Well, if you're reading this post till here, you're enjoying this artistic journey of going crazy with your empty beer bottles. Being this much passionate about art is enough to convince you to change a large number of empty beer bottles into wall art.
There are many options available. You can use your imagination to create whatever design you like. Use colors, strings, beads, and other accessories to make it the best wall art. Indoors and outdoors, all are open to embracing your artist.
10. Make a Musical Wind Chime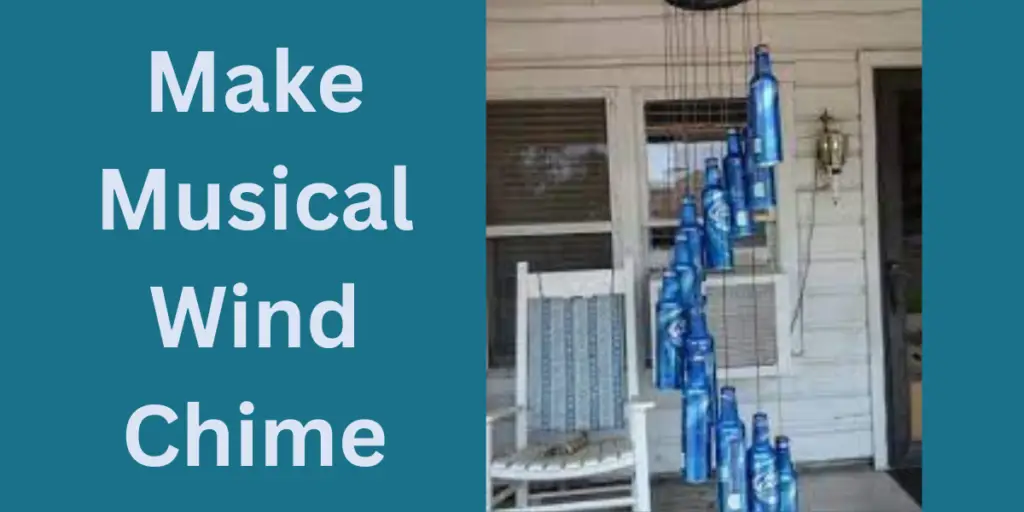 Music is the medicine for the soul. But the natural music from things rubbing and scouring together is on another level. It is soothing to your ears. This is why people hang wind chimes at their doors and windows.
You move a step ahead with your handmade wind chime. Transfer your empty beer bottles to the wind chime. Hand them up and enjoy the shine and music of these leftovers. Listen to what they have to say.
11. Create a Statement Piece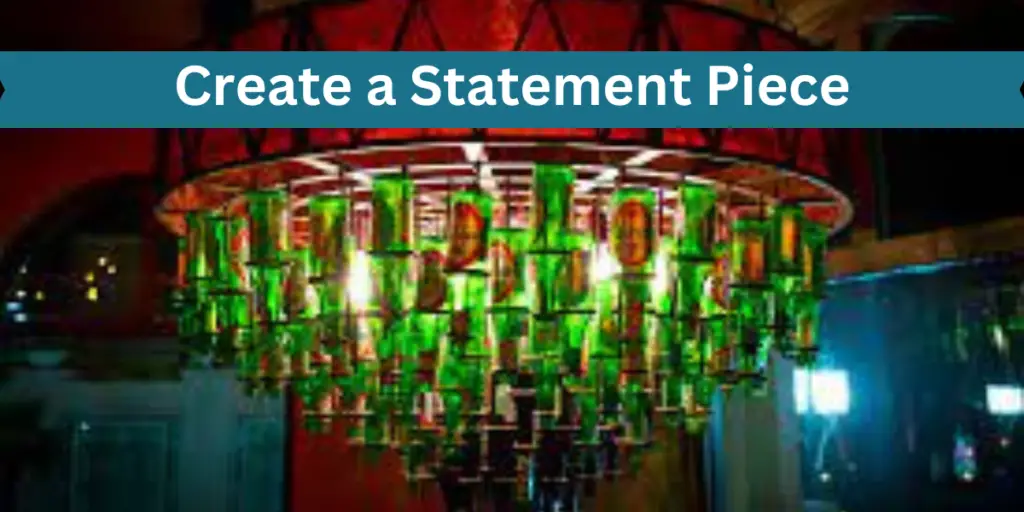 Use empty beer bottles to make a brittle shiny chandelier with perfect lightning. This will be a masterpiece in your drawing room and a warm welcome to your guests in your artistic world.
Let'sLet's do it at your next beer party. Instead of wasting hundreds of dollars on decoration, use this hand-created masterpiece to give a personal touch to your party.
13. Beer Bottle Indoor Vases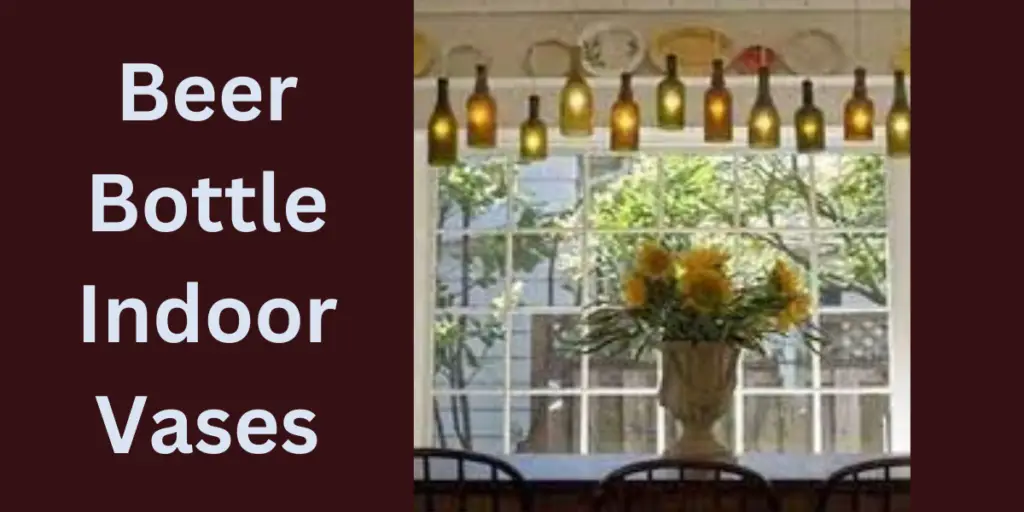 Indoor plants are an excellent way to green in this industrial area. The environment is no safer for humans, and growing more plants is the only way to secure this. Why not utilize every chance to grow plants?
Create your beer bottle vases and let a plant make it a home. These indoor plants have different light requirements. So, choose the location wisely. Place them near the window if they are sun-loving. Otherwise, shade is better.
13. Have Unique Landscaping Touches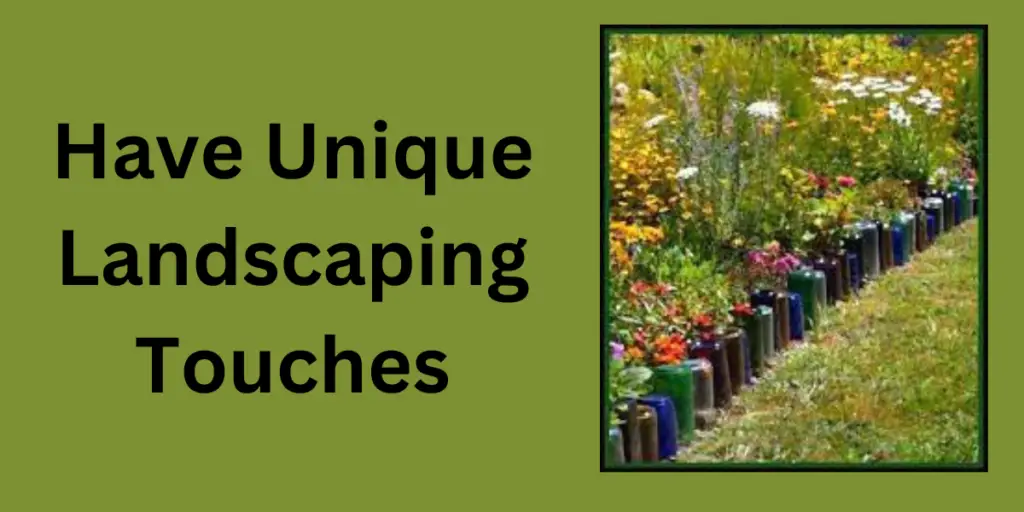 You can creatively utilize beer bottles in your garden to create unique and eye-catching features. One popular idea is using them as edging for beds or walkways.
First, measure the area you wish to frame to create beer bottle garden edging. Measure along its length and then collect enough bottles to cover it completely. You can choose the same color bottles or mix and match colors for an eclectic aesthetic.
14. Candle Lanterns for Outdoor Space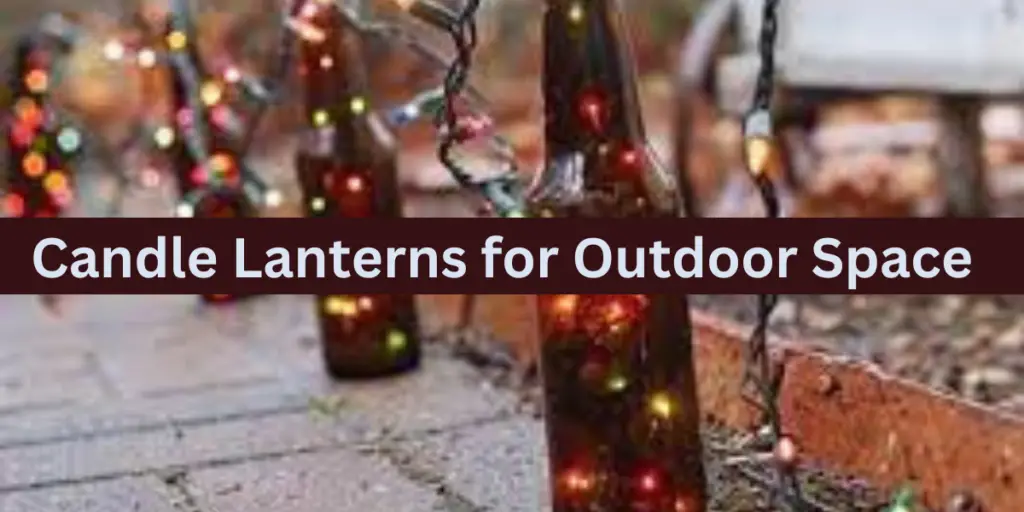 Are you seeking an eye-catching and creative way to light up your outdoor area? Why not recycle some beer bottles into candle lanterns? They will light up your nights and your mood.
With just some basic materials and creativity, you can easily craft beautiful and functional lanterns that add a warm ambiance to any outdoor area. It would be best to start it now, and options are plenty.
15. Feed the Birds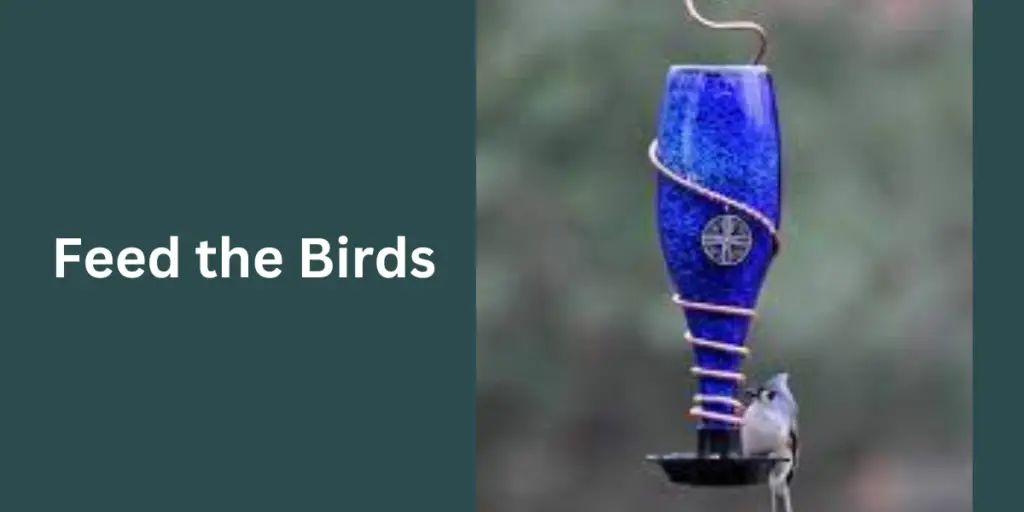 Repurpose empty beer bottles into functional bird feeders that attract feathered friends to your outdoor area. It'sIt's an easy and sustainable way to provide food for local birds while adding visual interest to your garden or backyard.
Drill holes in the bottle, create a hanger using wire or string, and fill it with seeds. This is the perfect hand-crafted feeder you can put outdoors or on rooftops to feed the birds.
16. Salt and Pepper Shakers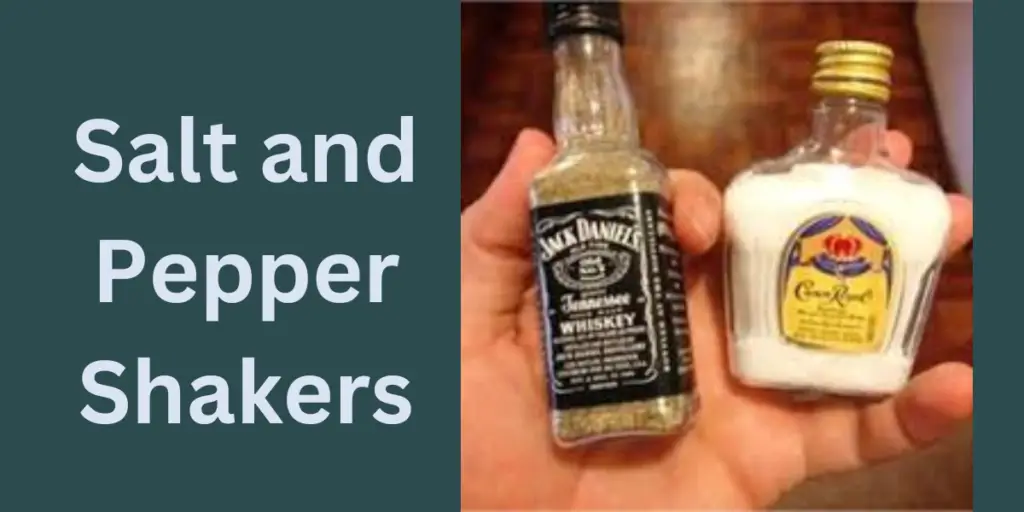 Bring the empty beer bottles into your kitchen. Wash, dry, and put some salt, pepper, or any other seasoning to mix it up or use later. These bottles are better and bigger than the usual cans.
The beer bottles will give extra safety from moisture and keep your spices fresh for a long time. While used as mixers, they provide better results due to their big sizes and slender forms.
17. Let them Be Bottles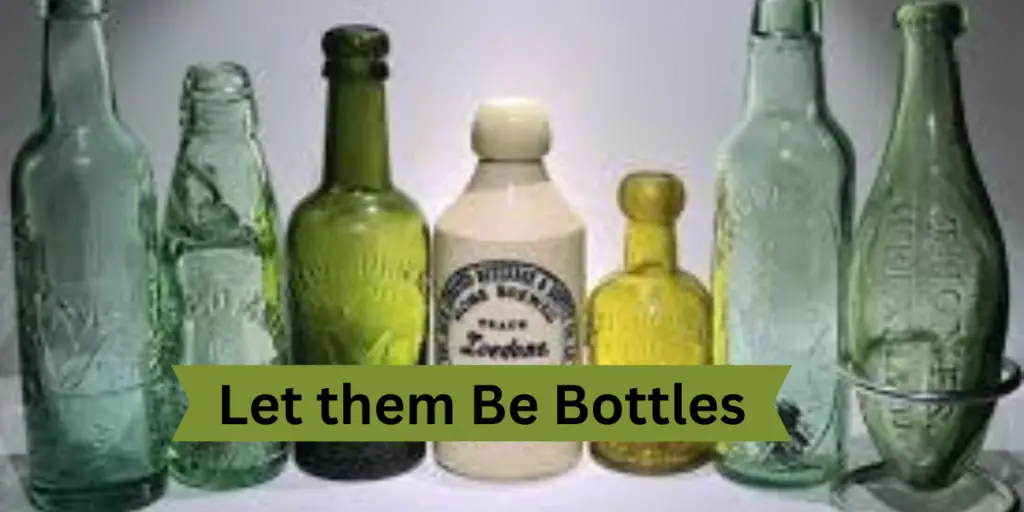 Do you have enough time to do anything with your empty beer bottles? Yet, want to recycle and be environmentally friendly? You can do that easily. Use your beer bottle daily as a water bottle.
In these bottles, you can also store juices, homemade catchup, or sauces. It will save you time and money.
18. Beer Bottles Piggy Banks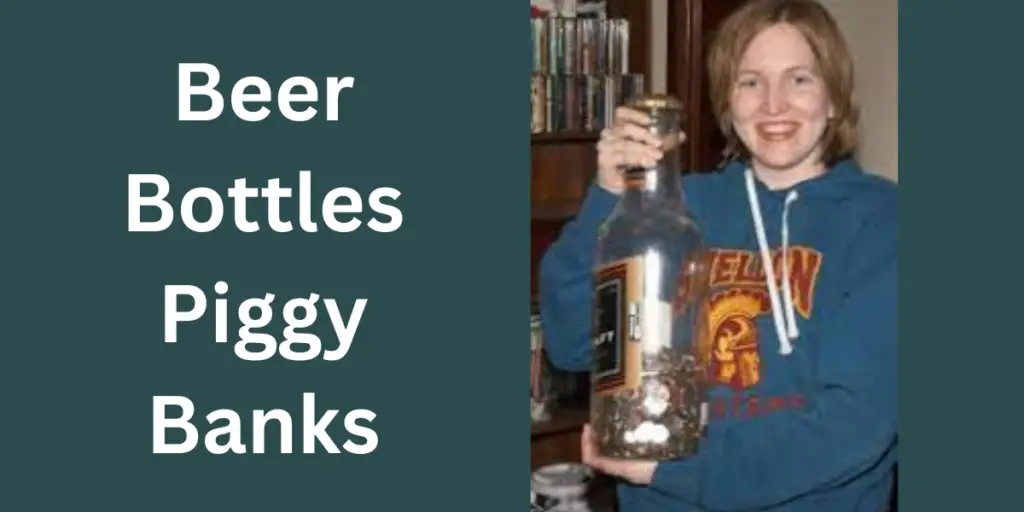 If you find managing coins trouble or love collecting coins as a hobby, You have a better option utilizing empty beer bottles as a piggy bank. Collect coins in your bottles and save some pennies for later.
There is another usage of these coin-collecting beer bottles. You can also use them as showpieces.. Put them anywhere in your room on a side table or dressing table, and keep collecting coins.
19. Wear them in Your Ear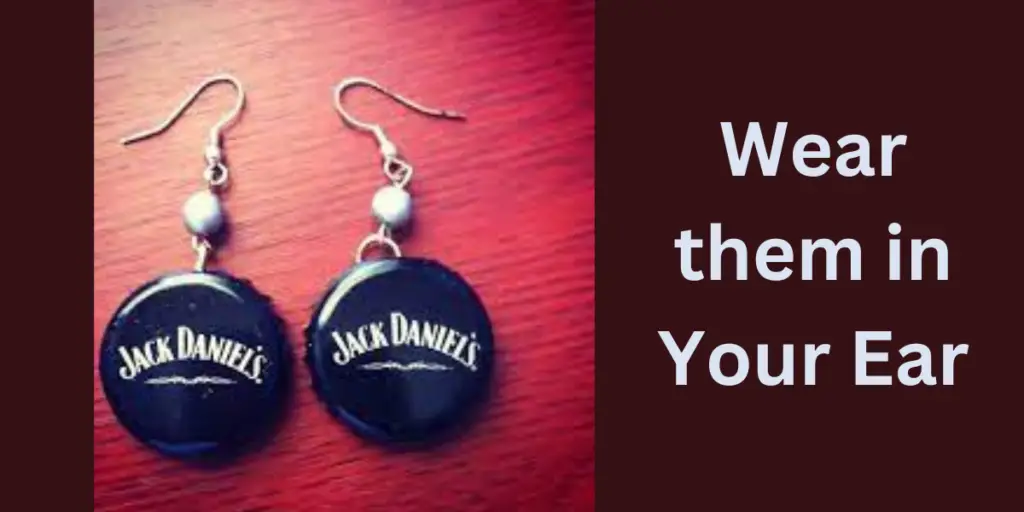 As a woman who loves to wear bold jewelry, you would be happier to read this one idea. Use beer bottle caps to make earrings, and wear them with your beech outfits. They look perfect on a sunny day.
In addition to this, you can make a necklace or a bracelet with these waste bottle caps. Many options are available to go feminine with your empty beer bottle caps. Employ your creativity and create what suits you better.
20. Cap Candles With Beer Bottles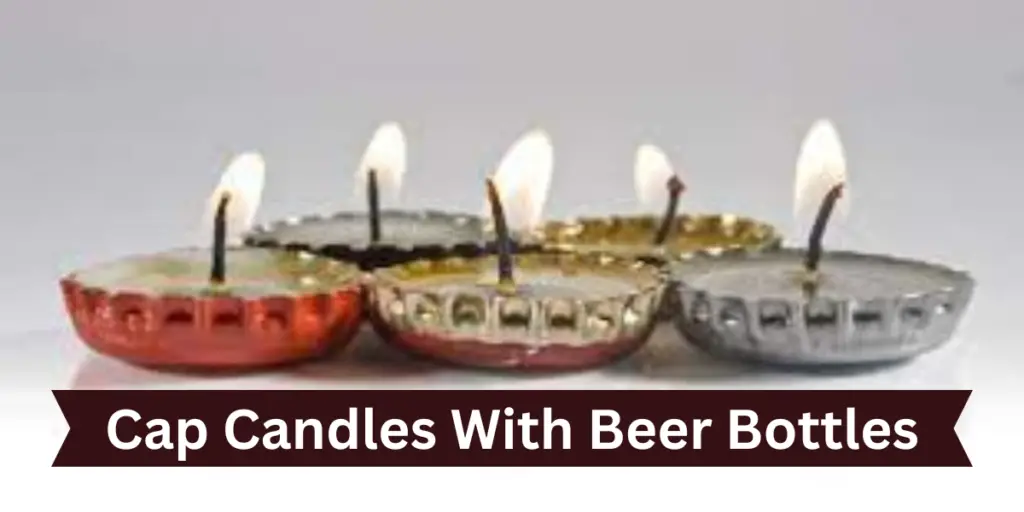 Reuse empty beer bottles to create unique candle holders by inserting small candles or tea lights inside the bottle caps. This is an inexpensive and easy way to add some ambiance to your home, garden, or patio. Choose different colored candles and beer bottle caps for a festive display at your next party or event.
21. Beer Bottle Lamps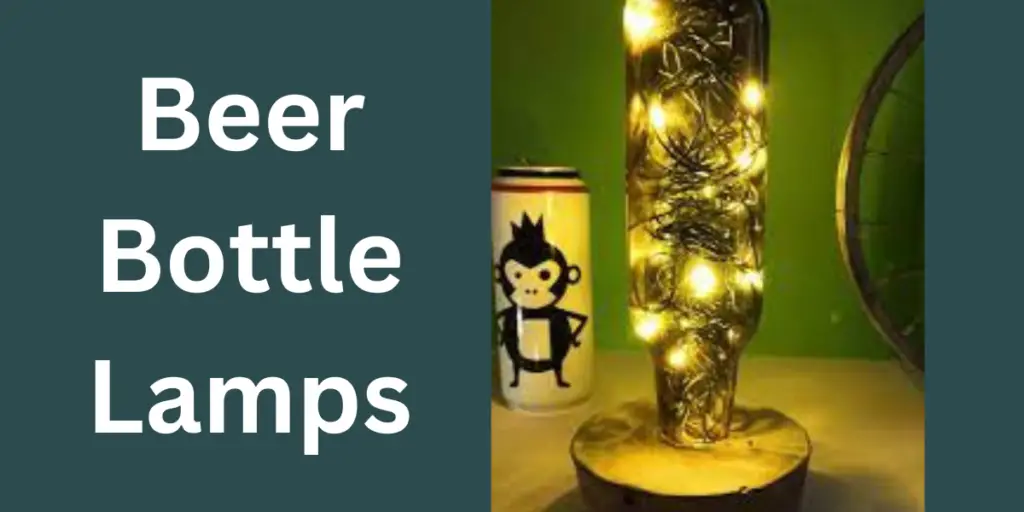 Transform your beer bottles into stylish lamps by attaching a lamp kit and lampshade to the bottle. This DIY project is great for crafters, providing personality to your living space. Choose different shapes and colors of bottles to create an eye-catching collection that'sthat's sure to turn heads wherever it goes.
22. Create a Tainted Glass Effect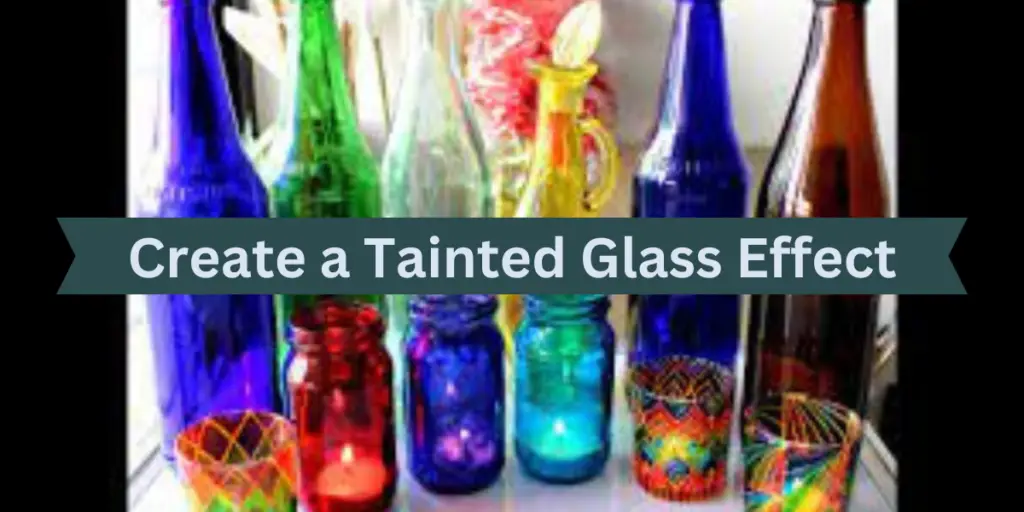 Transform your beer bottles into vibrant stained glass-looking pieces by cutting them into smaller pieces and arranging them in an artistic mosaic pattern. You can experiment with different glass effects with a variety of colors and textures of glass to create unique designs and shapes. This fantastic home decor addition adds vibrancy and texture to windows, doors, or walls.
23. Kitchen Utensils Holder
Transform empty beer bottles into valuable and decorative utensil holders for your kitchen. Clean the bottle, remove its label, and add some decorative touches like ribbon or paint, then fill the bottle with your favorite cooking utensils like spoons, whisks, or spatulas. This can be an excellent way to keep utensils organized while adding personality to your cooking space.
24. Make a Pen holder
Repurpose empty beer bottles into stylish pen holders that add visual interest to any workspace or desk. Decorate the bottle with paint or other materials, and then fill it with pens, pencils, or markers for easy organization. It'sIt's that simple! This repurposing beer bottles into functional yet decorative items help you stay organized!
Final Words
Upcycling beer bottles is a fun, creative, and environmentally responsible way to add personality and flair to your living space. With the 24 ideas in this article, it's possible to turn empty beer bottles into unique decorations such as garlands, menorahs, wall art, wind chimes, and more.
Do this while saving money and reducing landfill waste by repurposing items in your home. So before you throw them away, consider all the exciting decoration ideas with empty beer bottles. You can transform them into something exciting!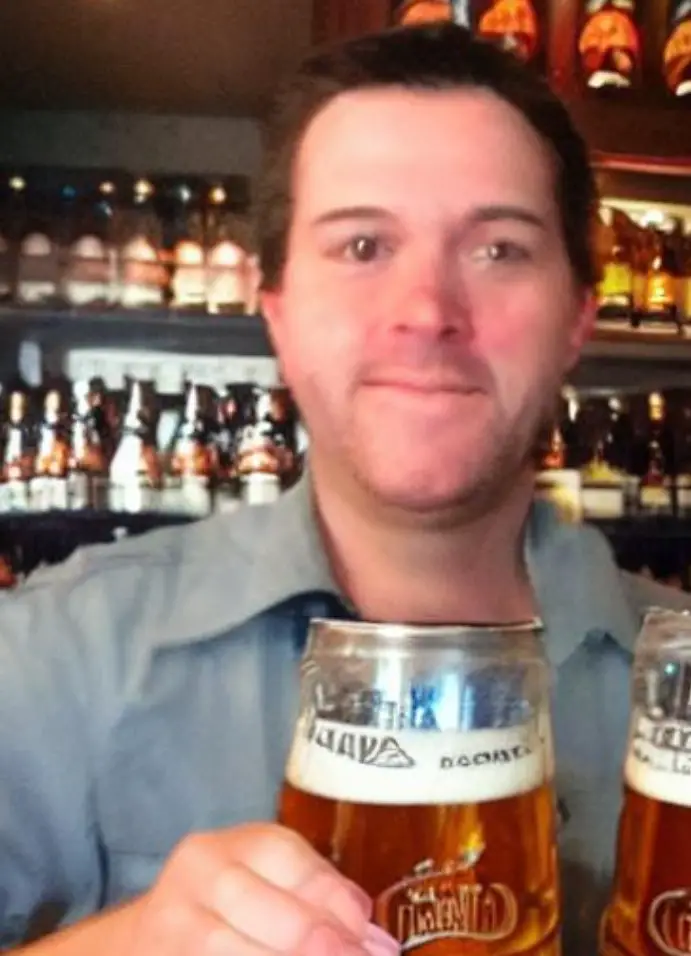 I am a passionate beer connoisseur with a deep appreciation for the art and science of brewing. With years of experience tasting and evaluating various beers, I love to share my opinions and insights with others and I am always eager to engage in lively discussions about my favorite beverage.